By Isaiah Bouchard
Welcome to Draft Prospects Hockey's introduction to the 2023 NHL Draft Class series. This is a multi-part series which we will be releasing over the next couple weeks to give you the readers some insight on whom we feel is the cream of the crop for 2023
The Oshawa General's Calum Ritchie takes the highest spot for an OHL Representative in DraftPro's Top 64 players in the 2023 draft class. Ritchie claims the #7 spot, but with only one rookie season in the OHL under his belt, Ritchie still has a lot more to show this 2022/23 season. Look no further than his appearance in the 2022 Hlinka-Gretzky Cup where he put up 10 points for his team in only 5 games. This was the highest point total in the entire tournament beating out his fellow teammates Brayden Yager and Zach Benson (#5 and #8 on DraftPro's rankings respectively) making Ritchie an intriguing prospect to follow this season as he comes to represent the OHL in a season where the WHL has never looked so filled with talent.
"Ritchie is one of those forwards that can lead the attack for his team, and he did that on many nights in his rookie season for the Gens." Says DraftPro's head director of scouting, Jared Brown. "He's consistently produced at every level/event he's played at due to his dynamic skill set and dual shot-pass threat."
Ritchie is making his name as a reliable player in a myriad of situations, a threat at every level of play. A momentum producer for his team, letting his many set of skills be applied to not only his game, but his team's game as well.
"One thing he does extremely well is building up positive speed differentials when attacking defenders off the rush and pushing them on their heels. Quick weight shifts and change of speed makes him a deceptive skater which is a valuable asset to have when creating offense in transition." Brown goes on. All of this barring in mind that he has only played one OHL season, and while he has experienced the growing pains of many a rookie, Ritchie still impresses.
"His play suffered some inconsistencies as the OHL regular season winded down last year, but I was impressed by how he was able to turn things around in the playoffs and tied two NHL affiliated prospects in scoring with their first-round exit to Kingston." Brown describes Ritchie's fluctuating performance as a rookie. These consistency issues are common for young players, and what should be noted is Ritchie's strong performance in the playoffs last year, which when coupled with his performance at the HGC (Hlinka-Gretzky Cup) Calum Ritchie is not a player to struggle in high pressure situations. Fully suspect this player to thrive again if the Generals make it to the playoffs again next season, and with Ritchie playing center, its highly likely that they return to the playoffs again in 2023.
No. 10 on DraftPro's rankings and the third highest wingman out of the 64 players is Colby Barlow of the Owen Sound Attack. Barlow put up similar numbers to Calum Ritchie last year, and similar to Ritchie, Barlow had his rookie season last year. Also similar to Ritchie is Barlow's size, coming in a 6'1" and averaging at around 195-200lbs. He was also in the HGC, putting up 5 points for his team.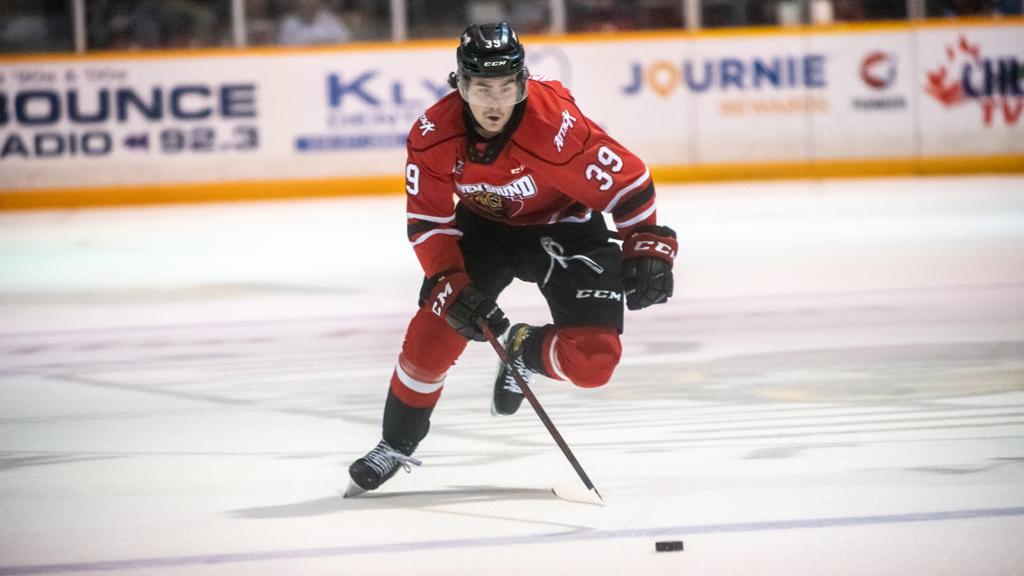 "He's one of the better skaters from an early look at the 2023 draft. His skating mechanics are incredibly profound as he explodes through his strides for impressive straight-line acceleration." Said DraftPro's Jared Brown, giving Barlow high praise as a skater, which is an ever-important skill to have in the modern NHL. Brown goes on: "He's able to be a ferocious forechecker due to his speed and size to pressure defenders quickly and force them into mistakes/turnovers." From the get-go, Barlow looks to have the potential to play power forward roles for his team. This coupled with his pure goal scoring ability makes Barlow an intriguing asset to have on any team.
Brown had this to say about Barlow's goal scoring performance last year: "Barlow broke Owen Sound's team record for goals by a 16-year-old last year which was previously set at 22 goals by Bobby Ryan in 2003-2004 season. It was and wasn't surprising when you think about it. Barlow does an excellent job finding open spots in the middle ice and opening himself up to passes." And Brown goes on: "Excellent at quickly getting his hands set and ready to deliver the puck with power and speed."
Overall Barlow gives himself a good argument for one of the most dynamic wingers in the league. His size, skating, and shooting abilities is making him an ever more impactful player on his team, and potentially even the entire OHL if he's only going to improve from his rookie season. "Barlow earned the trust of his coaches last year in Owen Sound earlier on and was used in all situations even in the playoffs, something that's impressive for a 16-year-old." Brown says to sum up Barlow's impactful rookie season. It's going to be interesting to see the competition arise from Ritchie and Barlow, two impactful rookie players who are going to use their dynamic skill sets to push their teams in 2023. But there is one more player making an argument for a top 10 pick in 2023.
Quentin Musty, an American player who plays for the Sudbury Wolves lands at #11 on Draft Pro's Top 64 prospects. Like Barlow, Musty is a winger, making their close placement to one another on the rankings that much more indictive on how tight the competition is in the OHL this year. Musty also put on a similar performance in point total, also on his rookie season, and put up 5 points in the HGC, similar to Barlow, only this time on his American team, where he had one less game than Barlow. Musty also has a slight size advantage over Barlow, being 6'2" and coming in at 205lbs.
Unlike Barlow, who shows glimpses of a power forward skill set, Brown describes Musty as a pure power forward winger. "He's a big power forward that will engage physically, has elite skill, can pass through layers, and place his shots top corner to beat goalies high." Brown continues on his vast skill set: "He oozes creativity, dynamic puck skills, and imagination to dance defenders 1-on-1 and pull fans out of their seats with his dekes."
While it seems Musty has all the skill to be a "Impactful top 6 winger in the NHL" according to Brown, there are still some hurdles to overcome. "His game can be very inconsistent at times and his pace are areas that need to continue showing growth" Brown says. Similar to Ritchie and Barlow, Musty is coming off of a rookie season that proceeded a Shakey post covid OHL. Brown still had a lot of positivity to shine on Musty's performance last year: "He was on a young rebuilding Sudbury team last year but still played a prominent offensive role for his club", he goes on by saying: "Expectation is for him to continue to lead the offensive for Sudbury while showcasing why he's a potential top ten draft pick." This season, which is hoping to be much more stable, is going to be a big one for a winger with a lot to prove as he sits just outside DraftPro's Top 10.
The OHL's highest ranking defensemen and DraftPro's #31 overall prospect is the Guelph Storm's Cameron Allen. "Allen has almost everything you look for in a defenseman. He can skate plays out, join the rush, match the puck carrier's speed to defend the rush wonderfully. Has a strong point shot that can beat goalies from range, makes plays inside the offensive zone, can be physically abrasive and a thorn in his opponents side with terrific man-on-man defense." Says DraftPro's head scout Jared Brown. This quote should be a telling sample of what makes Allen a great defensemen and future NHLer. Brown goes on by praising Allen as a he "established himself quickly on the Guelph Storm last year" and was quick to play the role as a "top 4 defensemen."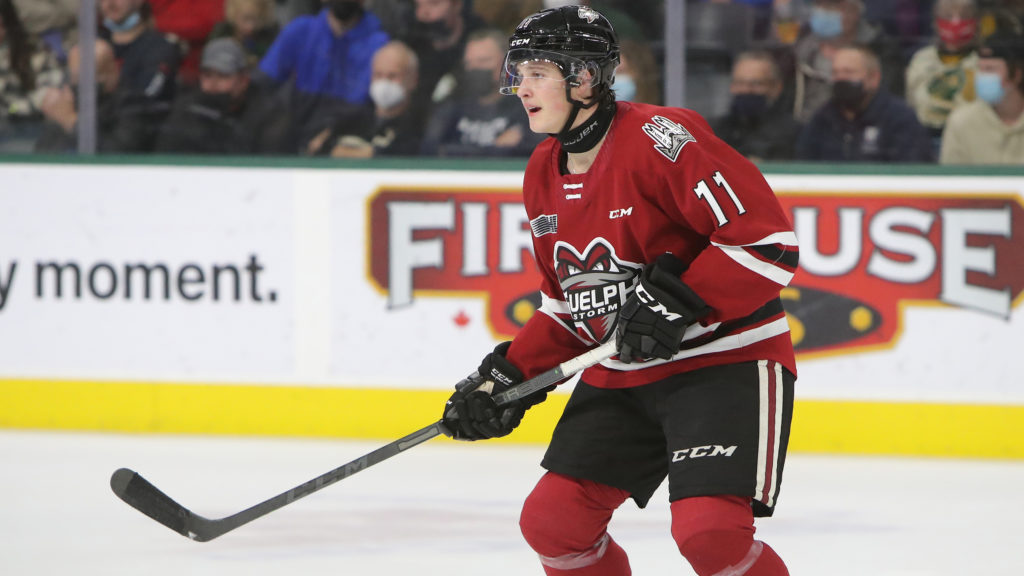 During the HGC is when Allen truly came into his own as a defensemen. He led all other defensemen in points by the end of the tournament and established himself as "a great leader for team Canada". This passion for the game was very clear during his OHL season and during the HGC this past summer. "He can let his emotions get the best of him at times showing that he is a very passionate player and person." Brown said, referring to Allen's presence on the ice. Though emotions are surely to get the better of players at times, perhaps at the most dire moments of a game, one shouldn't overlook the high value that passion and genuine connection to the game can have on one's performance, especially for such a born leader on the ice such as Cameron Allen.
DraftPro's #34 prospect, and forward for the Erie Otters, is Carey Terrance. Terrance finds himself in an interesting position as a forward playing for a weaker Erie Otters team, as well as being on a team with high competition for forwards. "He didn't have a productive season but it's important to note that he played a weak Erie team and only average the ninth most ice time amongst Otters forwards." Brown had to say about Terrance's lackluster rookie season, where he only got 24 points, 10 goals, in 62 games. Brown gives a valuable dispute against his low point total, because Terrance should be anything but overlooked.
He's quickly making a name for himself as a fast and agile skater, utilizing these skills in his defensive forward play style, getting into position, and checking opposing skaters with quick positioning. "He's a solid two-way center that executes his defensive duties and assists his defenseman downlow." Brown had to say about his defensive game. But as a 2-way forward, Terrance shines at both ends of the ice. "He's good at performing tight turns in small areas to escape pressure in the offensive zone." And Brown goes on: "Terrance's game is about speed and that's when he's most noticeable."
As the game becomes more dynamic and complex, players that can utilize their multi-faceted utility on multiple ends of the ice are becoming increasingly more valuable. Terrance is the first full fledged 2-way forward on this list, and it should be telling that he will find NHL ice time in the future, no matter where he is picked in 2023.
If there is one way to describe DraftPro's #2 OHL Defensemen Donovan McCoy, that is reliability. "McCoy's statistics don't pop out, but as a first year OHLer, he had the second highest average ice time amongst Petes defenseman showing that the former first round OHL draft pick earned his coaches trust." Brown said when asked about McCoy. This is an impressive stat when considering the Pete's had 2 drafted players and 5 players over 18 last year. Making the 16/17-year-old a top end player of his team early in his career.
McCoy conveys a steady play style that doesn't seem to jump out at you immediately. Rather he tends to keep his came tight and controlled, never overstepping his presence, and keeping himself consistent with the lineup. "He's a solid two-way defender that does a lot of things well but isn't elite in one particular area." Brown said about McCoy's subtle game. But he also had this to say about McCoy: "He showed more confidence near the end of the season in carrying the puck out of his end to start the breakout more consistently."
It seems like McCoy's greatest attribute and downside is his caution. As a defensemen this marks the trait as momentum control on the ice. And what would be a downside, i.e. his caution to be more aggressive is slowly being diminished as he gets more comfortable on the ice. One should remember that this was a 16/17-year-old player, playing top line minutes for a struggling Petes team. His potential will only increase as he continues to find his place in the lineup, hopefully remaining as the reliable anchor for his team's momentum.
To finish off the preview list we have one last defensemen, and DraftPro's #58 player: Beau Akey. Beau Akey whose ice time was diminished due to "an experienced Barrie Colts blue line last year" according to Brown and so was only able to put up 16 points. This isn't a bad total for a defensemen, especially one of Akey's age and one who had his ice time last year.
Unlike McCoy, Akey comes with a clear set of specialized advantages in his play style: Being a "Fluid skater with great mobility" according to Brown and being able to "defend the rush and exit his zone with control. A polished skater who moves well in all four directions." Akey doesn't have the height advantage compared to a Donavon McCoy, being only 6'0". "He's not a big defender but will play with a physical edge and regularly play the body along the boards to rub players off the puck."
While McCoy seems to keep the defensive momentum for his team, Akey seems to lean more towards the offense side of things. Seeming to focus more on out skating his opponents and making up for his size with a more physical playstyle. Akey is a defensemen who will put himself in front of the action to swing the momentum back into his teams end. Where he does a "Great job finding shooting lanes up at the point by staying in motion laterally." According to Brown.
For more on OHL prospects, and the 2023 draft class as a whole, be sure to pick up a copy of our 2023 Draft Preview Magazine available later this fall and subscribe to our bi-monthly DraftPro newsletter full of up-to-date info and scouting reports.