Welcome back to part two of our #2020NHLDraft Aftermath series.
In part two we look at those who surprisingly did not have their names called at the draft. We feel horrible for many of these kids who saw their names ranked for most of the season. They had NHL teams interviewing them and hearing from many of those teams that they would look at them at some point in the draft, only to have their phones stay silent come draft day.
The good news is many of these kids will still go on to play in the NHL, many using this experience as motivation, it is just their road to get there that will look a little different. While we understand the short signing period the NHL teams face on CHL players opposed to European or NCAA bound counterparts, it still surprises us year after year the talent that goes unselected.
Below are some of the names that surprised us who were not taken.
Ranked #84 by DraftPro
Simon Kubicek, D, Seattle Thunderbirds (WHL), DOB 12/19/2001, 6'2″, 194, R, CZE
Strong, physical smooth skating defenders who can also contribute offensively must have fallen out of favor with NHL teams of this kid would have been selected. Mind you his upside is not top pairing but there were more than a few who had far less upside than Kubicek. Plays with intensity, has a big shot and has solid awareness in all zones. Just floored he was not nabbed at the very least in the final round.
Ranked #93 by DraftPro
James Hardie, LW, Mississauga Steelheads (OHL), DOB 1/18/2002, 5'11", 161, L, CAN Who wants a goal scorer anyways? This kid will likely put up 40 plus goals this season for an undermanned Steelheads team and he still does not get a late round sniff by an NHL team? Wicked wrist shot with pro release and booming one-timer make him extremely dangerous. He does have some holes to fill without the puck and adding some meat to his bones. Look for him to be a highly coveted re-entry next season.

Ranked #98 by DraftPro
Christoffer Sedoff, D, Red Deer Rebels (WHL), DOB 2/20/2002, 5'11", 159, L, FIN
Sure, he is smaller but if you watch him play he makes an impact in all three zones. Nice speed and fluid edge work. Makes tape to tape passes, sees the ice and battles for pucks. Give him a bucket of porkchops and a gym membership and he could make NHL teams look bad for passing him up. Projects as a good all-round middle pairing guy.
Ranked #105 by DraftPro
Oliver Suni, RW, Oshawa Generals (OHL), DOB 2/13/2002, 6'2″, 187, R, FIN
Okay so his skating stride might not look so fluid and he might be a little slow off the hop, but this kid works hard, and he battles all over the ice. Can drive the net off the rush or work the crease for deflections and rebounds. Has a strong shot. Protects the puck well and shows a commitment to play away from the puck as well. We like him in a supporting middle six role at the next level.
Ranked 110 by DraftPro
Ivan Didkovsky, RW, MHK Dynamo Moskva (MHL), DOB 1/20/2002, 5'10", 185, L, RUS
A stalky, strong player who plays a heavy on the puck game. The problem is his feet are also a little heavy, meaning he is not blazing fast. His shot is hard, makes quick decisions and works his tail off to win possession when his team is defending. Look for him to be a re-entry next June, albeit not a first rounder like Yegor Chinakov was for Columbus.
Ranked #113 by DraftPro
Kyle Crnkovic, LW, Saskatoon Blades (WHL), DOB 2/10/2002, 5'7″, 161, L, CAN
Yup, he is tiny at just five-foot-seven. But he is fast, skates with a wide base for added balance. Elusive, sneaking around the offensive zone looking for shooting lanes where he can bang off a quick wrister or one-timer. Tenacious on the forecheck and along the wall. Strength will hold him back, but he plays with a good amount of heart. I would not write him off for making a case as a re-entry next draft.
Ranked #114 by DraftPro
Ethan Cardwell, C, Barrie Colts (OHL), DOB 8/30/2002, 5'11", 179, R, CAN
A developing goal scorer who showed some intensity and natural finishing abilities this season. He works hard for his opportunities and has some slippery hands as well. His skating was solid, but his defensive zone game needs some refinement going forward. As one of the younger guys in the draft class you would think his upside would be enticing. Better luck next year kid.
Ranked #119 by DraftPro
Ruben Rafkin, RD, Windsor Spitfires (OHL), DOB 1/8/2002, 6'0″, 190, R, FIN
This puck mover with solid vision put up some decent offensive numbers with the Spitfires this season but that was not all he brought to the table. His wide, balanced stride and athletic build allowed him to defend with some grit and physicality. Count us as surprised he was not snapped up.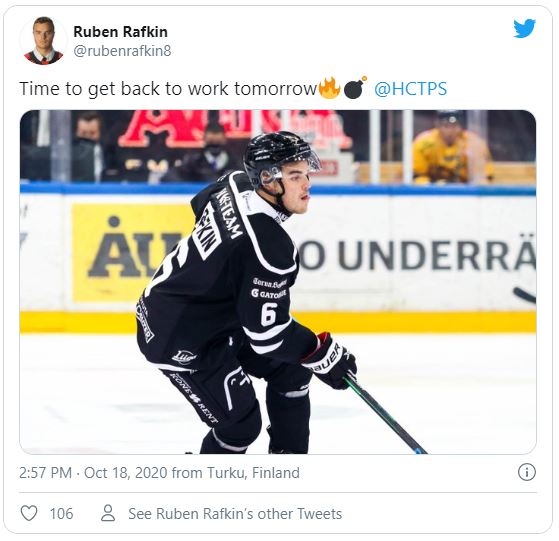 Ranked #120 by DraftPro
Michal Gut, C, Everett Silvertips (WHL), DOB 8/16/2002, 6'0″, 187, L, CZE
A skilled and defensively responsible, versatile forward. Can play on the top scoring line or down the line-up in a defensive role equally well. Had a great Hlinka Gretzky to start his draft year but his game was a little more inconsistent in the Western Hockey League than it was the year before with Chomutov in his native Czech Republic, although he had more than a few moments where you saw the NHL upside this past season.
Ranked #124 by DraftPro
Jacob Dion, D, Drummondville Voltigeurs (QMJHL), DOB 11/1/2001, 5'9″, 181, L, CAN
Stalky build, offensive-minded blueliner. He pushes the puck up ice continuously. Makes slick passes and is more than willing to join the attack every chance he gets. Skates with good balance and is patient with the puck. Demonstrated his heavy shot on more than a few occasions. Defensively he needs refinement as does his feet that can look a little heavy.
Ranked #125 by DraftPro
Simon Knak, RW, Portland Winterhawks (WHL), DOB 1/27/2002, 6'1″, 190, L, SUI
His skating is strong, slippery, agile, powerful, and explosive. A strong shot and showed a knack, see what we did there, for the clutch goals. Played a greasy, gritty game when need be. He was strong on the forecheck and consistently supported his defense. This Swiss import did everything right to show NHL teams he wanted a North American pro career. Still no dice.
Ranked #126 by DraftPro
Charlie Desroches, D, Saint John Sea Dogs (QMJHL), DOB 4/24/2002, 5'10", 165, R, CAN
Size and defensive zone inconsistencies are likely what pushed this first pass defender down NHL teams' draft boards. But his offensive abilities and overall two-way upside is intriguing. Likely a victim to the short signing window the CHL prospects have as teams will see major improvements needed in his game, especially his physical strength.
Ranked #135 by DraftPro
Juuso Maenpaa, C, Jokerit U20 (Jr. A SM-liiga), DOB 4/29/2002, 5'6″, 145, L, FIN
Tiny but ultra-skilled playmaking centre. We get it, what NHL team has a sub five foot seven centre on their roster. But that is not to say this little offensive dynamo might not still have a couple inches and thirty pounds to add in the next couple years. We would have snatched him up as he would have been a top fifty pick if he was closer to six feet. Put him on the wing now and see what you have in three years.
Ranked #138 by DraftPro
Marko Stacha, D, HK Dukla Trencin (Slovakia), DOB 3/21/2002, 6'1″, 190, L, SVK
A shocker to many of our Slovakian friends that this skilled two-way defender went unselected as he was almost a sure bet. He skates well, moves the puck via pass or skating it up and leading the attack himself, makes strong decisions, and has solid size. He is coming to Vancouver of the WHL to see if he can change the minds of NHL brass.
Ranked #142 by DraftPro
Stephen Halliday, LW, Dubuque Fighting Saints (USHL), DOB 7/2/2002, 6'3″, 220, L, CAN
A big, strong, physical power winger that plays heavy. He has some issues with his agility and turns but that can be improved. He is strong, protects the puck well, has a nice shot, soft hands with the puck and can carry defenders as he drives to the net. With a potential big signing window, we are surprised he was not selected as a development project.
Ranked #147 by DraftPro
Owen Pederson, LW, Winnipeg Ice (WHL), DOB 3/27/2002, 6'3″, 187, L, CAN
A big, strong, two-way winger who plays a safe, simple game. Brings physical play, hard on the forecheck, wins any faceoffs he is asked to take. Not great creativity but is the kind of kid you can groom into a dependable bottom six checker and PK role. Due to his size and skating ability combination alone his lack of selection is head scratching.
Ranked #149 by DraftPro
Oliver Fatul, D, HKM Zvolen (Slovakia), DOB 8/16/2002, 6'3″, 183, L, SVK
Another highly regarded Slovak who went unselected or lower than anticipated. Love the youth, size, and mobility combination. Rangy defender with a big shot, an accurate passer, smooth skating, and uses his stick well to defend. He will need to add strength and play with a little more jam, but we feel he could make NHL teams kick themselves for letting him slip through as early as this coming season.
Ranked #152 by DraftPro
Lleyton Moore, D, Oshawa Generals (OHL), DOB 2/27/2002, 5'9″, 165, L, CAN
Moore was a prospect who stood out each time we viewed him play last year as he is a terrific skater who constantly pushes the puck up ice, whether on his own or with an accurate pass. The problem is the size and lack of strength. We get the risk with drafting him, but the potential reward is far too high in our opinion not to have taken a late round flyer on him.

We wish the best to all the prospects who were drafted. If you did not hear your name called, know that if you bring a strong work ethic to developing yourself each day, both on and off the ice, you will make your dreams come true. Best of luck!