The 2020 NHL Draft was a draft like no other. Not only was it delayed almost four months, but we also went almost six months with no junior hockey to evaluate, except what was played previously and available on film. When the picks finally started to be made there was some "that is where we thought so-and-so would be selected" moments but also many "why is no-one taking so-and-so" moments. In Part one of this series we look at some picks we feel will eventually become excellent value picks, especially when you consider where they were selected.
Noel Gunler, RW, Lulea HF (SHL), DOB 10/7/2001, 6'2″, 174, R, SWE
Selected #41 overall by Carolina Hurricanes, ranked #21 by DraftPro.
Smart and creative, goal scoring winger. Not overly physical but can handle himself. Inconsistent two-way play, sometimes he works to disrupt and other times he just floats. Maturity is seen as an issue to work on, but the fact is, he has top six goal scoring upside.
Jan Mysak, LW, Hamilton Bulldogs (OHL), DOB 6/24/2002, 6'0″, 176, L, CZE
Selected #48 overall by Montreal Canadiens, ranked #19 by DraftPro.
A dynamically skilled, flashy, speedy, offensive winger. How did a potential NHL 35 goal scorer slip to the middle of round two? He is still physically immature and needs to utilize his teammates better. But man, Montreal might just have mined a top line winger forty-seven picks after New York got theirs.
Emil Andrae, D, HV71 J20 (SuperElit), DOB 2/23/2002, 5'9″, 183, L, SWE
Selected #54 overall by Philadelphia Flyers, ranked #30 by DraftPro.
Listen, I get it, a five-foot nine defenseman? Not many of those playing a big role in the NHL right? He is a little overconfident and can make risky plays. But this kid has more offensive talent in the heel of his stick than most of those six-foot-two NHL guys do. And he plays physically hard as well. What more do you want? Steal by Philly here.
Lukas Cormier, D, Charlottetown Islanders (QMJHL), DOB 3/27/2002, 5'10", 170, L, CAN
Selected #68 overall by Vegas Golden Knights, ranked #24 by DraftPro.
Just an elite skater. Someone who pushes the offensive pace, joins the attack and will boost a powerplay. Great 'escapability' with the puck against the forecheck. Not physical but uses his positional smarts and an active stick well to defend. As he grows and adds strength he will be fine. A projected top four defender drafted in the third round. Headscratcher.
Ty Smilanic, C, NTDP U18 (USHL), DOB 1/20/2002, 6'1″, 170, L, USA
Selected #74 overall by Florida Panthers, ranked #43 by DraftPro.
A gifted skater, versatile and dynamic two-way threat. Had some trouble staying healthy. One of those guys you watch in game and practice and say he has so many tools to be successful how could you bet against him. Has top six two-way center upside, not bad for a third rounder.
Jean-Luc Foudy, C, Windsor Spitfires (OHL), DOB 5/13/2002, 5'11", 168, R, CAN
Selected #75 overall by Colorado Avalanche, ranked #41 by DraftPro.
Another elite level skater. He was up and down our list this season but his physical tools are outstanding. Playmaking can look elite one minute and pedestrian the next. Pushes defenders back due to his speed and puck control. He is a competitor who has top six upside, but patience will be needed.
Joni Jurmo, D, Jokerit U20 (Jr. A SM-liiga), DOB 4/19/2002, 6'4″, 190, L, FIN
Selected #82 overall by Vancouver Canucks, ranked #45 by DraftPro.
Love the skating, length and puck carrying ability he possesses. Just an effortless looking stride, especially when he gets the puck on his stick. Uses the open ice in front of him and makes crisp passes. Still developing his game defensively but can use his long stick and active feet to close off attackers well. Top four puck moving upside.
Carter Savoie, LW, Sherwood Park Crusaders (AJHL), DOB 1/23/2002, 5'10", 181, L, CAN
Selected #100 overall by Edmonton Oilers, ranked #53 by DraftPro.
Effort can be hit or miss. Often looks disinterested, especially after scoring a goal or two. So we get why he was selected so late, as a fourth rounder, but we think the switch flips with this kid and he makes teams feel stupid for letting him slip by so many times. He is a smart goal scorer with ultra-skilled hands and creativity.
Mitchell Miller, D, Tri-City Storm (USHL), DOB 12/20/2001, 5'11", 194, L, USA
Selected #111 overall by Arizona Coyotes, ranked #77 by DraftPro.
A smart, efficient, puck moving defender. A strong skater, makes quick reads, transition the puck back up ice quickly. One of those high intelligence defenders who uses his IQ to make life hard on attacking forwards. Has definite top four two-way NHL upside. Another fourth rounder who could make NHL teams look foolish.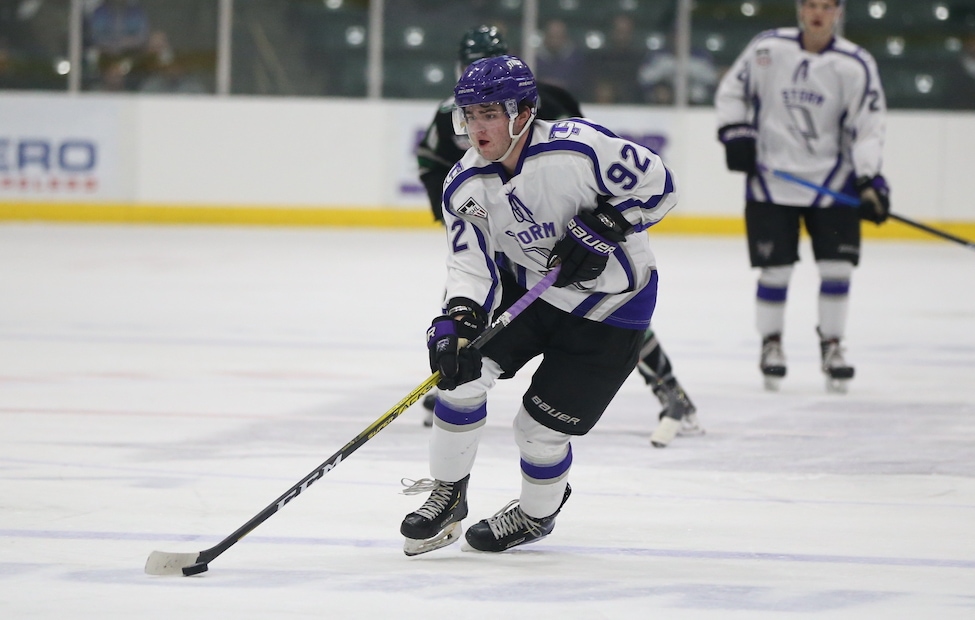 Zion Nybeck, W, HV71 J20 (SuperElit), DOB 5/12/2002, 5'8″, 176, L, SWE
Selected #115 overall by Carolina Hurricanes, ranked #31 by DraftPro.
Here is one prospect we figured would fall considering the risk associated with his lack of size and skating speed. But when you take into consideration his small space shiftiness, his creativity and his overall smarts we feel he will improve both of his weaknesses and has top six NHL upside. A great risk to take in the fourth.
William Villeneuve, D, Saint John Sea Dogs (QMJHL), DOB 3/20/2002, 6'1″, 163, R, CAN
Selected #122 overall by Toronto Maple Leafs, ranked #57 by DraftPro.
Smart, mobile, offensively inclined defender. A leader. We honestly thought we would see him go before where we had him ranked and are shocked, he slid to almost the fifth round. Sure, he is physically underdeveloped but in time he will likely make Toronto scouts look smart. Has top four two-way upside.
Tyler Tullio, C, Oshawa Generals (OHL), DOB 4/5/2002, 5'9″, 161, R, CAN
Selected #126 overall by Edmonton Oilers, ranked #85 by DraftPro.
Skilled, tenacious, hardworking offensive forward. Pesky and plucky. Skating needs improvement as does his strength level which are likely the reason he fell. Strong vision and an offensive play driver. Plays in traffic. Not sure about the centre position at the NHL level but he has top six winger upside.
Evan Vierling, C, Barrie Colts (OHL), DOB 6/20/2002, 6'0″, 168, L, CAN
Selected #127 overall by New York Rangers, ranked #66 by DraftPro.
Surprised he was drafted lower than we ranked, but to last until round five? This kid has a late blooming vibe to him and will likely make the Rangers look brilliant for taking him in a few years. Excellent vision and touch on passes. Should start to get top line minutes in Barrie and then we will see. Top six playmaking centre upside.
Martin Chromiak, LW, Kingston Frontenacs (OHL), DOB 8/20/2002, 6'0″, 181, R, SVK
Selected #128 overall by Los Angeles Kings, ranked #27 by DraftPro.
The steal of the draft. LA just added a projected top line winger in the fifth round, one we had ranked as a solid first rounder. He is physically stronger than his vitals show, more skilled than his numbers indicate and just extremely smart in general. Has excellent net presence. Elite level playmaking ability and vision. Makes subtle plays that make things easier on his line mates. His speed and tenacity make him hard to stop. Power finesse blend for a future top line winger.
Anton Johannesson, D, HV71 J20 (SuperElit), DOB 3/26/2002, 5'9″, 154, L, SWE
Selected #133 overall by Winnipeg Jets, ranked #50 by DraftPro.
We figured he would slide due to his tiny frame and injury history, but this is deeper than expected and much lower than where we see his projected NHL career going. Offensively creative, effortless skater, elite edgework, dangerous puck mover. A powerplay monster who will add strength, size with a little patience but could eventually end up in Jets top four.
Brett Berard, LW, NTDP U18 (USHL), DOB 9/9/2002, 5'9″, 152, L, USA
Selected #134 overall by New York Rangers, ranked #89 by DraftPro.
A speedy, buzz saw type. Excellent skater with quick feet and even quicker hands. Brings the energy to succeed in either a scoring role or down the lineup in an energy role. His size/strength will improve. His shot is strong as is his vision and passing ability. A very low risk but solid upside prospect who could bring a very valuable two-way game to the Rangers one day.
Carson Bantle, LW, Madison Capitols (USHL), DOB 1/22/2002, 6'4″, 201, L, USA
Selected #142 overall by Arizona Coyotes, ranked #81 by DraftPro.
Skating is the problem here but not so bad he should not have been selected a couple rounds sooner. If or I should say when he improves his first steps, he will bring a strong power game to Arizona. He has the shot, driving north-south game, and battle to succeed.
Ryan Francis, RW, Cape Breton Eagles (QMJHL), DOB 12/2/2001,5'9″, 168, R, CAN
Selected #143 overall by Calgary Flames, ranked #83 by DraftPro.
skilled and fast offensive winger with impressive feet. Good feet and hands combo to transport the puck and gain the offensive zone. Size and defensive play are the weakness. Offensive skill, battle and determination are strengths. Calgary will like what they have here if they show him patience.
Pavel Novak, RW, Kelowna Rockets (WHL), DOB 4/16/2002, 5'10", 170, R, CZE
Selected #146 overall by Minnesota Wild, ranked #55 by DraftPro.
One of our contributors liked Novak near the first round this season. He is a hard-working winger who scores goals off of his determination to succeed and a deadly shot. Strong on his feet, willing to get his nose dirty. Has some risk to his play and is not ideal NHL sized but could make Wild fans very happy one day.
Veeti Miettinen, RW, Kiekko-Espoo U20 (Jr. A SM-liiga), DOB 9/20/2001, 5'9″, 159, L, FIN
Selected #168 overall by Toronto Maple Leafs, ranked #61 by DraftPro
Was not given the same exposure as other Finnish juniors due to the fact he was coming to play NCAA hockey. While he is small and weak he will haver plenty of time to bulk up. Smooth skater plays a strong two-way game. Offensively creative. The Leaf's could have a second liner once he adds needed mass and learns how to bring the same competitive, highly skilled game to the smaller rinks of North America.
Alexander Pashin, RW, Tolpar Ufa (MHL), DOB 7/28/2002, 5'7″, 154, L, RUS
Selected #199 overall by Carolina Hurricanes, ranked #69 by DraftPro.
Holy Toledo! We might have another future first line NHLer here selected late in the draft. Size and willingness to work are what would keep this ultra-skilled puck magician out of an NHL lineup. So shifty, so creative. Makes everyone around him better. We thought he would slip a little but not this far.
Ronan Seeley, D, Everett Silvertips (WHL), DOB 8/2/2002, 5'11", 176, L, CAN
Selected #208 overall by Carolina Hurricanes, ranked #108 by DraftPro.
Again, size is what held him back, but he was one of the better and more consistent high IQ puck movers out west this past season and brought a solid defensive game as well. Was willing to play physical even if he did get pushed around a bit, but he can fix a lack of strength.
Oskar Magnusson, C, Malmo Redhawks J20 (SuperElit), DOB 1/31/2002, 5'10", 165, L, SWE
Selected #211 overall by Washington Capitals, ranked #104 by DraftPro.
Solid, versatile, offensive minded center. Nice skater with impressive hands and a sneaky good shot. Sees his teammates and makes creative passes. His size and lack of physical play are likely what had him slip to the seventh round. Could be a big steal for the Caps if he can fulfill his middle six offensive upside.
In Part two we will look at a few names that were passed over entirely but who we feel could make NHL teams kick themselves for not calling their names.