By DraftPro Staff
The last major scouting event on the scouts calendar is the IIHF U18 World Championships that typically consists of the major hockey playing countries top U18 prospects in a best on best format with one caveat, the Canadian entry that is limited to bringing those prospects whose CHL or club teams have missed various league playoffs.
Last year in Texas we were spoiled with a Canadian entry that brought the best national U18 talent as many leagues were postponed or never got a season in due to the pandemic. This year it was almost back to normal with Canada fielding a lesser stacked roster than the one that dominated last spring, with the exception of the Russian invasion of Ukraine causing both the Russia and Belarus' entries being banned from participating this year.
The 2022 event ran from April 23 to May 1 with a plucky Swedish entry surprising defeat of the strong USA NTDP squad in the gold medal game. The skilled Finns beat a solid Czech team for Bronze.
Draft Prospects Hockey had multiple sets of eyes on the event and offer this review of who impressed our evaluators before our group digs into our final ranking meetings this week.
Jonathan Lekkerimaki – F – Sweden (Djurgardens IF) – 2022 Eligible
The tournament leading scorer and one of the top performers for the goal medal winning Swedes, Lekkerimaki was not as consistently effective as some other prospects in Germany but when he flashed his abilities it was usually recorded on the scoresheet. His quick, deadly shot release, shifty elusiveness to get into scoring position and ability to control the puck while navigating the offensive zone is impressive and will potentially drive his draft status as a top 10 pick form July.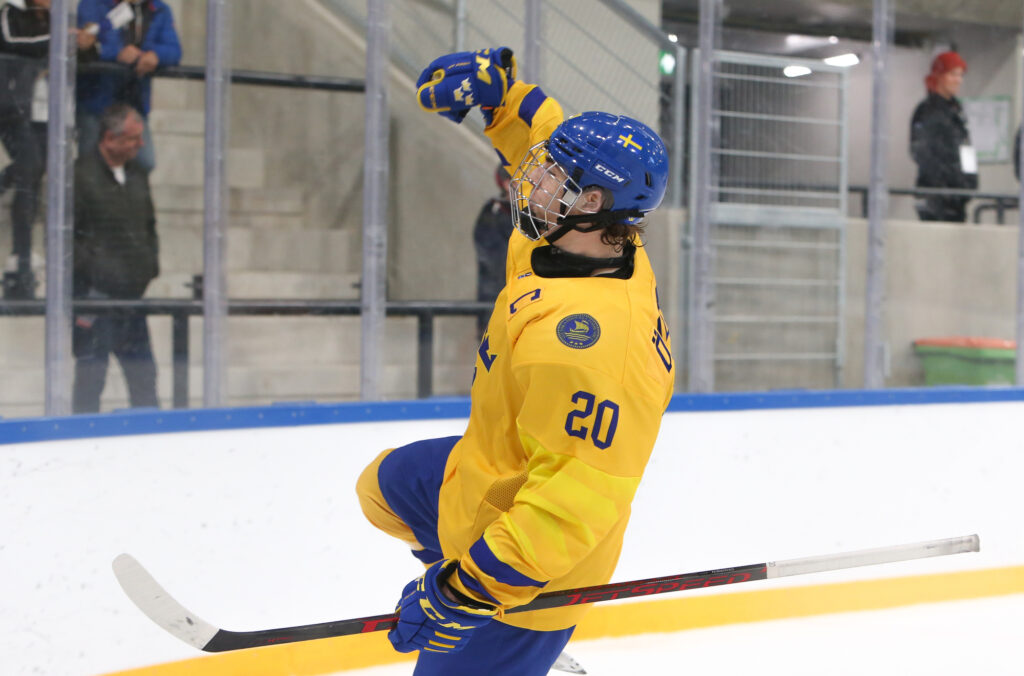 Liam Ohgren – F – Sweden (Djurgardens IF) – 2022 Eligible
Another of Djurgarden's young forward talent's, he is also the biggest and most physical of the three. He also has a very heavy shot that is dangerous. It was not until the final against the American's however that he really showed how he can take over a game with his two-goal effort. He is a guy that some NHL team's might really be falling in love with and could head his name much higher than the public rankings show.
Noah Ostlund – F – Sweden (Djurgardens IF) – 2022 Eligible
The running mate of both Lekkerimaki and Ohgren in Djurgarden also displayed his solid two-way play as well as silky offensive game putting up ten points in six game. His ability to carry pucks on zone entries, setting up plays was phenomenal and his vision to make a pass or sense the space to take the puck to the net made him extremely dangerous.
Calle Odelius – D – Sweden (Djurgardens IF) – 2022 Eligible
A well-built two-way defender, that has been somewhat overshadowed by the three-headed skilled forward group in Djurgarden this season, has become a riser up draft boards the past few months due to his rapidly developing game. His passing ability, especially his first pass, and even a handful of multi-zone stretch passes he dished throughout the tournament to streaking forwards, was eye catching and had scouts excited, discussing how they see he could spark quick strike offense at the NHL level.
Mattias Havelid – D – Sweden (Linkoping HC) – 2022 Eligible
Havelid was the teams top blueliner and trusted to eat minutes as well as contribute on the scoresheet. Finishing second in event scoring with twelve points did nothing but help his draft stock. One scout had this to say regarding the blueliner, "Mattias Havelid, he really impressed me this tournament, didn't know that his shot was this good and dangerous." Another scout added, "The only thing really holding me back on him to push him even higher would be his inconsistency on the breakout with his passing. I like a creative mind… but holy, sometimes it was too much to bear."
Hugo Havelid – G – Sweden (Linkoping HC) – 2022 Eligible
The trusted stopper for the Swedes was Mattias' twin brother Hugo. He is not seen as having NHL size but he is a solid positional goaltender who is just reliable. As one of our scouts commented, "Hugo was just so composed… seeing a goalie do what he did in back-to-back performances like that…legendary stuff. He's so poised."
Isaac Howard – F – USA (NTDP U18) – 2022 Eligible
Started the tournament off with a bang by putting up a four-goal outing against Canada. He quested off after that but was still buzzing on route to fourth in overall scoring at the event and eleven points in six games. His ability to sneak into prime areas and get quick, dangerous shots off as well as creative give and go passing plays were very impressive.
Logan Cooley – F – USA (NTDP U18) – 2022 Eligible
The top 2022 eligible at the event did not disappoint as he was dangerous each and every time he jumped the boards using his speed, slick puck skills and creativity to force defenders to back on their heels and provide him space. His "Michigan" goal was the epitome of high-end offensive skills and his overall performance likely solidified his top three rank for most NHL teams.
Rutger McGroarty – F – USA (NTDP U18) – 2022 Eligible
Rutger has been seen as a late first rounder in many rankings this season, mostly due to his lack of footspeed while skating, but what you saw in Germany is likely what his game will look like at the NHL level. So, if you are looking for a guy who skates like the wind or will deke and dangle around defenders, he is not likely your best option. But if you want an effort guys who will play physical and go to the net looking to bang in a puck while also flashing some offensive skill to make a creative pass you will not be disappointed with this prospect.
Cutter Gauthier – F – USA (NTDP U18) – 2022 Eligible
Much of what can be said of Gauthier was just said of McGroarty above with one major difference, Gauther is a very powerful and smooth skater. His shot is dangerous and he reads the developing play well, even when paired with high-end skill like Cooley, and gets to the right spots for an opportunity. We like Gauthier a lot and feel that he could be just scratching the surface of his offensive ability.
Ryan Leonard – F – USA (NTDP U18) – 2023 Eligible
Leonard's gritty style and ability to contribute in a support role was evident as he made his opportunities count and showed off that hard shot as well as his big hit ability on the forecheck. Look for him to be a high-end power forward option for next summers draft.
Gavin Brindley – F – USA (TRI-CITY) – 2023 Eligible
Brindley was an add on to the U18 team from Tri-City of the USHL and he showed very well combining skill to distribute pucks as well as doing the majority of the heavy lifting or grunt work along the wall to win pucks on his line that features top end talents Isaac Howard and Frank Nazar.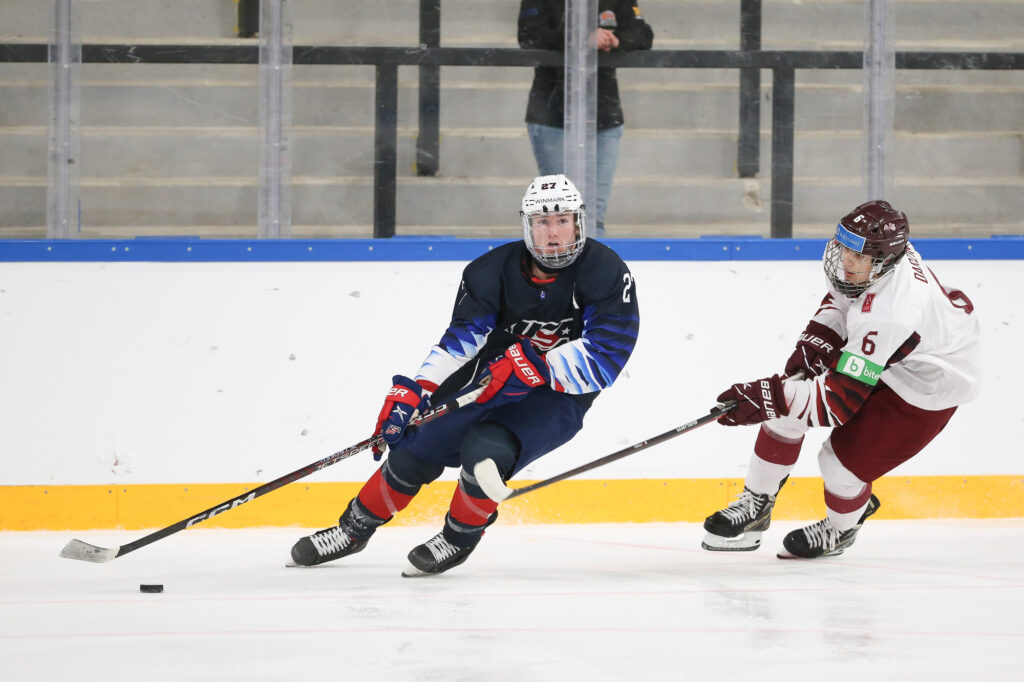 Ryan Chesley – D – USA (NTDP U18) – 2022 Eligible
Chesley was a name that some in our group have been critical of this season after his highly impressive DY-1 showing, but at this tournament he might have won some of those critics over with his smooth skating, strong shut-down defensive play and puck rushing flashes. He sure reminds us of Ryan McDonagh when Montreal drafted him out of Cretin-Derham Hall.
Lane Hutson – D – USA (NTDP U18) – 2022 Eligible
Just a dynamic puck transporter and two-way workhorse. His shiftiness and quick thinking opens up so much ice for not only him but also his linemates. Generated tons of chances for his teammates and came away with eight assists, most of which were the highlight reel variety. If he were six-foot-two we would be challenging for the No. 1 overall pick, he is that dynamic. His processor, quick hands and feet combined with some of the best vision in the draft class are 100% worth a gamble on the tiny defender early in the draft.
Jiri Kulich – F – Czechia (HC Energie Karlovy Vary) – 2022 Eligible
The biggest riser from this tournament was the skilled Czech who was a load to handle for all the opponents he faced. He was engaged all over the ice playing a sound two-way game, but on the powerplay he was dangerous. "That one-timer of Kulich's may be a nominee for one of the more potent shots in the 2022 NHL Draft… one of my favourite things about it too is how he can lay it off from just about anywhere, even on his weak side. He's honestly a fearless shooter, there's no wonder why he ranks among the top." said a scout.
Eduard Sale – F – Czechia (HC Kometa Brno) – 2023 Eligible
A big riser for the 2023 draft after this showing as one scout put it. "Sale is a guy that is going to turn a lot of heads for the 2023 NHL Draft with his complex collection of offensive tools and slick skating. His array of skills generally blends down into his dynamic vision and soft hands. He finds creative routes with his edgework and playmaking, constantly changing his angles." We might have been looking at a top-10 talent for 2023 here.
Adam Bares – F – Czechia (Pelicans) – 2022 Eligible
Creates his offense through competitiveness and effort. "It's hard to ignore Bares when he steps on to the ice with the energy he injects into every shift. I wouldn't label him as someone who's able to control the pace of play or someone who creates chances at will, but he's a guy you can't give space since he's going to be exploiting those smallest voids in the ice to pursue or carry the puck deep. Competes hard on the forecheck and isn't afraid to assert himself despite his smaller size, flying into opponents with a good head of steam." said a scout when asked about the wingers game. Could end up a solid bottom six NHL winger.
Tomas Hamara – D – Czechia (Tappara) – 2022 Eligible
Just played a consistent, no panic, puck-moving game while also showing strong defensive awareness in his own zone. One scout put it this way, "Just like Svozil in last year's draft, I hope this Czech defender doesn't slide. He's a high IQ, two-way defender that's engaged in all areas of the play. Not a physical brute but stands his [ground]. Nothing at the moment makes Hamara a dynamic puck mover or an offensive juggernaut, he's just extremely solid in every zone. With his polished skating and hockey IQ, I don't see why Hamara couldn't make an impact as an NHL defenceman."
Ales Cech – D – Czechia (Karpat) – 2022 Eligible
Performed better here than when we have seen him in the past. Nothing overly high-end but his strong defensive game is worth noting as a potential bottom pairing, PK guy at the next level. Fearless shot blocker, a tight gap and his constant involvement were impressive. Could be a guy teams look at to fill their defensive cupboard later in the draft.
Joakim Kemell – F – Finland (JYP) – 2022 Eligible
Scored six goals in five game despite missing a game after getting the flu. So naturally his energy was up and down in Germany. But he is a true finisher, his shot is dangerous with a deceptive release and quickness rather than blowing it by you. Slick hands and tricky puck skills. He is a threat to embarrass defenders or goalies as well with his sleek hands. He is a top talent in this class.
Aron Kiviharju – D – Finland (TPS) – 2024 Eligible
Highly impressive for such a young prospect to play big minutes on the top pairing for the Finnish team. Composed, competitive and creative all in one. Excellent skater and puck mover as well as playing sound defense as well using his stick and positioning. A potential superstar. He could develop into a bonafied No.1 NHL defenseman prospect at the top of the 2024 class.
Julian Lutz – F – Germany (EHC Munchen) – 2022 Eligible
Seven goals scored for the Germans and Lutz was in on four of them. Love the heavy shot and ability to get himself open to unleash the one-timer. It is hard to showcase your skill-set when you play on a weaker squad with far less skilled teammates but Lutz showed flashes of what we hoped to see. With his size, mobility and shot he is an early day two pick for our group.
Connor Bedard – F – Canada (Regina) – 2023 Eligible
Bedard is so dynamic, so smart and always a step or two ahead of everyone else on the ice. He consistently looked dangerous offensively, creating space and chances like he does as well as getting dangerous shots off himself to the tune of six goal in four games. But there was a bit of an undisciplined side that showed up as well. Maybe it was a byproduct of being on an underperforming team, not sure. While the scouts at DraftPro are in 100% agreement he is the top pick available for 2023, and maybe a generational NHL player down the road, this was not as impressive of a showing as he had in Texas at the U18's last spring.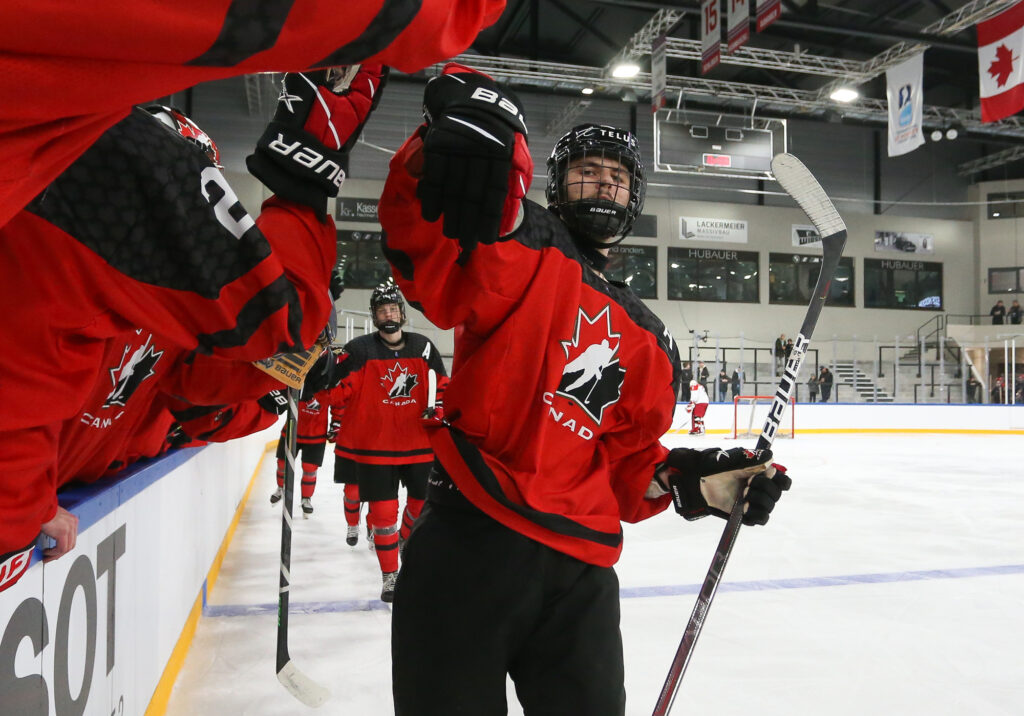 Adam Fantilli – F – Canada (Chicago) – 2023 Eligible
Fantilli was a little snake bit in Germany. He had numerous chances to score that just did not go in for him. He was a dangerous tandem to Bedard often creating high-end offensive chances due to his speed, physicality, and creativity. He hit hard and made one of the best set-up plays with a fanned on shot that quickly turned into a behind the back pass to an open Bedard that really showcased his quick thinking and adaptability. It has become a debate in some scouting circles for who goes No. 2 in 2023 between this power forward and the goal scorer from Russia, Matvei Michkov.
Michael Mastrodomenico – D – Canada (Lincoln) – 2022 Eligible
Loved the game Mastrodomenico brought to a somewhat pedestrian Canadian defense. He carried the puck up ice, made solid first passes, brought a physical edge stepping up on opponents, consistently skated up with the play and injected himself at both ends all tournament long. While he doesn't look to have top pairing NHL upside, we do like him projected as a second pair two-way guy and were very impressed with his play here in Germany.
Sandis Vilmanis – F – Latvia (Lulea HF) – 2022 Eligible
The Latvians were over matched offensively but still managed to scrape out a win. Because they were playing a move defensive game some of the offensive talented players were not able to show their skill-sets as much as they might against less talented opponents. Still Vilmanis was able to show off his impressive shot and quick hands in flashes and ended the event with three points in four games. He is a very good mid-round option that could really pop in a couple years developing in Sweden.
Gregory Weber – F – Switzerland (Bern) – 2022 Eligible
Impressed our scouts on a poor roster that could hardly compete by scoring three of the teams eight total goals in their four games. He has some impressive feet and offensive skills but it is the effort that stood out the most as one scout noted, "He has impressed me big time with his efforts in this tournament so far, especially his game performances against bigger nations like Finland and Sweden."
Photos courtesy of IIHF.com
For actual game reports from the IIHF U18 tournament as well as many other tournaments and league games throughout the past two seasons be sure to pick up your digital copy of the 500+ page DraftPro 2022 NHL Yearbook.