By Jody Horak
The Best Are Brought Out Again as the UMHSEL Shines in the State of Hockey.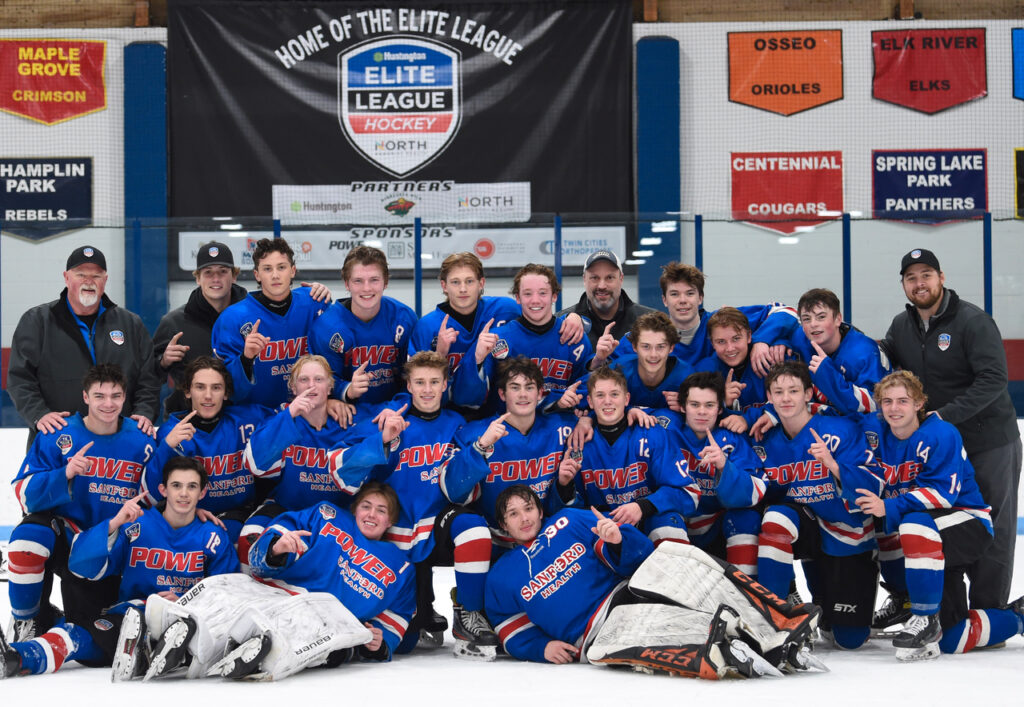 For almost two full months, the best of the best high school hockey players in Minnesota were in full effect in the Upper Midwest High School Elite League. There was tons of talent displayed, bringing in scouts from all over the country and these kids' day in and day out did not disappoint. 7 teams representing Minnesota made up the league along with Shattuck St. Mary's Prep school, Team Wisconsin and on occasion Team North Dakota. TDS Transportation won the regular season title at 13-4-3 but it was Sanford Power taking home the coveted trophy with a 5-4 dramatic overtime win over MAP South Hockey. Only three teams finished above .500 in the league (one being Shattuck) showing the parity and competitiveness of this league. We'll look at some of the players who stood out, looking mostly at 2023 eligible players and a few that we will surely hear about for the next few seasons.
TDS Transportation
Teddy Townsend, C, 5-10,165, DOB 9.2.05
Led by 2023 NHL eligible Teddy Townsend, who is a prolific playmaker with great hockey sense and an unselfish demeanor of play. Townsend finished second in the league with 39 points. Dynamic creativity when making passes, can no-look pass right on to his linemates stick. Does not lose many battles in the corners, is a grinder and protects the puck. His feet are constantly moving. Good at creating space and utilizing patience when making decisions with the puck. Small in stature but makes up for it with excellent skating, top notch playmaking ability and great hockey sense. Has tremendous explosiveness and speed that allows him to separate from opponents. He seems to always know what the next play is going to be and is mindful of what the low risk play is going to be. Does not shoot a ton but will take his opportunities when he sees them and get pucks to the net. Attacks the net for rebounds. Townsend will take his talents to the University of Minnesota next season.
Javon Moore, LW, 6-2, 181, DOB 12.7.05
Another standout, Javon Moore, who is NHL eligible in 2024 really stood out as an elite skater who will put pucks in the net. He has tremendous acceleration; his feet are constantly moving, and he plays all phases of the game extremely well. Has particularly good vision on the ice, knows where his line mates are and makes accurate passes. Mindful defensive awareness on his position and who and where he needs to cover. Backchecks hard and gets back quickly with his speed. Multi-dimensional attributes in his scoring, playmaking and skating ability will make him a great player at the next level. The University of Minnesota commit finished with 29 points and will surely turn heads as he progresses this season and beyond. Look for big things to come from him.
Sanford Power
Hampton Slukynsky, G, 6-1, 170, DOB 7.2.05
He did go 4-2 with a 2.51 GAA and a .939 save %, despite playing limited games due to injury. Those are amazing numbers in a league full of elite talent and lots of offense. Slukynsky is an athletic, very focused goaltender. He follows the puck extremely well and can locate pucks even through heavy traffic in front of him. I really like that he is very active with his stick, trying to play the puck whenever he can and looks confident and capable in doing so. Needs to work on the accuracy of his passes. Has good technique, moves laterally in the butterfly very effectively and positionally sound on his slides. Hybrid goaltender who traps pucks into his body effortlessly on shots outside the slot. Gives up some ugly, loose rebounds but is able to recover and with quick pushes make the 2nd or 3rd saves. Covers well low in the butterfly, stays tight and stick is in great position covering the five-hole area. Played on the USA U18 team at the Hlinka Gretzky Cup posting a 2.11 GAA and .926 save percentage in 2 games played. Shows he can play at the highest level in his age group. Look for him to be a mid to late round selection in the draft, potentially higher if he has a great year. Committed to Northern Michigan. 2023 NHL draft eligible.
Aaron Reierson, RW, 6-1, 161, DOB 2.27.05
Sanford was led in the playoffs by 2023 eligible Aaron Reierson, who had 6 goals and 1 assist in 3 games. He is aggressive on pucks and pursues hard on the forecheck. He has good speed when in transition but skating in open space with time has average to less than average speed. He reads and anticipates plays well in scoring areas and makes him a threat to put a lot of pucks in the net. Needs to have more intensity in his game away from the puck. Noticeable on the power play, stands around a little too much when on the PK. Has a ripping wrist shot, lets it fly and gets it off quickly. Does not pass up opportunities to shoot the puck. Will throw his body around. Has good hands when stickhandling the puck, can maneuver and get creative with the puck on his stick. Keeps his game simple, doesn't try to do too much or hold onto the puck longer than he should. Makes the smart plays, gets it deep into the zone when necessary, clears pucks out of his zone. Could improve on his defensive game, being more aggressive and keeping his feet moving picking up players. Passes in stride to teammates and is good corralling passes while in stride. Works hard battling in the corners and trying to come away with pucks in the offensive zone. Has a good hockey sense on scoring goals, when watching him you can see that he knows where to go and what to do to get to the net. Attacks the net, creates traffic and is quick to try and get loose rebounds.
Garrett Lindberg, D, 5-4, 130, DOB 3.8.07
Listed at only 5'4", this smooth skating, skilled defenseman held his own on the ice. He has exceptional footwork and plays with patience and poise with the puck. Displays a great level of maturity. He gets himself in position to be an option for passes on the breakouts and moves the puck up ice quickly and accurately. Played power play and penalty kill. Good on the blue line for the power play, moving the puck and his feet to create good, quality scoring chances. On the penalty kill, he moves bodies around and is good positionally in front of his net. At times, tends to force pucks into traffic as he tries to "thread the needle" with his passes. Very offensively gifted, great skater and incredible awareness on the ice, knowing when to join the play. Even if he gets caught in the offensive zone, has the mindset to get back and be in a great position on defense. Does not shy away from contact, will be physical in the corners and knock guys around in front of the net. Quick, crafty hands go along with being able to rush the puck up ice with ease. Scans the ice well and has impressive decision making. Consistent hockey player with extreme versatility to play all situations. Great ability to read plays developing and has good gap control and reacts quickly. Could sacrifice his body more to block shots. Not a lot of weaknesses in his game. If he can add a few inches, he will be a dynamic player to watch develop. Keep an eye on this kid. 2025 NHL draft eligible.
Shattuck St. Mary's
Calvin Vachon, G, 6-0, 161, DOB 7.19.05
Calvin Vachon led the league with a 1.88 GAA. The grandson of the great Rogie Vachon, Calvin is a very athletic, quick, agile goaltender with a lot of potential. Makes smart decisions moving the puck, handles pucks well behind his net. He anticipates well, knowing when to challenge shooters. Performs the butterfly position admirably, staying tight and pads flush to the ice. His lateral movement is quick and precise. Possesses ability and competitiveness to make the big saves, never gives up on plays. Communicates with his teammates, see a lot of gesturing with his glove to point out open opponents to his defenseman out in front of the net. Does not reveal many holes while down in the butterfly position, covers his five-hole and lower portion of the net very well. View him as a potential highly regarded goalie at the next level. NHL comparable to Jonathan Quick. 2023 NHL draft eligible.
Zach Nehring, C, 6-3, 179, DOB 3.7.05
Another 2023 that really impressed and has great potential to slip in somewhere in the draft is Zach Nehring. He has good size and plays physical and gets himself in high scoring areas. Finished with 21 points, 14 of them goals. He is not afraid to use his body in all zones and deliver hits whenever he can. Puts himself in a good position in front of the net to collect garbage goals. Makes smart plays with the puck and delivers crisp, accurate passes to his teammates. Positionally sound in the defensive zone, always looking around to cover someone. Does not accelerate quickly but once he gets moving, has nice long strides and keeps his feet moving. High quality vision on the ice. Competes hard and will battle hard in corners and is not afraid to stand up to opponents. Has a quick release on his wrist shot and does not pass on shooting the puck when he has the opportunities. Has the potential to be a great two-way player at the next level. Makes smart plays, using the boards and avoiding the danger zones in his defensive zone. Handles the puck well but could get more creative when going one on one with the defense. Active stick and long reach allow him to create turnovers defensively and be a threat in front of the opposing net. Committed to Western Michigan. 2023 NHL draft eligible.
Hunter Anderson, F, 5-9, 181, DOB 4.28.05
That leads to the superstar of the team. 2023 eligible Hunter Anderson who already is ranked on the central scouting report. He led the league in goals with 20, showing his significant talent to score goals. Finished with 13 assists to go with that. He is quick to release his shot and get pucks to the net and attacks the net for rebounds. Has great playmaking ability with the way he reads the play and being aware of open teammates even without looking at them. He is tenacious in front of the opposing team's net. Feet are always moving, and he is quick to get pucks to the net and attack rebounds. Looks to score first but has significant playmaking ability with the way he passes and handles the puck. Has good velocity and is excellent with the catch and release on his wrist shot. Has average acceleration explosiveness, his transitions from zone to zone are extremely good and his ability to stop and start on a dime are a great attribute for playing special teams. Has smooth hands and finesse when handling the puck, has a creative toolbox he isn't afraid to go to on one on ones. Does not lack effort or work ethic shift to shift. Stands out on a team loaded with high end, quality talent. Not a very big guy but is strong on his skates and does not get knocked around very easily. Great at using his speed and receiving passes in stride on the breakout and in the neutral zone. Anderson is someone who has the intangibles to really succeed and excel at the next level despite being smaller in stature. 2023 NHL draft eligible.
SIT Mutual Funds
Jackson Nevers, C, 6-0, 181, DOB 7.27.05
He is a 2023 eligible forward who plays with high energy and does great things in all phases of the game. Teams will love his consistency and versatility to play a lot of different types of situations in games. Finished with 17 points, 9 of them goals. He has a good motor in space, would not say he has high end speed but plays with high energy and keeps his feet moving around the ice. Very good in the faceoff circle, wins a high percentage of his draws. On his forehand side, he will line up on the wing to get the draw and get shots to the net. He makes himself available to receive passes by keeping his stick on the ice and following the play everywhere, getting himself in position to catch passes. Solid with the puck on his stick, not overly crafty but makes good decisions and is smart offensively. He is a good penalty killer, very patient, does not overcompensate, keeps an active stick and forces the opposition to take bad shots and not get time and space. Needs to pursue the puck more persistently on the forecheck, relies on his read and react instead of just attacking at times.
Gavin Uhlenkamp, F, 5-9, 154, DOB 3.27.06
A 2024 eligible standout was forward Uhlenkamp, an excellent skater with explosive, quick acceleration. Love how he uses his speed to create offensive opportunities and blow by the defense. Great stickhandler with the puck even at top speed. Good on special teams, both PP and PK. Excellent vision and playmaking ability allow him to be good on the PP using the perimeter, time and space to create scoring chances with the man advantage. On the PK, he stops and starts quickly and gets his stick in the passing lanes, not allowing opponents much time to create. Uses his body well in the corners to protect the puck and win battles despite having a small frame. Ties up players and is one of the first to notice open players with his sense to play in the defensive zone with his "head on a swivel." Not the natural goal scoring type, but a dynamic playmaker and high energy player. NHL comparable to Zach Parise. He is committed to the University of Wisconsin and look for him to do big things these next two seasons. He was the leading scorer for SIT Mutual with 22 points. 2024 NHL draft eligible.
Map South Hockey
Jake Fisher, C, 6-1, 185, DOB 3.27.05
Jake Fisher led the entire league in scoring with 44 points, 20 goals and 24 assists. He is a very skilled forward, displays tremendous confidence and has great craftsmanship when handling the puck. The 2023 eligible plays a smart game and is almost equal amounts goal scorer as playmaker. He has a nose for the net and knows where to be to score goals. Has good vision and knows where his teammates are and where they are going. Delivers crisp, hard passes. Has the eye for getting open for his teammates and anticipating where he needs to go. Needs to work harder after losing pucks to get it back. Creative with the puck and able to maneuver defenders one on one with quick hands and excellent control with the puck. Excellent power play man with his ability to score and rip pucks to the net but also with his above average passing. First few strides could improve but once he gets going, he has deceptive speed and can separate himself from opponents. Committed to Northern Michigan.
Colton Jamieson, D, 6-1, 185, DOB 11.28.04
He tied for the league lead in points for a defenseman with 20. He is a good skater for his size and his one touch passing is impeccable. His transition skating forward to backward is excellent as he can jump into the play and get himself back defensively with timing and great recovery. Knows when to pinch and anticipates that with great intuitiveness. Always seems to be a viable option for his D partner on D-to-D breakout passes. Could be a little quicker stopping and starting in the defensive zone. The way he one touch passes and moves the puck in all three zones is fascinating to watch. Not super physical for his size. Gets himself involved offensively but could shoot the puck more and get pucks to the net. Excels at playing at a fast pace or slowing the play down and handling the puck. Does not shy away from blocking shots. Does not get caught puck watching often, is very active and aggressive in reading the play and getting control of pucks. Has huge upside if he can continue to raise his game the way he has to this point. Committed to the University of St. Thomas. 2023 NHL draft eligible.
Recap Now it is fair to say that there could be some more names on this list. Some of them jump to the USHL or go to the NTDP, but Minnesota hockey is still arguably the best, intense, competitive hockey you'll find anywhere in the country. This league continues to produce elite talent and send young men to division I colleges and the NHL. It would not come as any surprise to see 7-10 names from this league come off the board at the 2023 NHL draft. Most of these guys will be staying and playing for their respective high schools and trying to reach the dream of making the Minnesota State High School Hockey Tournament. This league is just the beginning to something bigger.