By: Isaiah Bouchard
Welcome to Draft Prospects Hockey's introduction to the 2023 NHL Draft Class series. This is a multi-part series which we will be releasing over the next couple weeks to give you the readers some insight on whom we feel is the cream of the crop for 2023.
Putting up 74 points and 37 goals last season in the USHL, Adam Fantilli is the top prospect of the United States this year. With his impressive performance last year, Fantilli became the number one U18 player in the entire USHL, and finished seventh overall for all players of all age groups. So far in his young career, Fantilli and the Chicago Steel became USHL champions in 2021. During that tournament Fantilli became playoff MVP, scoring nine points in eight games.
With that it is fair to say that Fantilli has already seen much success in his career and becoming a top five draft pick seems to only be the only logical next step. Aside from repeating his 2021 accolades in 2023, of course. As of right now, Adam Fantilli sits at #3 on DraftPro's official rankings, and with all of his success so far its hard not to see why. The 6'2" centermen is everything an aspiring NHL hockey club is looking for come draft day. "Great blend of speed and power. Works hard to get into high danger areas and has the skill to make defenders pay. A load to handle." Said DraftPro's Andrew LeBlanc.
He's big, skillful, and thrives in high pressure situations, and he's going to be a force on the offensive zone. Fantilli could be giving the teams that hold the #2 pick to make him the Jack Eichel to Bedard's McDavid. Suspect him to be playing in the NHL sooner rather than later no matter where he is drafted.
Having two seasons with the Shattuck St. Mary 18U team, William Whitelaw will be starting his first season in the USHL with the Youngstown Phantoms. The 5'9" centermen from Rosemount Minnesota brings with him an already storied career playing for many different leagues under the Shattuck St. Mary organization. Playing for both the USHS-Prep and U18 AAA leagues, Whitelaw is looking to start his first season in the USHL with a similar bang.
"Puck dominant player that has all the tools to create offense." Said LeBlanc when asked about Whitelaw's style of play. Sitting currently at #18 on DraftPro's rankings, a major factor to decide if Whitelaw moves up or down will be his size. As bigger players continue to get more of the spotlight, players such as Whitelaw need to have methods in producing results in other ways. When discussing Whitelaw's size LeBlanc had this to say: "A bit undersized but does not let opponents boss him around. Willing to throw his body around and engage physically."
Time will tell just how well Whitelaw's physical style of playing will age as he moves onto leagues with bigger players. But there is no denying that Whitelaw has all the tools to produce big numbers. With 110 points in 55 games in the USHS-Prep league, Whitelaw's size is by no means slowing him down, not even a little. Suspect similar numbers in the USHL this season as he hones his playstyle even more before draft season.
Similar to William Whitelaw, Oliver Moore has played in many leagues in his short hockey career. Covid has made this a common obstacle for many young players of the past two years, as leagues would be shutdown and/or restricted in their travelling and ice-time. This hasn't stopped Oliver Moore from being noticed however, as he currently sits at #19, just below Whitelaw.
Oliver Moore found much success in his past seasons like many others on this list, but what catches our scout's eyes the most about this player is his dynamic playstyle, filled with varying utility across a spectrum of skills. Andrew Leblanc had a lot to praise Oliver Moore for, particularly his "crafty" method of breaking into the offensive zone. LeBlanc also gave praise to Moore's acceleration, and his shooting. "He's a crafty player on the offensive end… Lulls players to sleep before accelerating past them with quick bursts." LeBlanc says before going to refer to Moore's shot has a "rocket of a shot," and "Can score from the outside or in tight." Another player to watch in the USHL this year. Oliver Moore will be playing for the USNTDP Juniors this year once again, where a full season will be sure to make a significant impact on his final rankings come draft time.
Oliver Moore's teammate this year, and #23 on DraftPro's rankings is Will Smith of not the Men in Black, but rather the men in red, white, and blue, the USNTDP Juniors. Playing last year in the US National team for the U17 and U18 organizations, Smith actually produced very similar numbers in each league. This is great to see for any scout noticing his natural transition to the U17s to the U18s, finishing his time with the U18s with 27 points in 28 games.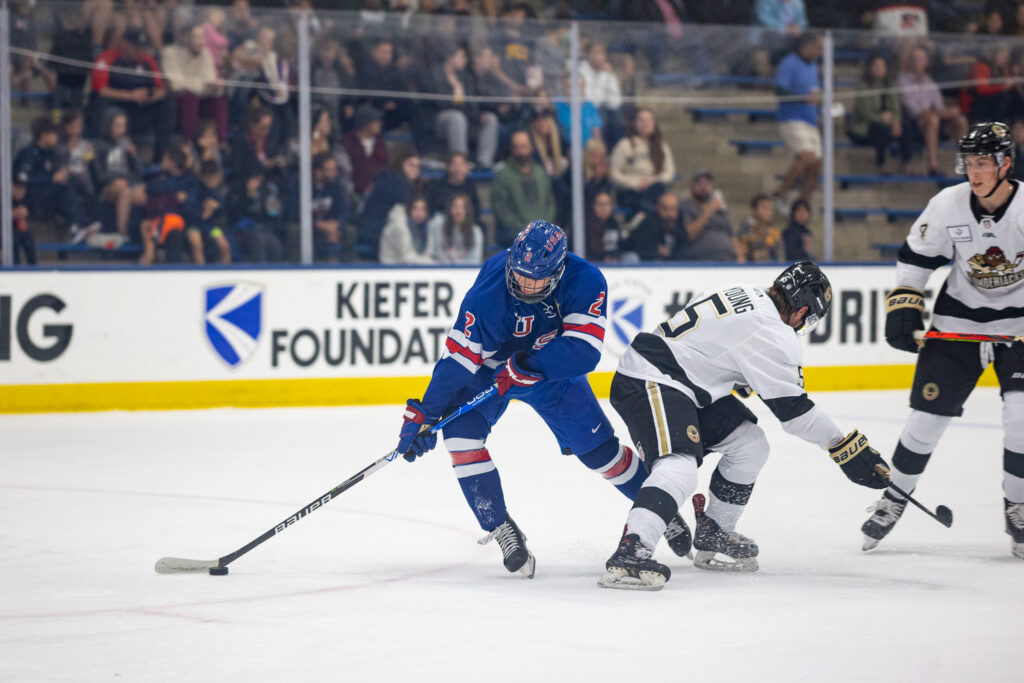 While not the clearly flashy player like his teammate Oliver Moore, Will Smith is clearly a jack of all trades kind of player. Looking to build up his teammates on the ice and play support rather than make the big plays. This makes him a suitable player who can play on both ends. "He can be relied on in the defensive end," LeBlanc said about his reliability as a player. LeBlanc went on to describe Smith as a player who "Creates a ton of opportunities for himself and his teammates." And finally LeBlanc summarizes Smith as "Not an incredibly flashy player but does everything above average." This may or may not be a selling point to aspiring hockey clubs. But it's clear that while Smith may not always stand out, he's a player who can always produce, and perhaps most importantly be relied on by his teammates and coaches.
Another player who made a name for himself on the US National U18 team, Gavin Brindley comes in at #29 for DraftPro. Another shorter player, Brindley is also playing for the very competitive Tri City Storm, where he put up 42 points in 51 games. He helped his team win silver in the WJC U18 tournament last year where he got 4 points in 6 games, playing alongside older teammates such as Logan Cooley and Ryan Howard.
"Brindley is a smaller player, but a spark plug for his team." Said DraftPro's head scout, Matt Hnatiuk. Hnatiuk describes Brindley as a high active forward who applies pressure in a myriad of ways. "A fiery competitiveness" makes Brindley a formidable opponent and he utilizes his strong skating and positioning to tip the scales for his team. An interesting take from Matt Hnatiuk is Brindley's strong balance, an often overlooked quality in a player's skating. "When he takes a hit, he seems to bounce or spin off of the contact and continue on his way. His balance is extremely strong both with and without the puck."
Overall Hnatiuk sees Brindley as a player with many upsides and minor downsides. Like many of the players listed, size is still a major factor to effect his draft position. But Brindley at least finds himself in a suitable spot to develop and work on these downsides come draft time.
Another Shattuck St. Mary representative sitting at #35, Hunter Anderson is coming off of the heels of an amazing season under St. Mary's U16 team. There he scored 69 goals and finished with 133 points in 57 games. His next stop in his career is still under the St. Mary name but is now playing for the 18U Prep league. Though the 133 points should seem impressive enough, what only adds to this accolade is that Anderson is seen by many to be a 2-way forward when he plays. Meaning offense isn't even his main focus, and he can still produce numbers like that.
"Two-way forward that gives a great effort every shift." Said LeBlanc. It's clear from the number he's capable of producing that work ethic is not going to be a problem with Anderson. Whether he's playing in a 16U league or an 18U, one can does not produce results like Anderson's without putting in the full effort every single night. LeBlanc goes on: "Has a nose for the net and great hands in tight. He gets the puck off his stick quickly."
All eyes will be on Hunter Anderson to see if he can produce a similar season in the U18 league this time around. If Anderson can keep his game consistent, even to reach a top five or top ten player position in the league this year, suspect him to shoot up the rankings.
As we return to the US National team, Gabriel Perreault is another forward on the smaller side looking to make a name for himself this draft season. Having a successful season with U17 league, finishing with 50 points in 51 games, coming ninth overall in points for the entire USDP. He was only behind one other undrafted player that year, the previously discussed Will Smith.
LeBlanc had this to say in regard to Perreault's game on the ice: "Great awareness and playmaking skill. Reads the game well and plays with a lot of confidence." The first pure playmaker on this list, Perreault will be of high interest to many teams. Someone who can play and see the game as well as Perreault can is going to be valuable no matter what. But Perrault still has a few obstacles to overcome before we can see him jumping the rankings. "Will need to put on size and strength to deal with more physical defenders." LeBlanc said when looking at Perreault's main downside, which is his size. While 5'10" is not a death sentence by any means, Perreault's main obstacle will be his lackluster weight of 154lbs. This is both a good and bad thing, as unlike height, weight can be added with proper dedication.
Overall Perreault is going to be an interesting player to watch this season. He's got the hockey senses needed to produce big numbers this year, and if he can do this while also bulking up, then there is no reason that Perreault, who currently sits at #37, shouldn't jump into the first round.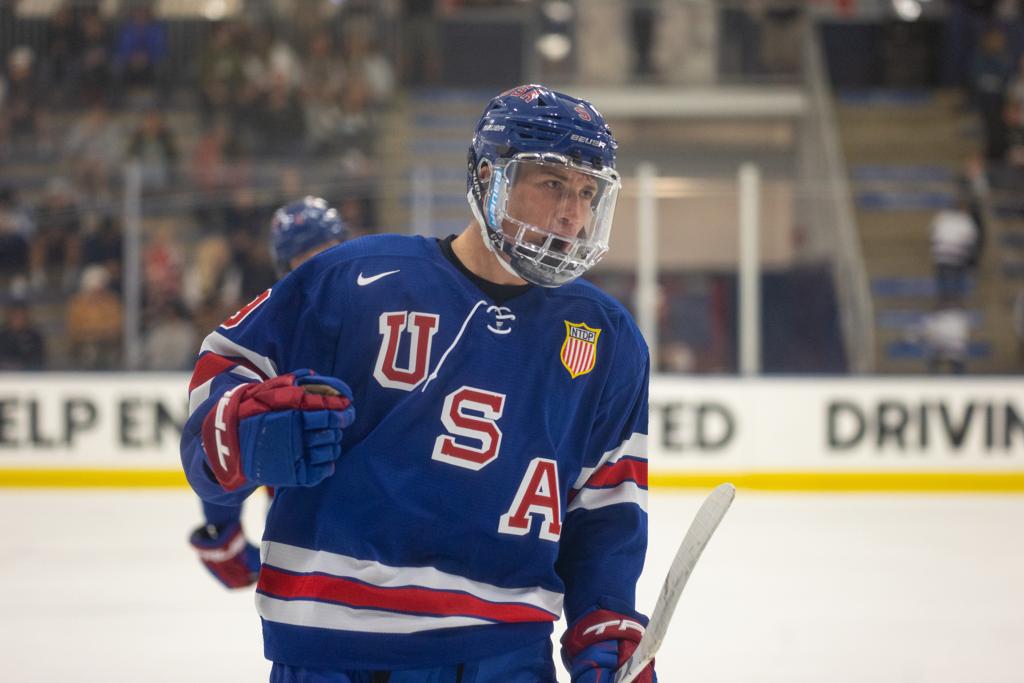 To finish off this list of players, we have Ryan Leonard at #54. Another player who played all over the USHL, and USDP last year, Leonard has been able to stand out in every league thanks to his physical style of play. Capable still of putting up streaks of multiple point games, Leonard will be an interesting player to see develop.
"Plays fearlessly with a bit of an edge," LeBlanc said in regard to his physical game. It's clear that Leonard is a player who can get in the way and be a real thorn in the side of defenders. Being close to 6'0" and 190lbs, Leonard is not an easy skater to knock down, and his wiliness to be a pest is the key to much of his teams success. He's not all brute force however, in the offensive zone he can still produce like many on this list. LeBlanc said this in regard to his offensive potential: "He anticipates as well as anyone this age," and he's an "Opportunistic player that can put up points in bunches."
As of right now, Leonard's only downside is his tendency to lose control in his end of the ice. "Will need to work on positioning and awareness in his own zone." LeBlanc said when discussing his defensive game. This is to be expected from a player such as Leonard, and one the bright side to this obstacle is that much positioning and awareness comes from experience. In time, Leonard could be a well-rounded player, and a proper gem for whichever team picks him in 2023.
For more on prospects from the United States, and the 2023 draft class as a whole, be sure to pick up a copy of our 2023 Draft Preview Magazine available later this fall and subscribe to our bi-monthly DraftPro newsletter full of up-to-date info and scouting reports.