By Samuel Dummer (@Dummer_Coleman)
JIMMY SNUGGERUD
NTDP U18, USHL
POSITION: C HAND: R
HEIGHT: 6'2" WEIGHT: 185 LBS
Three generations playing international hockey players representing the Red, White, and Blue. That's how deep the roots run in the family of 17-year-old Jimmy Snuggerud. The 6'2", 185lb forward for the US National Development program has a deep-well of hockey knowledge to pull from on his journey to the NHL. It's a family history that very few kids today can compete with. "My dad played on the '88 Olympic Team. He played in Calgary an got fourth I think it was. My mom's side grandpa also played in the Olympics, so yeah, its kind of cool to have that history with my dad and then my mom and grandpa too." With this family history, it leaves a winning mentality in Snuggerud, who helped the USA take silver at this spring's U18's in Germany.
Snuggerud has shown that he is a very capable, competitive forward with the NTDP at the age of 17. He carries the size of a future NHLer and seems to have some skill to go along with it. With 63 points in 59 games with the U-18 team this season, Snuggerud is proving to be exactly what he's trying to be, an effective forward able to contribute in all situations. With the kind of production and determination he has shown, it isn't hard to see how he may progress into the big league of the NHL. While he has reportedly committed to the University of Minnesota for further development next year, it may only be a matter of time before we see his name on the back of a jersey for an NHL team. His attitude, production and self-awareness all seem to point towards a blossoming professional career.
Like many young players, Snuggerud looks up to his dad a lot and has turned to him for a few tips throughout his hockey career. However, Snuggerud was sure to include a couple others when asked about some of his biggest mentors. "Dad's obviously one of the biggest ones, you know, he's the one that got me into hockey, he's true all along the way, gives some tips. But there's some other guys, like my Coach Nightingale. He's been a big mentor over the last few years, he's helped me a lot through the process." It seems that Nightingale has had a pretty positive influence over Snuggerud's life and career, which speaks volumes to the atmosphere of the USA development program. Snuggerud ensured to mention one more mentor before moving one, "Another guy is Jack, one of my skating coaches back home. I think he's like 70 years old now but he's been around hockey his whole life. He's given me a bunch of tips and tricks and I think those three guys, they're huge mentors for me."
Snuggerud didn't forget to highlight his family history though. Given the choice to pick a "hockey hero" from now or the past, Jimmy didn't stray too far outside of his own family bloodline to make that choice, and with Olympic pasts on both sides it's not that surprising. "My grandpa, he played in the Olympics. My mom's side grandpa. Just his passion for the game. He's 85 years old now and you know, he still skates with his buddies at Bloomington Ice Garden, Minnesota. Like he shows me what it's like to fall in love with hockey your whole life and just be able to play the sport forever."
When it comes to players he watches in the NHL, Snuggerud mentioned a name that may not be a first thought for many but fits the style of play that Snuggerud wants to bring to the table. "I like to watch Brock Boesser on the Canucks. I love watching him, he's a skilled forward, he's got that strong mentality, that I like to be like too, and that competitive edge too. So whenever the Canucks are on I like to watch him."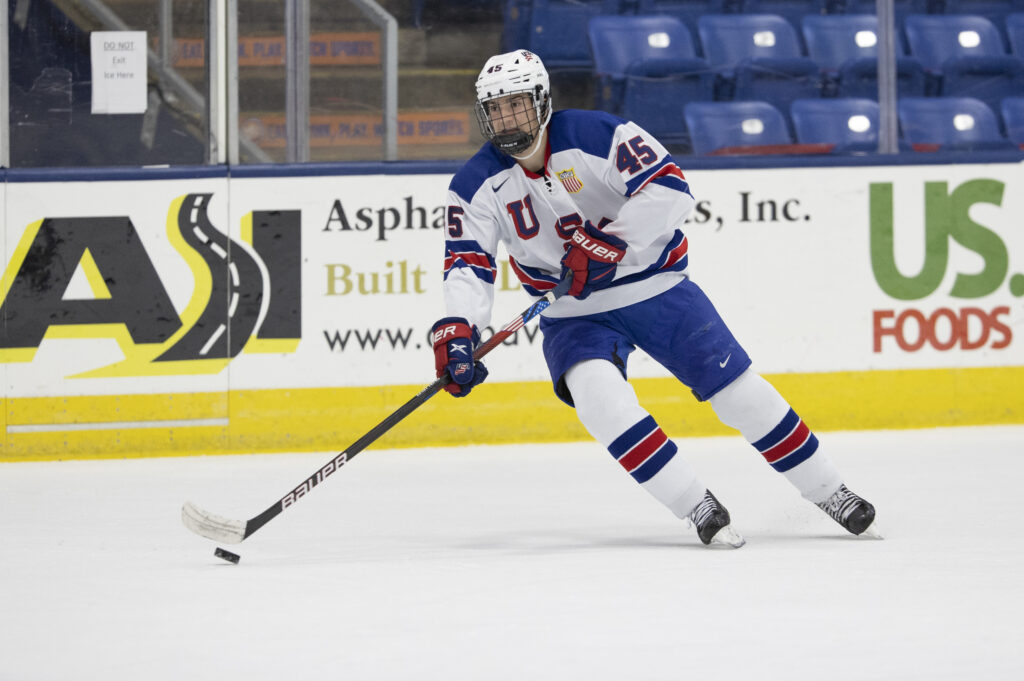 With his history and desire to do his best for his country, Snuggerud makes sure to keep training, working on all the small details of his game to improve every day. It's a work-ethic that should help him keep the eyes and focus of NHL scouts as we move closer and closer to Draft Day. "Last summer it was strictly skating, with a little bit of hands inside there." "I have a drive to get better and I know my teammates are the same, so I drive them also." "We're all kind of working together on everything we do."
Snuggerud was upfront about his weaknesses when the question was brought up and knows that he has the same struggles as a lot of players his age, size, strength, and aggression. Consistency. He's also open about his need to speed up a little when carrying the puck in order to really drive a play into the offensive zone. "I think I can work on my physical play a little bit and then I'd say speed with the puck. I think my speed has improved, but with the puck I think it could be a little better and making more deceptive plays."
While he was open to the things he needs to work on in his game, Snuggerud is also aware of where he excels and the focus points of his style. A good coach and program can teach much of what Snuggerud currently lacks over time, but some of his intangibles can be hard to find in other players. "I think a couple of my strongest parts right now are my shot and Hockey IQ. I kind of idolize those things and I have for the past two, three years."
Speaking with scouts around DraftPro, scout Joseph Peters says "Snuggerud is a nice sized forward with the ability to create opportunities for his team. He skates at defenders with powerful strides and has the skill to suddenly pull off a toe drag with his nifty hands. He has developed a wicked release throughout the season, becoming a legitimate option for the USNTDP U18's to get his team going in games." Peters seems to be nothing short of positive about the young player as he continued. "He is a deceptive passer, looking off the goalie and defenders, then sending passes tape-to-tape."
This quote in particular stood out the most because during the chat with Snuggerud, a quick two scenarios were coined for him to choose from. Option A was a single effort dangle and slide in goal. Option B was a tic-tac-toe play. Snuggerud took the option including his teammates. "Probably the tic-tac-toe play. I love getting all my linemates involved in the play, on the goal. It's so much more fun on the bench. Being able to go over and be like 'yeah that was a sweet play guys'. So yeah, I think its totally the tic-tac-toe." An answer that seems to mesh well with what the scout had to say. Peters finished by stating, "Along with the offense, he has shown a nice two-way game. Works on the wall and supports his teammates. In my opinion, from many viewings stretched throughout the season, Snuggerud has solidified himself as a first-round talent."
Head Scout Jared Brown had a few good things to say about the young forward that unknowingly echoed the thoughts of Peters and only shows the consistency of play Snuggerud has brought to the table this season. "His skating has improved since his DY-1 season and that's a big reason for his effectiveness off the rush and winning more races to the puck." Interestingly, Snuggerud had mentioned specifically working on his skating this past summer. "He's a high-volume shooter with a lethal shot to pick corners from above the dots. He leans into his shots to efficiently weight transfer, pushing through the puck to deliver it off with speed and power. He works hard on the fore check and has a quick to stick to strip players of the puck." In terms of what Brown thinks Snuggerud could do at the NHL level, "Snuggerud has a high offensive ceiling, and I can see him being a consistent 20-25 goal scorer in the NHL."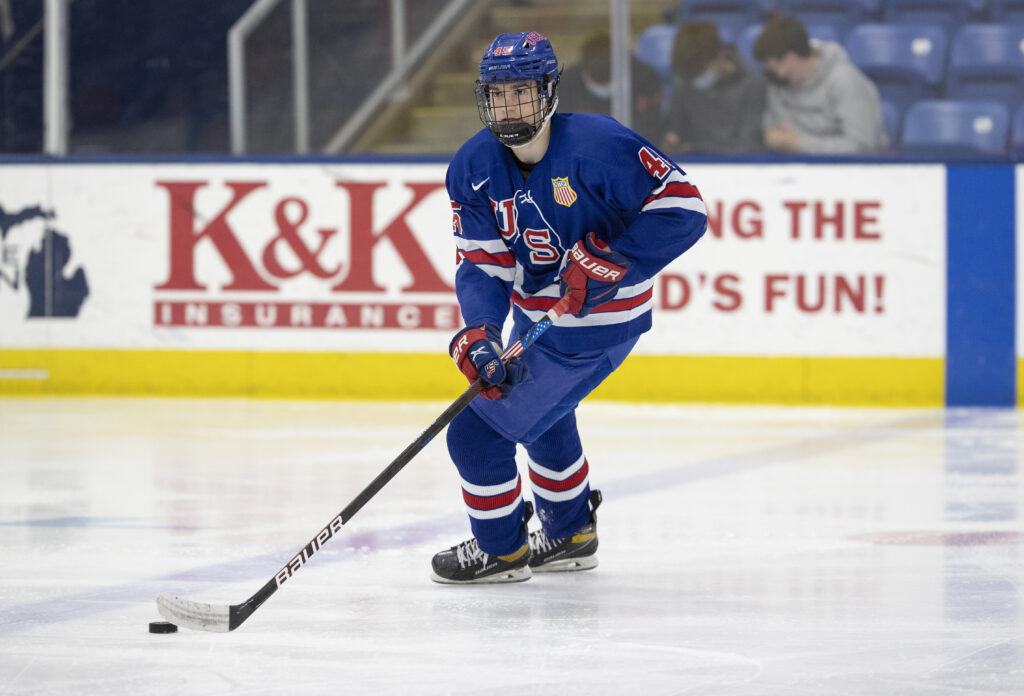 When playing in games, Snuggerud likes to talk and communicate with his teammates. He actively attempts to teach and learn with his line-mates, accepting the negatives and building on them. "I think I have an open mind kind of game. I love to talk to my teammates on the bench and learn from them, and hopefully they learn from me. I like to keep my mind open and try new things. Even if I make a mistake, I can re-establish on it and learn from what I did wrong and trying not to do those things again. I think keeping an open mind and learning from them and keeping your mind open to the coaches who give you tips during the games and practices."
His desire for a team effort seems to have been with him since his early hockey days. It's not something he's newly beginning to develop. When asked about his favourite memorable hockey moment, it's a team effort experience that is first to his mind. "Probably, Scala back in PeeWee. Second year PeeWee state championship. We won it and we scored with probably like 6 minutes left to win it and I think, just, I grew up with all those guys and to be able to win state championships. I don't remember it a lot (the details), because I was younger. But, when I was in the moment, it was a packed barn and it was super fun."
In his free time, Snuggerud likes to jump on a console and play some video games with his buddies, a hobby that is becoming increasingly popular through the generations. His love of hockey does appear to extend to the virtual world, as much as it does the real one. However, spending time outdoors is what he really likes to spend his off time doing. "Yeah, I wouldn't say I'm a huge video game guy, maybe a little bit of NHL with my buddies or playing with my brother. I'm competitive with him. But I love to golf. I think golf is one of my biggest passions outside of hockey, and going up north to a cabin in Grand Rapids, Minnesota. I think there's a couple cool gold courses up there. I love to fish up there and go surfing."
All in all, Jimmy Snuggerud is on his way to becoming one heck of a player and person. If he continues to improve as he has in the past couple of years, there is no question that he has the tools and mindset to make the NHL. His team first mentality and desire to include the rest of his line should do him well with future teammates and coaches alike.
Photos courtesy Rena Laverty / USA HOCKEY NTDP