By DraftPro Staff
The U18 World Hockey Championships just wrapped up last week in Frisco, Texas, and was a scouting hotspot in a year that was anything but the norm for NHL staffs who are charged with evaluating the next wave of NHL talent.
It is a 'must see' event any season holding considerable weight as a last look event, but this year in particular, it might be the only hockey some of these guys would play under the watchful eyes of NHL teams. And it was an opportunity for the players to make an impression with plenty doing just that over the two-week event.
Draft Prospects Hockey was not able to be in attendance for the event due to pandemic/logistic issues but had scheduled multiple evaluators to view each minute of play and give us a breakdown of what transpired via their video viewing.
In this ten-part series we will look at each team entry and provide some review of prospects, how they performed and how their performance might have affected their draft stock.
Canada had a spectacular tournament from start to finish, just how Hockey Canada must have dreamed it would go, running the table including two blowouts over third place Sweden. They had their two future poster boys running the offense in Wright and Bedard and had the perfect balance of defenders and offensive defenseman on the blue line helping their forwards excel. In net Milic and Gaudreau were both great with the later stealing the net and running the rest of the way with it.
Here are some player reports from our crew on the Canadian U18 players that stood out.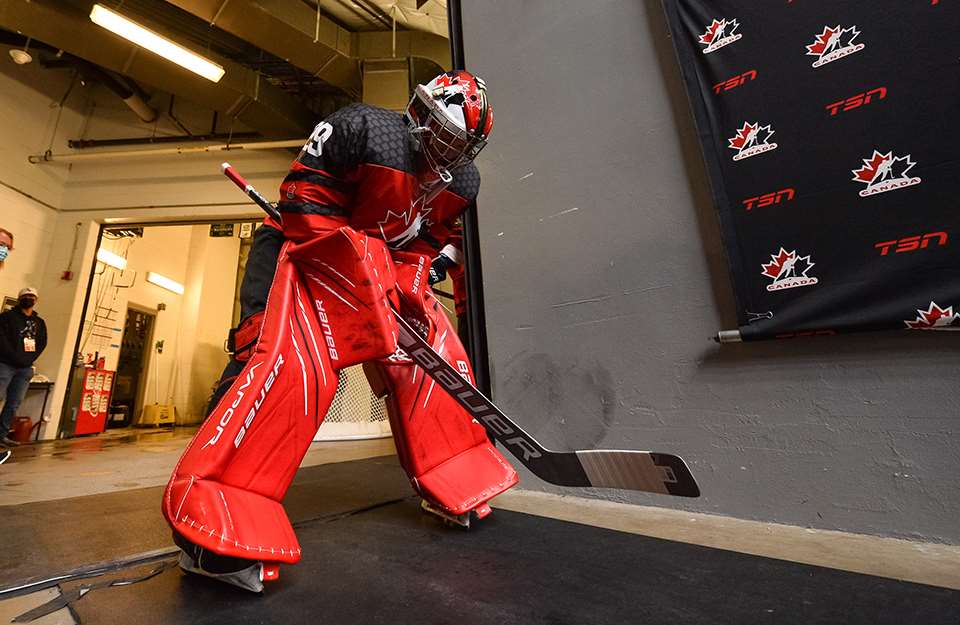 29 G, BENJAMIN GAUDREAU, 6'2, 174, L, DOB 01.11.2003
Gaudreau is a cool, calm, goaltender that is positionally sound. He wastes zero energy on each play and reads what is coming so well. Thinks the game a step ahead and seems to know where the shooter is targeting. Plays a little too far back in his net for our liking but will come out to challenge. Great reflexes and a quick glove hand. Both his glove and waffle board are quick, and his pads seal the ice covering down low, leaving little open net to shoot at. Closes his five hole quickly and holds a tight stance leaving no space between his arms and torso. Everything seems to hit him in the chest. Could stay on his feet a little longer on plays in his zone, but tends to prefer to get down and seal the ice. Poised and really shows a ton of confidence in the crease, giving his team confidence. Not only is he athletic and smooth side to side but he is good tracking the puck, fighting for his space and thinks the game well. He has so much poise to his game and very little unneeded movement. Has the attention of NHL teams as a top tender for the 2021 draft. Gaudreau was awarded Tournament Best Goalie by the Directorate.
1 G, THOMAS MILIC, 6'0, 170, L, DOB 04.14.2003
Milic started a couple games in Texas and could have taken a nap or two in a couple of the periods played due to lack of action in his end. Tricky for a goaltender to keep focus when you are just standing there watching the action at the other end. He demonstrates strong mobility and athleticism in his crease, he is able to slide controlled or dive wildly around his crease so freely. He needs to polish his positioning if he wants to take that next step. Plays bigger than his size would indicate but you know how the NHL likes their massive natural size. Could be a steal later if still available in the draft.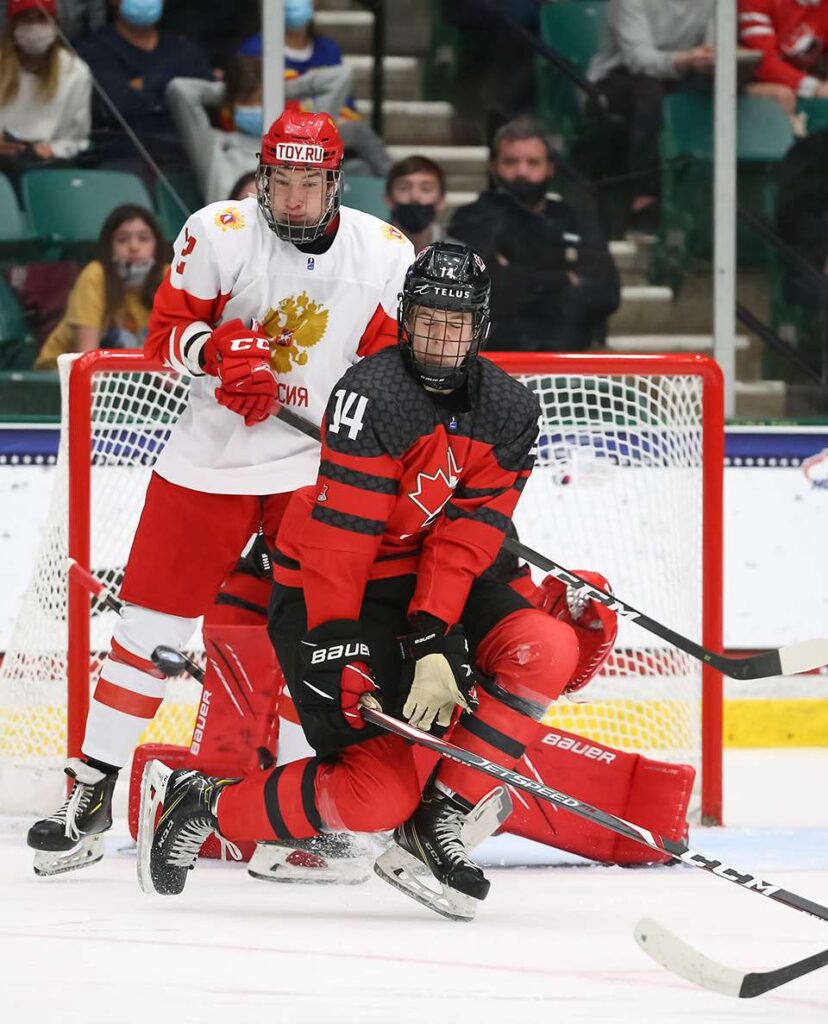 14 D, ETHAN DEL MASTRO, 6'3, 192, L, DOB 01.15.2003
Del Mastro is a big left shot defender that is smooth on his skates and does a lot of the little things well. One of the less talked about names started as the seventh defense but has quickly risen to getting regular top six minutes. He is big and strong plus he uses that size to his advantage throwing hits and separating man from puck. He has a long stride that is quick and compact helping him build speed. He plays a safe game but has some nice offensive touch from the blue line. He has a cannon of a shot if he is able to get it off although the release needs some work. He also makes quick passes from the point deferring to his forwards a ton. He has a high IQ, just is not very creative in terms of his style of play. Yet every team would love a 6'3 defender that can skate and move the way he does. If he can breakout offensively, he turns into a home run if not he has a safety factor to his game. Defensively he does a great job staying with his man and keeping a safe gap under pressure. He will step up and keep plays alive knowing he can get back due to his skating ability. Without the puck he is alert and finds his man and really excels in man on man situations. Would love to see him add a bit of a bit more edge to his game for someone his size. His hands are quick, and he can stick handle but seems to hold onto it a little too long at times. A big defender that can move laterally and well as he can forwards and backwards. Upside of a bottom four pairing two-way rearguard.
27 D, JACK MATIER, 6'3, 184, R, DOB 04.08.2003
Matier is a hulking right shot defender that is mobile for his size. He glides around the ice and never really seems to break stride. You would love to teach his technique to kids as he has a long powerful stride and solid foot speed. He is still learning to use his edges at top speed and once he does, he could be a whole different type of fast. Defensively is where Matier stands out and he is a new age shut down defender that can move the puck. He is played on the bottom pair in Texas and really did a good job just keeping things simple. Where we see the biggest growth in his game from last season is with the puck. He dishes strong outlets and even made some impressive stretch passes to spring the offensive attack. The offense is just a bonus for this hard-working blue liner. He brings grit to every shift and is not afraid to throw his body around either. High character. He is the first to step in to protect and defend his team and really brings a lot of energy to the game. He does not rush the puck or lead the play often but can join in at times and be effective. On the penalty kill he is a beast, eating shots and clearing everything. These type of big right shot defenders that can skate don't last long in NHL drafts.
25 D, GUILLAUME RICHARD, 6'2, 166, L, DOB 02.10.2003
Richard is a smooth skating left shot defender. He was the lone USHL defender on the team and made his mark moving pucks and helping offensively. He played on the third pairing beside Matier. He was solid keeping it simple and easy. We really liked his puck moving ability and first pass instincts. He has his head up and can stretch the zone or hit his bumper man with a quick area pass. Able to throw surprising sauce on forehand and backhand at top speed. Under pressure he evades traffic with smooth stick handles and foot work. He is an excellent skater with quick feet. Builds speed from his edges and gains agility as he carries pucks up ice. He carries it with confidence but lacks that next layer of creativity to really attack offensively. He mostly pulls up and looks for teammates which worked out well for him on such an offensively skilled team. He follows the rush well and carries an extra layer of offense from the blue line. Where he really excels is walking the line and getting pucks on net. He can take a few hard crossovers to get to the middle of the ice and let a shot fly. He does not often hit shin pads often, due to his head up play, and keeps it low. Defensively he plays man on man defense well and has a strong compete level. Plays with a little bit of an edge, even crosses the line at times throwing hits and taking penalties. We love to see the physical side and as he gets stronger, he should have even more of an impact on the blue line defensively. He is a few years away from the NHL still as he will need AHL time first to learn the defensive systems but has the IQ and skillset to impact an NHL team once he arrives.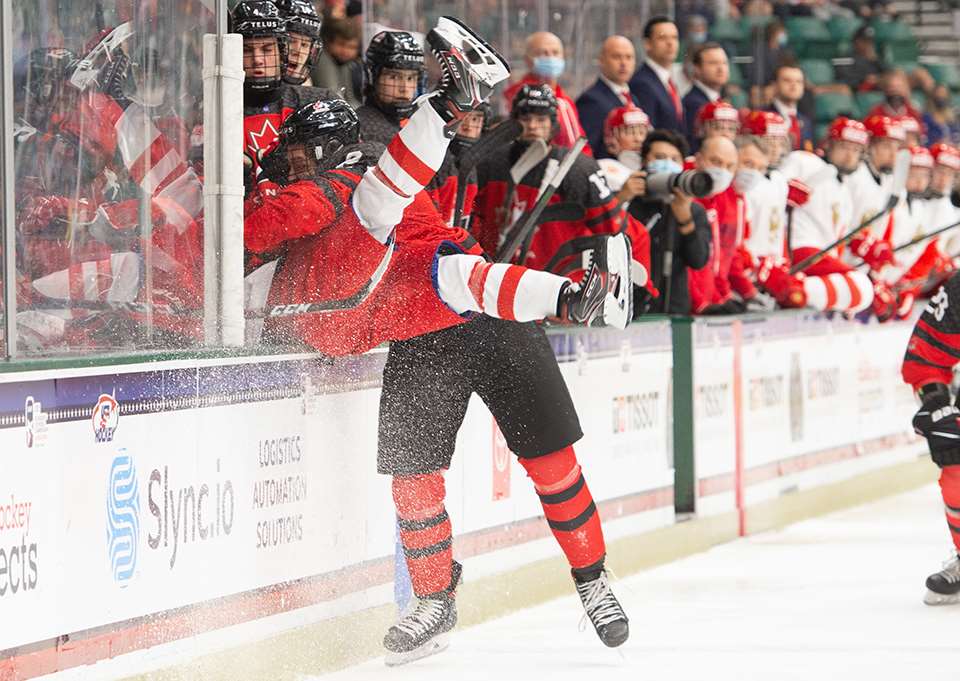 2 D, NOLAN ALLEN, 6'1, 174, L, DOB 04.28.2003
Allen is a mobile left shot defender that plays a strong physical and defensive minded game. He was on the top pair with Brandt Clarke really let Clarke go with confidence offensively. Allen takes care of his own end and defends the rush at such a high-level with poise. He is so smooth with the puck that he makes easy simple passes to escape trouble. He does not generate much offense himself but will jump up when the time is right. He does a great job moving the puck towards the high-end players and letting them take over. We love when a player knows his role and adapts to it. He did that to a tee in Texas and really improved as the tournament went on. He is a strong skater with long smooth strides. He can glide at top speed and has quick change of directions. Defensively he makes his money using his body as he cuts off attacking opponents by taking nice angles. Once he gets pressure on an opponent, he is looking to inflict pain with big hits. If he cannot get his body on you, he has a long reach to tip pucks away and off your stick. Without the puck he has a high IQ and reads the play well knowing where the threats are. He is dynamic on the PK where he blocks an enormous amount of shots and cuts into the lane for big defensive plays. He has a sneaky heavy slap shot as well but did not get the chance to use it often here. He competes on a shift to shift basis and he is high energy in the battles. He projects as a shutdown defender that can play second or third pair minutes at the NHL level while killing penalties.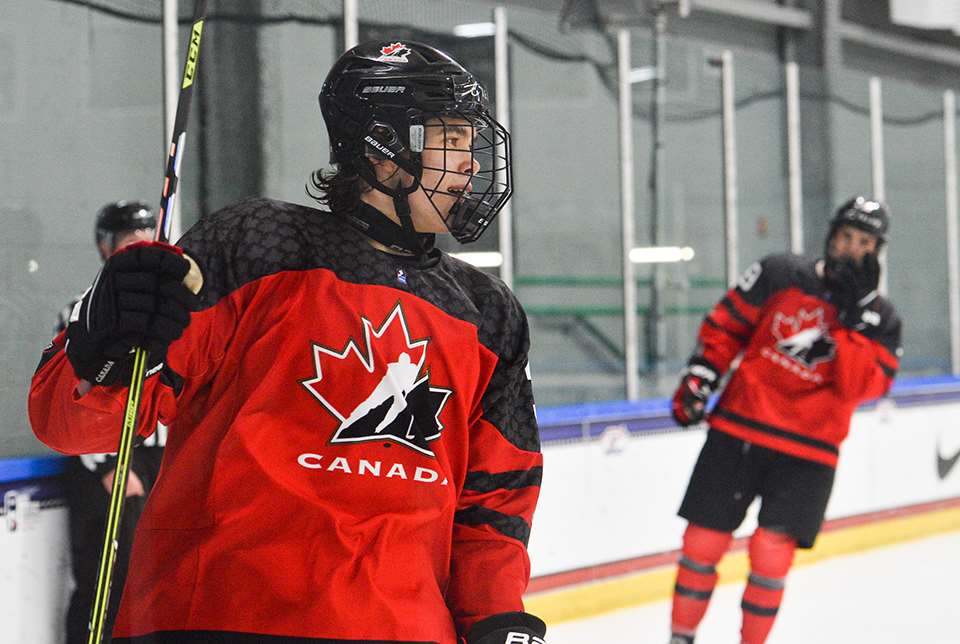 3 D, OLEN ZELLWEGER, 5'10, 174, L, DOB 09.10.2003
Zellweger is a skilled left shot defender that has a certain pace to his game that is unmatched. The kid plays fast and does everything quick. He was up and down the pairings at this event but was one of the top options at the point on the powerplay. He was flying offensively and jumping into the rush consistently. He leads the rush a lot because of his skating ability. He has a strong compact stride with such fast footwork. His edgework is excellent as well and he carries the puck like a forward in transition because of how agile he is side to side. Responsible for zone entries on the powerplay due to his skating. Then from the top of the umbrella he was controlling puck movement. His passes are quick, and he can find the recipients tape while under pressure. Defensively he does not give up much either as he plays with pace and energy in the battles as well. He is not afraid to get physical despite his size and stay engaged. Will need to not put himself in dangerous situations as he tends to turn towards the boards when taking contact. He needs to be more smart eluding traffic and knowing sometimes the first move is enough and the second is too much. He is undersized but does not get overpowered much because of his motor and compete level. He makes a crisp first pass and plays well when he keeps things simple and only gets creative in the offensive zone. He projects as a top four defender at the next level that can move the puck and create offense. He may be a few years away due to the size and he will need to add some strength but he has the IQ and skillset to jump into a line up and contribute in a few years.
4 D, CORSON CEULEMANS, 6'1, 192, R, DOB 05.05.2003
Corson is a big right shot defender that brings an offensive punch to his game. He was on the second pair in Texas. Rushing the puck end to end cutting through the neutral zone like he was still in the AJHL. The way he thinks the game is impressive. He was on the second power play unit moving the puck well and ripping pucks on net. Dangerous one timer that he does not take long to blast on net. He puts his entire body into each shot and has some serious power. He is a strong skater and has a small but compact stride. He relies a lot on his foot speed and edgework right now and as he lengthens his stride he should become even faster. He can skate forwards and backwards with ease and is extremely hard to beat laterally due to powerful crossovers. Defensively he played a strong game protecting the middle of the ice and using his angles well. He is not afraid to let go and throw a big hit. He has a high IQ in both ends of the ice and really thinks the game at a high level. We are not sure he will produce as much offense at the next level as he probably won't run a power play at the next level but can certainly contribute as a mobile right shot defender that can play in both ends. He could be a few years away as he is set to play NCAA hockey but he could be well worth the wait with his skillset.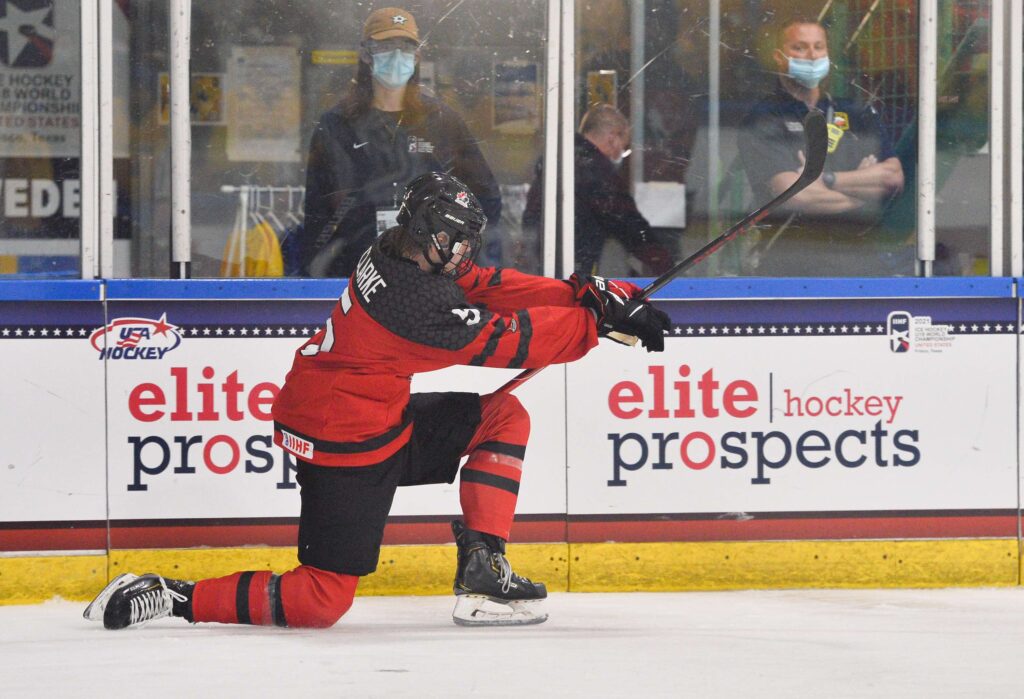 5 D, BRANDT CLARKE, 6'1, 185, R, DOB 02.09.2003
Clarke is a skilled and highly intelligent offensive defender that can play in both ends of the ice. He stands out with his size skillset combo that brings so much to the game for a defender. He really does control play when he is out there like a general and one of few defenders that can make just as big of an impact defensively as he can offensively. Whether it is a big hit or a beautiful pass it seems Clarke always makes the big play when needed. His skating concerns are drastically overblown as he is an excellent skater, only looks a little awkward – knock kneed. He generates so much power in each stride that he basically looks like he is just gliding around. While his first step could see some improvements, it is not a weakness per se. His skating is so effective because of his edge work. He can pivot on a dime and controls the puck with ease in small situations making tight turns and gaining speed throughout. He played a strong tournament on the top pairing where he showed his high IQ on each shift. He shows his poise and ability to hold onto the puck under pressure. One of his best assets is his decision making under pressure. Offensively he does most of his work off the rush where he can lead it himself or join the attack. Understands where the dangerous players are and hits them with that a well-timed and well-placed pass. He ran the top unit PP from the top of the umbrella and was integral to the unit being so dangerous. Created his own chances by stickhandling deeper into the zone before ripping a shot or passing off to a better option. He has a strong heavy slap shot from the point and an accurate wrist shot. Also played on the penalty kill where he was physical and used his body and reach to impede the play. We believe he can be a game breaker at the next level and would advise NHL teams to not sleep on him early. Selected by the media vote as an all-star at the event.
17 RW, CONNOR BEDARD, 5'9, 181, R, DOB 06.17.2005
Bedard is an exceptional status recipient and top talent who quickly, along with Russian phenom Michkov, took over the storyline in Texas. The story with Bedard is he just thinks quicker than everyone else on the ice. He is creative but the decision making, and senses are what set him apart. But that is not it, he is super skilled with the puck, able to cut and peel away from pressure just about every time he touches the puck. He is smaller but does not let that stop him as he funnels the play towards the net. He slows the play down, draws defenders like a magnet, distributes the puck with such skill and does it all with a smile on his face. Has a firecracker shot that is pin-point accurate. You would think the velocity would need work as he is only a young teen but no, he scores NHL highlight type bar down snipes. The puck tends to follow him as he is so smart in his positioning. His feet are always moving and he has elite edgework and agility. He gets to top speed in a flash with quick acceleration. Just exceptional vision and passing ability at top speed. Sneaky on the forecheck, So dangerous in transition. He is so active and hard on his stick he strips and turns over pucks at a high rate. Defensively he brings a high motor and effort and can be a one-man breakout. He was trusted late in games and on defensive draws mostly because of his IQ. We have Bedard and Michkov in a pretty close race for top spot in 2023 and are looking forward to watching these two battle it out for two years. He projects as a complete 200-foot superstar player with high IQ. Was selected as a tournament all-star by the media.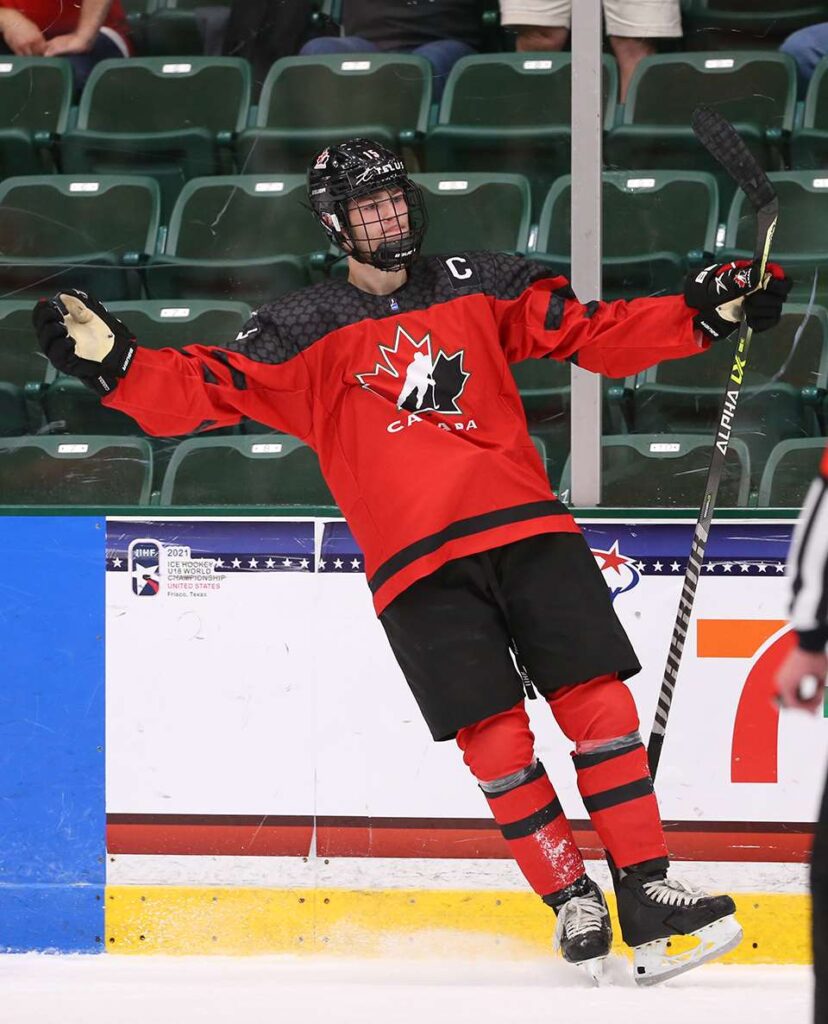 15 C, SHANE WRIGHT, 6'1, 187, R, DOB 01.05.2004
Wright continued looking like his old dominant self after missing over 400 days of playing a competitive hockey game. Was able to show his elite wrister and shooting mechanics early and often. Creates tremendous downforce through his bottom hand and using his top hand as a lever to zip the puck with incredible speed and power. Labelled the top corners on multiple goals often shooting off balanced and with a defender in hugging distance. Elite hockey sense attacking coverage off the rush linearly and side-to-side. Excellent at using space given to him. Always moving in the offensive zone, attacking open spots swiftly with his explosive acceleration. His positioning on both sides of the puck is phenomenal. Incredible change of pace in his skating and ability to explode out of turns. Picks apart the defense creating seams with and without the puck. Dominated the faceoff dot, clean wins on his strong side equating to quick shot chances off the faceoff. Plays hard off the puck looking to create turnovers in his own end through intelligent positional play and a strong stick. If he moves from the #1 spot, it will be because he changed sports. The next franchise player that has the generational talent to turn an NHL team around.
8 C, BRETT HARRISON, 6'1, 167, L, DOB 06.07.2003
Harrison is a skilled left shot center that can play the wing as well. Not only is he extremely versatile, he also brings a unique skill set for his size. Not the prettiest skater but once he hits top speed he really carries it well and can become a threat in transition. He could use a bit more flexion in his knees and a lot more foot speed. As he gets stronger the assumption is he fills into his body and skating should improve. Offensively is dangerous and is one of those players that just finds the score sheet no matter where he plays. He started as the thirteenth forward but was bounced around the lineup as the event went on showing his versatility. He has a heavy shot, one-time, snap shot or wrister. He attacks the open ice. Great goal scorers find open ice when you did not know it was there and he seems to do that more often than not. Not sure if he is a play driver or a secondary player that can play with solid playmakers. Either way there is a spot for his skill set in the NHL especially when he can finish and shoot it like he can. He has surprisingly quick hands in tight and can finish from around the net or from a distance. Likely three years away due to his skating and strength but once he gets there, we'd imagine he makes an immediate impact.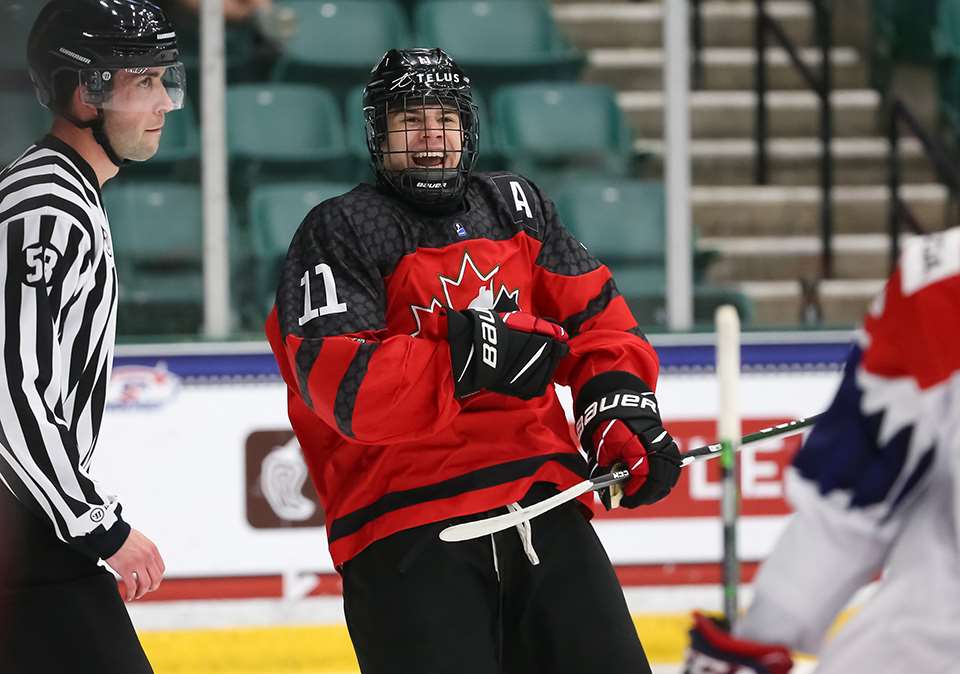 11 RW, LOGAN STANKOVEN, 5'8, 170, R, DOB 02.26.2003
Stankoven is a hard working right shot winger that can play the game any way you want it. He was on the stacked second line for the Canadian team that includes Bedard and McTavish. They do such a good job and he is the energetic part of the line. Very much a Brendan Gallagher style type of player. Very undersized but does not play that way at all. Drives the dirty areas and plays like he is 6'8. Offensively he is gifted as well with a quick release and soft hands. He has an accurate shot and is not afraid to shoot from anywhere. He can hammer the one-timer or make a slick deke play in tight. Impressive heart and motor, giving max effort every shift. He also does everything so fast. No doubt the fastest feet in the draft he needs it because of the length of his legs but man can he get going in a hurry. He skates so compact and low to the ice he is hard to hit because he dips under your shoulder and beats you with pure speed. He is a transition threat that can beat you wide or cut back and embarrass you one on one. Versatile. He is not a perimeter player and drives offense too much to not contribute each game. He probably isn't as far away from the NHL as he should be at 5'8 and that's due to his IQ and heart. A possible steal in this year's draft, always the hardest working player when he steps on the ice.
19 C, WYATT JOHNSTON, 5'11, 178, R, DOB 05.14.2003
Johnston is a skilled right shot center that plays a poised two-way game. He centered the fourth line for Canada and really played his role well. Not only was he a beast in the faceoff circle but he was relied upon right off the drop and trusted by his coaches. Without the puck he does not chase and locates his man before making a play. With the puck he uses his size well as he does have a long reach. He has quick hands and can stick handle his way through traffic and will take you on one on one if he has the chance. Without the puck he hunts open ice looking for the open lanes. He has a quick release and needs to use it more as he was a little too passive playing with talented wingers. Johnston was strong on the penalty kill and excellent at using his feet to dictate play defensively. He will stay in front of his man and has an active stick to break up pucks. Down low he protects the puck and can defend his space with his back while he buys time to make a play. He rushes to the middle with the puck and attacks the front of the net looking for loose pucks. He has a long but compact stride that packs a punch and really helps him gain speed through the neutral zone. He could have been useful on the power play because of his skill set but with so many talented options he was used more in a shutdown role on this team. His ability to play with energy in this role and succeed has been impressive and adds another element to his game because we project he will finish at the next level. He has a ton of potential and could be a steal as someone who was not really able to show what he could do this season.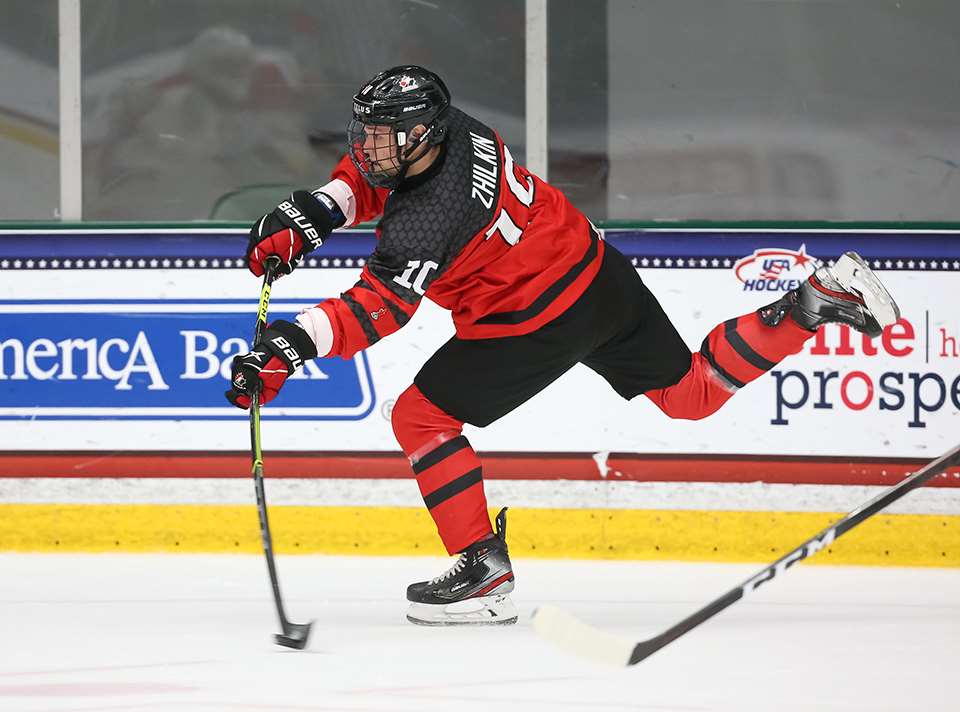 10 LW, DANNY ZHILKIN, 6'2, 183, L, DOB 12.19.2003
Zhilkin is a skilled left shot center that has literally was all over the lineup in this tournament. He started as a depth forward and after just a few shifts in the first game was moved to center on the third line for a couple games. It worked well when they were missing Shane Wright. He is a strong skater and has an excellent first step. He gets going in a hurry and builds most of his speed off his edges and cross overs. He can skate side to side so quick that he becomes hard to hit. Will eat a big hit but still make the play and kept it moving. He brings a certain edge to his game and is chirpy after the whistle. He has such fast hands to make passes under pressure. He also has some creative thoughts with the puck and tries some high risk dekes. When it works it is pretty when it does not, he turns it over at the wrong time. He has a heavy wrist shot and can pick corners from distance, but he can also go stretches where he struggles offensively. Still shows a high motor and compete to each shift that helps his game overall. Defensively he is aware and has a high IQ but gets caught cheating for offense at times. He played a lot better here defensively than he does in Guelph. He can be a handful in the faceoff circle and bring a lot of power to his game. Projects as a skilled two-way center with size and skating ability. He could be just a few years away as he has the drive and skill level to compete it will be fine tuning the risk factor.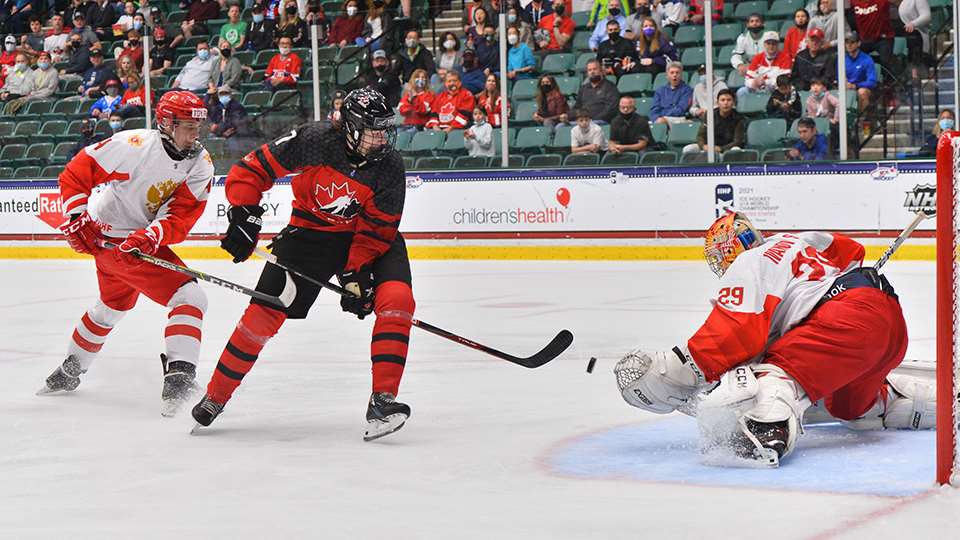 7 LW, BRENNAN OTHMANN, 5'11, 170, L, DOB 01.05.2003
Othmann is a skilled winger had star moments for Canada in this one. Starting on the top line with his buddy Shane Wright they picked up right where they left off with Don Mills. Right from the first shift he was throwing hits and you could tell he has added a ton of muscle and strength since last season. Also very noticeable in the way he could protected the puck. He is just way more engaged in the battle than his on and off play of last season and has added more elements to his game than the goal scoring he is known for. He showed a bit of his playmaking ability with a gorgeous touch pass in the slot to Wright for a goal. He has a cannon of a shot and will be able to score at the next level, his challenge is finding more elements to add to his toolbox. He is a player that has grown so much since his last OHL shift that it is shocking. His play away from the puck has improved tenfold evidenced by the coaches trusting him on the penalty kill. He has improved his stride as it is not as choppy as before and generates way more power. He brought the energy from beginning to end and created a ton of chances offensively himself and his linemates. We would have liked to see him shoot more as the tournament played out as he passed up some chances he usually buries. He has improved a ton and shows all the elements of a top six winger at the next level. His production is there but with these added elements he could be just a year or two out from playing meaningful NHL minutes.
6 RW, CHASE STILLMAN, 5'11, 170, R, DOB 03.19.2003
Stillman is a skilled hardnosed two-way winger that provides a little bit of everything in his game. Not only is he visibility taller than 5'11 now, a vital that has not been updated, he seems to have added healthy functional weight and strength as well. He is still quick on his feet with a speedy style of play. But now has the frame to hold his own in the battles which is needed as his temperament is edgy. A nice mix of top six talents with bottom six grit and he packages it well together offensively. He showed his abilities by bringing energy and sticking his nose in it and chipping in some offense. He threw some big hits and was a beast on the penalty kill. He also got some power play time net front where he did a great job creating traffic and providing a bumper pass if need be. He has a high IQ and can really play any role you ask of him. An energetic winger with a nice mix of skill and grit almost like a Bryan Rust.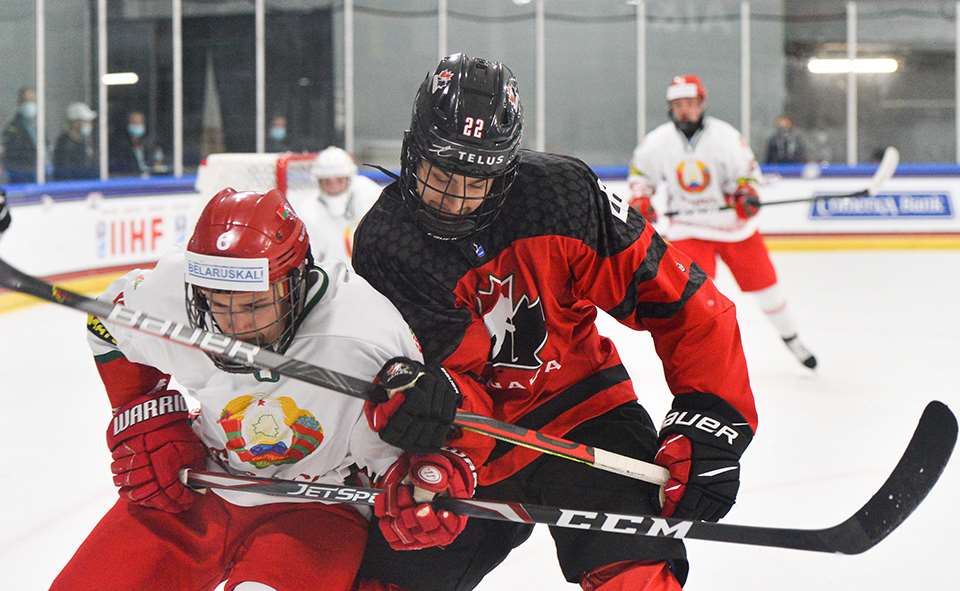 22 RW, DYLAN GUENTHER, 6'1, 181, R, DOB 04.10.2003
Guenther is another piece to the puzzle on this madly talented Canada lineup. He looked good in Texas doing so many little things to help Canada be successful. He played a strong role being effective at five-on-five, on the penalty kill and on the powerplay. He was skating hard, fighting through checks, filling open ice, digging for pucks, riving in deep on the forecheck, blocking lanes on the defensive side and even using his body to step up on opponents. He was a little hesitant to fire pucks on net here unlike his games in Edmonton. Still showed the high-end vision and playmaking, soft touch passes and skilled saucer when needed. But did not take over the play and dominate as you would have hoped for a potential top five pick but did so many little things to steer the direction of this team to the gold that it would be hard to see his stock fall based on a lack of offensive dominance. We see him as having top line winger two-way playmaking NHL upside.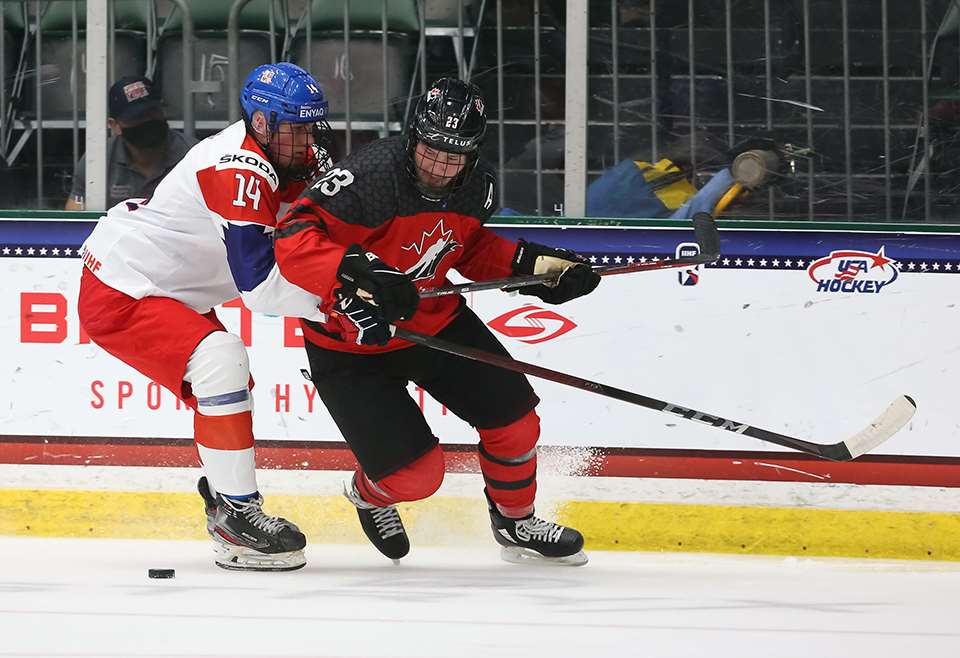 23 C, MASON MCTAVISH, 6'0, 198, L, DOB 01.30.2003
McTavish is a big offensive center with an NHL ready shot package. He centered the second line in Texas was very effective throughout the event. We noticed a much more physical presence then we have seen before as he laid multiple big hits on the forecheck. His skating has improved as well, his footwork and edgework. He carries his speed well and once he gets going is a problem to handle with his size. His foot speed will be his area of improvement to target going forward as his first step isn't the best. He relies a lot on his power to generate speed. Offensively he is one of the most gifted centers in the draft. He has a heavy shot and can fire the puck from anywhere and finish. His release is similar to Auston Matthews, masked and ferocious. Bullet on-timer that is deadly. Showed it off often on the powerplay. A beast on the faceoff dot. Creates offense for his teammates. Defensively he is sound and plays on the right side of the puck without cheating which has been a vast improvement from last season. Plays a strong and heavy two-way game without being a liability. Was involved in and around the crease play after play. Really was a heart and soul guy that without him the Gold might have been in question. He elevated his draft stock no doubt based on this performance.
21 RW, RYAN WINTERTON, 6'2, 190, R, DOB 09.04.2003
Winterton is a skilled right shot forward that is a pure goal scorer. He was on the fourth line in Texas and was excellent playing a supporting role. He skates well. Great stride getting full use out of his leg extensions. Smartly recognizes when he cannot beat a defender one-on-one and will chip it by them and use his speed to get around them. He will want to work on his edges, his turns are noticeably heavy. Love the way he transitions the puck with his head up but would love to see him pull up instead of attacking each time. Not sure he can create much if any offense himself, but he does little things well. He gets in on the forecheck and has a good stick defensively. He is able to turn pucks over but his processing after that needs work. He is much better off in open ice where he can set up for a shot. His wrist shot is his money maker. The way he can generate power off either foot is impressive and will be a big reason, along with his ability to play a 200 ft game, he is selected in the upcoming NHL draft. Defensively he plays a sound game, you don't have to worry about him toe dragging in his own end. He has a high IQ and it will get even better as his confidence grows considering he hasn't played real hockey in months. He might be a few years away as he has some filling out to do but should be a decent sized winger at the next level.
9 C, FRANCESCO PINELLI, 6'0, 184, L, DOB 04.11.2003
Pinelli is a skilled center that plays the game with a ton of finesse and creativity. He centered the third line but also jumped up to the second with Wright out for a couple contests. He was flying around throwing body checks creating energy early on and showing off his offensive weapons. His shot is improved a ton from last season. The way he carries the puck at distance before dragging it into his shot pocket creates a ton of velocity and he is accurate with it from anywhere. Scores from distance with the snap shot and quick release or in tight with super soft hands. Some of the one on one skill he shows in the battle is mind boggling considering his size. He becomes so elusive with the puck you would swear he is the size of Patrick Kane. But having his size he also protects the puck well and generates offense off the rush. He was used on the second power play in the slot where he is the bumper option with a quick release. He also got some penalty killing time where he fared well due to his skating. He is a strong skater with a long stride. He creates speed with quick footwork and strong edges. Defensively he has come a long way and it shows the coaches trust him in the middle of the ice instead of the wing. A versatile player that can play wing or center but belongs in the top six due to his skill level and high IQ. The way he thinks the game should help him translate to the NHL as an offensive producer whether that's from the wing or the middle. Overall Pinelli showed some excellent flashes of play but was also invisible for stretches at a time. But the biggest takeaway was he stepped up his game when other premier talents were unable to go.
12 LW, CONNER ROULLETE, 5'11, 161, L, DOB 05.13.2003
Roulette is a hard-nosed left winger with some offensive touch. He was a solid foot soldier in Texas although he had a few "teaching" moments with coach Barr. He battled, drove the net and showed off some flashes of his finishing ability. Has a quick wrist shot. He often is shoot first but is no doubt trying to look for his teammates in this tournament with the stacked roster. He provides a physical presence and can throw some big hits for a high-end player. We question his IQ , as he struggles at times reading the play under pressure. Yet when he is playing that high tempo game, he is effective because of his athletic ability and hard work. He is high motor shift to shift and creates issues on the forecheck with the body. He is not the prettiest skater and has sluggish first steps. Once he is at top speed he carries his weight well and has strong edge work. He will need to get stronger on his feet as he seems to get knocked off stride too easy. Defensively he is an aware player but still struggles with making plays under pressure. Yet because he will run through a brick wall, he usually can get pucks out. He excels when he is playing straight line hockey and drives that right to the net. We like him as a gritty left winger with some finishing ability around the net but he needs some time to add strength and improve his feet.
Canada was led in scoring by two underage phenoms, 2022 eligible Wright had fourteen points, including nine goals, in just five games and 2023 eligible Bedard had fourteen points in seven games.
Contributors to this report included Dan Stewart, Matt Morrison, Alex Taxman, Kai Farenholtz and Jared Brown.
Photo credit IIHF.com & Hockey Canada
If you would like to learn more about the 2021 NHL Draft and its prospects be sure to pick up one of the below draft resources and support the #DraftPro crew.