By DraftPro Staff
The U18 World Hockey Championships just wrapped up last week in Frisco, Texas, and was a scouting hotspot in a year that was anything but the norm for NHL staffs who are charged with evaluating the next wave of NHL talent.
It is a 'must see' event any season holding considerable weight as a last look event, but this year in particular, it might be the only hockey some of these guys would play under the watchful eyes of NHL teams. And it was an opportunity for the players to make an impression with plenty doing just that over the two-week event.
Draft Prospects Hockey was not able to be in attendance for the event due to pandemic/logistic issues but had scheduled multiple evaluators to view each minute of play and give us a breakdown of what transpired via their video viewing.
In this ten-part series we will look at each team entry and provide some review of prospects, how they performed and how their performance might have affected their draft stock.
Sweden had an up and down tournament but still finished third taking home the bronze. There were two game in particular that left them with a sour taste the way they were dismantled by Canada in each. Their first game of the tournament, giving up twelve goals in a blowout to the Canadians hurt them. And many did not think they would recover, but they did for the most part, and played a lot better hockey throughout their other games. They were able to get by their QF matchup before meeting Canada again in the semis.
They held in there in the quarter finals but eventually Canada turned the intensity up and again dropped eight goals on the overmatched Swedes. They did have some players that boosted their stock at this tournament as well as a couple who did not.
Here are some player reports from our crew on the Swedish U18 players that stood out.
35 G, HUGO HAVELID, 5'10, 170, L, DOB 01.01.2004
Havelid played a structured, positional game that gave the opponent a hard time finding any holes to shoot through. He is an undersized goalie playing a hybrid style with quickness to pop up and down from his butterfly. On top of that, he is technically sound with excellent control of his movements when following the play. The calmness and focus are there as there is not a sense of panic in his body language. Gets out on top of his crease challenging shooters. Plays his angles well. Moving laterally does a strong job of anchoring his foot to the post. Quick blocker punching pucks out. Controlled a ton of shots into his gut, sealing them into his body to get the whistle. The poise and ability to get squared up to the puck quickly keeps things under control. Solid stick positioning. Havelid's game looks very mature and the size concern does not really cross ones mind when watching him. But the fact is NHL teams love their goalies with size. Has some mid-round potential for the 2022 draft.
30 G, CARL LINDBOM, 6'1, 179, L, DOB 05.20.2003
Lindbom had a ups and down tournament. Towards the beginning he looked like ol' "Red Light" Racicot back in his Montreal days not able to stop a beach ball and then as the tournament progressed he found his game, and his confidence. He was out aggressively challenging shooters. Has a wide stance which helps him be so solid downlow as he drops down rapidly quick getting his pads flush. Downfall to this is he is constantly making himself small as he gets square to the puck and pro players will be able to pick him apart above his shoulders. Showing off his flexibility, athleticism, and above average quickness. Good job at following the play. His tracking is an area to improve as he really had a hard time fighting to see the puck. Rebound control continues to look strong. Pucks sticking to him like Velcro. If he bobbles the puck, he is quick to pounce and keep the puck close to him. Effective use of the RVH. Hard to jam pucks by him in tight. Seals off angles well. Though I like his controlled post-to-post movement again he makes himself look smaller than 6'1" moving side-to-side. While this event may have seen him crossed off some NHL teams list he still has some upside for the right team to pick him up and developing him.
4 D, ANTON OLSSON, 6'0, 183, L, DOB 1.26.2003
Olsson's tremendous decision making and safe defensive first mentality really stood out. While not at all flashy, Olsson's calculated style of hockey sends calming vibes across the ice and through his team. He makes it look so effortless to neutralize nearly any situation. His passing is a little underrated as he hit some impressive no-look tried for offensive chances in this tournament. Although not to be considered an offensive minded defender in the slightest. He handled his own end well, blocking shots, skating the puck out of trouble consistently, and finding solid outlet passes. He's able to find solutions so quickly and execute them to perfection. He likely cemented his status as one of the top defensive defenders in this class.
5 D, MATTIAS HAVELID, 5'9, 168, R, DOB 01.01.2004
Havelid played top pairing minutes for most of the tournament alongside top prospect Edvinsson and hasn't shown a lot of flashy skills playing this many minutes, but it was his hockey IQ and ability to do the small things well that has seen him trusted in this role. An offensive defenseman with great transitioning skills but was most impressed with his defense and shutting down opponents both off the rush and in possession downlow. Aggressive reads to intercept passes and close gaps in the neutral zone. Light-footed movement used to maintain tight gaps. Defensively in proper position consistently. Excellent stick positioning when defending. More inclined to use his stick to breakup possession as his strength and size are not assets. Liked how he continually tied up players sticks, leaning on them hard despite a strength disadvantage. Good aggressiveness blocking the shooting lanes on the PK. He had some issues dealing with a heavy forecheck. Losing puck control as contact ensued. Will need to counter this better and move the puck quicker before he is under duress. Shoots for the net with a screen in front but his shot alone isn't a threat as it lacks power. Has top four two-way, puck moving potential but still has physical growth needed.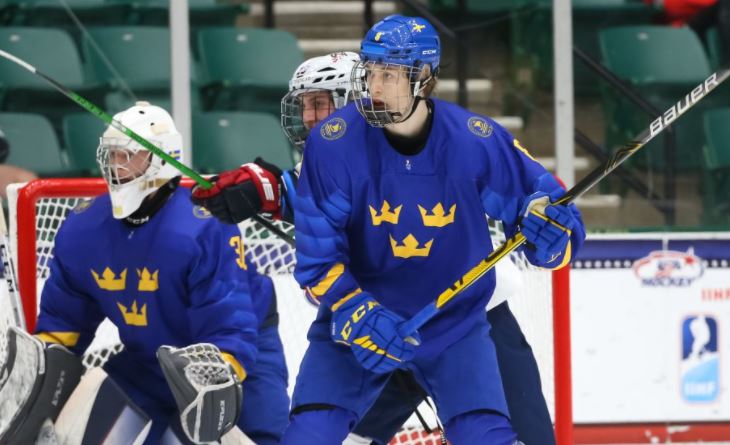 8 D, SIMON EDVINSSON, 6'5, 207, L, DOB 02.05.2003
A big mobile left shot defender. He really controls the play through his offense as he continuously looks to jump in and produce offense. He was on the top pair in Texas and got lots of big minutes. He is able to eat so many minutes because his skating is so good, and he wastes little energy in his movements. He is at his best when he keeps his feet moving and rushes the puck by everyone. He is a fairly straight up skater looking tall in his stance while still having some decent knee bend. It never looks like he is working too hard as he glides around at top speed. For the most part it is pretty to watch, but he can get lazy and stop moving his feet. No denying he has an elite skill level carrying the puck. His ability to attack defenders 1-on-1 and go straight through them is insane. His wingspan helps him navigate through traffic both controlling the puck and when making an outlet pass. He was skating the puck into dead ends and holding onto it too long. Solid offensive instincts but also comes with a high turnover rate. He will need to get stronger on his stick at the next level. An overall poor event in our eyes by Edvinsson who was turning over the puck too often, getting burned wide and leaving his defense partner out to dry. Still has intriguing first round tools, just not sold on the top three talk we have been hearing. If we were drafting for an NHL team, we would be scared to death to both take him or not take him knowing in both accounts what he could end up becoming.
6 D, VICTOR SJOHOLM, 5'9, 172, R, DOB 07.08.2003
A spark plug on the backend. Sjoholm is small but a battler. Even when the team was getting blown out, he made it known that he wouldn't stop throwing his weight around every chance he gets. Physically competitive along the boards and in front of his net. Not afraid to get chippy and nasty. Needs to do a better job defending odd man rushes. Not getting assertive and closing the gap on the puck carrier or taking away the passing lane. Solid long-range outlet passes, one of the few defenders on Sweden that was consistently hitting his passes tape-to-tape to exit the zone. The competitive nature he brings will benefit him turning pro. We like him as a mid-round pick that you can leave marinating for a few years.
19 RW, ISAK ROSEN, 5'11, 161, L, DOB 3.15.2003
Rosen's speed and skill really stood out in this event which was nice to see as he often looked muted playing against men. He showed the ability to skate the puck into the zone with speed, control, and an element of dynamism. While Rosen is used to playing the part of distributor with his club team, he was constantly being set up as the shooter while Sweden had offensive zone time, including on the PP. His one-timer was getting a workout and looked impressive as he made adjustments to pucks and hammered them on net repeatedly. So quick to get it off his blade. His wrister is also solid, a real heavy release. He showed off his slick hands, going end to end, making deceptive little moves to open up shooting opportunities. Sees the ice well, possesses great instincts, shows a knack for finding open teammates at the right time with a skilled dish as well. He is a solid skater with quick footwork that he uses to get through the neutral zone and into the offensive zone. Being that his legs are still toothpicks this excites for how strong of a skater he could become with added muscle. He is strong on his edges and is agile side to side. Despite playing against men he is likely a couple years away due to his lack of strength. We would spend a first on him.
11 LW, FABIAN LYSELL, 5'10, 172, R, DOB 1.19.2003
Lysell is a skilled right shot winger that can play either side. He was the top line right wing and was excellent from the start. Didn't take long for him to explode offensively with a couple highlight reel chances early. Using quick crossovers, building excellent speed, he cut through the opposition making sic dekes and dangles, using his entire reach to control the puck on his way to the net. Quick hands. A truly dynamic puck handler with explosive speed. Quick release and put pucks on target. Not great velocity but he was not trying to score from the blueline either. Not afraid to go to the net and play in traffic. He used his elite vision to also make some skilled passes. Showed good smarts, willingness to take the body, a solid two-way mindset as he drives back deep into his own zone. Dangerous threat in transition. Not cocky but was always having fun and doing a little showboating as well. Elevated himself in our view as a prospect for the 2021 NHL Draft.
28 RW SIMON ROBERTSSON, 6'0, 190, L, DOB 02.05.2003
A big left shot winger with a heavy shot release. He played second line left wing in Texas but struggled creating offense chances. Doesn't really create much for himself but is an excellent trigger man the way he creeps in empty ice until he is able to pounce. But even that he struggled with in Texas as he missed numerous chances as a trigger man. When he can get the shot off his wrist shot is the shot of choice. Loads up in his backfoot and gets a ton of weight transfer into the shot getting some serious whip in his stick and can pick corners from distance. Possesses a one-timer with a lot of heat. More effective as a take what is there type playmaker at this tournament. An efficient puck handler, holding it in his hip pocket efficiently seemingly always having control and changing up the angles of his passes. Excellent at changing the pace switching between acting quickly and staying patient with his approach to an offensive chance. He is always thinking and instead of admiring his pass, he is quick to get in position to receive a pass back or slide into an open area. A balanced skater with agile pivots, facing the play keeping pucks on his forehand. Had a strong two-way game as well. He uses his body along the boards effectively to cut the skating lane and separating the man from the puck. Not much elite in his game but does so much like a pro and has that heavy shot. He could be a first rounder if a NHL team really likes him but we feel he is a strong early second value that is NHL ready in a year.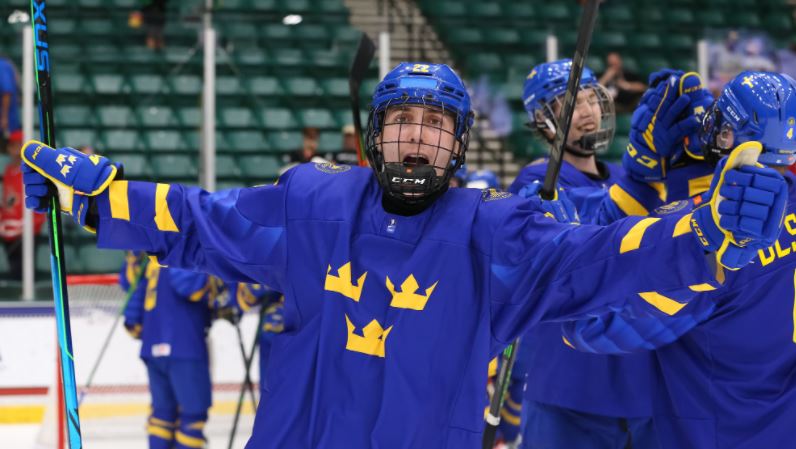 22 C, LUDWIG PERSSON, 5'11, 168, L, DOB 10.08.2003
Persson plays with a ton of pace and defenders need to be on high alert when the play is transitioning against them and on the ice. A fantastic skater. Accelerates quickly and has great top speed carrying the puck. Able to absolutely fly generating chances off the rush. Great use of lateral crossovers to start gathering speed in his own zone. Jumps out giving his defensemen a target to hit on the breakout. There are times where his feet may be moving a bit quicker than his hands and mind as he can get tunnel vision on a specific play and not see the options for a better one. Solid use of his speed on the forecheck. Reaches in with a quick stick stealing pucks. Can look less involved in his own end. Persson has a full year to continue developing his ability to process more efficiently off the rush and improve his Defensive zone coverage. A first round talent for 2022.
14 C, LIAM DOWER-NILSSON, 6'0, 172, L, DOB 04.14.2003
Dower-Nilsson is a solid team first player. Does many of the little things that do not show up on the score board but are important to getting the win. His two-way awareness was on full display in Texas. From the moment his skates touched the ice, he was breaking up any and every play that the opposition attempted. His speed and slick defensive stick aided him in creating turnover after turnover. He also dominated the faceoff circle, letting Sweden have nearly full offensive zone control on all of their power plays. He is a solid thinker. Constantly moving in the Ozone making himself an option. Soft hands. Such a smooth passer that has great weight control on his passing ability. Clean passes in transition out wide to his wingers hitting them while they were gathering a step to try and beat a defender with speed. Strong awareness of his teammates positioning. Solid positioning coming back and defending his net in support for his defenseman. Skating is not anything to wright home about, but he gets by with an efficient stride and decent edges to turn away in tight areas. He shows great maturity in his play. His impressive play will have boosted his draft stock with some NHL teams looking for a safe two-way option in the middle rounds.
15 C NOAH HASA, 5'11, 161, L, DOB 03.06.2003
Hasa is not the most flashy or dynamic player out there, but he was able to make noticeable plays away from the puck to help escape pressure. He is always deep in corners helping his defensemen and wingers dig out free pucks and has that quick instinct to get that puck out of his end as quickly as possible. One of the few players on Sweden actually initiating successful breakouts. He was a complimentary presence playing alongside top guys like Isak Rosen, playing hard, going to the crease and opening up space for higher skilled line mates so they could attempt to inflict some damage. He plays a strong physical game for someone of his stature and demonstrates he has a solid awareness for where the play will advance. Not a high-end skill guy but NHL teams could see some potential as a later round option.
23 LW, WILLIAM STROMGREN, 6'3, 176, L, DOB 06.07.2003
A tall, rangy offensive winger. Hard to contain. Smooth skater with powerful stride using tight crossovers to gather speed. Full capable of carrying the puck from his zone and into the Ozone. Terrific puck control and stickhandling ability to maneuver his way through traffic. He's a north-south skater but has great edges in tight and quickness to pull up along the boards. Created issues on the forecheck using his size and speed to disrupt breakouts. Efficiently used his body on the man. Will bulldoze through anything to be first on the puck. Has a big shot that is very heavy and can pick his target. Lanky and plenty of room to fill out his frame that should improve his balance, shot and physicality. The stickhandling ability and puck skills could make him a dangerous offensive driver but an area that is missing is the creativity to consistently drive play. A very diligent two-way forward that NHL clubs will want to nab early on day two of the 2021 NHL Draft.
21 RW, OLIVER MOBERG, 6'3, 203, L, DOB 02.23.2003
Moberg is a big, strong, versatile forward that can play centre or the wing. He has great physical attributes and at times downlow can be a pain to knock off the puck. Plays a pro, heavy on his stick style game. Mature and thinks the game at a solid level. Recognizes he is not the fastest skater, finds ways to utilize his teammates like drop passes and then continuing to push forward in attempt to draw the defender off. Has a bit of unpredictability in his passes as he likes to make quick short-range passes. Smart playmaker making great decisions with the puck along the perimeter but is not overly creative. Found parked in front of the net a ton using his big body to screen and look for tips and rebounds. Played on the PP for Sweden and contributed in and around the net. Plays a 200ft game. Battles hard on the boards in his end and using his strength to win those battles. Strong positioning to assist his defenseman. Skating is the main area of concern as while he shows decently solid top speed, he has a slow sluggish first steps. If a team can fix his skating, then they will have a hard working, bottom six two-way forward.
24 C, ARVID ELJAS, 5'11, 179, L, DOB 06.01.2003
Eljas did not see as much as ice time as he was on the fourth line role. Being flashy is not his style, working hard is. A 200ft centreman with a strong understanding of where to be in his own end and defending the transition. Strong stick and ability to stop players in their tracks with takeaways. Good work in tight to find and move the puck. Great awareness on the PK. Shoulder checks frequently watching the weak side man. Has some solidness to him so the physical aspect of the game is an area he can play well in. Plays with speed entering the zone either forechecking or making himself an option for the pass as a trailer. Strong linear strides. Solid leg extensions and takes him a bit to get up to speed but is effective. Using the edges of his skate is not pretty. Poor hip rotation hurts his turns and pivots. Also, is not quick out of the gate from a hard stop. Away from the puck he shows potential, with the puck his hands are just average as his ability to skillfully get past defenders 1 v 1. A potential late rounder or re-entry next year if he can improve his skating.
29 RW, ARVID SUNDIN, 5'10, 176, L, DOB 08.02.2003
Sundin was given PP time with Sweden's top unit. Good vision while holding the puck. Off the rush and after entering the zone, he will peek at where his teammates are, weighing out his passing options. Showed a strong use of going 10-2 using a hip swivel to throw the defender off and get by them on the outside. Quick touch on his passes in transition. Can execute these types of passes thanks to his heads-up play. Skating is awkward and a bit deceptive. His feet move quickly in his straight-line stride, but he does not look to be accelerating very fast. Solid speed to carry pucks off the wing. Defensively just alright. We would like to see him engage more on the puck. He can get stationary in his positioning. Willing to play physical, chasing down hits. Made a couple of bad line changes as the puck was going the other way. Questionable intelligence. Worry the work ethic to play defense is not there. Might not hear his name in July.
25 RW, ALBERT SJOBERG, 6'0, 174, L, DOB 03.19.2003
Sjoberg playing in a bottom six role for Sweden provided energy every shift and playing with speed and pace to press the attack. Balanced skater with a strong stride, edgework, and top-level gear. Uses his speed to retrieve loose pucks and position himself in battles, where he likes to be. His speed can also be used to coast around the Offensive zone in possession. Spending many shifts 5v5 in the attacking zone. He is not a finesse kind of player and won't blow you away with all around puck skills, instead works hard for his space and applying pressure to win pucks back for his team. He makes the most of the limited ice time he receives on this team by wearing down opposition's top-lines. A guy we believe is capable of more if he saw more ice time. Has a style that will allow him to play a grinding game that benefits a bottom six spot for a franchise.
Flashy scoring wingers Rosen and Lysell shared the scoring lead with nine points in seven games.
Contributors to this report included Dan Stewart, Matt Morrison, Alex Taxman, Kai Farenholtz and Jared Brown.
Photo credit IIHF.com
If you would like to learn more about the 2021 NHL Draft and its prospects be sure to pick up one of the below draft resources and support the #DraftPro crew.