By Christian B-Cote
The QMJHL class of NHL Draft eligible players for 2023 has some interesting potential. There is one name that stands above as a surefire first rounder, as well as others that have retained my attention. With the trade deadline passed, it's interesting to look back at prospects who have continued to establish themselves as potential NHL selections while others are showing signs that additional development (or sustained health) will be required before they can be counted on.
The top 2005-born player available since the pandemic-erased M18AAA season, Ethan Gauthier (RW – Sherbrooke) has continued to hold this distinction. As the first overall pick in his QMJHL draft season, it's not a wild surprise to see him continue as the top prospect available from this league but it doesn't diminish the work he's put into continuing his development and growing his effectiveness as an every day player. He continues to play bigger than his listed size, really affirming himself on the national and international scene after the summer tournaments. Gauthier is the type of player to take a hit in his zone, along the boards, but with the presence of mind to deflect the puck and send it past the blue line. When rushing up ice, he wisely follows the play to the net as the third forward, looking for any loose puck. I like his defensive responsibility in his own zone despite his evident preference for making dynamic scoring plays. On opponent breakouts, he forces the D behind the net to make a less desirable play by cutting off the best pass angle. He most often has a positive impact on any given night for his current team. Any NHL franchise picking in the 20-30 range would be delighted to add him.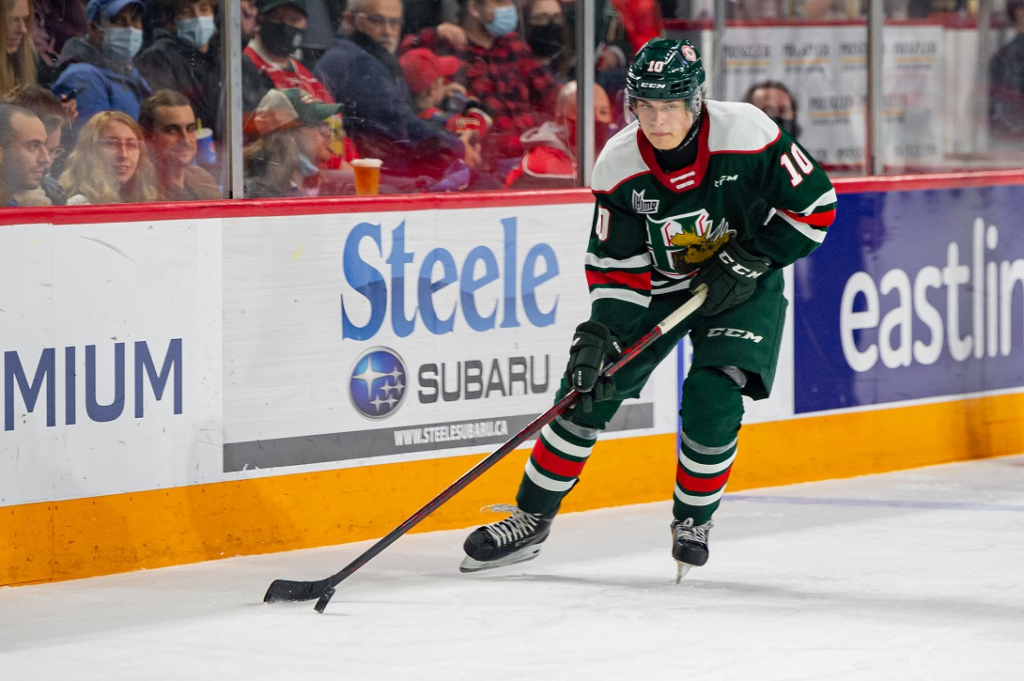 Mathieu Cataford (C – Halifax) is increasingly being talked about as the next great forward available from the QMJHL while that title might have previously been held by Peddle. The March-born, Chateauguay native routinely plays with the older, high-offense, linemates Jordan Dumais and Markus Vidicek without looking out of place. He's a key contributor for the cup aspiring Mooseheads and is on pace for a 100 point season! Cataford has a myriad of valuable strengths; simply labeling him a play-making scorer is too restrictive. On attack, he's constantly adjusting the angle of attack near the net. He skates with an evidently powerful stride in straight lines, and carries the puck effortlessly. He's a creative, heads-up, smart passer, using a give-n-go play with his partners to score. Defensively, he will quickly transform takeaways into scoring chances by giving zero time for the opposing D to set up. If that wasn't enough, he's effective in the faceoff dot and displays excellent leadership qualities. A steady 3rd rounder to start the season, he might creep into the 1st round by the time the picks are made in Nashville.
To me, the best defenseman available from this region has always been Étienne Morin (D – Moncton) but it's only recently that he's steadily rising in popularity. He's put up some really impressive numbers this season as the top performing D on a surprising Wildcat group, quietly banking wins. But don't be fooled just by the points totals, he's a really complete defenseman who's steadily continued to progress for years. The second-year Wildcat has every tool you'd want in a defenseman: smooth skating, poise, nice stretch passes and a good shot from the point. Then, in his zone, he uses his stick well and quickly puts pressure on opposing forwards entering. He will need to continue up his compete level, physical involvement and overall strength for full effect. But with a high-ceiling and no real flaws in his game, he could really reward a patient team and become a top pairing D in the long-run. I've seen him listed as a potential first rounder but, in my opinion, whether he goes in the 2nd or 3rd round will depend on the teams picking and their positional needs.
After his time at Shattuck SM in his draft-year, it was not a given that Tyler Peddle (LW – Drummondville) would even play in the QMJHL. He was a somewhat surprising 2nd overall pick and joined the team immediately as a 16 year old. He put up very respectable numbers (17G, 18A) and expectations were that he would take his game to another level. The points are still coming but whole-ice commitment is lacking and he finds himself on the ice for many goals against. His greatest asset is his positioning, notably on the breakout, and the way he can create space for himself. You can tell he wants the puck and there's no risk in giving it to him. Whether it's identifying needs defensively then quickly switching to O-mode, Tyler displays a grade-A level of offensive hockey IQ. He'll still get a PK shift thanks to his speed and manages to put checks on the opposing puck carrier. Previously considered a 2nd to 3rd rounder, he may have to be more patient on draft day. I'm not writing him off by any means but at some point he will need to realize that, as the level of competition hightens, it's increasingly difficult to outscore some lingering flaws.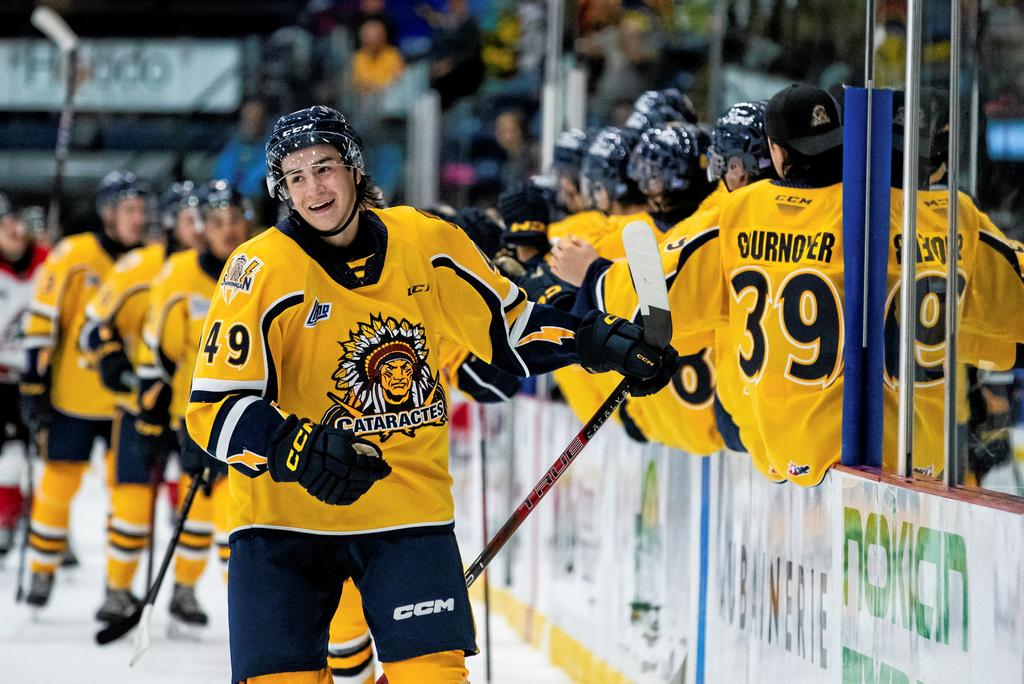 It was likely a dream summer for Jordan Tourigny (D – Shawinigan) and his family after winning the President's Cup, running the team's PP at the Memorial Cup, a selection for Team Canada at the Hlinka Gretzky tournament in the summer, and seeing his older brother Miguel go 216th overall to Montreal at the last NHL draft as a DY+2. Since, he has surpassed his previous points total but it just seems like a bit of the lustre has worn off playing with the rebuilding squad currently in Shawinigan. Jordan is a defenseman who loves to promote offense. He routinely starts the breakout from behind his net and favours a good forward pass ahead. To that effect, he displays a good vision for where to pass, through the neutral zone, before hopping off for a change. His skating is on-par with peers in the Q and he's not afraid to jump towards loose pucks along the boards in his zone. On the other hand, if he starts a race flat footed against a rushing forward, he'll get beat on pure speed. He won't leave the opponent any time to set up so he's not a liability in his zone or excessively reckless. However, you can tell his mind is on generating attacks. I think he's been overtaken as the best defenseman available from the QMJHL but shouldn't drop too much further than round 4.
Dylan MacKinnon (D – Halifax) is a player I've enjoyed watching since my first Facebook Live viewings when he was with the Moncton Flyers. He's a very strong defender in all aspects. Patient with the puck and patrolling the blueline in the offensive zone, he uses long strides and he's calm to create offensive rushes to the net. He's a confident player who finishes checks in the offensive zone without sacrificing chances in his own end. He makes beautiful passes along the ice and possesses an accurate wrist shot. Though he doesn't necessarily enjoy the same big-name appeal as the aforementioned defensemen in this article, he continues to make positive contributions in his second season with the Mooseheads.
One of the lighter players available from the QMJHL draft class, Cam Squires (RW – Cape Breton) shows a lot of creativity and a high level of skill. His hands are particularly quick. As he moves around the ice, he can make quick direction changes using impressive edgework and great execution. I also noticed some precise passing and rapid decision making. He'll go from a full-on attack to quickly getting back to his zone to be the first-pass recipient on a breakout. From there, he'll carry up through the neutral zone and dish off at the blue line. He's grown (vertically) since I first watched him but I think he still struggles to add muscle/power. So while the physicality and durability of a player with this type of frame still leave me wondering, there's no questioning his offensive skillset and individual abilities.
The same concerns need-not apply to beefy Matteo Mann (D – Chicoutimi). Already in his third season, he spent the early part of this season on the sidelines, injured. He's a massive defender who has a heavy stride when moving forward and backwards but he can pivot to maintain pressure. He has a very long reach and utilizes it very well on the defensive side of the puck. He moves the puck well in his zone to find his partner or a quick outlet when getting the puck out of his zone. Mainly, though, what you're getting is an incredibly physical player who uses his size and strength very much to his advantage. He's not afraid to make massive body contact and has the ability to defend himself should anyone challenge him. He hasn't played a lot this season but I think he has the potential to be a bottom pairing defender for a team willing to take a chance and pour over his medical history.
Another defenseman who missed significant time recovering from surgery, Luke Coughlin (D – Rimouski) will not get a chance to showcase himself at the CHL Top Prospects game in Kelowna. Since rejoining the Océanic, he has contributed offensively and taken an additional step in his fluidity, especially skating backwards. He makes quick direction changes with ease, mainly without the puck. With the puck, though, he still needs to develop more poise and patience. At times, he just throws the puck away rather than buying himself more time, notably in the neutral zone. His passes tend to be short yet precise. In the offensive zone, he stickhandles confidently at the blue line so there's no reason why he shouldn't be able to transfer that to other areas. Whether Coughlin can make up for lost time before the draft announcements are made remains to be seen but I still think teams will take a long look at him in the later rounds.
One final name generates a fair bit of disagreement among DraftPro circles: Jan Sprynar (RW – Rimouski). In his first season in North America since coming over from HC Litvinov, Sprynar is getting top opportunities to showcase himself in Rimouski, including 1st unit PP time. Sprynar is offense-first winger who occupies the left side on the PP, as a right shot, for one timers. Though he misses the net a fair bit, you can tell he's involved and looking for options. He routinely looks to stay unmarked in the slot and moves the puck back to D on special teams. Though he gets beat in footspeed coming back towards his end, with his stick down, he can intercept passes and spark counterattacks. After that, you will notice him come back to his D zone to strip opponents of the puck. As he heads the other way on a partial 2on1, he'll change the angle of his shot at the last moment to force a great save. He gets a ton of icetime for now but nothing screams "this is a surefire NHLer" to me. A definite high-risk selection despite the perceived offensive upside.
This concludes the regional report for the 2023 NHL Draft's QMJHL talent. The top end talent seems to be creating some separation at the top. The players listed later still have plenty of time to correct any flaws issues in their games over the next couple months. And if history shows us anything, there will be names that continue to move up and down our rankings, right up until draft day in June.
****************************************************
If you are looking for a mid-season rundown on the 2023 draft class as a whole be sure to pick up your copy of the Draft Prospects Hockey 2023 Preview Magazine available for instant download or print through Amazon.
Photos: Trevor MacMillan / Halifax Mooseheads / Shawinigan Cataractes