By Matt Hnatiuk
NHL Draft prospects coming out of the WHL and Western Canada this season seem to be more impressive than ever. There is so much talent out west that the scouting staff at Draft Pro have been kept busy tracking, ranking, and reporting on multiple players across the three highest leagues: the WHL, AJHL and BCHL.
Some of these players have become household names (Bedard), while others are only recently rising towards the top of the heap (Sawchyn for example). Since the release of the Draft Pro Fall Rankings, there has been much discussion amongst our group of scouts about who has really improved and who has slipped off slightly as the season grinds on.
As we all witnessed at the World Junior Tournament over the holidays, Connor Bedard is an absolute phenom. He has been billed as the next "generational talent" by some and has already gotten some NHL team fanbases drooling at the opportunity of their team selecting the young player at the draft in July. He has an NHL ready shot, extremely high IQ and a skill package that you rarely see in a player his age. He has cemented himself as the consensus first overall selection and all that is left is to see what team gets that pick.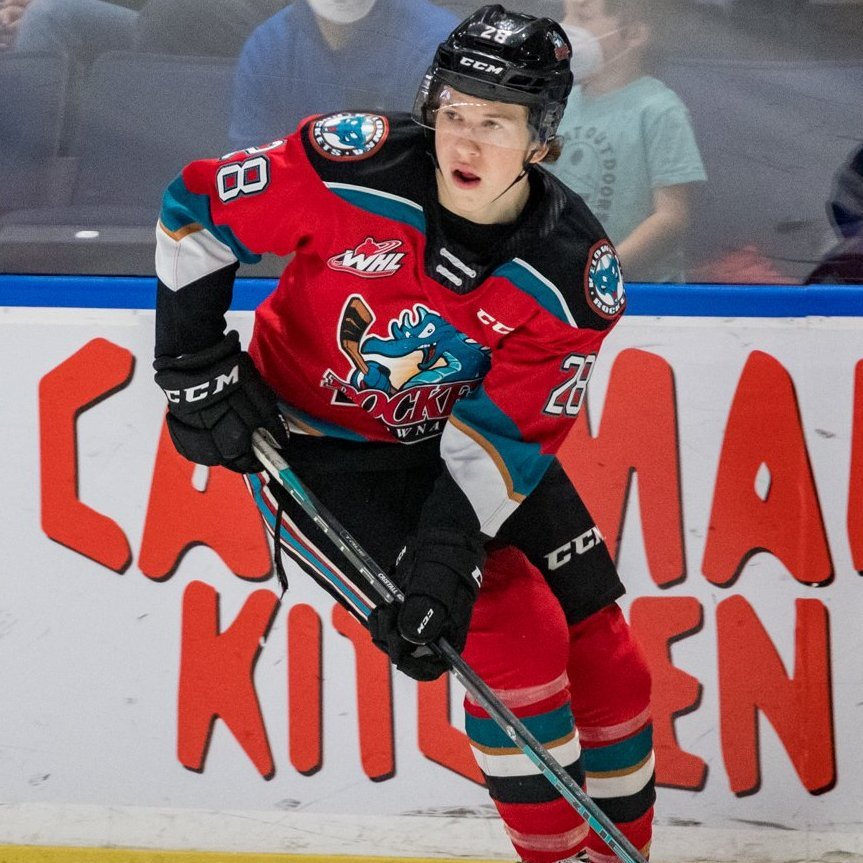 While a player like Andrew Cristall of the Kelowna Rockets has quietly gone about business pushing his name into top ten talk when it comes to the draft. He's a dual threat (passer & shooter) in the offensive zone who has been a factor in over half of his teams goals for, and even though this season is a forgettable one for Rockets fans, they still have something they can be proud of in Cristall.
Winnipeg Ice forward Zach Benson seems to have maintained his top ten form as the season has moved along by leading an extremely strong Ice team in points and helping to keep themselves atop the Eastern Conference in the WHL. His skating, passing and shooting ability make him a threat every time he's on the ice, and with his excellent use of his speed to dart into and out of high danger areas, Benson makes it hard for scouts to overlook him.
Brayden Yager's play in Moose Jaw has been great thus far. But some may feel it has potentially not been great enough to keep him within the top ten on the rankings lists. His strong offensive zone awareness, lethal shooting ability and high end speed have helped to keep his team with a winning record and well above .500 this season, but it appears that others may have slipped past him and pushed him down the list.
Riley Heidt from the Prince George Cougars is a player who seems to have maintained his mid-1st round status thus far. His smooth skating ability and smart play with and without the puck have put him around the top 10 in scoring in the WHL and the chemistry he has with teammate Koehn Ziemmer have really helped him maintain his position. Speaking of Ziemmer, his play with Heidt seems to have helped push his name up the list. His puck control, ability to finish when he's around the net, skating and his offensive talents have really come through this season and pushed him into the area of the top 20. These two prospects complement each other very well and both should be great additions to any NHL team.
Brandon Wheat Kings center, Nate Danielson, is a player who seems to have dropped slightly in the rankings depending on who you speak to. Playing on a slightly sub-par Wheat Kings team hasn't helped a lot either. His skating, vision and passing are all his best attributes, and he distributes the puck excellently all over the offensive zone, but many overlook his shooting ability. All of these skills and his near NHL ready shot could have him be a sleeper pick in the second half of the first round.
Jumping into the tail end of the first round we find Lukas Dragicevic from the Tri-City Americans. His offensive output this season is nothing short of amazing and his skating, vision and passing have proven that he can be an offensive threat from the back end. He has repeatedly shown that he can make incredible passes in all three zones, and should he see a lane to skate through, he will very willingly carry the puck himself before making a smart offensive zone play. As the highest point producing defenseman in the WHL, and cruising along at over a point per game pace, Dragicevic could easily slide into the 25-32 election range in July.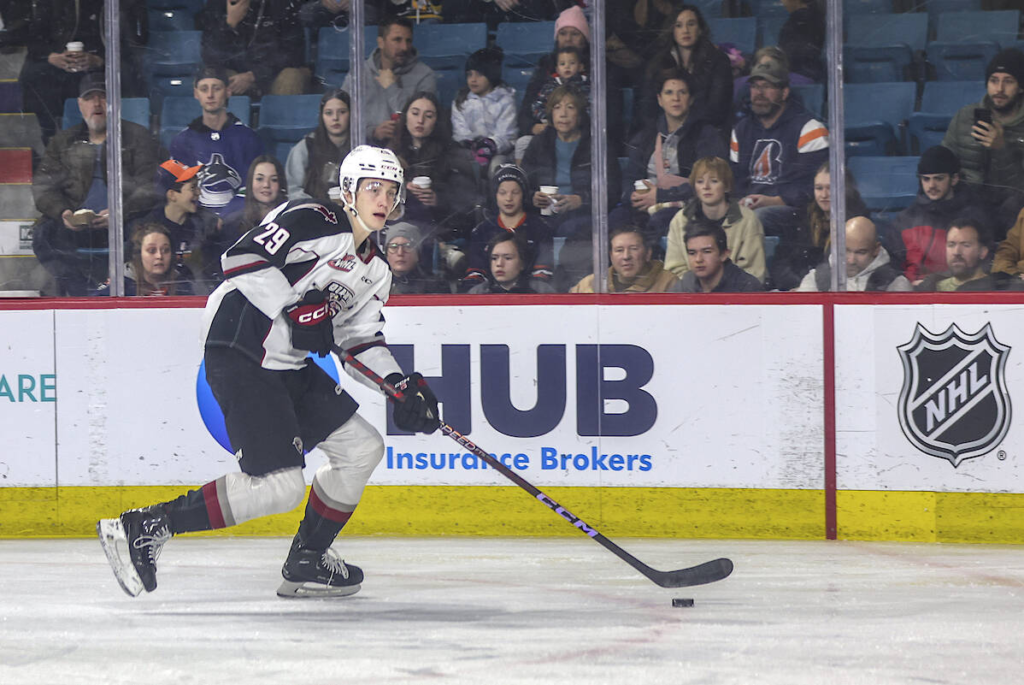 As it stands, those are the players who have remained or moved into the first-round talk surrounding the draft, but there are multiple players banging on the door to get in. We can't forget those that are so close to first round selections and have the potential to jump into those spots that are so hotly contested over. Currently just on the outside looking in there are a handful of players, and we start with Samuel Honzek of the Vancouver Giants. He appears to be one of the closest players on the outside looking in, but it would not surprise anyone to have him be selected on day one. This Vancouver Giant has been stellar in his first year playing in North America. His power forward size and play paired with his strong puck control and powerful shot show he's very close to a first round selection.
Seattle Thunderbird's forward Gracyn Sawchyn has drastically jumped up many lists with his play this season. Making the move over from the USNTDP program, his play and point production on a team that is in a battle for first in the WHL certainly hasn't gone unnoticed.
BCHL's Bradley Nadeau certainly has had the eye of scouts for a long time. Playing in British Columbia's top Jr A league, this University of Maine commit will be a few years away from cracking an NHL lineup, but his production game in and game out is something that's hard to not notice. His two-way, 200 ft game is something that catches your eye right away, but his compete and high-end offensive zone talents leave your mouth open and in awe.
Caden Price from the Kelowna Rockets is another player who is showing what a good player can do on a below average team. His play, while occasionally inconsistent, has an impact at both ends of the ice. He's mobile and able to contribute offensively, but the occasional bad defensive read may keep him from making the jump into the first round.
Portland Winterhawk, Luca Cagnoni sits just on the outside looking in. His point totals suggest that he can be a threat offensively while still taking care of business in his zone. This offensive defenseman has excellent skating skill, offensive zone ability and a shot that is a cannon. One of the new generation of defensemen.
Speaking of taking care of business, Tanner Molendyk of the Saskatoon Blades has been doing just that. He uses his speed and excellent footwork to take away options for the opposition and he has a cannon of a shot. While not quite first round material, this puck rushing defenseman has a lot of qualities NHL teams look for, but he still has some developing to do in his defensive zone gameplay.
****************************************************
If you are looking for a mid-season rundown on the 2023 draft class as a whole be sure to pick up your copy of the Draft Prospects Hockey 2023 Preview Magazine available for instant download or print through Amazon.
Photos: Vancouver Giants / Kelowna Rockets