By Jonah Fleisher
"I'm expecting even more from myself this season" – Cam Allen
After the buzzer sounded to end the gold-medal game at the 2022 Hlinka-Gretzky Cup, Canada stood victorious for the first time since 2018 — the last time, before this year, that they played host. While the 2020 edition of the tournament was canceled due to COVID, Russia took the win in each of the other two years, leaving Canada with just a single second-place finish in 2019, the only year they participated. But returning to home ice, Team Canada was motivated to take the win for the 23rd time in 31 years. Leading them was their captain, 2023 top NHL Draft prospect and Guelph Storm defenseman, Cam Allen.
"It was unbelievable," Allen said of the gold-medal finish. "I've never felt anything like that before. It was a long three weeks at the selection camp, and it was a grind for all of us. Going into the tournament, all I was focused on was that gold medal, and I've [had been] thinking of that for a while, so it was a really big accomplishment for me and all the other guys in that room. It was an amazing experience.
"I'm going to miss those guys a lot and will hopefully connect with them in the future. Just being able to win with that group was really special."
Team Canada had no shortage of talent or leadership at the tournament, boasting a lineup filled with first- and second-round ranked prospects. However, management ultimately tabbed Allen to lead the group, a privilege he did not take for granted.
"It was really an honour," he said. "There were so many leaders in that room. They helped lead the group as well; I think [the 'C'] could have gone to a couple of other guys as well.
"Playing with such skilled players that are so driven to win, [the captaincy] is not as difficult a job. So many guys expect so much of themselves that there's not as much pushing to do, especially at a short tournament like that. It was just leading by example and [being willing to do] anything for the team."
Scott Walker, Allen's head coach in Guelph, sees the same leadership traits and qualities in his talented defenseman that Team Canada did. While, as a young player, Allen has yet to wear a letter for the Storm, his dedication and professionalism stands out amongst the group.
"He comes in every day ready to work," said Walker. "His physical maturity illustrates how hard he works off the ice, and his game on the ice shows how hard he practices. A lot of the time, your best leaders don't have to be the 'rah-rah' guys. Gone are the days of standing up and getting in people's faces all the time. It still happens once in a while when needed, but now it's more about how you conduct yourself both on and off the ice. Away from the rink, with your billets, at school — anywhere. It's about conducting yourself in a professional manner."
For Allen, it all stems from his drive and compete level. He is willing to put in the consistent work needed to further develop his game and build towards his ultimate goal of making the NHL.
"I've always had a competitive edge to me that helped with my success early on and still to this day," he said. "From a very young age I've loved the game and it's always been my goal to make the NHL; not much has changed since then. Every single day the draft gets closer and closer and, if that goes well, then there's even more work to do."
Allen was drafted to the Storm with the third overall pick in the 2021 OHL Priority Selection. He, along with many others around the hockey world, but especially in Canada, had an unusual OHL draft year with rinks shut down due to COVID.
"I had really good chats with some teams before the draft," said Allen. "It was a weird year not being able to play, but I put in a ton of work during COVID. I don't even think teams got to see all of that, but we had a couple of showcases so I'm lucky they got to see anything and I'm fortunate enough now to be in Guelph. It's kind of a blur thinking back on it, but it was an exciting time and an incredible feeling when I was drafted."
However, the talented youngster found a way to turn those adverse circumstances into an opportunity to better himself both on and off the ice.
"That COVID year actually gave me some time to find other interests that either help me with the game or to take my mind off of it," he said. "Ultimately, it helped me reach a higher level in my on-ice performance. Once I got back on the ice, I started applying some of the things I've learned off the ice to the things that I'm doing on it. The on-ice [aspect] was tough, not being able to develop as much, but it was really about what you did away from the rink. Everybody was in the same boat, so it was about whoever could take advantage of it the most."
Allen's work clearly paid off in his first year with the Storm, winning OHL Rookie of the Year honours with 41 points in 69 games. However, it wasn't just his production that impressed, but also the way he carried himself throughout the year.
"He's a very focused and determined kid," said Walker. "He wants to be the best that he can be. He wants to be a pro hockey player. He understands there is a process. You can be as good as you want to be, but if you don't understand the process, it's extremely hard to get there. He's dialled in and knows all the steps he must take.
"Coming in as a sixteen-year-old and a third overall pick, there's a lot of pressure, but I thought he handled it really well. We had a good group of older players — a mature group that was probably easy to join as a younger player and who showed him how to play and conduct himself on and off the ice. Everything is magnified for him now, but he has great awareness of his surroundings and his actions. It's not easy. You could be pretty proud of yourself as a third overall pick and strut around, but he's done a good job of coming in, gelling with the team, and just playing his game. Some nights he even played the most on our defense, which is very impressive for someone of his age."
However, coming off his impressive rookie campaign and facing the pressure of his draft year, the humble Allen is quick to credit his teammates and coaches for last season's success.
"I have my coaches to thank for [the Rookie of the Year award]. They put their trust in me. I made a lot of mistakes, but I learned from them and it helped me do a lot of good things as well. I was never focused on individual accomplishments; I believe that if you're trying your best to help your team succeed, then all that individual stuff comes later. Fortunately for me, it did. But my teammates and coaches are really the ones that allowed me to do that and have a successful year. I'm expecting even more from myself this season."
Allen ranked 31st in DraftPro's preliminary 2023 rankings published last spring in our Draft Guide.
"[He is] an offensive defenseman that also plays a strong defensive game. He's elusive and a tad deceptive in both his skating and puck movement. Has great vision and makes well timed, accurate passes. Has a heavy slap shot and quick snap shot. Willing to use his body to initiate contact. A heady player that identifies pressure efficiently. His sturdiness allows him to handle contact well, bounce off hits, and also deliver them himself with authority. Strong defending on the boards using his body to make defensive break ups. Has top four two-way NHL upside."
Allen's game is not defined by one standout skill. Instead, he is a well-rounded defenseman who does many things very well in all areas of the ice.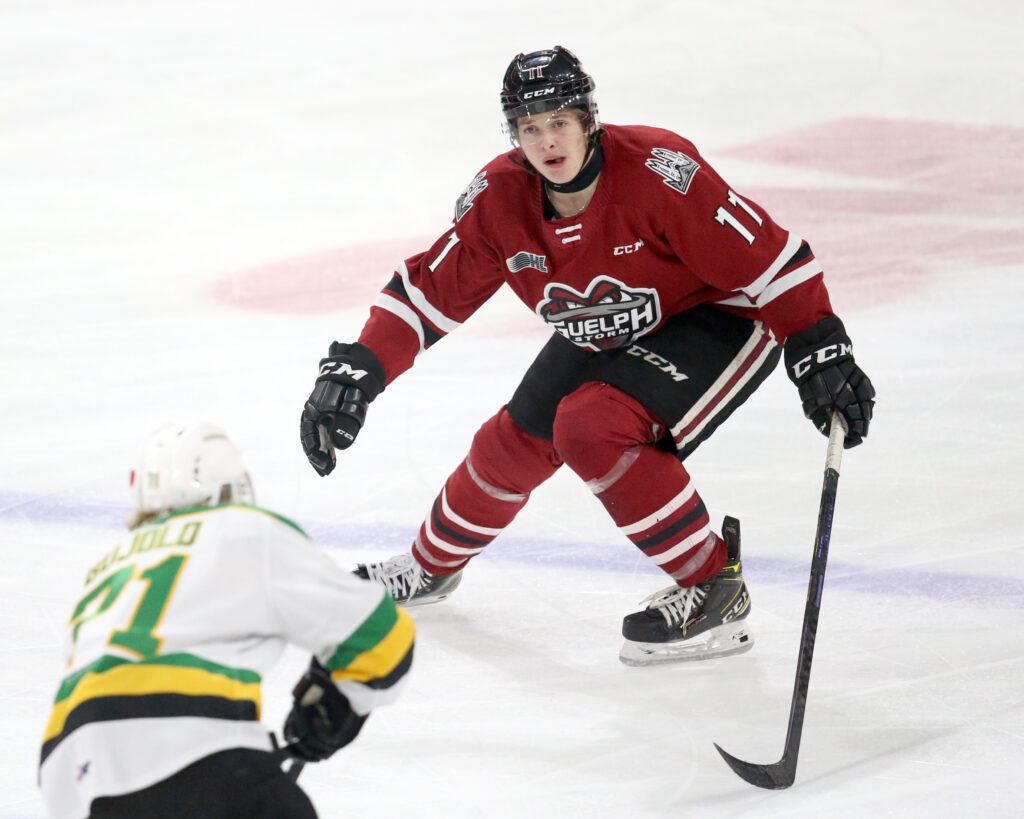 "He skates and moves the puck extremely well," said Walker. "He sees the ice — he's got vision, hockey sense, really all the things you want in a player. Obviously, we're talking about a high-end hockey player. It's hard when you're saying so many good things about a player and people think you're just saying things, but he was the third overall pick for a reason. We had him ranked number one on our board. As a seventeen-year-old, he's even ready on the physical side of the game with body contact, standing guys up, and winning battles. That part wasn't a struggle for him in his first year. That's not to say he won every battle, but he didn't lose as many as you would think for a sixteen-year-old rookie defenseman. That physicality was a part of his game, and I think he will take that and keep going as he rounds out his game."
This year, Allen's bench boss wants him to work on staying focused and disciplined in games, keeping his emotions in check.
"He's got hockey sense, all those things, but focus and game awareness are very important," Walker said. "You need to control the game; you can't let it control you. He's an emotional player, which is great, but you have to toe that line. I've seen him close to bubbling over and crossing that line, and I love the passion he shows, but especially now with scouts and media watching, he has to make sure he stays focused. The scouts are going to be there — they know he's a great player. But they're going to want to pick his game apart.
"It's not about playing a perfect game — there's lots of games where you play great and you're feeling good about yourself, but there's also games where you struggle, or have a bad turnover, or take a bad penalty, and the scouts want to see how you react to that. For me, [that resilience] is what the game's about, and that's what I try to teach my players. There is going to be mistakes. There is going to be errors. But when you get to Cam's level, with how he's going to be scouted, it's in the finer details of the game. It's the focus and details, shift-in and shift-out. Trying to be professional, but also having the freedom to get out there and express himself — being the hockey player that he can be, getting up the ice and playing physical. I don't want him focusing on if he played a good game or a bad game. He's got to break it down and be self-aware of what he did well and what he didn't. To me, that's maturity and where the evolution of his game will come from. The best part about Cam is that he understands that and wants it. A lot of people don't, but Cam just soaks up the feedback and loves to learn. He's been a treat to be around."
Allen largely echoed the sentiments of his coach when asked for where he'd like to improve this season.
"I think that what separates good junior hockey players from good professional hockey players is the small details that apply heavily to every game and every practice. [Moving forward], it's about building up those habits that will help you excel at a high level. There are the obvious things like getting faster, stronger, or having a harder shot, but I think it's about continuing to learn and be a student of the game."
When Allen isn't the one making them, he likes watching and learning from NHL highlights. Specifically, he like to watch one player who is largely considered to be one of the best offensive defensemen of his generation.
"I like to look back at Erik Karlsson when he had that phenomenal year [with Ottawa]," he said. "Just his urgency every shift and the impact he had on the game are two things that really stood out to me and are things I strive to do whenever I'm on the ice. [Some] defensemen play so competitively where they might not even be thinking it, but they're contributing so much offensively just with their energy, speed, and fast puck movement. I think he stands out [in that regard]."
He also admires Brendan Gallagher's hard-nosed style, especially having grown up a fan of the Canadiens.
"I've always been a huge Habs fan," said Allen. "And as weird as it may sound, I've always been a Brendan Gallagher fan. People always ask me, as a defenseman, why I watch a forward so much. It goes back to the fact that he'll do anything for his team. When you have teammates like that, it's so contagious throughout the team and in the locker room. He'll do anything to win, so I love the style that he plays."
Guelph has a young team this year, but that hasn't dampened expectations for Allen or anyone else around the Storm. Coming off a brief, five-game taste of the playoffs, they are hungry to get back to that stage and make some noise.
"I expect a lot out of our group," Allen said. "We have a lot of guys that really want to win and are ready for it. We might be a young team, but we're mature and really tight knit. We're fortunate to have some older guys that are great to the younger players and want to win just as badly. It's a great dynamic and I'm really excited to see what we can do this year."
That confidence is no surprise to Walker, who has similar hopes for this season. But still, he can't help but marvel at Allen's poise and calmness under the spotlight.
"He's always had high expectations put on him. He's grown up with that pressure to perform, and he accepts it and goes out and plays. He's a very confident guy, but it's not cockiness. He doesn't worry too much. I'd say dealing with the pressure from a young age has helped him to be able to go out on the ice and not have any issues with it. Cam knows he's expected to be a good player — he expects it from himself, too. He just goes out and does it."
Photos by Natalie Shaver & Luke Durda / OHL Images