By Samuel Dummer
"Our lives are defined by opportunities; even the ones we miss."
The titular character says the line in the film "The Curious Case of Benjamin Button" and while the words are said for a different reason, they resonate just the same.
The film followed the life of a boy that had a disease in which he aged in reverse. It's a strong representation of the realities of life. It was an interesting visual of the vast differences in experiences people can have, in even the closest of proximities. It was a powerful view of life through the eyes of someone else. Life isn't always a linear path, sometimes you play the cards you're dealt, and take the path less followed. Sometimes you accomplish what you set out to do, only you did it a different way.
Brad Lambert may have taken a different path of life and hockey than the steps we're used to seeing around our parts, but his end goal is still the same.
The NHL.
While he might not age in reverse like Brad Pitt's character in the mentioned film, when it comes to growing up, Brad Lambert's life has certainly been far from linear.
Coming from a hockey background, Lambert has known most of his life that being a great player is what he wanted to do. Lambert has had a bit of an unconventional journey through life. Living in two countries as a child and then beginning to play in the top professional league in Finland at only the age of 16 shows that Lambert has been able to play with men as only a child, looking far beyond his age when stepping on the ice.
Lambert has looked to his father to be his mentor through his hockey career and looks up to him as his biggest mentor. "My dad's my biggest mentor and I look up to him a lot! He's helped me every step of the way. I definitely wouldn't be where I am without him" Lambert said of his dad's influence on his game.
"Funny story, I was about 10 years old, and we were sitting at the kitchen table when I told him I want to be one of the best players in the world someday. I wanted him to tell me what it takes, and that hasn't changed. So, he sometimes has been hard on me and tells me stuff I don't want to hear, but it's all just to help me become what I want to be. For most of the training staff, he doesn't have to say much. Sometimes he has to tell me to rest a bit."
Brad's father, Ross Lambert, is a Canadian-born hockey player, hailing from the Saskatoon, Saskatchewan area. He played at the professional level himself, but he couldn't quite make it all the way to the NHL. His 5'9" frame just wasn't quite built for the clutch-and-grab hockey of the '80s and '90s. Ross would play about a season and a half at the AHL level where he would only be able to put up a total of 28pts in 100 games before moving on to the European professional leagues.
In the British Hockey League, Ross Lambert would light up scoresheets like Wayne Gretzky in the NHL. The more finesse game of Europe at the time was much more fitted to Ross' size and game style. Ross would score over 100 pts in 5 of his 11 seasons in the BHL with the Medway Bears, Humberside Seahawks, and Nottingham Panthers. This included a 180-point season in 1990-1991, in only 38 games, and a 169-point season in 1993-1994. Ross would continue to be a reliable force in his career until his retirement after the 1997-1998 season.
Brad Lambert's mother was a Finnish flight attendant and after Ross retired from the game, they decided to settle down. It was only a few years later, in a cold December of 2003, that the couple would introduce the world to Brad.
Lambert was born in Lahti, Finland, and spent most of his life in the Nordic Country. However, before he started school, Lambert spent a large amount of time in Canada. "Before I started school here in Finland, I spent a lot of time in North America." Playing for the Saskatoon Kodiaks and enjoying his time with his Canadian family and friends is a time that Lambert can look back at fondly while battling it out in international tournaments with his fellow Finnish countrymen, even though his name appears to be as Canadian as they come.
"My dad is a Canadian, my mom is Finnish. I've lived in Finland most of my life after I started school. And played hockey here, all except the 2015-16 season. Before I started school here in Finland, I spent a lot of time in North America. Spent a lot with my cousins, especially my cousin Jimmy, playing mini sticks in my grandma's basement.
Spending that portion of his days in Saskatoon, Saskatchewan were memories that Lambert will take with him wherever he is.
A childhood not too different from most of us who grew up with a hockey stick in our hands.
During the 2015-2016 season, Lambert played some Pee-Wee hockey in Canada before taking the trip back across the ocean to return to Finland. In Finland he would continue to be a dominating presence in the leagues around him; most of the time against older competition.
Lambert or "Brädi," as his Finnish friends would affectionately call him at home to help him fit in a little more, has experienced the hockey life on both sides of the Atlantic Ocean and has a well of hockey knowledge to draw from.
"They definitely focus more on the off-ice training here in Finland. It's more as a team here in the summer, whereas in Canada they do individual programs in the summer."
Not only did his dad play professional hockey, but his uncle, Lane Lambert, is a former NHLer who played 283 games with the Quebec Nordiques, New York Rangers, and Detroit Red Wings, amassing 123pts throughout the span of his career.
Lane has since moved on to a more advisory role in the hockey world now, as he is currently an associate coach for the New York Islanders.
While a lot of young kids with the talent of Lambert may start picturing themselves in the League and imagining what it will be like when they get there, Lambert has a lot more of a down-to-earth view on his journey to the NHL. When asked about the possibility of playing for his uncle in the NHL, Lambert wasn't even ready to think about it, even as a strong contender for a top 10 pick.
"Haha not really yet, I'm just focusing on getting there first."
It's safe to say that Lambert's upbringing has been a little different than most of the players that scouts are usually gushing over. Many times, it's a new North American kid in one of the multiple Major Jr leagues throughout the continent taking the world by storm. Or it's a high-scoring Russian dropping the jaws of scouts around the globe. This year, it's a half-Canadian, half-Finnish phenom trying to show the who's-who of the hockey world what he's all about.
Lambert took his opportunity at the World Jr Championships of 2020-21 as his first real introduction to the big scouts of the NHL. He may have been on a few radars before, but even after only scoring 4 pts in 7 games as the youngest player on the Finnish squad, and one of the youngest in the tournament, Lambert left a lasting mark on all of them despite his missed opportunity in the point department.
While there were players throughout the tournament who were able to stack on points, Lambert made sure to get the most out of his experience there at such a young age, "it was an awesome experience, and we had a great group of guys that really helped me too."
Speaking with our scouts at DraftPro, the thoughts of Lambert's abilities and weaknesses were quickly pointed out. His skating and offensive ability stand out far beyond anything else and his defensive game and general strength could use some improvement. Considering his age and path of development, the positives far outweigh the negatives in the eyes of most of the scouts we have spoken with.
After seeing his play at the World Jr Championships last season, scouts Matt Morrison and Jared Brown we're left raving about his potential. Morrison's firsts thoughts of Lambert at the tournament last season were eye-opening and most definitely positive, "My first thoughts watching Brad Lambert were "man this kid can skate." And "why is the one in the cage carrying the play?" As one of the younger players, he was flat-out dominating and demanding the puck, trying to be a difference-maker. His end-to-end speed and transition ability is high-end and allows him to take over a shift."
Head scout Brown had a very similar statement to make about his first thoughts on the player, "He's a special young player that can handle the puck and make plays in full flight. Seeing him do this at 16-years-old wowed me. It's rare to come across a 16-year-old that can skill stack as well as he could and he continues to improve each year."
Both Brown and Morrison went on to continue about the more specific strengths and weaknesses of Lambert's overall game. Morrison was first to point out his confidence and mental state, "Brad's willingness to demand the puck and play a mature game for such a young kid stood out the most. I was surprised to see how confident he is in his ability, and you could tell he is comfortable being the best player on a team." Brown focused more on his physical attributes and skating style, pointing it out to be what really stood out from his perspective, "His speed and skill stood out the most. He's such a dynamic, explosive skater that can outright fly past his opponents. When you pair that with his above-average puck skills, you get an elite forward playing in transition. His ability to create offense and chances on a consistent basis, inside the attacking zone, makes you salivate at what Lambert could turn into."
It wasn't all cupcakes and rainbows for the young Finnish forward though. While he is still young and has plenty of time to develop, there was an area of the game that both Morrison and Brown were in complete agreement about, his defense. "Defensively he can be hit or miss, depending on the game. I've had viewings where he's looked disinterested or shown a low effort level inside his own zone. If he is going to be a full-time centre at the NHL level, he's going to need to improve his energy level inside the defensive zone on a more consistent basis" says Brown about what he saw of Lambert.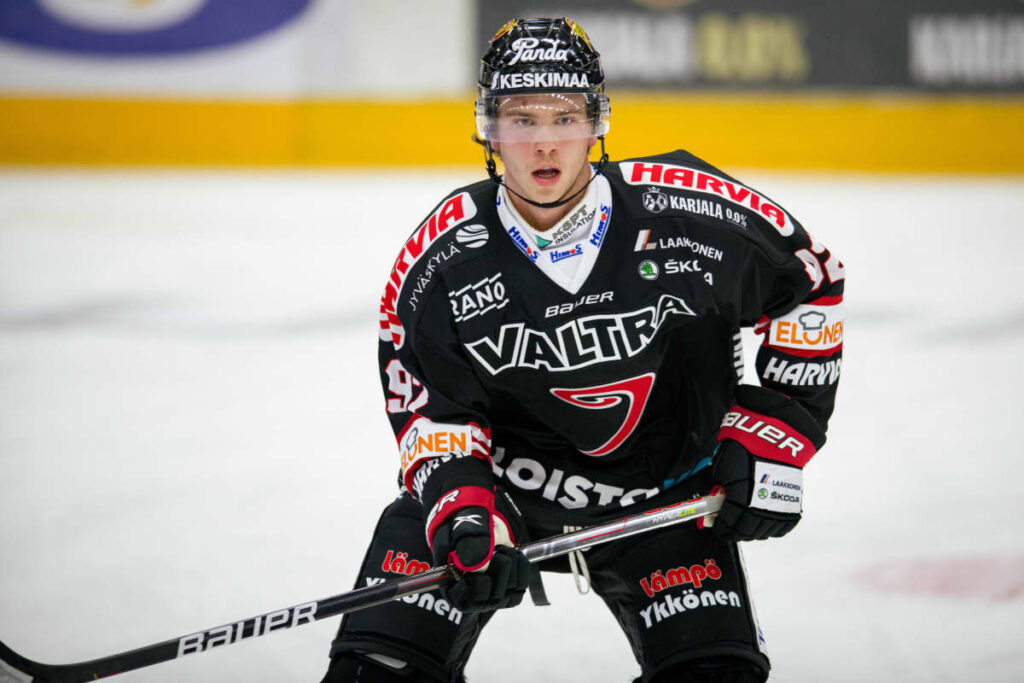 Morrison's words were eerily similar, "He can get caught puck watching often and dragged out of position looking to jump the zone. (It) could be a bad habit of wanting to impact the game too much and easily fixed with maturity."
Lambert has massive potential and NHL teams should be seriously considering ways to get him on their rosters, despite his seeming lack of defensive drive and inconsistent season to date. Players can learn to be better defensively with the right coach or structure. And consistency tends to come to some with maturity as well. Lambert is still very young but is pulling from a deep well of knowledge to learn from. Because of this, Lambert may be given a chance at making an NHL roster right out of the gate. Morrison and Brown strongly agree on that and are not afraid to say it.
"I think he could be ready to make the NHL jump right away, due to his speed and background playing against people older than him." Morrison stated about Lambert, with Brown agreeing and following up,
"Considering he's going into his second season playing against men in the top Finnish league, my answer would be yes (he could be ready to play in the NHL). The experience he is gaining is going to help him translate quicker and Lambert already has the speed to keep up, and even separate himself from NHL opponents. And, if he's gotten stronger, handles contact better, and is more tuned in to his defensive assignments, then I see no reason why he couldn't make the jump to the NHL next season."
6'0" and 179Lbs, the tall, blonde, hockey-haired Lambert probably isn't a physical presence that will make the opposition shake in their tightly tied and bladed boots. His silky-smooth hands and knack for putting points on the board make him a valuable asset to his men's professional "Liiga" team, JYP Jyväskylä, in Finland though.
Starting his play against men at the age of only 16, Lambert showed early that he wasn't out of place. 15 pts in his first 46 games playing alongside fully developed men, with limited minutes, shows that Lambert can produce. He still has some developing to do in order to battle with some of the larger men, but he still has some time to put that work in.
Looking further back into his stat sheets shows a player that usually excels wherever he plays. At around 14, Lambert was already producing points at over a point-per-game pace against players as old as 16. Since then, he has continued to produce regularly and continued to raise his own bar to succeed at the highest level. While he knows where he excels, Lambert is also very aware of what he needs to improve on to make a real impact in the NHL. Lambert agrees with the scouts about what his greatest strengths on the ice are, "My skating, stickhandling, and ability to make plays" is what he has to say about. When it comes to his weaknesses, he may kind of agree with what they had to say, but for a much different reason than the scouts pointed out. In Lamberts mind his biggest weakness is more of a physical one and not a mental state, "My strength; getting stronger to win more battles and have the puck more. I've really worked hard on that this summer. But, at the same time, I WANT to improve EVERYTHING!"
Lambert feels his offensive ability is where he will most greatly influence the game for whatever team is lucky enough to get their hands on him. Not only does he play with silky smooth mitts and a smooth stride, his on-ice role models greatly fit the description he is trying to emulate – and doing a mighty fine job of it.
"I'd say right now I try to model my game after Matt Barzal and Nathan Mackinnon. Also, I try to watch McDavid and Kane too! My goal is to improve every day and be ready for the 2022-23 (NHL) season. That's what I'm working for."
Lambert's goal to improving every day is a belief shared by his current team's coaching staff. Over an email exchange, I was able to ask a few questions to Marko Tuomainen. He is one of the team's Assistant Coaches and was open to a friendly back-and-forth, as well as took some time to answer a few questions about Lambert and what he can bring to the table.
Tuomainen has been one Lamberts coach for just this season but has known of the player for a little while. JYP had been watching Lambert for a couple of years before he joined their team last season. "He was quite impressive in the U20 league, so (he was) no surprise" he had to say about the young man's ability. When it came to his strengths and weaknesses, it would appear that Lambert is pretty consistent around the scouting and coaching world and keeps in line with his coach's suggestions.
"His skating with the puck and ability to make plays in traffic (is his greatest strength). (While) when playing against men, he naturally needs to get stronger to win more 1 on 1 battles."
Lambert is a special kind of talent, it's a pretty known fact across the Jr hockey world. However, the coaching staff of JYP does not allow Lambert's head to grow too large for the arena. Just because he may be a young up-and-coming future star, does not mean he is handed anything for free on his team. Tuomainen and the rest of the coaching staff are sure not to allow much of a free leash kind of system with Lambert, despite his apparent elite abilities.
"In here, everybody has to earn a roster spot with their actions, so nobody gets more freedom. He gets the same treatment (as) everybody else. Of course, we understand his age and learning process…"
With this in mind, however, Lambert does seem to be very open to suggestions from his coaches. He takes what they say to heart and works hard to improve in the areas they point out to him. Lambert seems to be like a sponge for his coaches and willing to take both praise and criticism well, making him a management dream of a player.
When asked about how Lambert responds to praise and criticism, as it can be a clear indicator of the type of person rests behind the player, Tuomainen was very positive. "(Praise) adds to his confidence. He is very receptive (to criticism) and will try to make improvements to those areas. He is an easy player to coach and wants to improve every day."
As Lambert played through his first season for JYP, the season wasn't as smooth for the team as it might have been. At only 16, Lambert had to play through a big transition for a professional sports team and did so with a respectful attitude and contributed as much as he could. Lambert showed he can step up to a little adversity and improve his game, nonetheless.
"Last season, just like the rest of his team, he was in a tough place with no head coach pretty much the whole time." Despite this, he was still able to improve and develop through the experience of his teammates and other staff. "He is better in timing with his linemates, so it helps him offensively. His speed with the puck and speed overall through the neutral zone (has improved). He is working on his strength every day."
Lambert not only seems to be aware of his own strengths and limitations but also appears to be in a strong alignment with his coach's beliefs. With similar responses, it is an easy deduction to see that Lambert will listen to what the coach has to say and make a solid effort to make the improvements they want him to. The strong willingness to learn, and work ethic to keep working at it should take him a long way in his professional journey. Lambert's coaching staff is aware of the player they have, but also want to make sure that his head does not grow too large for the arena and that he is treated as any other player would be. The requirement to earn his stripes against the older crowd and battle every day should create a strong base for the young Finnish forward to build his career on. It will set him up nicely for the hard daily grind of the NHL. Players need to fight for every second of ice-time and every inch of space, on and off the ice.
Lambert is a hard-working young man so you won't find him online in the gaming world with his buddies too often. From my conversation with him, he seemed to be the kind of guy who prefers using his time mastering his real craft, Hockey.
He'd rather play the real game, instead of pretending to do it on screen.
But there are some times that he does kick it back and grab a console controller. Lambert will jump online occasionally to try his hand at Call of Duty: Warzone, although he admittedly isn't too great at it.
"I'm not a huge gamer but I play sometimes. I don't play much so I suck. I'm always in the Gulag and rarely get out."
So kids, next time you're trying to fend for your life in Call Of Duty: Warzone, keep in mind that it might just be Lambert on the other side of the Gulag trying to snipe his way back into the game.
Wait for the right time to take your opportunity, it may just define you…
Even if you miss.
There's a strong chance he misses you too.
Photo Credit: Jiri Halttunen
Graphic by: Kai Farenholtz