By Zackery Robert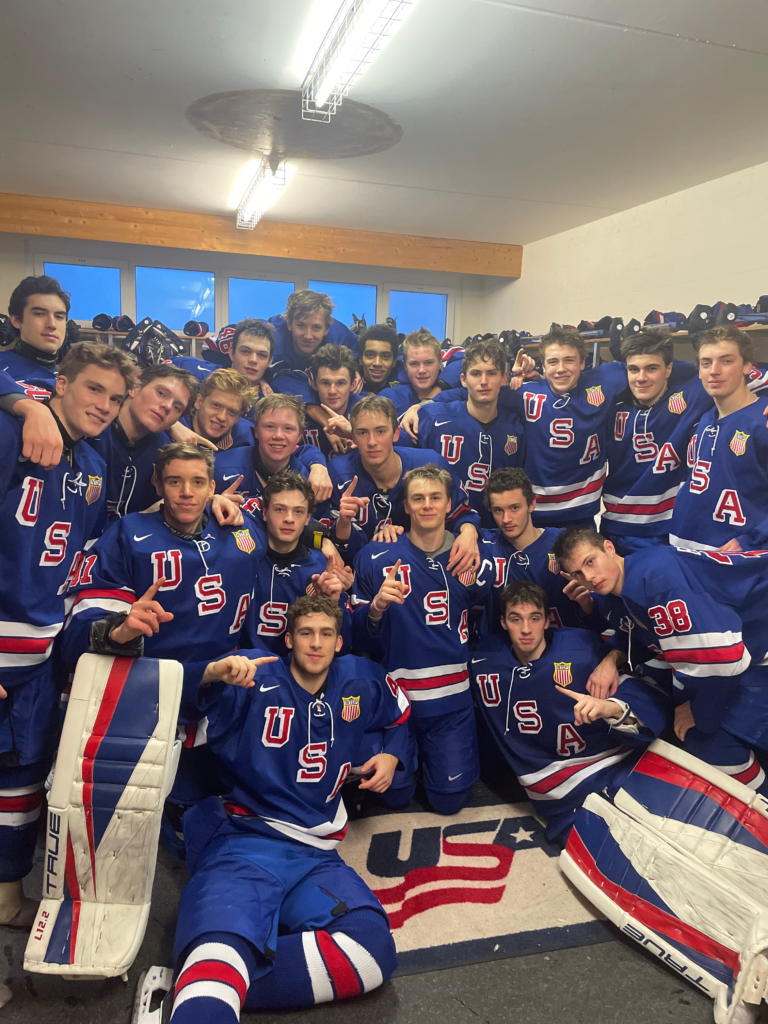 With the final horn sounding on this tournament on December 18th the celebrations started. The USA had defeated Switzerland by a score of 4 to 2 to win the tournament, the United States won all three round robin games enroute to their second tournament win of the season. This kind of tournament is fun and important, it's fun to be able to see this age and get to see their ability and it is important for this age range to get the exposure to do just that, show their ability and potential and gain experience. Being a tournament, it is still about winning, but as a whole this tournament is much more than just winning for players in this age range.
In this tournament, like the name states, there were four nations involved, Switzerland, the United States, Sweden, and Slovakia. Beginning their chase for the tournament win on December 12th. Many of these players being 2006 birthdates, they would look to be drafted in the 2024 draft class and the 2025 draft class respectively. Some notable names in this year's tournament would be players like, USA's Cole Eiserman, Will Skahan, and a couple late 06 birthdays in Logan Hensler and James Hagens, with the first and last players named here being highly rated players in both these draft classes respectively. Along with the USA players, there are some other notable players in this tournament like Slovakia's Theo Kiss, and Sweden's Alexander Zetterberg. There were many good performances along the way that helped in building a fun tournament this year.
For the champion USA there were a few players who stood out having nice performances in this tournament. Cole Eiserman, Cole Hutson, James Hagens, Logan Hensler, and Will Skahan. Eiserman led the team in goals with four and was tied for the lead in points with Hutson who also had six points and led the team in assists with four. While Hagens was second with five points. When looking at Eiserman it is no wonder why he is already college committed to the University of Minnesota, at 5'11 and 190 pounds at 16 years old he is already in good shape size wise for playing in the NHL and with a draft year in 2024 he has plenty of time to get even bigger. Eiserman is strong on his skates and has speed to go with it. He has a great shot already at 16 and with time and physical development his shot will become even more of a weapon. He is playing well above a point per game already this season and this tournament was more of the same, he is consistent and that is what people want on a team, consistency he looks as though he will be the first American taken in the 2024 draft and in the top five as well, and this tournament shows more reason to why that will be the case. A very good tournament for Eiserman.
Next on this USA team is Hutson, he, like Eiserman had six points and looked to be on a level where only a handful could reach during the tournament. At 5'8 and 143 pounds the defensemen will need to continue his training to get bigger, but again with his draft year in 2024 he will have much time to develop his frame. He is committed to Boston University so by the time he makes it to the NHL his size will be where it needs to be. During this tournament you could see Hutson's passing ability on display, he skates very well with the puck, nice full strides almost like a glide across the ice. He has a very good hockey IQ for someone at 16 and it will continue to develop, he looks to be a solid two-way defender, capable of both pitching in on offence and anchoring the defence. It was a good tournament for Hutson. Now on to Skahan, the 6 '4 defensemen at only 16 is built like a mac truck. Weighing in at a little over 200 pounds Skahan has a bigger frame than many top NHL defenseman already at only 16. He is very strong on his skates and is a mammoth in his own zone. Skahan can skate well and move the puck, and at 6'4 that is something teams cannot keep their hands off of. Early looks at the 2024 draft have him going close to the top ten and some show him sneaking just inside the top ten. With a consistent tournament like he had here, Skahan will definitely not last long at the 2024 draft.
Now to the two late 06 birthdays who will attend the 2025 draft, defenseman Hensler, and forward Hagens. Both players look to be top ten picks in their draft, and for good reason. Hagens has an explosive offensive ability. He is fast and he is large for 16 coming in at 5 '10 and over 150 pounds, Hagens could look to be a hard player to defend against once he is an NHL regular. In this tournament Hagens reached that level where you saw Eiserman and Hutson, his skating ability was hard to match and keep up against. He has great vision and was able to pass the puck with ease. His shot made him dangerous offensively, pairing that with his passing ability, he was on another level with Eiserman. The final American to talk about here is that of Hensler, the 6 '2 defenseman was sound defensively finishing as a plus one. His skating was very smooth, and it looked as though he was incredibly calm on the ice, never panicking, knowing where he was supposed to be at any given moment. His game was very good at this tournament and this will only help him build his case as a top ten pick in 2025.
Moving on from the American team, we now take a look at team Sweden. Someone who stood out on the team was that of Alexander Zetterberg, the Swedish centre showed his skill through his speed and his passing and playmaking skills. He is a very crafty centre capable of making defenders do a double take when he goes past them. At 5'8 and a little over 150 pounds Zetterberg still needs to work on his physicality and size but at only 16 years old he has time to physically develop. Once that develops his speed will be even more menacing than it was in this tournament. His shot is very good, shown by his four-goal performance against Slovakia where he also picked up an assist to tally five points in that game. His vision on the ice was levels above many of his opponents, capable of giving his teammates open space by sending the puck to where his teammates should end up instead of where they currently are. His hands are very good, and his offensive upside is very large, and by example of this tournament the upside is very promising.
Moving on from Sweden we now look at team Slovakia, now team Slovakia did not have a very good showing as they lost all their games and none were even close, only scoring 5 goals and allowing a stunning 23 goals against in three games. One player in particular however did show some great skill and that was Theo Kiss, now the point production was not their for Theo as he had only one assist in those three games, but majority of his team were the exact same or worse so his tournament cannot be deemed a failure due to the lack of support around the team. Theo Kiss showed some very promising things in his game during this tournament, he has very good hands and a high offensive IQ and his skating is at an elite level for anyone his age. It was a poor showing for the whole of the Slovakian U17 team and unfortunately when that happens everyone's game takes a hit. Theo did look good at times, but just not enough to help turn around Slovakia's misfortune this tournament.
With three teams looked at now all that is left is team Switzerland. I would have to say that instead of one or two players standing out, the whole of Switzerland's team stood out. Like most times when Switzerland's team comes into tournaments they always seem to play such a cohesive game, usually falling just short against the powerhouses of hockey like Canada or the United States, with this particular time falling just short against the United States. Switzerland looked like a fairly well-oiled machine as far as U17 goes. No one person was head and shoulders above the rest and no one person was the reason for their almost tournament win. Everyone played well together, and it showed, Jordan Forget was able to be the leader in goals with three and Noe Tarchini led the team with five points in the three games. They each had a good offensive tournament but when it comes to the whole game Switzerland played like a singular unit, you jump I jump, or no man left behind so to speak. So for Switzerland they came out and impressed but not by any one player outshining the rest.
There you have it, the 2022 four nations tournament is done, some impressive showings were had by some more usual suspects and when the final horn blew the United States were crowned the champions. It was an exciting tournament to see and if this was any indication of what is to come, the NHL will be in good hands in the not so distant future.