Order your copy of the Draft Prospects Hockey comprehensive 2023 NHL Entry Draft Guide chalk full of scouting information on this impressive 2023 NHL Draft crop as well as profiles and notes on many 2024 and 2025 eligible prospects for the low price of $12.99 CAD (NOW 25% off – JUST $9.75 CAD) for the pdf digital edition.
The Draft Prospects Hockey 2023 NHL Draft Guide includes the top 240 ranking for the 2023 NHL Draft, profiles on the top 224 prospects, the annual diamonds and duds article, NHL team reports and draft outlook, ranking of the top 64 for 2024 plus profiles on the top 32, a glimpse at the early top 32 for 2025 with profiles on the top 10, plus great features on prospects and much more.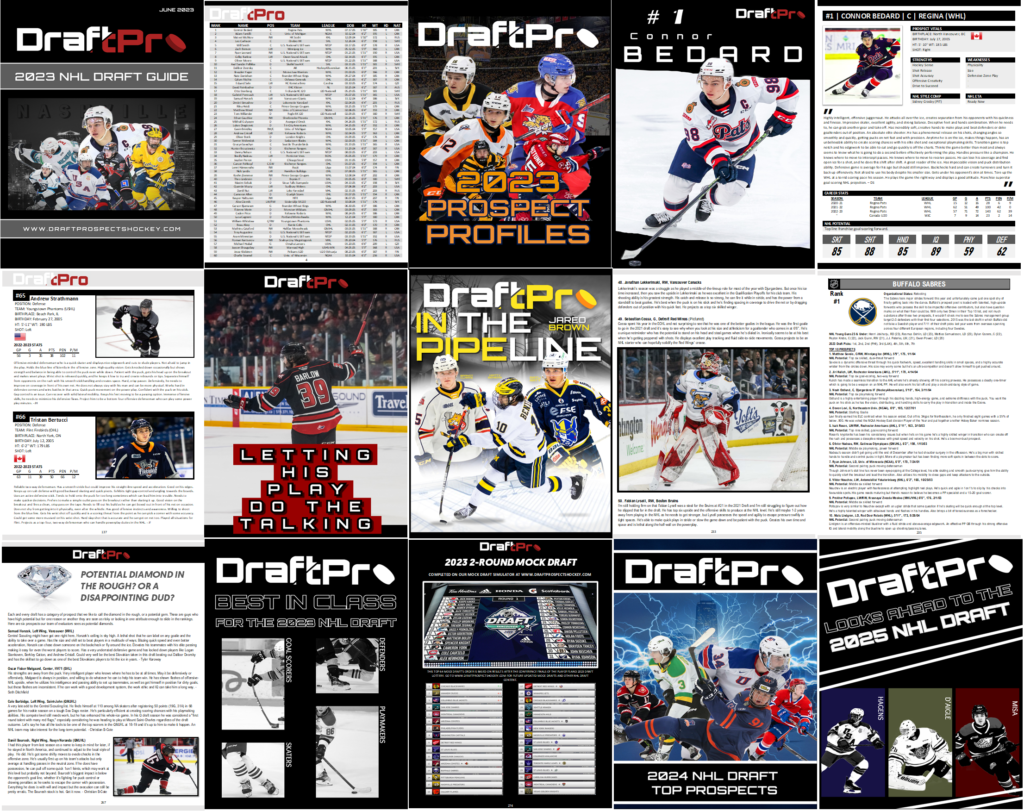 Enjoy the culmination of our teams hard work over the past couple years which included multiple views on thousands of prospects worldwide whittled down to who we believe will become the best future NHLers from this crop. We hope you come away feeling educated on the next wave of NHL talent and appreciate the effort we put in just as we appreciate your ongoing support.
This is an automatic download link. But if for some reason it does not auto download please reach out via email to [email protected] with proof of purchase and we will be sure to email you a link to your copy of the draft guide.
For those who prefer a physical copy please order your copy through your regional Amazon.