By: Isaiah Bouchard
As the NHL pre-season is coming to an end and teams are finalizing their opening night rosters, all eyes are on the future as another season of hockey is finally here. And if there is one thing that is consistent, it's that hockey fans are never satisfied. We want more games, more wins, more cups, and more superstars. And what better place to start looking for future stars than the NHL entry draft.
In this seven-part series, we at DraftPro hope to showcase the cream of the crop in this years NHL entry draft. Last year's flock saw the likes of Connor Bedard, Adam Fantilli, Leo Carlsson, and Matvei Michkov. But as one generation passes us by, a new one moves in.
Hockey's legacy is filled with rich history and interesting stories. Whether you look back at the first indoor hockey game in Montreal or the earliest forms of hockey played with simple balls and sticks. The game has come a long way and has experienced a lot of changes since we starting playing on skates in Montreal. Since the NHL's formation, hockey has grown to become a dominant global sport. Spanning the globe and enrapturing multiple nations in this beautifully violent past time.
That is why we are going to take two parts to introduce the draft eligible players that are coming from across the pond in Europe. Last year saw Leo Carlsson go #2 overall, David Reinbacher at #5, Dmitriy Simashev #6, Matvei Michkov #7, Dalibor Dvorský #10, Tom Willander #11, Daniil But #12, Axel Sandin-Pellikka #17, Eduard Sale #20, Otto Stenburg #25, Theo Lindstein #29, Mikhail Gulyayev #31, and David Edstrom at #32. And with a total of 78 players drafted from Europe in last year's draft, (not including Europeans playing in north American leagues) it's no wonder we need 2 separate introductions.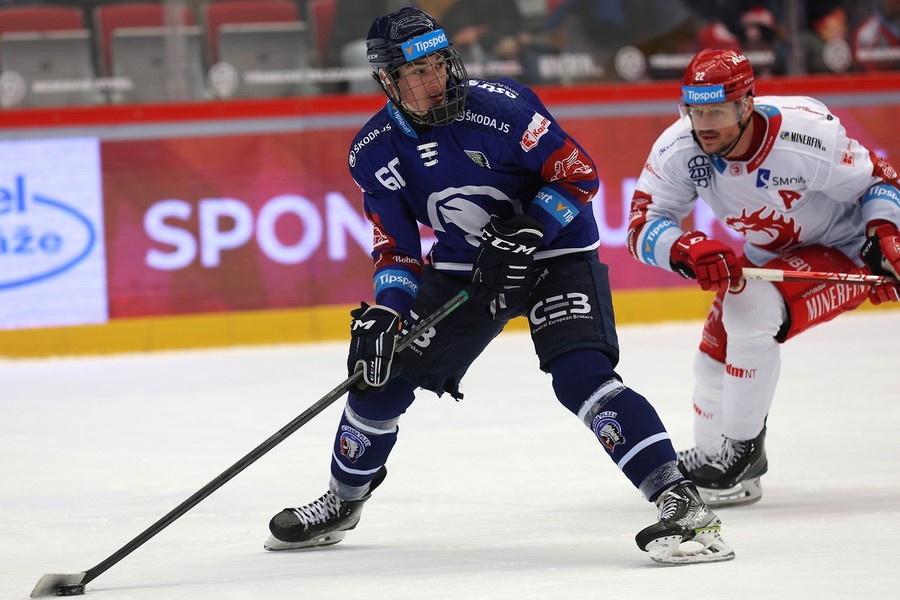 So no more name dropping, let's get started with our first prospect: Adam Jiricek. Hailing from Czechia and playing for HC Plzeň in the Czechia U20 league and the main Czechia league. Jiricek immediately impressed his coaching staff and skipped the U17 league last year where he played 41 games for 29 points. Not bad considering he was such a young player.
Daniel Stewart, DraftPro's General Manager, had this to say about Jiricek: "A confident, skilled, two-way defender. Has elite feet allowing him to rush the puck up ice, slip around defenders, close off gaps defensively. Shows off impressive vision and touch with the puck via his passing ability, setting up his forwards and making quick and accurate outlet passes. Smart, knows when to pinch and when to not risk it. Has skilled hands and body control to deke and weave his way through traffic. Despite not being overly heavy he uses what he has to play a physical brand. Pinning his man along the wall, stepping up to lay the body, and showing a little bit of nastiness to his game. Blessed with some of the best edgework in the entire draft. He struggled to start the year against men in Czechia, but the tool kit is still very exciting."
As of right now, Jiricek is a strong contender for #1 defender in the 2024 draft. It entirely depends on how well he can play with men in the big Czechia league. As of right now, he is struggling, but if he can turn it around for the second half of his season, then he could be an easy top ten player in the draft.
From the legendary Örebro HK, next up is Sweden's Alexander Zetterberg from the Nationell League. Splitting his seasons between the J18 and J20 leagues, (mostly the J20s) Zetterberg has impressed a lot of scouts with his point production for such a small and young player. With 34 points in 43 games in the J20s, Zetterberg played well enough to finish second overall on his team for points.
"Zetterberg is an electrifying center with a wide array of skills that make him a top prospect for the 2024 draft. He brings a tremendous amount of energy to every shift and consistently works hard to gain an advantage against his opponents. He is adept at relieving pressure in the mid-section of the defensive zone and exhibits excellent passing skills, both in delivering and receiving the puck. His puck skills are at an exceptional level, showcasing great hands and a knack for getting pucks to the net. Zetterberg demonstrates excellent hockey IQ by positioning himself effectively on the ice and executing dekes when opponents are vulnerable. He also displays impressive playmaking abilities, consistently finding and executing great passing options. While Zetterberg's game is already strong, there are areas where he can further improve. His physic could benefit from development, especially to compensate for his smaller stature. Additionally, although his skating is solid, he has room to enhance it in all aspects to elevate his game to the next level." Said DraftPro's Simon Forsmark.
Size will always be the big question for these smaller players no matter how well they play in the juniors. As of right now Zetterberg is above a point-per-game average and continuing to showcase his exceptional point producing abilities. Because of this, it is pretty hard to predict where Zetterberg will place in the draft. As we saw with the surprising placement of Daniil But and Dimitriy Simashev last year, big guys are certainly popular right now. So Zetterberg will have to have an amazing year to secure that first round position.
Speaking of giant Russians, next up is Anton Silayev from the Torpedo Nizhny Novgorod in the KHL. Standing at 6'7" and over 200 lbs, it's fair to say that Silayev is going to be watched heavily by scouting groups all year. His time in the KHL is what already looks good for the young Russian. Silayev earned the trust of his staff to be moved up to the KHL, playing alongside men, where he already has matched his point output from the MHL last year.
Tyler Ballesteros-Wallard, one of DraftPro's top scouts for the Russian region had this to say about Silayev: "Very opportunistic shooting from the blue line to the point. He will let them rip from any part of the zone. He is the definition of a swan gliding on a strip of smooth water due to his incredible lateral movement and agility."
It's obvious that Silayev has all the tools to become a dominant shut-down defensemen in the NHL. His development is still questionable, as his ceiling isn't quite known for certain quite yet. But as of right now, Anton Silayev is playing extremely well in a men's league, even better than his time in the MHL. His great start seems like he is already guaranteed for a first round selection in 2024, but of course the season is still young, and a lot could still happen. If Silayev can continue to pinch off forecheckers with his great skating and reach, we could see a similar situation to Dimitriy Simashev's draft day. A big defender with excellent skating being picked higher than most would suspect.
As we remain in Russia, we look at the 6'2" winger: Igor Chernyshov. Playing for the MHK Dynamo Moskva last season, Chernyshov had 38 points in 38 games. He was also given a few games in the KHL, where he got 1 goal in 5 games. This year, he's expected some more KHL time, and like Anton Silayev, his production in the KHL will determine just how far he will go in the draft this year.
Ballesteros-Willard had this to say about Chernyshov: "a hyperactive rushing winger who has a blistering shot. And he shows tremendous versatility and responsibility in all zones."
So far Chernyshov is continuing his point production trends in the MHL but has yet to do much in his first 9 games in the KHL. But despite that, Chernyshov is still a scout favorite for a few reasons. He plays a well-rounded game and can be molded into a lot of playstyles. His versatility is a good quality, and his size is commendable as well. His placement depends entirely on his compatibility with certain clubs. We've seen NHL clubs such as the Carolina Hurricanes draft many Russian players in the past. The Canes have gained a reputation as sort of 'draft stealing' experts. So even if Chernyshov's season in the KHL is lackluster and disappointing, there may still be a team willing to grab him in round 1.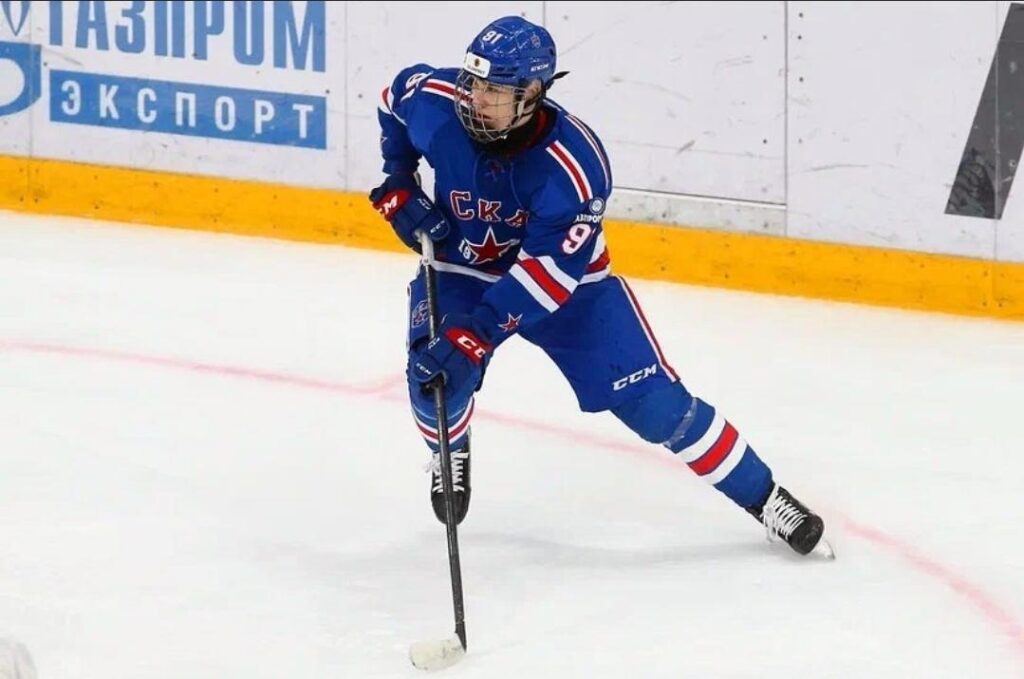 To finish our list, and part 1 of our European introductions, we stay in Russia again and introduce a draft favorite: Ivan Demidov. With 63 points in 41 MHL games, Demidov has proven to be an exceptionally talented forward. Him and his brother Semyon hold the #1 and #2 position for their team in points, and Ivan is looking to go even further in the MHL this year.
So far his season hasn't really started, only playing 6 games in 3 different leagues, so it's hard to say if Demidov is guaranteed his top 5 position at this exact moment.
Tyler Ballesteros-Willard had this to say about Ivan Demidov: "Demidov has lightning quick skating abilities with tremendous agility. Allowing him to just tomahawk his way through the defense. He also has tremendous dangles up the wazoo! With the extremely allusive skating abilities on top of that."
Playing alongside last year's Russian hype-train: Matvei Michkov, Demidov is not too far off from the player many believed to be nearing Ovechkin and Malkin levels. While Demidov hasn't played as much KHL games as Michkov yet, that doesn't mean that the same potential is not hidden somewhere deep within him. Scouts all agree that there is a spark there, and a ceiling as high as it gets. Without a doubt Demidov is a safe top 10 pick at the start of this year, but how he performs in the KHL this season will determine if he slips higher or lower than that. Like Michkov last season, who was expected to go as high as #2, great players can slip down the draft board for a plethora of reasons. Only time will tell if we will end up talking about Michkov and Demidov as some of the greatest draft steals in the NHL's history.
For more on European prospects, and the 2024 draft class as a whole, be sure to pick up a copy of our 2024 Draft Preview Magazine available later this fall and subscribe to our bi-monthly DraftPro newsletter full of up-to-date info and scouting reports.