By: Isaiah Bouchard
As the NHL season gets underway, all eyes are on the next season of hockey. And if there is one thing that is consistent, it's that hockey fans are never satisfied. We want more games, more goals, more cups, and more superstars. And what better place to start looking for future stars than the NHL entry draft.
In this seven-part series, we at Draft Prospects Hockey hope to showcase the cream of the crop of who is available in this years NHL entry draft. Last year's flock saw the likes of Connor Bedard, Adam Fantilli, Leo Carlsson, and Matvei Michkov all drafted as potential franchise building blocks. But as one draft crop moves on, a new wave of youth for NHL talent hounds to salivate over moves in.
So, without further build-up, here are ten high-end players that are potentially coming out of the USA for the 2024 NHL Draft in June. (Part 2 of 2).
With exciting and competitive hockey leagues growing in the US every year, the US region is becoming increasingly more competitive towards the CHL and other junior division leagues across the globe. With leagues such as the USHL, NCAA, and team programs such as the NTDP and National U18s. Covering such a wide array of programs and leagues, spanning the entirety of the USA, it's no wonder that America's output of hockey stars has only continued to grow as the years go on.
Last draft, the USA provided 6 players in the 2023 NHL entry draft's first round. That's including non-American players who came from the region such as Adam Fantilli at #3. Following Fantilli, Will Smith came in at #4, Ryan Leonard at #8, Oliver Moore at #19, Charlie Stramel at #21, and Gabe Perreault at #23. In total 13 players came from the NDTP, 26 came from the USHL, 1 from the AYHL, and 16 from the NCAA. Combining for 56 total players coming out of American developmental leagues. With so many players coming out of the USA, it's fair to say that one article is not enough to give them justice. In Part 1, we went over: Artyom Levshunov, Macklin Celebrini, Michael Hage, Trevor Connelly, and Zeev Buium.
Let's star Part 2 by going over a player who is expected to go top 5 on draft day: Cole Eiserman. Playing for the USNTDP Juniors and the US National U18 team last season, Eiserman wow'd a lot of fans and scouts alike with his natural goal scoring ability. Scoring 43 goals with the U17 National team, 26 with the U18, and 28 in the USHL, Cole Eiserman scored 97 goals last year. Eiserman without a doubt is the best pure goal scorer to come out of this years draft.
"Eiserman has arguably the best shot and skill in this year's draft class, and has the ability to score from anywhere on the ice. He recorded 43 goals in 42 games last season setting the record for most goals in a U17 season with the U17 development team. Eiserman is an above average skater who competes hard for loose pucks and can find open teammates. Eiserman's best ability as a player is his goal scoring which is gold to NHL teams, but his passing cannot be overshadowed either. Eiserman will challenge Celebrini for the top pick in the 2024 NHL Draft." Said DraftPro's Liam Staples.
Eiserman's dominant scoring ability is going to get him far come draft day. And while his skating is lacking, there are still plenty of highly effective goal scorers out there who are not on the upper threshold of skating. Eiserman is still young, and has plenty of years to develop in the USHL and NCAA to become a highly dynamic goal scorer in the NHL.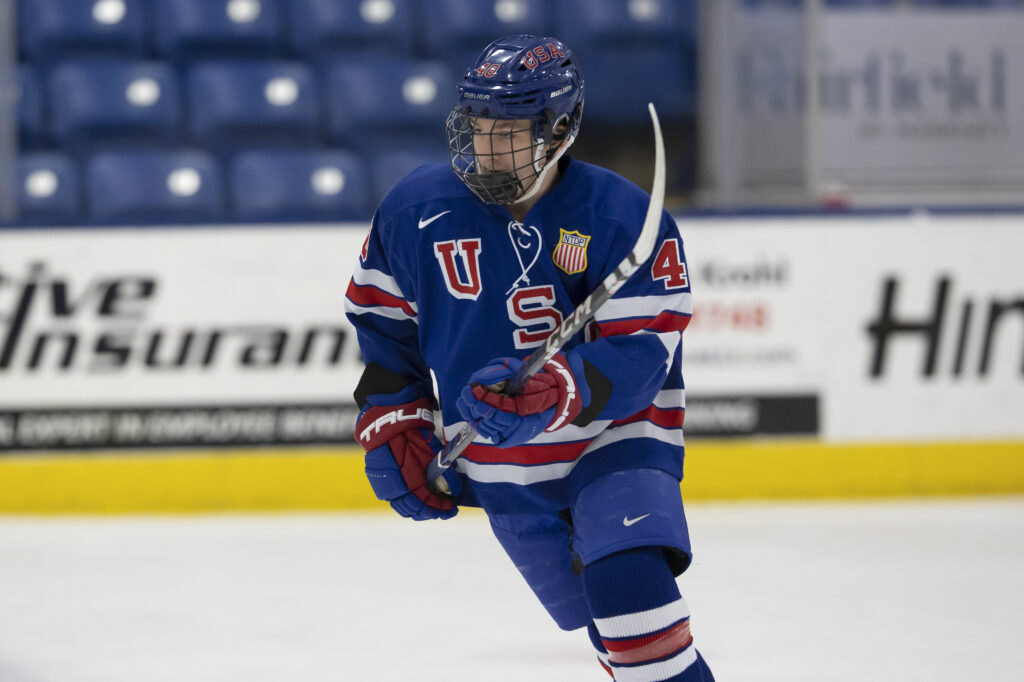 Next up is Cole Hutson from the USNTDP Juniors, same as Eiserman. Brother of Montreal Canadien's draft pick Lane Hutson, Cole looks to follow in his brother's footsteps as potential steal in the draft. Hutson is on the smaller end for defenders, at 5'10" and a little under 160lbs. Splitting last season in the NTDP and USHL, Hutson impressed many with his highly skilled stick play and offensive defensemen potential.
Long time DraftPro scout, Andy Miller had this to say: "Hutson likely has more potential than Lane, who most now think was a steal in the late second round. He is an electric player on the ice who dances around with the puck on his stick and often dictates the play. Hutson has the potential to be a PP1 Quarterback at the NHL level and be the offensive catalyst for a team from the back end. While his defensive game is not his strength it is not a deficiency either as he is a responsible and capable defender. He has the capability to be a Tyson Barrie or Sam Girard type defender at the NHL level in about 5 years' time. These are the best comparisons as his offensive side of the game is his strength."
As of right now Cole Hutson is looking like a late first/early second rounder for the draft. His placement depends on how well he plays, of course, and also how willing a GM is to gambling on a smaller defensemen. Hutson has one more season in the NTDP and USHL, and then he is off to the NCAA for the 2024/25 season. And so far it looks like Hutson is capable of driving offense for his team night in and night out. And looks more than capable of finishing the season as a point per game defensemen.
Next up is Christian Humphreys from, you guessed it, the USNTDP Juniors and US National U18 team. Playing most of his time in the UTDP, where he scored 23 goals, 20 assists, for 43 points in 58 games. He was equally effective in his 6 games in the USHL as well. This year he is looking to have a slight improvement, most likely finishing around the 60 point mark.
"Christian has top line NHL centerman written all over him, as he has necessary tools and skills to carry play and produce offense through the middle of the ice. Highly skilled with the puck, his dual threat to shoot or pass keeps goalies guessing. This is a player who demands the puck as he excels at finding open ice around the net. Jumping on loose pucks and overworking the opposition is part of his game, his work ethic speaks for itself. He has a lethal heavy shot and is able to pick corners in tough areas of the ice." Said Steven Pratas from DraftPro, quick to point out Christian's high potential.
Potential is the key word here for Christian Humphreys. While his stats are not anything special, especially when compared to his US National teammates like Cole Hutson and Cole Eiserman, Humphreys plays the center position so well already as a young player, which is a rare occurrence. His work ethic is also a lot higher than most other prospects, and his height and weight are nothing to gawk at. Expect Humphreys to become a sort of 'piece of clay' prospect, a type of player that a team's developmental program can mold into any player they want. Humphreys is highly versatile in this regard, which could lead to him being drafted earlier than many would expect.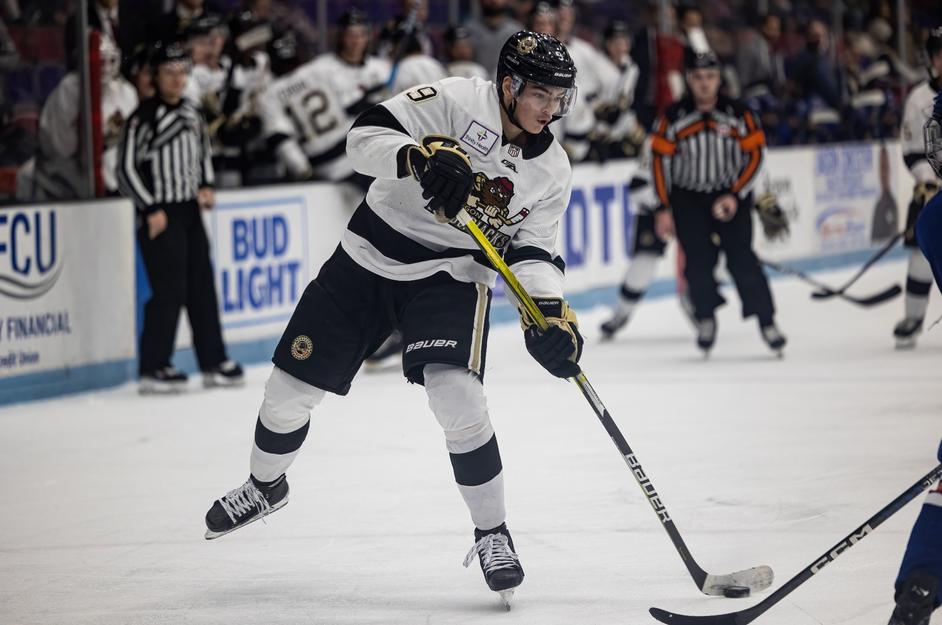 From the Muskegon Lumberjacks, Sacha Boisvert is our first non-American on this list. With 45 points in 57 games in the USHL, that was enough to place the Quebec-born Boisvert above a lot of the drafted players on his team. Boisvert offers a similar package to Christian Humphreys. He's a well built centermen who's already showing his versatile game in the USHL. He's starting off with a strong 2023/24 season as well, hoping, like Humphreys, to land around the 60 point mark.
Steven Pratas placed Sacha Boisvert in his top 5 USHL players and had this to say: "Boisvert is exceptionally good at creating space while having the puck on his stick as his speed and agility as a centerman are key to his success. Sacha possesses terrific hockey instincts which help him read the play and ensure he's in the correct position on the ice. He has soft hands which impact his playmaking skills in between the face off dots. Sacha's shooting ability may be mediocre however, as he tends to be a pass first type of centerman. With more accommodability in his draft year, I'm curious if he'll take the next step in his development."
Overall Sacha Boisvert seems like a safe pick to make in the #20-50 range. He's a naturally conscious and safe player, making him good for the Two-way forward role. As of right now it is likely that Boisvert will place near the top of his team for points again this year. His height and weight are also good qualities and could grow into a very solid centerman if give the proper attention.
To finish off our list, and the list of USA prospects as whole, we have Will Skahan. Skahan is an intriguing prospect entirely due to his massive lock-down potential. Standing at 6'4" and over 200lbs, Skahan has the potential to be one the best lock-down defensemen to come out of the draft in years. Usually, for the defensive defensemen role, a prospect starts out as a two-way and usually embraces the lock-down position as a necessity to stay competitive. It's an important role, and it isn't going away anytime soon. But it is rare to see a young player start off with such drive and potential in this less-glamourous position.
"Standing at 6'4", 212 pounds, Will Skahan is a force to be reckoned with on the ice. His sheer size is immensely intimating for the opposition as he is a brick wall on the back end. His defensive game is what excites team's as he has the potential to be a dominant lockdown defenseman for years to come. He uses his frame to keep excellent gap control against speedy forwards and plays a physical relentless game that slows down and breaks up plays. Although his offensive spark isn't fully developed, his hard shot from the point is intriguing." Said Steven Pratas when asked about the big defenseman.
Like Pratas said, Skahan's offense is not his strong suit. Scoring only 17 points last year, Skahan is not going to wow audiences with his fast hands, or incredible deeks. But without a doubt Will Skahan could be one of the first defensemen called up this year, as his size and potential is just too great to pass up.
Will Skahan is playing for the USNTDP again this year, likely splitting most of his games between the USHL and NTDP. To secure a high draft position, Skahan will need to A.) Showcase that his lock-down play can indeed be game changing on a nightly basis, or B.) Show improvement in his offensive output. Like Pratas noted, his shot is not too shabby. And could be capable of catching goalies off guard with heavy slappers from the blueline.
For more on USA prospects, and the 2024 draft class as a whole, be sure to pick up a copy of our 2024 Draft Preview Magazine available later this fall and keep your eyes peeled for exciting content and scouting reports all season long on the website.