By Andrew LeBlanc
A few weeks removed from the conclusion of the prep school playoffs, we look back at one of the most competitive seasons in recent memory. There was no organized prep school league last year, so it was always going to be interesting to see which teams took a leap forward, and which ones fell behind. Although there were a few cancellations, give credit to the coaches who made sure this season could go on as close to normal as possible for these kids. It was great to see trophies up for grabs again. While most of these players were able to get games in last year, there was no collective goal, or end game. This season, players laid it all out on the line to win tournaments. Playing prep hockey provides an opportunity you do not get in most leagues: the ability to play in front of your friends and classmates. The small rinks allow there to be an electric atmosphere. This culminated in the playoffs, where fans were packed shoulder-to-shoulder, and the noise was deafening.
Given the nature of the short season, you need to be sharp for every game. It is similar to college football in the sense that you cannot afford to go on a losing streak, or you will lose your shot at the championship. To win consistently in prep, you need depth and veteran leadership. In this review, we will focus on the schools that impressed most this season, spotlighting the NHL draft eligible prospects for the next few seasons.
Salisbury
Coming off the New England Prep Championship in 2020, it was always going to be difficult to repeat. Other teams were sure to get up for their games against Salisbury. This was evident in their early season struggles. However, Salisbury pulled it together, going 16-1 down the stretch to earn the 5-seed in the Elite 8 playoffs. However, they were faced with the tall task of taking down three top teams, all on the road. After defeating Dexter Southfield and Kimball Union, Salisbury capped off their great run with a 4-1 victory over Belmont Hill to recapture the New England Prep Championship.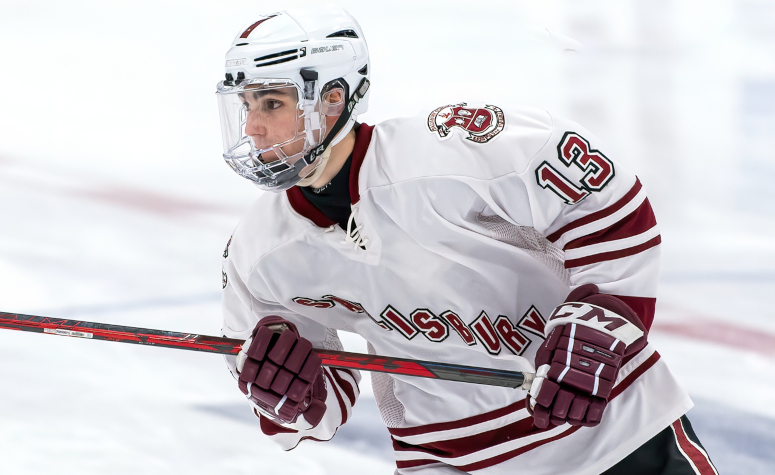 Elite 8 Tournament MVP, Dylan Hryckowian, was the driving force behind this team all season. The 2022 draft eligible prospect was the best player on the ice almost every shift. He has great speed, skill, and vision that make him a point producing machine. He does not get attention like others in the region because of his size, but his production speaks for itself. Hryckowian is joined by 2023 draft eligible prospect, Ben Poitras. His great hockey mind combined with his excellent puck skill make him a dangerous threat on the offensive end. He is no slouch on the defensive end either. Poitras is always getting his stick in passing lanes and plays big minutes on the penalty kill for his team. Finally, you do not win a Prep Championship without a solid netminder between the pipes. Austin McNicholas, a 2022 draft eligible prospect, stepped up in a big way for his team down the stretch. He finished the season with a 1.78 GAA and a .926 Save %. When he was on, he was as good as any goaltender in prep; highlighted in his playoff run where he gave up only three goals in three games.
Belmont Hill
Elite 8 Tournament runners-up, Belmont Hill, were led by first year head coach, Brian Phinney. He did a great job turning this program from an under .500 team in the last few seasons, to a 21-3-3 team this season. He changed the culture of this team, bringing structure and consistency. While they could score as well as any team in prep, they prided their selves on being disciplined defensively. They defended the middle of the ice better than any team and rarely gave up more than two goals.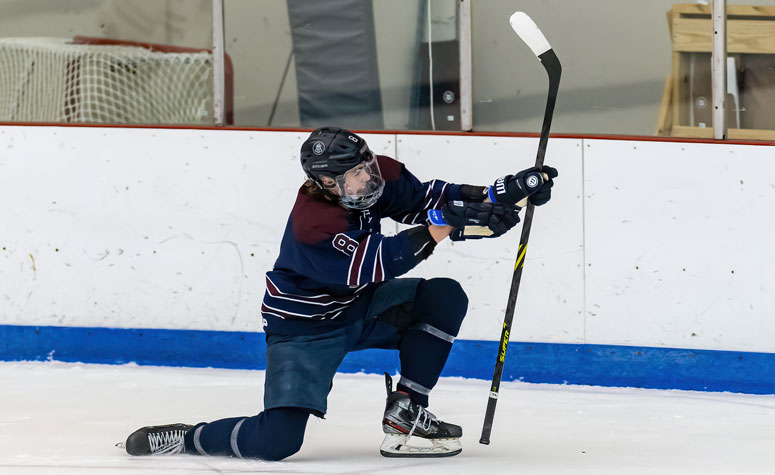 Belmont Hill did not have the depth in scoring that other top teams had, but for what they lack in depth, they made up for in top line production. When they played together, the line of Ronan O'Donnell, James Fisher, and Teddy Stiga was arguably the best line in prep hockey. Ronan O'Donnell, 2022 draft eligible, led the team in points, putting together a nice tally of 12 goals and 20 assists. James Fisher is one of the most sought-after prospects in prep hockey. The 2022 draft eligible is a power forward that can shoots from everywhere and has a knack for scoring. He plays physically and goes hard to the net; difficult for defenders to contain. Teddy Stiga is a true freshman who came in and dominated prep from day one. The 2024 draft eligible is a dynamic playmaker who drives the play for his team. He just received an invite to the NTDP Evaluation Camp and is almost a shoo-in for the team. Belmont Hill's defense is an experienced group with size and athleticism. In goal, they are led by the best goaltending prospect in prep hockey, Sam Scopa. The 2023 draft eligible has the best rebound control in prep hockey. He is not the biggest goaltender, but he stays square to shooters and eats pucks. The most impressive thing with Scopa is his levelheadedness. He had some bad games, like any goalie, but he always stayed focused and has a "get the next one" mentality.
Kimball Union
Perennial powerhouse, Kimball Union, came into this season with high expectations. They finished the regular season with a record of 27-3-1, which was enough to claim the top-seed in the Elite 8 playoffs. This is a testament to their excellent depth. They did not play as difficult of a schedule as some that qualified for the Elite 8 tournament, but they stayed focused all season and beat who was put in front of them. Kimball Union eventually fell in overtime in the playoffs to Salisbury, after giving the champions all they could handle.
The Wildcats had an experienced blue line and got scoring throughout the lineup. They had five players that averaged over a point-per-game. Tyler Wishart was the top point producer in prep hockey this season with 53 points. The 2022 draft eligible has an excellent hockey mind and sets his teammates up all over the ice. He was accompanied by prep hockey's leading scorer, Jaiden Moriello. Moriello was first draft eligible in 2021, but after missing most of his sophomore season with injury and most of his junior season because of the pandemic, he was passed up. The UMASS-Lowell commit is not the best skater, but what he lacks in speed, he makes up for with effort and intelligence. He has a great sense of where the puck will be and gets to the right spot to score goals. Wishart and Moriello are the guys you want out there in crucial times if you need a goal. A key contributor on the back end was Duncan Ramsay. The 2022 draft eligible is built like a monster. He can shut down the other team's top line and pinches down to contribute to the offense.
Avon Old Farms
John Gardner is a top tier coach who always gets the most out of his team. This season, Gardner had the privilege of coaching an older, more experienced team. They were arguably the deepest team in prep with an explosive offense. There was not just one player or line that did the scoring, they got production from up and down the lineup. There always seemed to be a different guy stepping up to help the team. The veteran leadership was not enough to fend off Belmont Hill, though, as they fell out of the Elite 8 playoffs in the semifinal.
As seen in many of their fellow Elite 8 teams, Avon had solid play between the pipes. Post-grad, Conor Callaghan, who was first eligible for the draft in 2021, had a tremendous year and was the most consistent goaltender all season. He finished the year with a 1.27 GAA and a .948 Save %. Accompanying Callaghan was arguably the best defensive pairing in prep, 2022 draft eligibles, Sam Court and Jordin Palmer. They complemented each other well. Court is more of an offensive defenseman that likes to push the pace while Palmer is more solid defensively, who is a good skater and brings it physically. Up front, their most notable prospect is Brennan Ali. The 2022 draft eligible struggled to produce as much as expected early in the season but turned it on at the end. He is heavy on pucks and plays physically in all three zones. Joining Ali up front are a pair of 2022 draft eligibles, Charlie Gollob, and Matthew DiMarsico. Both guys will not blow you away with their speed, but they get the most out of their ability by giving 100% effort all the time. In a team of mostly '02s, '03s, and '04s, there is one '05 who lighted the lamp regularly. Joe Connor, 2023 draft eligible, is a speedy forward who was the leading scorer on this team for most of the season. He went quiet in the last couple weeks, but still finished as an over point-per-game scorer.
Dexter Southfield
This is a different look Dexter team this season. Generally, they rely on their top guys to carry them to success. However, this year they had to rely on their depth more than any team who qualified for the Elite 8 playoffs. Between injuries and COVID, they were never able to field a full team. Goaltending became an issue this season, as they had to play their third string goalie multiple times this season in a pinch. Dexter heated up towards the end of the regular season, winning their last five to qualify for the Elite 8 playoffs. They just ran into an even hotter Salisbury team and got bumped in the quarterfinals.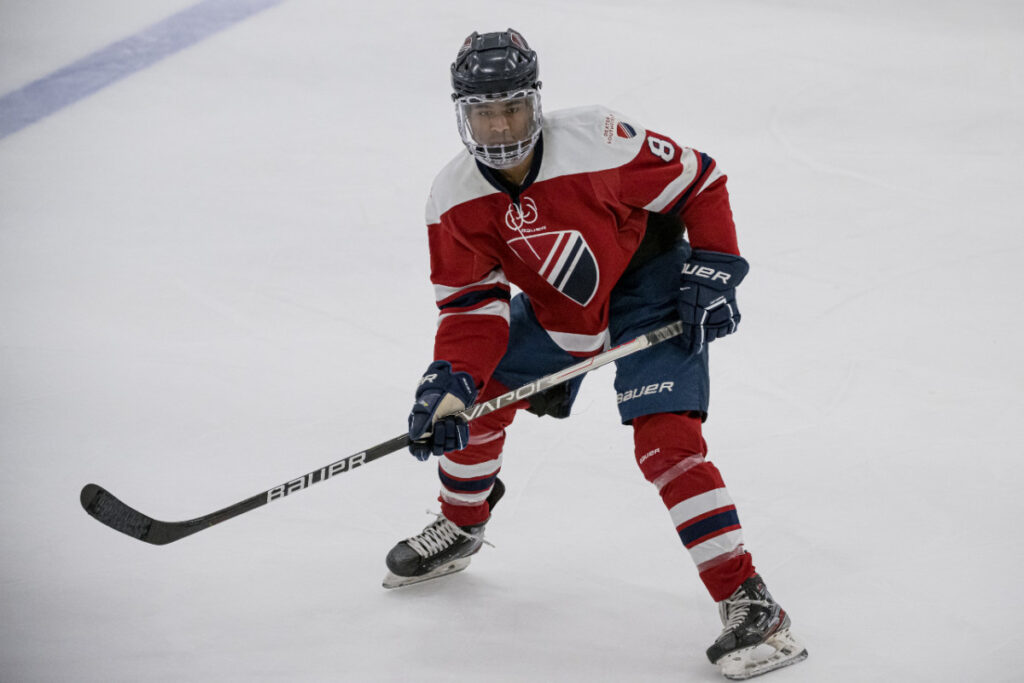 Dexter's high-powered offense was carried by a trio of 2022 draft eligible players. Grayson Badger outworks everyone on the ice regularly. He has amazing athleticism and plays physically. His skating stride is a little awkward, but he is another one of those guys that gets the most out of his ability. Will Hughes does everything for this team. He was not only the leading scorer with 16 goals; he was also always out there taking important faceoffs for Dexter. One of those guys who could play up or down the lineup at the next level. Bobby Landry sees the ice well and has a good hockey IQ. The production was not always there for him this season, but a lot of his work does not show up on the score sheet. The most exciting prospect out of Dexter is defenseman, Sean Keohane. He is rounding into the best 2023 draft eligible prospect in prep hockey. He has always been a good skater and solid defensively, but this season, he started to develop more confidence in his offensive game. Look for him to come out next year and blow people away with his two-way game.
St. Sebastian's
St. Sebastian's struggled with consistency all season. They were one of the most prolific offenses in prep but could not keep the puck out of their net at times. St. Sebastian's had good balance in their roster. They have experienced veterans with a sprinkle of young talent. After going down 3-0 in the third period to their rivals, Belmont Hill, they battled back only to come up one goal short in the Elite 8 quarterfinals.
If the Belmont Hill top line was not the best in prep hockey, this one was. Brendan Gorman, Jayden Grier, and Michael Callow were nothing short of dominant. Brendan Gorman, first eligible for draft in 2021, has put together a great senior season. He has flown under the radar all year, despite putting up nearly two points-per-game. Jayden Grier, 2022 draft eligible, does a lot of underappreciated dirty work. He is always digging pucks out of corners and plays a solid two-way game. Michael Callow, 2022 draft eligible, is the top prospect out of the three. He is an effortless skater with a lethal shot. What holds him back is consistency. If he can be a threat to score every shift, he will be a great power forward at the next level. St. Sebastian's also had a high-scoring freshman. Teddy Mutryn, 2025 draft eligible, averaged nearly a point-per-game playing against people up to five years older than him. It took him a little while to get comfortable with the league, but once he settled in, not many teams could stop him. St. Sebastian's also got offensive production from their blue line. Nolan Joyce, 2022 draft eligible, led all prep hockey defensemen in goals with 14. He also chipped in with an assist per game to bring his point tally to 38 on the season.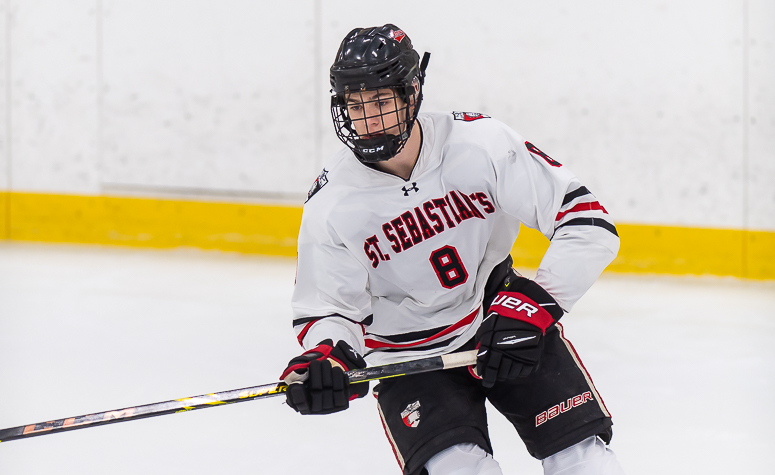 Cushing
Cushing developed the identity of a team that is difficult to play against. They were not the most skilled team in prep hockey this season, but if you were going to beat them, you were going to have to grind the game out. The Penguins did not have the most impressive record this season, finishing 17-7-3. However, they had some huge wins against Kimball Union and Dexter Southfield. They were always going to be underdogs coming up against Avon Old Farms in the quarterfinals of the Elite 8 playoffs, and, unfortunately for them, their season ended in a 6-0 defeat.
This team was led by good goaltending all season. Jackson Irving, 2022 draft eligible, posted an impressive 2.03 GAA and a .926 Save %. While these stats are good, what makes him special is the ability to stand on his head and win his team games by himself. In front of him, the defense is led by 2022 draft eligible, Owen Paskowski. He is a defensive defenseman who specializes in slowing down the rush of the opposition and clearing his own zone with sharp breakout passes. Up front, the Penguins have a few young guns that were point-per-game players. Ethan Gardula plays the right way. The 2023 draft eligible is a power forward that drives hard to the net and gives you all he has. Linus Dedinas, 2023 draft eligible, is a two-way forward that has a good stick. Finally, Landan Resendes is the most sought-after prospect on this team. The 2024 draft eligible is highly skilled and has a good motor.
Holderness
Alan Thompson did wonders with Holderness this season. Since being named head coach in 2015, Thompson has had just under a .500 win percentage. Holderness turned it around this season and earned their first ever birth into the Elite 8 playoffs. They relied on team defense and goaltending to win games this season. Holderness finished the season with a 20-4-3 record with three of their losses coming against Kimball Union, including one in the Elite 8 quarterfinals.
Holderness was led on the backend by 2022 draft eligible, Dave Brandes. He logs a ton of minutes for this team and is called upon in every situation. He is solid defensively and likes to pinch up and join the offense as well. Offensively, Holderness is led by 2022 draft eligible, Nick Messina. He is a quick forward who delivers in all three zones. Alan Thompson does an excellent job of getting these guys to play for each other and give 100% each night.
Kent
The schools that finish outside of the Elite 8 playoffs are broken up into large school and small school divisions. The top eight teams in each division battle it out for the Large School and Small School Championships. While not as prestigious as the Elite 8 playoffs, these tournaments always produce hard fought battles.
Kent had the most interesting season in prep hockey. They had two huge victories against eventual champions, Salisbury. At the same time, they had some inexplicable losses against lower-level competition. This is due to their lack of experience on the backend. Kent had three underclassmen manning the blue line night in and night out. They struggled down the stretch, finishing 2-2 in their last 4 games, holding them out of the Elite 8 playoffs. However, they turned it on in the playoffs, winning three straight games to capture the Large School Championship.
Kent gets most of its scoring from their experienced forwards. Their top seven scorers are all '03 birth years. However, Kent has some nice young prospects on the blue line. Alexander Bales is a 2024 draft eligible that plays a ton of minutes for this team. As with any young defenseman in this league, he struggled at times, but overall, he was solid defensively. Jacob Ingstrup, 2025 draft eligible, had a great first year in prep. Despite playing against guys who are up to five years more physically mature than him, Ingstrup was able to hold his own. Next year, look for him to develop more confidence and start contributing offensively.
Brunswick
This Brunswick roster was the youngest out of any of the playoff teams. They were a fast, skilled team that liked to push the pace of games. Not many teams this season could deal with their depth and offensive firepower. They could consider themselves a bit unlucky to have missed out on the Elite 8 playoffs, but they did enough to earn a 1-seed in the Large School Tournament. This high upside, young roster got to the final before losing to Kent 4-2.
If you look back at this roster in ten years, there might be a few NHL players. Son of Marty, Lucas St. Louis averaged over a point-per-game on the defensive end. The 2023 draft eligible is a puck moving defenseman that is incredibly poised on the puck. Up front, Brunswick was led by their star, 2022 draft eligible, Hank Cleaves. He grew a lot over the past year and plays with much more explosiveness. He was complemented with 2024 draft eligible, and recent NTDP Evaluation Camp invitee, Andrew DellaSalla. He is probably on the outside looking in to get a spot on the NTDP roster, but getting an invite is such an accomplishment in itself. If Brunswick can keep most of this team together, they will be one of the favorites to win the Prep School Championship next season.
Pomfret
In contrast, Pomfret was the oldest team that qualified for the playoffs this season. They were led by a stout group of seniors all over their lineup. Pomfret was not the most skilled team, but they knew how to grind out games. They struggled against the top teams all season but did a good job avoiding bad losses. This was enough to earn them the 4-seed in the Small School Tournament. Their experience lifted them to the Small School Championship.
Down the stretch, Pomfret was led by senior captain, Nils Forselius. The 2022 draft eligible was huge for Pomfret all season, but really turned it on in the playoffs. In the championship game, he netted two goals, including the game winner, to propel Pomfret to the 4-2 victory over Gunnery. Forselius was joined by Kellen Beauton, who was first draft eligible in 2021. He posted a 2.03 GAA and a .942 Save % this season. He also turned it on in the back half of the season to lift Pomfret to the championship.
St. Mark's
This team could score goals, averaging just shy of 5 goals per game. Carl Corazinni had his team turning defense into offense. They were one of the most prolific teams on the counterattack. St. Mark's did not have the depth that other teams did, but their top-end talent propelled them to the 1-seed in the Small School Tournament. They battled hard but lost to a more experienced team in Pomfret in the semifinals.
St. Mark's were led by arguably the best player in prep, Michael Fisher. The 2022 eligible has great size and is an excellent skater. He has always been a top tier defender, but this year, he took on a bigger role and produced at nearly a two point-per-game rate. He led all of prep hockey defensemen with 50 points. Up front, St. Mark's had a lot of young talent. Most notable is Richard Gallant, who is a 2025 draft eligible. He also scored at nearly a two point-per-game clip, but he did it as a freshman. He is skilled, he skates well, and does not back down from anything. He gets knocked down often but always gets back up, and he gives it back. Watch out for this guy. If he is driving the play for his team this early in his career, you never know what he will come out and do in the next couple years. Gallant was joined up front by Andrew Gibbons. The 2023 draft eligible knows how to score goals. He may not be the fastest skater or most skilled, but he is another one of those guys who outperforms his skill level. Jim Lyver is another 2023 draft eligible that produced for this team. He is an intelligent player that gets to the dirty areas to finish off plays and score goals. Lyver also plays a solid two-way game and was heavily relied on in defensive situations.
Other Prospects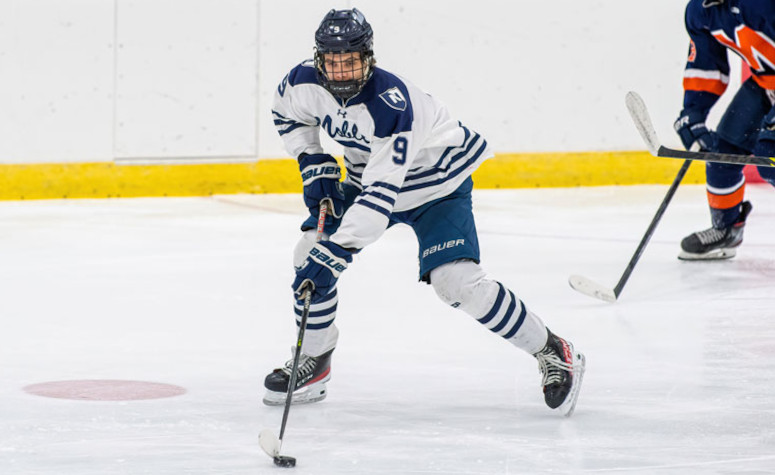 This review would not be complete without looking at all notable prospects in the region. Center, Ben MacDonald from Noble & Greenough, is the most sought-after player in the region for the 2022 draft. When others took a year off to relax during the COVID break, MacDonald took the time to get stronger and improve his skill. He is a dynamic two-way forward that thinks the game and sees the ice well. Rivaling him for prep player of the year was defenseman, Chris Romaine from Milton. Romaine is a fabulous skater that eludes pressure with the puck on his stick. The 2022 draft eligible is still growing and filling out his frame. Another 2022 draft eligible prospect that impressed this season was Jack Brandt, from Tabor. He carries the offense for his team and plays selflessly. Brandt is always looking to set up his teammates in high danger areas. The final 2022 draft eligible to note is goaltender, Conor Sullivan from Rivers. Sullivan posted a 2.08 GAA with a .927 Save % this season. He is truly a gamer; he is one of those guys who gets better when he faces a ton of shots.
Looking ahead to future drafts, prep hockey has a lot of potential. The 2023 draft eligibles are headlined by a pair of twins, Donovan and Julian Frias, from St. George's. They are the most entertaining duo to watch in prep hockey. On any given shift, the two of them are hunting down pucks and knocking people are their backside. Finally, there are three more prep hockey players that received invites to the NTDP Evaluation Camp. Goaltenders Thatcher Bernstein and Ryder Shea both had impressive rookie seasons for Nobles & Greenough and St. George's, respectively, while forward, Gavin Cornforth put together nearly a point and a half per game season for Thayer.
Recap
After missing an entire season last year, a lot of draft eligible players jumped ship and played in the USHL. This was always going to be a difficult season because of COVID restrictions, but overall, the players and coaches did a great job of re-establishing the culture of prep hockey. This is still a great league and that was showcased in high-level games in great atmospheres. When it is all said and done, there will be 7-8 players from New England Prep Hockey selected in the 2022 NHL entry draft.