"I'm a Big Winner"
Brennan Othmann's Competitive Nature Driving Him to Stardom
By Jonah Fleisher
With 7:24 left in the 2019 OHL Cup Finals, Don Mills Flyers' forward Brennan Othmann looked on as the Toronto Red Wings' Adam Fantilli scored the go-ahead goal — one that seemed like it would lead the Red Wings to an OHL Cup. Othmann had already notched an assist and a goal by that point. Just three minutes later, Othmann's teammate Alex Christopoulos scored the tying goal to make it 5-5, and the game would proceed to overtime. It was a tightly contested game, and that didn't change in overtime. With just over a minute-and-a-half in the extra frame, 2021 Draft top prospect Brandt Clarke sent a feed down the ice to 2022 draft-eligible prospect Shane Wright — the latest player to receive exceptional-player status in the OHL — to spark a two-on-one with Othmann. Sure enough, Othmann buried a feed from Wright to give his Flyers an OHL Cup win.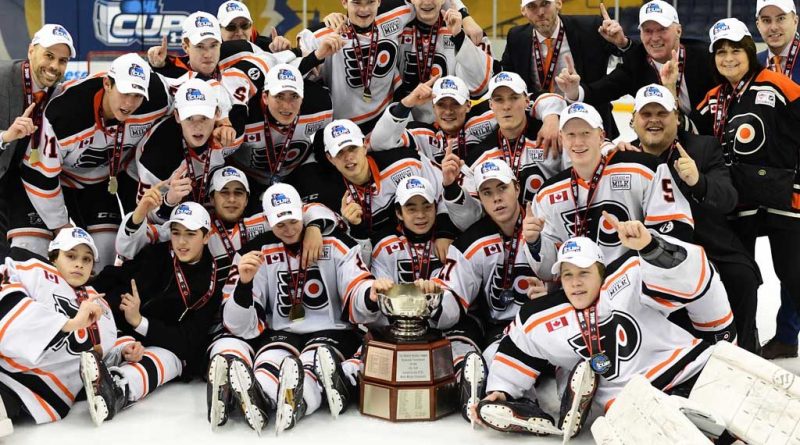 "It was such an iconic moment scoring that goal," said Othmann. "It was a great little play that Clarkey [Brandt Clarke] made, Shane made a great pass over, and I put it in the back of the net.
"It's something I'm never going to forget. It's just such a good memory to have in the back of your mind and we're always going to have that forever — each and every one of us on the team. Like I said, it was just such a special moment."
That wasn't just an ordinary OHL Cup-clinching goal, however. A year prior, Flyers' goalie Roy Pejcinovski, his sister, and his mother, were tragically killed. It was a tough time for the league as a whole, but especially for the team and those who knew him best. And for the Flyers, this win was entirely for Roy.
"We had such a tragic incident three years ago. Those past three weeks we knew we were building up to that moment and winning a championship for Roy was really important for us. We still watch it to this day, and it brings back so many memories of him and of the team."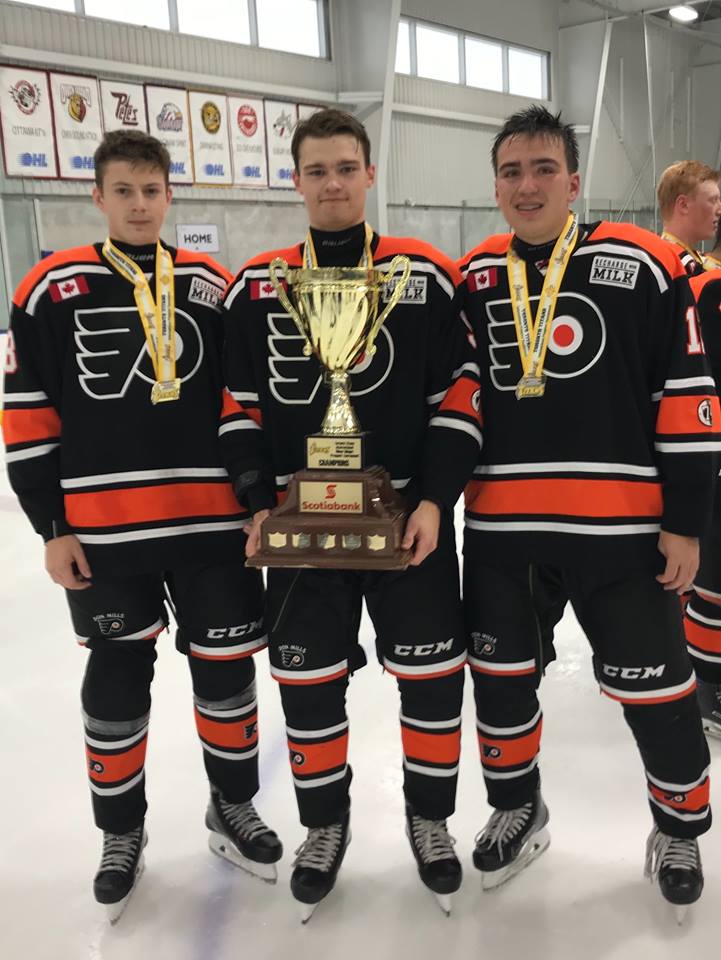 By the time he had scored the cup-clinching goal, Othmann was firmly entrenched in the Flint Firebirds' watch, who selected him second overall in the 2019 OHL Priority Selection. However, he wasn't always such a known commodity.
"Being taken second overall was an awesome feeling," Othmann said. "I mean, the previous year I wasn't on many people's radars but going into Minor Midget, you have one good tournament and go to the next tournament and do well there too, and all the sudden you're on everybody's radars.
"It was so much fun with the draft process, getting teams asking what you're plans are — if you're going to school or to the OHL. The Firebirds approached me at the OHL Cup. They interviewed me a couple times and talked to my family and my agent and we thought it was a good place to go. Flint is an incredible organization. People really talk it down way too much but it's honestly a first-class organization. They treat you like an NHL player. You get whatever you want, whenever you want it. It's just a top-notch team. We have great players, great staff, and honestly people should want to be going to Flint within these next couple of years."
"I remember watching him for the first time at the OHL prep and it was a no-brainer," said Firebirds coach Eric Wellwood. "Yeah, you could have had Shane Wright [first overall] but Brennan Othmann, to me, is just the same. He's a great hockey player, and the pick was a no-brainer."
Othmann's journey began when he started skating with his dad at around three or four years old.
"We were always skating around at public skates, and he was teaching me how to skate a little bit. He played professional in Europe so it was kind of cool learning from him, and my mom would drive around to all the rinks when I was learning which was pretty awesome. It started getting serious around Minor Bantam — that's when I knew hockey was it for me and it was really serious for me, and I knew the future could be bright if I did well."
Othmann was a two sport athlete when he was younger. He played competitive lacrosse along with hockey. However, when he got to Minor Midget, he was forced to choose between the two.
"Minor Bantam I had to choose between lacrosse or hockey, and I picked hockey. Lacrosse was very fun to play — I played really well and I was a good lacrosse player, but I decided to take the hockey route. At the end of the day, it was a family decision and looking back, I think we made a great decision overall."
Othmann is a highly skilled player who has an impact on the game in all three zones. His hockey IQ is outstanding, and he would say his other top attributes are his goal-scoring and competitiveness.
"I'm a smart player in all three zones. I think my defensive play is very underrated. Last year I really tried to work on this area of my game and now coming into my draft year it's always in the back of my mind. I don't want to just be called an offensive threat; I want to be an overall threat. Having a 200-foot game as a winger is something that's good to have at the next level.
"Another one of my top attributes is my goal-scoring ability. I'm able to put the puck in the back of the net with a quick and accurate release. Pinpoint accuracy is also something that's big in the OHL and is going to be huge in the NHL to have. I'm also a big one-time guy — I love my one-timer.
"The last area is my competitiveness — being able and willing to compete and battle for the puck. Blocking shots, getting in front of lanes. Being a winner is something else that you need to have. Just being able to compete and win and actually want to play a committed game is something that I have and something that everybody needs to have."
Firebirds coach Eric Wellwood would agree that Othmann's hockey IQ stands out among his peers.
"His hockey IQ is off the charts. He was making plays as a 16-year-old that I've never seen anyone his age make. So, yeah, his hockey IQ is outstanding."
Othmann's talent made him an obvious choice for Hockey Canada he is proud to have represented his country on the international stage at the U17 World Hockey Challenge.
"Getting the phone call from Hockey Canada, no matter what tournament it is, is something that every kid in Canada that plays hockey dreams about. It's something really special and you can't take it for granted. Being able to throw on that jersey is something else, honestly. It's just surreal. I remember the first exhibition game, looking around the room and all the boys have the Canada logo on their chests — you get goosebumps. You're really proud and your family's really proud."
"It was unbelievable being selected by Canada for the U18 Development Camp also. You learn a lot — different ways to score, different ways to act on the ice and off. Off the ice, just habits to reinforce good health — sleep's a very important one. It's huge from Hockey Canada and its honestly helped me become a better person."
Wellwood thinks that playing on the international stage is a great learning opportunity for his star forward and will help him be that much better back in the OHL.
"Any time you get to do one of those experiences and be around the best kids your age, you're going to learn —you're going to learn if you're good enough and where you need to improve. It's one of those things where, when you go back to the OHL, the game will slow down more for him."
However, while Othmann's skill might have justified a call from Hockey Canada, he was relegated to third-line duty on a Firebirds team stacked with offensive talent.
"In minor hockey you're on the top line, playing top minutes, playing overtime. Getting drafted second overall you think you can maybe be a second line guy going in there, but we had such a highly skilled offensive team. Our defense was very offensive, and our forwards were really offensive, so I was put on the third line.
"It was something I wasn't used to, but it was good because I learned that you need to just accept the role you're given, and that's something that Hockey Canada taught us at the Development Camp. Knowing your role and being able to adjust to it is very important. Going into next season we have those highly skilled guys that are moving to the NHL or AHL, or guys who aged out and have to go to different teams next year, and our roles are going to change. Being able to accept the role you're given initially shows your coach that you can accept a bigger role moving forward. Being a top-six or top-three guy, this year is something that I really look forward to and am ready for."
Still, Othmann made the most of his limited role. He set new Firebirds rookie records of 17 goals and 33 points, most of his production coming in the latter half of the season. The youngster impressed Wellwood with the way he accepted his role and produced in limited minutes, and the coach thinks it can only benefit Othmann in the long run.
"Like a typical 16-year-old, your first three months are tough until after Christmas when you come back and you're a little more acclimatized to the season and used to the grind. You're used to your billets, your high school, and everything else. I think like a typical 16-year-old, after Christmas he started playing really well. He was playing on the powerplay and we were relying on him. There were a lot and a lot of positive things that grew his confidence.
"He handled it really well," said Wellwood of Othmann's third-line role. "I think if he wasn't on our team – we had a fairly strong team, especially up front — he would probably have played a bigger role. Still, I think it's a good thing for any 16-year-old to learn and be humbled a little bit because you gain an appreciation of how good you have to be, and I think it forced him to work on his game more. He wants to be a go-to guy and I think he'll get to that level, hopefully this year — that's our expectation for him."
Othmann is fortunate to have someone as experienced as Wellwood as a coach. Brother of 489-game NHL veteran Kyle Wellwood, Eric dressed in 31 games before a severed achilles tendon forced him into retirement.
"Welly [Eric Wellwood] is a great coach," said Othmann. "His career was sadly cut short due to injury, but he still flies in practice and he teaches me a lot of new stuff to use — different edge work to do in the corner, new kinds of cool passes you can use. He's been able to be a little bit of a mentor for me because he was a good player back in his junior days and in the NHL and he knows what he's doing with hockey. He brought us from dead-last [in 2018-19] to a playoff spot [in 2019-20]. Being coached by him is something that I was really thankful for in my first year. He doesn't put any pressure on the 16-year-olds; he puts a lot of pressure instead on his second-, third-, and fourth-year guys to step up and deliver."
There are a few different players Othmann sees in his game, and the common thread between all three is competitiveness. Him and his dad's favourite one is Matthew Tkachuk.
"There are three guys people think I model my game after. My dad and I like to say a bit of Matthew Tkachuk — very competitive, willing to go in the corners, willing to make a hit, take a hit, and to make a play. Maybe I'm not as much of a fighter as him where he goes out of his way to drop the gloves with someone and try to set the tone, but the thing with me and him is we're always ready to go. We have that urgency in our game and we're both very competitive players. He wants to win, and I'm a big winner and I'm really competitive.
"Another guy that my friends and agents would say is Elias Pettersson with the one-timer on the right side. He's a good overall player — defensive-zone, offeisive-zone, neutral zone. He's just a really good player — a really smart player — and he makes everyone around him better.
"The third one I've gotten is prime Corey Perry by my coach. In his prime years he was a high-end goal scorer, a big body on the ice, really physical, players hated playing against him, and he's real tough. Again, it all goes back to being competitive and that's what all three of those guys have."
When it comes to areas of his game that could be improved, Othmann and Wellwood agree on one thing: physicality.
"Everyone says they need to work on size every offseason, but it's such a big thing to have to be big and strong," Othmann said. "You're playing OHL guys —players who have been drafted to the NHL. They're big, strong, and competitive, and that's what you need to have going into each and every season in the OHL and in the NHL. My confidence level was very low going into last year but going into this season, my confidence is going to be really high. Being able to have confidence carrying the puck in, control the play, and have belief in myself that I can do it is huge and is a big thing that I now have going into this season."
"I think it's just going to be his physical body which is very cliché, but his hockey IQ is so high, his playmaking ability is so high, his shot is absolutely tremendous, he really works hard in the defensive zone, blocking shots and backchecking," said Wellwood. "He's a really high character and high skill kid so when he gets stronger, it will certainly help him perform at a higher level and do the things that, right now, his brain can do but his body can't."
Othmann made sure to work on addressing that weakness over the COVID-19 lockdown earlier this year, working out in his trainer's garage.
"I couldn't really find a gym to work out at since they were all closed. My trainer has a beautiful set up in his garage, so I go there and I honestly like it better than working out in a gym. It's just me and him there, working out one-on-one, and talking and joking around for around an hour to an hour-and-a-half. It's lots of fun and he pushed me hard. I've got some muscle that he put on me this offseason that I'm really looking forward to using on the ice. It sucks that we can't play and get back to the old routine that we were in, but at the same time it's also good because we got to come home a couple months early and we get to stay home a couple months later, so it's a lot of time to work out and start getting bigger and stronger for the next season."
The draft process has been both stressful and fun for Othmann and his family. The talented forward has used it as motivation to work harder and climb the rankings.
"It's pretty nerve wracking but it's definitely exciting at the same time looking at the draft rankings and getting calls. You just have to keep training harder and harder each day. Guys are trying to take your spot and you're trying to take other guys' spots and move up in the rankings each day. It's just really exciting — the past 17 years have been really exciting for my family and I, and I can't believe it's here already and it's been that fast and I'm just really excited to start the season."
Othmann's strong character allowed him to fit seamlessly with the rest of the Firebirds team as a rookie, and Wellwood sees leadership qualities in the talented forward.
"As a 16-year-old he seemed to fit right into the group," Wellwood said. "I think a lot of the older guys really respected him right away just because of his talent. He's definitely a kid that wants to be a leader. He doesn't just want to be a good hockey player — he wants to be a good teammate and lead on and off the ice. He's definitely a high character player.
"He's one of those kids where he has that dream and he's going to get there. I have no doubt about that. He's one of those kids that's going to will himself there if he has to."
With a great mix of talent, determination, and a strong drive to win, Othmann's future is looking very bright going into his draft-eligible year.
Photo courtesy OHL Images.
************************************************************************
Be sure to come back and check out our 2021 NHL Draft Preview Magazine available early December.