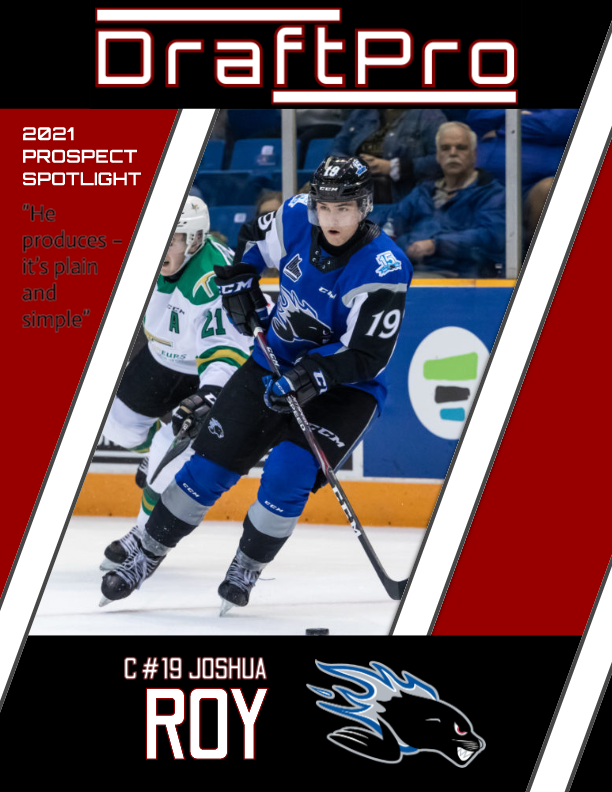 By Jonah Fleisher (Twitter @jonah_fleisher)
On a warm summer day in Quebec City — June 8, 2019 — those packed into the Videotron Centre waited anxiously for Trevor Georgie, the Saint John Sea Dogs' President and General Manager, to announce the first overall selection in the 2019 QMJHL Draft.
"With the first selection overall in the 2019 QMJHL Entry Draft, the Saint John Sea Dogs are very proud to select… Joshua Roy."
The rebuilding Sea Dogs, who went a dismal 13-49-6 in the 2018-19 season, got a bonafide star in Roy. The dynamic centre tallied up 38 goals and a league-leading 88 points in 42 games on his way to winning four individual awards including Most Outstanding Player. He also led the Levis Chavaliers of the Quebec Midget AAA Hockey League to a championship.
According to Sea Dogs' Director of Scouting Anthony Stella, it was never a question of who they were going to select.
"When we won the lottery, it was pretty much winning Josh Roy," Stella told John Moore moments after making the pick. "We talked about it, we turned every stone we needed to, we debated — but not too much, because we know he's a generational talent and we're so excited to have him on this team."
For Stella and the rest of his staff, the appeal to Roy was clear.
"He produces — it's plain and simple. I know there's criticisms about him but, really, when you look at the stats and what he does and his underlying numbers as well, he's a generational talent like I said. I mean, I'd love to see him on our top line one day and put up, maybe, 100 points a season."
Roy began playing hockey on outdoor rinks with his brother when he was five or six years old. Growing up, he also played recreational golf with his brother and dad, and competitive soccer.
Hockey was always his first sport and, when he would watch, he naturally took on a liking for one of the best to ever play.
"It was always Pittsburgh for me," Roy told Draft Prospects Hockey in an exclusive interview. "I loved Sidney Crosby so that's probably why I loved Pittsburgh so much."
Now, however, his favourite player has a different name: Connor McDavid. Roy hardly has words to describe his game.
"McDavid [is my favourite player to watch today]. He's just so good, he's so fast. Yeah, I love watching him. It's unbelievable."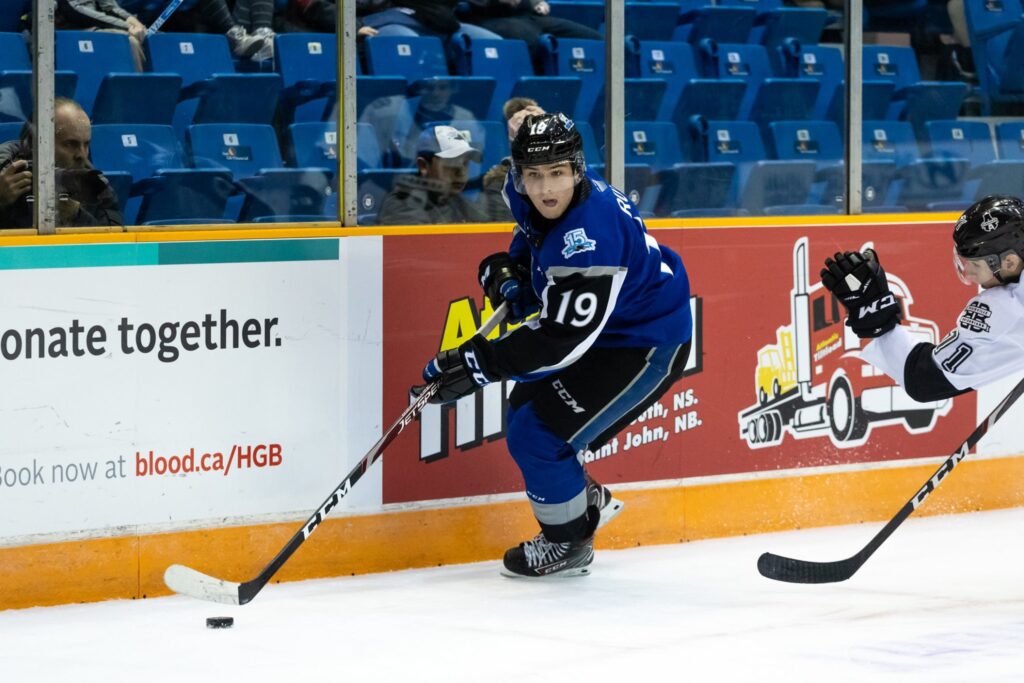 Roy models his game after John Tavares, one of the premier centres of this decade. He likens his style of play to the combination of hockey sense, shooting prowess, and playmaking that the Leafs centre possesses.
"I think my hockey sense is my best quality. I see the game well — when I need to pass, I pass, and when I need to shoot, I shoot. I make good decisions, and I'm good with the puck too — skills and everything like that."
However, he knows there are still areas of his game to work on.
"The thing I need to improve is [my play in] the defensive zone. I have worked on it a lot before and I still need to keep working, but it's getting a bit better."
Greg Gilbert, the Sea Dogs coach, would tend to agree.
"Josh is a good young player that has the potential to be a great young player with the right commitment to himself," said Gilbert. "He's very attentive, he wants to learn, and is one of those young players that needs to realize how good he can be with the extra work needed. Great young man."
Usually, Roy spends his offseason playing golf with his friends and brother. "I golf almost every day," he said. "Train, and then golf."
However, COVID-19 put a wrench in every prospect's offseason plans. Instead, with Canada imposing a mandatory quarantine, he tried his best to create a home workout plan.
"During the quarantine I was staying home like everybody else. I bought some stuff so I [could] train at home," said Roy. "When quarantine ended, I went to Montreal to train so, yeah, I trained a lot and just did a lot from home since we didn't have access to a lot of things because of COVID. It was pretty hard to train normally, but I found a way to train a lot."
Roy was among 66 players chosen to represent Canada at the 2019 World Under-17 Hockey Challenge, where he netted two goals and four points in five games playing against some of the best talent his age.
"To play against the best in the world of my age, that was a very nice experience. Sadly, we lost, but it was very nice to compete with the best of my age."
Going from a championship-winning team in Levis to a rebuilding Saint John squad is assuredly a tough transition for any player, but Roy has used it as fuel to play better and get his team some more wins.
"For sure it was hard, but I think everybody's working hard to win games and we have a pretty solid team — we just have to work more and put more in defensively and we will win a lot of games this year. I think everyone wants to win this year. People are getting tired of losing, so we really want to win."
The Sea Dogs have seen a modest improvement thus far in the young 2020 21 season. They sit ninth out of eighteen teams with two wins, three losses, and two overtime losses for seven points in eight games. Roy has led the way with a team-leading six goals and nine points.
"[This year], I'm playing with two great players, Josh Lawrence and Nicholas Girouard, so they're helping me a lot. I just want to play [well] this year, no matter my stats — I want to help my team win so that's what I'm trying to do now and it's going pretty good so far.
As a highly regarded prospect in the 2021 NHL Entry Draft, there are a lot of eyes on Roy's game. However, having been in this situation previously with the QMJHL Draft, he hasn't let the pressure affect him.
"Honestly, I really don't think about it. I just play my game. This is the second [time I've been in a situation like this] — my Midget AAA year, that was kind of the same thing, so I just play my game. I don't think about what I can't control and focus on the things that I can control."
Roy is fortunate to have teammates to turn to who have already been through the draft process — namely Jérémie Poirier and William Villeneuve.
"It was nice to see how the draft works a little bit. I saw what they were doing last year to get to this point so right now I'm just trying to do the same… I'm just going to follow them and do what they're doing."
Saint John entered the 2020-21 season with a new head coach, Greg Gilbert. A three-time Stanley Cup champion (two with the New York Islanders and one with the New York Rangers), Gilbert played in 837 regular season games and 133 playoff games, bringing with him a glut of experience that could serve Roy and his teammates well. Gilbert also has experience coaching in the NHL, having been the main guy behind the bench for 189 games with the Calgary Flames.
"It's perfect," Roy said of their new coach. "We have a three-time Stanley Cup Champion, so I mean, he knows how to win, and he has the respect of everyone on the team. Really, we have to listen to him because he knows how to win. So, I think it's perfect to have an experienced coach like him — it's really good for us."
Only time will tell whether Gilbert can help Roy lead the Sea Dogs to success, but there's no question that Joshua Roy's star is shining bright and will continue to do so in the future.