By Jonah Fleisher
With the 2021 Draft having come and gone, the DraftPro team has shifted its sights to the next crop of draft eligible players. And after a relatively thin draft class in 2021 with no clear-cut superstars and minimal depth, this upcoming draft class has lots to offer, from a potential superstar in Shane Wright all the way down through a stacked first round.
This year looks to be the first since 2018 to without a potential franchise goaltender in the first round after the last three saw Spencer Knight, Yaroslav Askarov, Sebastian Cossa, and Jesper Wallstedt all taken with a top-20 pick. The 2022 crop is also one dominated by Swedes and Americans, with six projected first-rounders calling Sweden home while 11 Americans are ranked in the first round, the two nations making up more than half of our preliminary top 32.
But enough generalizations about the draft class — we know you just want to learn about the prospects.
So, without further ado, here are DraftPro's preliminary top-32 for the 2022 draft, organized by nationality.
Canada (6):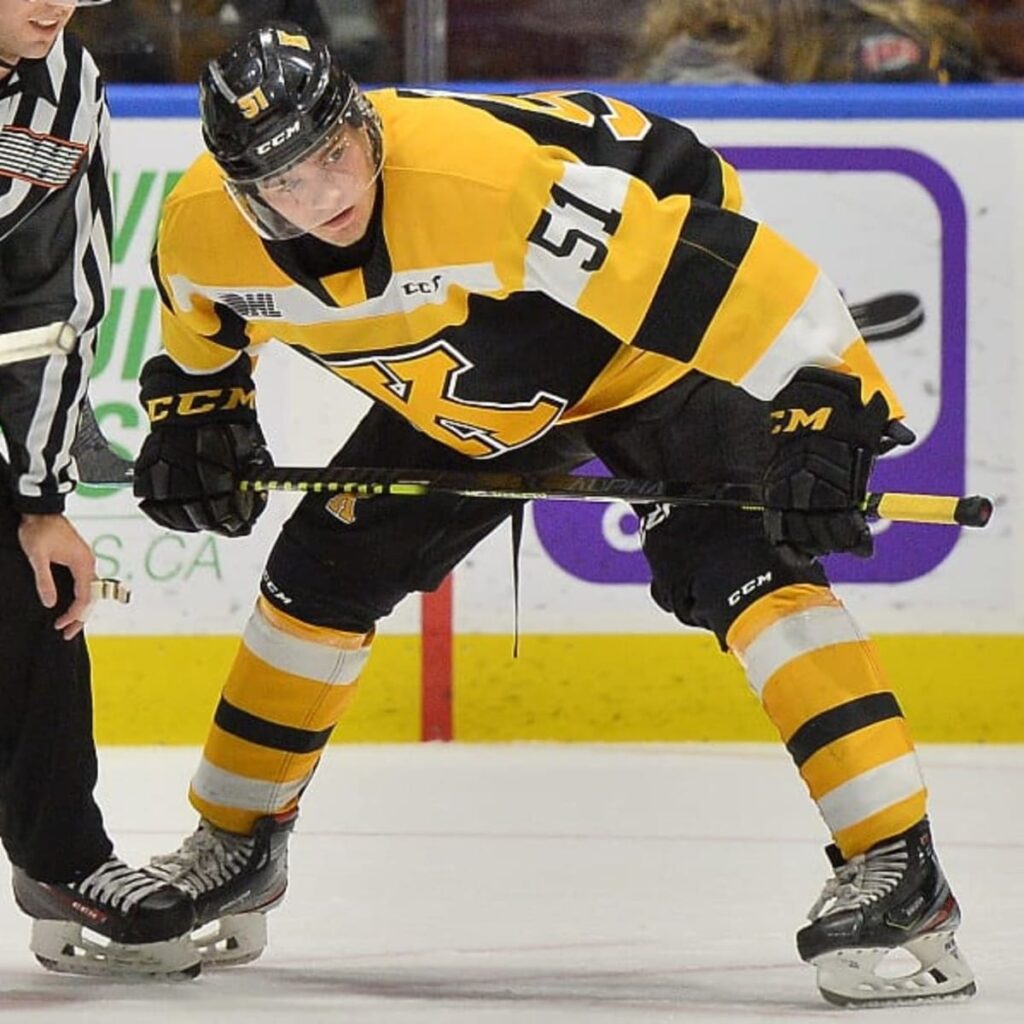 #1 Ranked
Shane Wright, C, Kingston Frontenacs (OHL)
Shane Wright stands out as the crown jewel of this draft class. Simply put, he is a franchise talent, and one who was given exceptional status by the OHL so he could play in the league at 15. He has high-end skating ability and impressive hockey sense, both with the puck and without it. He projects very well offensively with a cannot of a shot, a lethal one-timer, and an easy, quick release, even at top speed. He has elite vision and is the type of franchise centre who can elevate his linemates by putting them in positions to succeed. Truly the full package.
#3 Ranked
Matthew Savoie, C, Dubuque Fighting Saints (USHL)
Savoie is a quick, dynamic, heads-up threat down the middle. He is an elite skater with lightning-fast top speed, impressive acceleration, and great edgework. He is a high-IQ, creative playmaker with a filthy set of mitts and great vision, always able to find the open lanes and read the play before it develops. To complement his playmaking ability, he also owns a tremendously accurate shot with a deceptive release. He has a small but sturdy. His potential is a high-end offensive point producer at the highest level.
#21 Ranked
Ty Nelson, D, North Bay Battalion (OHL)
Nelson is a hardworking offensive defender. He is very mobile with quick lateral movements, amazing edgework, and excellent footspeed. He possesses a quick snapshot and a booming slapshot from the point. He is an ultra-competitive player with elite drive. While he is a short player he is built like a tank, which gives him good balance and the ability to absorb contact to make a play. He also never shies away from using the body on defense. He has top-four NHL potential in the NHL.
#24 Ranked
Ryan Greene, C, Green Bay Gamblers (USHL)
Greene is a skilled, creative centre who plays a smart fast-paced game. He is an outstanding skater, able to stop and turn on a dime and possessing strong edgework. He always plays with his head up, reading the defense, and is quick to pick apart the opposition. He has silky hands that can get him past defenders in one-on-one situations and create chances for himself and for teammates. His vision is amazing allowing him to thread the puck in tight spots with a soft pass. Greene also has a quick release on his shot and is smart defensively.
#25 Ranked
Nathan Gaucher, C, Quebec Remparts (QMJHL)
Gaucher is a smart, competitive, physical, and hard-working centre. He isn't overly fast but has a strong balanced stride and effective speed despite limited quickness and explosiveness. He is not flashy, but rather competent offensively. He has a great shot but needs space to get it off, and he has slick hands for a player of his size. He can make skilled passes and uses his large frame to protect the puck, rarely losing a battle along the boards. He is a mature, fierce competitor who plays with high effort every shift.
#31 Ranked
Tristan Luneau, D, Gatineau Olympiques (QMJHL)
Luneau is a reliable, mature, two-way defenseman. He is agile and balanced on his skates, possessing solid speed and good backwards mobility which helps him to stick with faster opponents. He is a quick decision-maker and distributes the puck with smart, precise passes. He remains calm under pressure, able to walk the blue line to find lanes. He has a good active stick and strong defensive positioning, reading the play well and adapting quickly. Still needs to gain strength and improve his first step and transitions, but has top-four, two-way potential.
Czech Republic (1):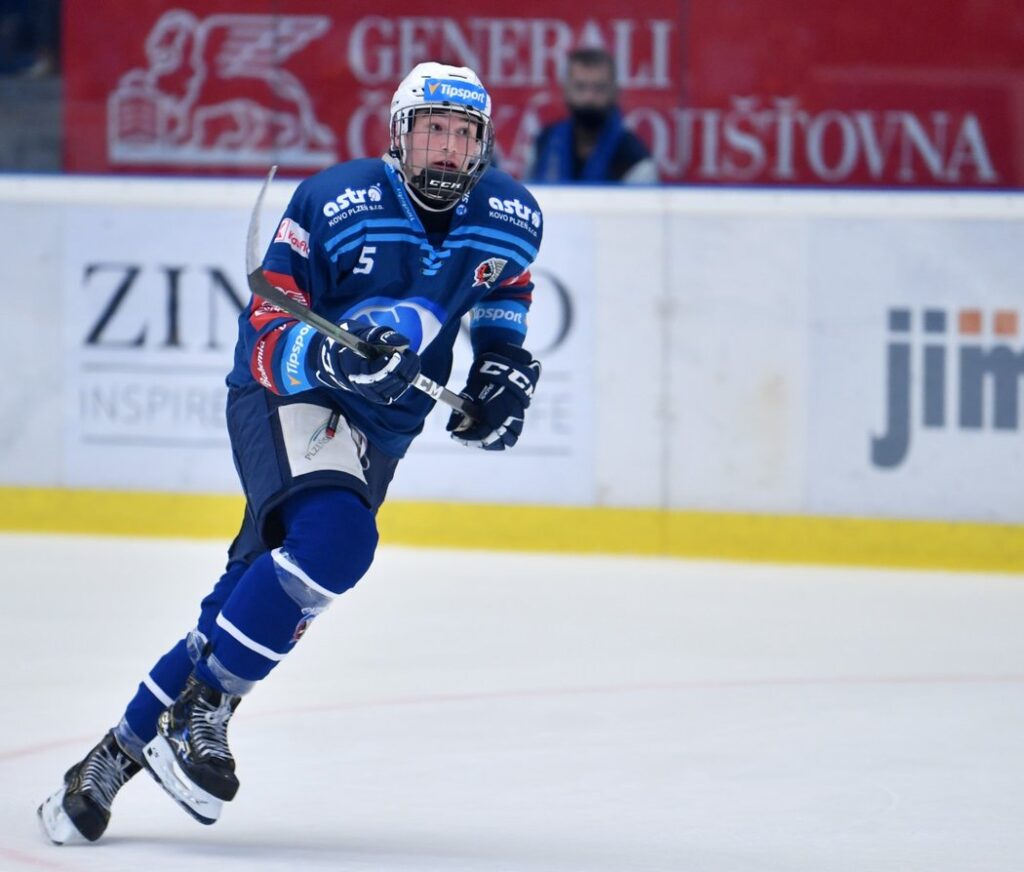 #8 Ranked
David Jiricek, D, HC Plzen (Czech Extraliga)
Jiricek is a tall, and lanky two-way defenseman. He is rangy but he can still use more footspeed. Prefers to join the rush or skate the puck up himself. He has strong vision, handling the puck with his head up and able to make deadly cross-ice passes. Also has the ability to hold and walk the line well with a hard, purposeful point shot. He plays with a high motor, aggressively closing gaps in the neutral zone with his long reach. He plays a physical brand of defense, opting to take the body. Has top-pairing, minute eating potential as a two-way defender.
Finland (2):
#2 Ranked
Brad Lambert, C, JYP (Liiga)
Brad Lambert is an offensive centre with elite speed. He has an impressive stride — powerful and agile, with good edge control. He can drive play, pushing the offensive attack with excellent vision, decision making, and timing on his passes. A dangerous passer, able to thread it through tight spaces. Filthy hands, even at top speed, that can juke defenders out of their skates. And if the rest of his offensive game wasn't enough, he adds a big, heavy shot with an ultra-quick release and a dangerous one-timer.
#15 Ranked
Joakim Kemell, RW, JYP U20 (U20 SM-sarja)
Kemell is a pure goal-scoring winger with an elite release. He is a great skater with impressive foot speed and edgework, fluid pivots, turns and lateral movement, and quick crossovers to gather speed and push defenders on their heels. He is a skilled puck handler with an accurate, precise shot, able to pick corners from range. Has a shooter's mentality and doesn't pass up an opportunity to fire it on net. He plays bigger than he is, always willing to engage in puck battles. He is also an elusive player, adept at slipping loose and finding open ice.
Russia (4):
#6 Ranked
Ivan Miroshnichenko, LW, Omskie Yastreby (MHL)
Miroshnichenko is a dangerous, electric forward with natural goal-scoring ability. He is a powerful skater with quick feet and excellent edge work, allowing him to get open in good spots to receive pucks. He has an absolutely lethal shot with a quick, gunslingers release that can rifle the pick into the smallest of spaces. Has a true shooter's mentality looking to score whenever he has the puck and is a tremendous play driver. He has quick hands, incredible offensive instincts and an impressive compete level which makes him very hard to defend.
#9 Ranked
Danila Yurov, RW, Stalnye Lisy Magnitogorsk (MHL)
Yurov is a dynamic, quick offensively oriented winger. His skating ability is nearly flawless, with a quick and powerful first few strides, and speed that can easily beat defenders so he can get in on the forecheck. He has quick and deceptive puck handing ability that can beat both defensemen and goalies one-on-one. He has an accurate, whippy wrist shot and a heavy one-timer. He is an outstanding playmaker. A gritty and physical player as well, he is strong on the puck and can be a handful to contain especially with his size, speed, and dynamic skills.
#28 Ranked
Gleb Trikozov, LW, Omskie Yastreby (MHL)
Trikozov is a skilled winger with an intriguing blend of size, skill, strength, and hockey sense. He is strong on his edges and has solid acceleration. His quickness and speed often catch his opponents off-guard. He is an excellent puck handler, generating controlled entries at a very high rate. A play driver, with a lethal wrister, and is also dangerous off the cycle. There are areas in his game to work on, but the potential is there for a top-line winger in the NHL.
#32 Ranked
Alexander Suzdalev, LW, HV71 J20 (J20 Nationell)
Suzdalev is a skilled winger with a heavy offensive punch. He skates with a wide base and can generate strong speed with just a couple of powerful strides. Has displayed the ability to cut, weave, and shift his way through traffic. He possesses a hard shot with a deceptive release and an equally dangerous backhander. Suzdalev is creative and confident with the puck on his stick, using subtle hand dekes and shiftiness to embarrass defenders with his one-on-one ability. He puts in a full effort on the defensive side as well.
Slovakia (3):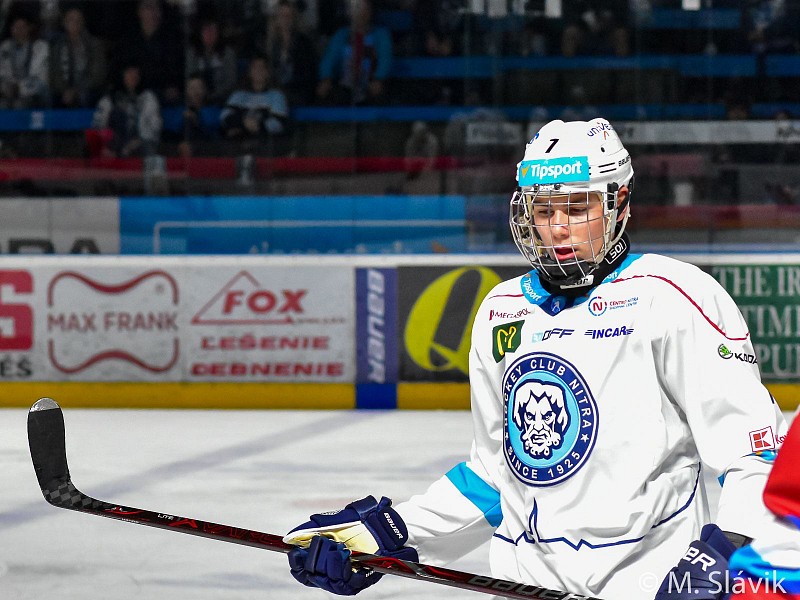 #4 Ranked
Simon Nemec, D, HK Nitra (Slovak Extraliga)
Nemek is a mature, smart, poised two-way defender. He is a strong skater, possessing a smooth stride, quick acceleration, and tremendous general mobility. On the offensive side, he prefers simple, smart plays to overly creative ones. He excels in getting the puck up in transition, able to both skate it in for a controlled entry or pass it off to a teammate. He passes accurately and smartly, also owning a big shot that he frequently uses to look for tips in front of the net. He reads and reacts quickly, holding a tight gap at his blue line, closing off lanes effectively. Likes to use an active stick and good positioning to defend rather than physicality.
#5 Ranked
Juraj Slafkovsky, RW, TPS U20 (U20 SM-sarja)
Slafkovsky is a highly skilled, energetic power winger with strong forechecking ability. He is a beast along the boards and loves to throw his big frame around. He has an impressive stride, first step, and acceleration for a player of his size. He has a heavy, accurate wrist shot and plays a mature, two-way game. A smart player with a great attitude and slick hands. He can use his reach and strength defensively to hold off pressure, and also to create space for him and his teammates on the other side of the ice. He is a very complete player.
#22 Ranked
Filip Mesar, RW, HK Poprad (Slovak Extraliga)
Mesar is a hard-working, energetic, offensive-minded winger. He is a solid skater and despite a short stride, he has good straight-line speed, acceleration, and agility. He plays a fast-paced game and can really dart around the ice with quick changes in direction to create space. He is quite the creative player both as a playmaker and a finisher. He possesses skilled and quick hands can has the ability to both make skilled passes but also pick a corner with his excellent wrist shot. He is disruptive on the forecheck but does not engage much physically — rather, he prefers to use his high-level hockey sense instead.
Sweden (6):
#12 Ranked
Noah Ostlund, C, Djurgardens IF J20 (J20 Nationell)
Ostlund is an intelligent, versatile, creative playmaking centre. He plays a smart game and creates space with his good speed and skating skill. He is also an elusive player, constantly moving his feet and using his elite edge work to evade pressure. He is an intense competitor and has quick hands and excellent vision, able to distribute the puck with creative and precise passes. He is also dangerous off the cycle with good passes but could stand to drive the net more in those situations.
#13 Ranked
Elias Salomonsson, Skelleftea AIK J20 (J20 Nationell)
Salomonsson is a prototypical modern, two-way defenseman who is strong at both ends of the ice. He has excellent mobility due to great top-end speed and a smooth stride, but can improve on his first steps. He has good balance and strength, not easily pushed around and adept at protecting the puck. He doesn't shy away from the physical side of the game. Salomonsson is a smart defender with the ability to walk the line and find lanes. When the opportunity presents itself, he has a strong slap shot that he uses to try to get deflections. He is an all-situations player who defends excellently with both his positioning and active stick.
#16 Ranked
Ludwig Persson, C/LW, Frolunda HC J20 (J20 Nationell)
Persson is an electric, fast-paced, offensive-minded forward. He has a strong stride, allowing him to effortlessly gain speed and back up defenders as he enters the zone. He plays with a high-pace, making quick-decisions, but is still very patient and poised. He has highly skilled hands with fancy, effective stickhandling and high-end vision and hockey sense. He's a great distributor, able to dish out a soft saucer or a quick, snappy pass. Likes to drive the net to create both shooting and passing opportunities.
#17 Ranked
Simon Forsmark, D, Orebro HK J20 (J20 Nationell)
Forsmark is a big, strong, minute-eating defenseman with shutdown abilities. He's not flashy but a simple, effective defender. He is a fluid, powerful skater with room to improve on his first step. Likes to skate the puck up ice and is an intelligent passer with skilled hands and a strong shot. Forsmark keeps a tight gap and uses his stick well defensively. He is strong, using his big frame to lean on defenders. He also has a long reach and is skilled at intercepting passes. He is a cerebral, high-IQ player who takes care of his own end with a calming presence and his superb situational awareness.
#27 Ranked
Filip Bystedt, C, Linkoping HC J20 (J20 Nationell)
Bystedt is a big, skilled, offensive-minded centre. He is slippery and hard to contain in transition with his fluid skating stride that incorporates excellent use of crossovers and quick feet. When top speed he is hard to catch, especially with his quick changes in direction. He has smooth edgework and pivots. He has goal-scoring instincts and good heads up vision, but his passes can be inconsistent at times. Loves to shoot the puck, possessing a quick release. His long stick helps him battle for loose pucks, but overall he has some work to do defensively.
#29 Ranked
Ludvig Jansson, D, Sodertalje SK J20 (J20 Nationell)
Jansson is a smooth-skating defender who plays a strong two-way game. He has dynamic skating ability with multi-directional agility. He is dangerous in transition, both fast and elusive, and he is also fluid skating backwards with a quick defensive stick. Jansson makes an excellent first pass to start the attack or a quick outlet to evade forechecking pressure. He is an all-situations player. He runs the powerplay well, always walking the line and looking for lanes. On the penalty kill, he is not afraid to play physical to get the puck out of the zone or to block shots. He plays a smart game and has top-four, two-way potential at the next level.
USA (10):
#7 Ranked
Rutger McGroarty, C, U.S. National U17 Team (USNTDP)
McGroarty is a big, skilled power centre. He is a strong skater with good edge work, and he can turn and stop on a dime. Also has good straight-line speed but could still improve. He can create space with his long reach and has a dangerous wrist shot. He is a confident, intelligent playmaker with strong hockey sense, reading the play well. He is an excellent puck handler with great control in tight spaces. While not overly physical, McGroarty uses his solid frame to play a heavy game and his hard to knock off the puck.
#10 Ranked
Seamus Casey, D, U.S. National U17 Team (USNTDP)
Casey is a slippery, evasive, and dynamic offensive defenseman. He is a talented skater with astonishing lateral movement, pivots, turns, and edgework that allows him to effortlessly evade pressure. He is a skilled puck handler with excellent vision who can make quick, creative decisions with the puck. Has quick reads and reactions and likes to act as a fourth forward on most offensive rushes. He has a solid work ethic but still needs to add some strength and work on his defensive positioning.
#11 Ranked
Isaac Howard, LW, U.S. National U17 Team (USNTDP)
Howard is a fast-paced, offensively skilled winger. He has an explosive first step, quick stops and turns, and can reach a strong top speed. He plays a smart, determined game and is willing to get to the dirty areas to score. He has quick and deadly hands and is dangerous with the puck around the crease. He has an elite shot, with a quick release on both his snapshot and wrist shot. He has good decision making on when to use his shot, showing excellent patience for his age when getting in a shooting position.
#14 Ranked
Logan Cooley, C, U.S. National U17 Team (USNTDP)
Cooley is a 'jack-of-all-trades' centre who brings his full effort each game. He has a high-end skating stride but nothing flashy. He's dangerous in tight with quick hands and has great vision to find open teammates. He is a cerebral player who makes the right reads and decisions. He has a quick, accurate shot with a good release and is strong in the faceoff circle. Cooley has no glaring weaknesses in his game. He is the perfect complimentary forward who can elevate his teammates play with not just his skills, but impressive intangibles.
#18 Ranked
Jack Hughes, C, U.S. National U18 Team (USNTDP)
No, not that Jack Hughes. The younger Jack Hughes (no relation to the New Jersey Devils' centre) is a smooth-skating, hardworking centre. He is not flashy but a very responsible two-way player. He makes great reads with his high-end anticipation and hockey sense. Gives his all each and every shift. He is a tenacious checker but he can transition to the offensive side on a dime. Is a creative passer, able to thread the puck through legs and under sticks. He is a skilled puck handler and has a powerful, accurate shot with a quick release. Hughes likes to drive the net hard and battle on the walls. He is relentless on the forechecks, blocking shots and is also quite proficient at the dot.
#19 Ranked
Frank Nazar, RW, U.S. National U17 Team (USNTDP)
Nazar is a dangerous, highly skilled offensive threat. He's quick and agile, and his long powerful stride generates dynamic speed. He can create opportunities out of nothing, able to masterfully deke out a defender and get his shot off quickly, which, while deadly accurate, has a tricky release. He is also a skilled playmaker with excellent vision and quick offensive instincts, able to distribute the puck effectively with perfectly placed, well-timed passes. He is sneakily good at stripping pucks and lifting the oppositions' sticks on defense.
#20 Ranked
Ryan Chesley, D, U.S. National U17 Team (USNTDP)
Chesley is a smooth-skating offensive defenseman. His skating is powerful and sturdy, with strong balance and exceptional footwork. He likes to jump up into the attack, making accurate passes and using his big shot that gets on target a fair amount. He has sound defensive positioning and awareness, yet also often opts to pinch aggressively in the offensive zone, even in times when it is not sensible to do so. Defending the rush, he keeps a close gap and effectively angles attackers towards the boards and then takes the body. He plays with a physical edge and loves to hit and use his body.
#23 Ranked
Cutter Gauthier, LW, U.S. National U17 Team (USNTDP)
Gauthier is a strong two-way, well rounded centre. He is not a great skater but can capably get up and down the ice, mixing in some crossovers and linear strides to generate speed. He has great balance and is hard to knock off the puck. He also possesses decent edgework but can stand to improve on his acceleration. He is a very capable puck carrier due to his quick hands and impressive ability to protect the puck. He can make deceptive passes and his shot also has a disguised release. He likes to use his body, engaging physically, and has a very well-rounded game.
#26 Ranked
Jack Devine, RW, U.S. National U18 Team (USNTDP)
Devine is a creative, smart, two-way winger who is a very strong skater, agile and balanced, with strong edge work and quick starts and stops. His vision is excellent and distributes the puck well. While not a flashy player, he effectively handles the puck and makes quick decisions with superb offensive instincts. He is strong on the forecheck and owns an accurate wrist shot. Devine is a smart player, responsible in all three zones, and often learns from his mistakes.
#30 Ranked
Maddox Fleming, C, U.S. National U17 Team (USNTDP)
Fleming is a natural two-way playmaking centre with excellent awareness who plays a fast-paced game powered by his exceptional skating. He accelerates with a few quick, powerful strides, exploding up the ice, and backs up the defense with his high-level speed and puck control through the neutral zone. He has soft hands and uses his superb vision and hockey sense to find the open man with a well-timed pass. He can also wire the puck with a good wrist shot.
For more on the 2022 draft class be sure to pick up a copy of our 2022 Draft Preview Magazine available this fall.