By Tyler Karoway & Jody Horak
The final big scouting event of the 2022-23 season was played out in Switzerland earlier this spring and the performances at the event will go a long way to shaping where NHL teams see thee prospects and the process we are about to witness later this month in Nashville.
Some prospects used the event to springboard their draft stock into an NHL teams radar while others might have dropped on NHL team lists. Below are the impressions made on two of our scouts on who impressed and who disappointed as well as a few future eligible prospects we are excited about.
PROSPECTS WHO USED THE U18'S TO BOOST THEIR DRAFT STOCK
2 C, Will Smith, Team USA
The tournament MVP showed up in a big way making his presence known every time he stepped on the ice. A deceptive stick made goalie's cry for mercy as Smith dangled his way to a tournament leading 9 goals. His breakneck speed and ability to create offence off the rush is incredible to watch. Smith is all but locked into that number 4-5 draft spot so his stock can't rise much more but with all the talent he has he will be "slapping" competition on the big stage in no time. – Tyler Karoway
9 RW, Ryan Leonard, Team USA
A dynamic, strong skater who embodies the style of a power forward with his drive and work in and around the net. Scored the game winner in overtime to win gold for USA. Finished with 8 goals and 9 assists and was the leader in +/- at a +16. Has a sensational shot and tremendous leadership qualities. – Jody Horak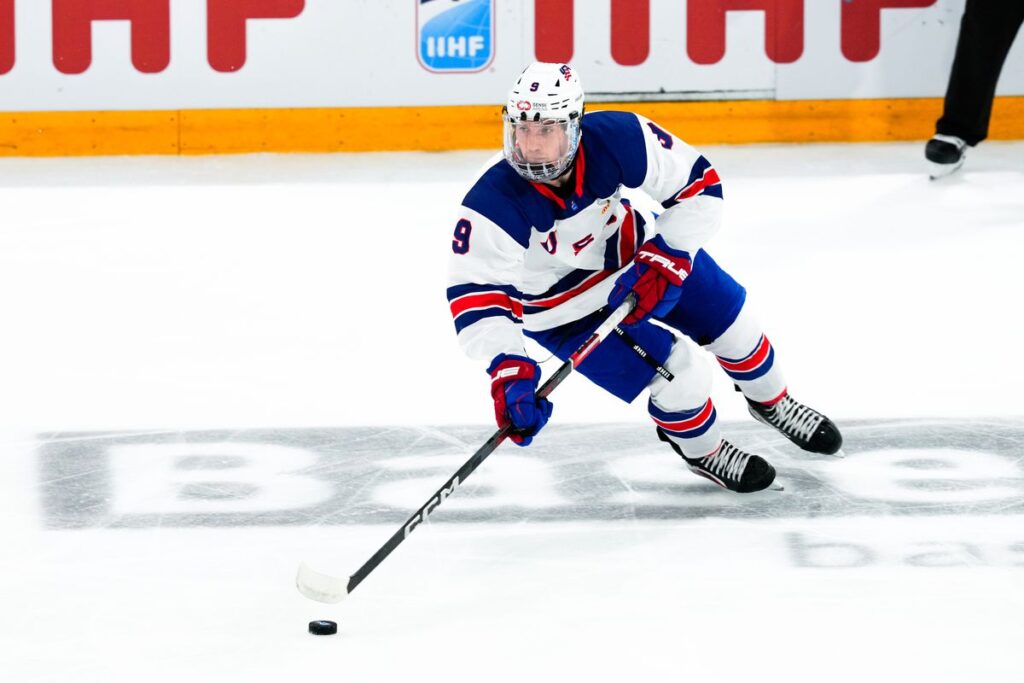 4 LW, Gabe Perreault, Team USA
What more can be said about one of the best playmakers in the upcoming draft. Shocker- Perrault went off again racking up 18 points. His outstanding vision and elite passing made him a fascinating watch as he set up teammates for goals upon goals. One of the things that really sold me on Perrault was his commitment to defense, late in the Finland game up 3 with a minute left he hustled back to break up a play then get it up to set up yet another goal. Perrault is a star in the making in my eyes and while he may not be able to rise much more due to him already being so high on most draft boards, a top 10 selection would not surprise me. – Tyler Karoway
13 C, Danny Nelson, Team USA
A two-way gem, Nelson impressed throughout the whole tournament locking down top lines and filling the stat sheet. A point per game player and was leaned on heavily to keep opposing players neutralized Nelson used his insanely high hockey sense to his advantage. Often overshadowed due to his teammates point production Nelson does everything you want in a middle 6 Centre. While he was already ranked fairly high on most boards his play should have solidified himself a top 40 spot. – Tyler Karoway
17 D, Aram Minnetian, Team USA
One of the best defenseman at the tournament, Aram was a force on the back end for the Americans. A leading +16 being on ice for zero goals, Minnetian locked down opponents like it was nothing and covered his goalie's rebound control flaw up perfectly. Putting up a respectable 4 points and still having elite defensive play says a lot about what lies ahead for the young D-man. His standout play should have him in the top 50 on most draft boards after this one. – Tyler Karoway
26 RW, Matthew Wood, Team Canada
Besides a kid named Celebrini, there was not a better player for Team Canada than Wood. He has a lethal shot but what was more impressive about him was his ability to see the ice and make excellent decisions with crafty hands and passing accuracy. His skating is still concerning but he showed a lot more versatile abilities than his goal scoring capability. Had a strong tournament with 7 goals and 6 assists and a +12 rating. – Jody Horak
15 C, Dalibor Dvorsky, Team Slovakia
Dvorsky showed off just how lethal he could be on offense, racking up 8 goals through 7 games including a 4-goal performance vs Germany. He found his footing after a very shaky start vs the Czech team on opening day and showed off his 200ft game. His brute strength and rifle shot went perfectly together imposing his will on goaltenders and skaters. One of the best defensive games out of the projected 1st round players and he was able to lock down a loaded Finland squad in the quarters. Star players come to play no matter the game and Dvorsky did just so. – Tyler Karoway
18 LW, Juraj Pekarcik, Team Slovakia
Here is a guy who really made a name for himself with his performance at the Worlds. A strong, agile forward with skilled hands and excellent puck control which allows him to be quite a force on the offensive end. Plays with a high compete level and was extremely impressed with his skating and his toughness to battle in front of the net. He finished with 3 goals and 7 assists for Slovakia. – Jody Horak
31 G, Samuel Urban, Team Slovakia
Urban by far raised his stock the most out of the goalie at the tournament. He sealed off the net and made himself a brick wall for much of the tournament. His hyper flexibility allowed him to make some massive cross crease saves and flexed his laser quick glove. His confidence in playing the puck and moving it down ice to a teammate made for a fun watch but showed how important puck handling can be for a goalie as well. He kept an upbeat Slovakian team in games and really was the main reason they made it as far as they did even upsetting a vastly superior Finnish team. – Tyler Karoway
10 C, Kasper Halttunen, Team Finland
Halttunen flashed the power forward potential he had and showed how high of ceiling he does have. While he did have some maddening moments flubbing on some prime scoring chances in early games, but he was able to rebound as the tourney went on. The quick release to his shot and ability to pick his spot was shown perfectly when he rifled one past America's Trey Augustine in their back and forth match up. His competitive energy and want to win showed off and he racked up a good chunk of points showing off the blend of speed and size that makes him that much more tantalizing for scouts. He definitely rose up my draft board after this tournament. – Tyler Karoway
23 C, Otto Stenberg, Team Sweden
Stenberg was one of the most noticeable players throughout this tournament with his shooting capability, his speed, and his finesse. He was a clutch player for Sweden reaching the gold medal game and was a tenacious forechecker and displayed incredible offensive abilities. Plays a solid two-way game and wears the "C" for his team. Finished with 16 points in the tournament, only trailing the American trio. He has a bright future and star potential in the NHL. – Jody Horak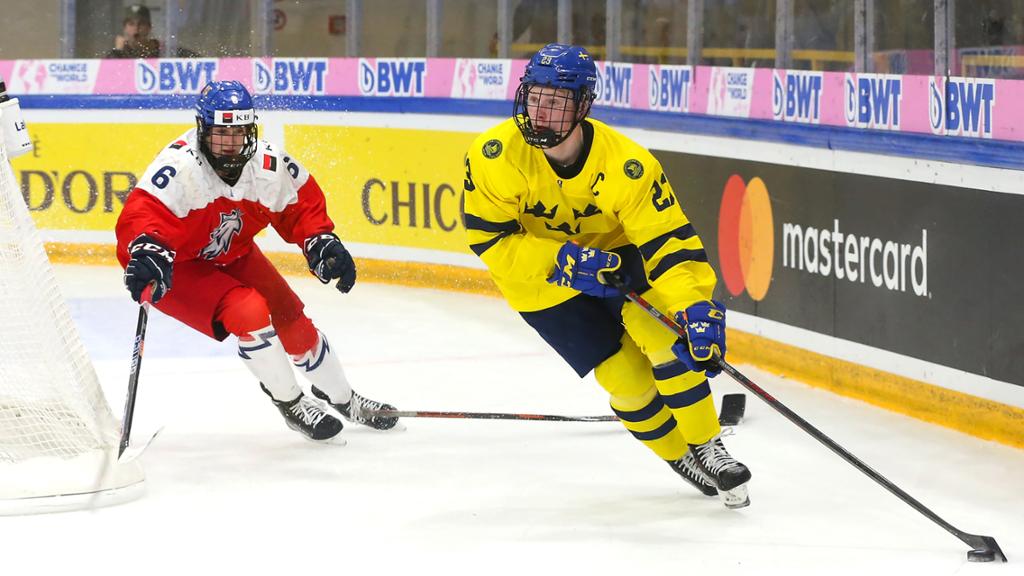 4 D, Axel Sandin-Pellikka, Team Sweden
No question this guy cemented himself as the best defensive prospect in the upcoming draft. He is tough to beat one-on-one and rarely makes a bad play or gets caught out of position defensively. He plays with patience and poise. Displays excellent offensive abilities from the back end with his passing and soft, silky hands. Finished second in scoring for defenseman. He will be a top 10 pick in the draft. – Jody Horak
5 D, Tom Willander, Team Sweden
Willander was part of a unit defense for a stout Sweden squad. Whether he was crushing players into the boards or moving the puck up ice on the rush Willander showed off his two-way game to the max. Stout in own zone, locking down a strong Canada team twice and keeping the American's offensive assault to a minimum. Willander was leaned on heavily throughout the tournament to shut down top players. If his play didn't get him into that top 25 rankings, I'm not sure what will at his point. – Tyler Karoway
1 G, Noah Erliden, Team Sweden
Erliden had himself a solid tournament. He was consistent, positionally sound and square to the shooters. Showed quick reflexes to make some fantastic rebound saves and provided clutch saves at critical times in games. Played with extreme confidence and raised his value after his performance at the U18's. – Jody Horak
THOSE WHOSE PERFORMANCE SAW THEIR DRAFT STOCK FALL
1 G, Carson Bjarnson, Team Canada
Bjarnason was my top goalie heading into this tournament and while he still is, I'm left with more questions than answers. His inability to find the puck through screens plagued him and his confidence was in the gutters because of it. While the defence in front of him was… let's say weak, he did not do himself any favours either. While I'm sure fatigue and the time change played a very large factor in his play Bjarnason needed to be better. He still has all the tools to become a starter at the NHL level, but he is no longer a 1st round pick in my mind and is closer to a middle to late 2nd now. – Tyler Karoway
14 LW, Andrew Cristall, Team Canada
He had a very disappointing performance. He shows nice skills to produce but when he is not scoring or putting up points, he lacks standing out without other elite level players. He can be crafty and slick with the puck, but he seemed to really struggle getting anything going with lack of space and being pressured quickly. He has superb playmaking skills and hopefully bounces back from his underwhelming play. – Jody Horak
4 D, Maxim Strbak, Team Slovakia
Strbak left a bad taste in my mouth every time I watched him, especially in the Slovakia vs Czechia game. He couldn't hit the net to save his life with his shot and didn't really wow me with his defensive effort either. In what I would say was a weaker tournament, Slovakia got to the bronze medal game behind some key efforts, but I wouldn't say Strbak was one of those guys. His stock shouldn't take too much of a hit due to what I'd say would be mediocre play all year outside of his World Juniors performance. – Tyler Karoway
7 D, Paul Fischer, Team USA
With only one point at the tournament, I wanted to see Fischer take the next steps in his offensive game. He shows such mobility in his skating, just waiting to see him take off and go with the puck and make things happen and he just does not do it. He was also just average on the defensive end finishing with a +3 which was one of the lowest on the team. He was labeled as possibly the best defenseman on Team USA earlier this year and his game just has not progressed as much as it should at this point of the season. – Jody Horak
22 LW, Jesse Nurmi, Team Finland
I thought Nurmi exhibits fast feet and can play at a high pace. However, he lacks a high hockey IQ and tends to force pucks that can lead to turnovers and odd man rushes the other direction. He needs to be more patient with the puck and compete harder on a consistent basis. His play was too up and down throughout the tournament. – Jody Horak
26 LW, Noel Nordh, Team Sweden
He has nice size and is a mobile skater, but he lacks production. He possesses such ability to be a threat with a powerful shot and drive to the net. He makes mistakes trying to do too much with the puck on his stick and making bad decisions which often led to turnovers. He plays well in his defensive zone, but he can be undisciplined and not compete hard at times. – Jody Horak
12 LW, Eduard Sale, Team Czechia
Sale's off the puck effort was very apparent for all the bad reasons, he did not seem interested at all. When he did get the puck, he either quickly turned it over or did something that left you saying "Wow", there was really no in-between. A Czech team that was relying on him to score at the same rate Dvorsky did was let down. With only 6 points and Czechia only securing 1 win, with that coming against a vastly inferior German squad Sale should be disappointed with what he did. While a year end tournament shouldn't play too much into draft rankings, Sale's once top 15 rank looks like a reach and 18-25 looks more realistic. – Tyler Karoway
30 G, Michael Hrabal, Team Czechia
Another Czech star that on paper didn't look like he had a bad performance, Hrabal only secured 1 win throughout and showed some flaws to his game. His raw athleticism can only get him so far and his technical side needs some major work. While his save percentage looks much better than it should, it is due to his team's suffocating defence more than his own play. Hrabal is a project pick at this point and with a weak showing so far, I'm not sure he's getting taken any higher than the 3rd round now. – Tyler Karoway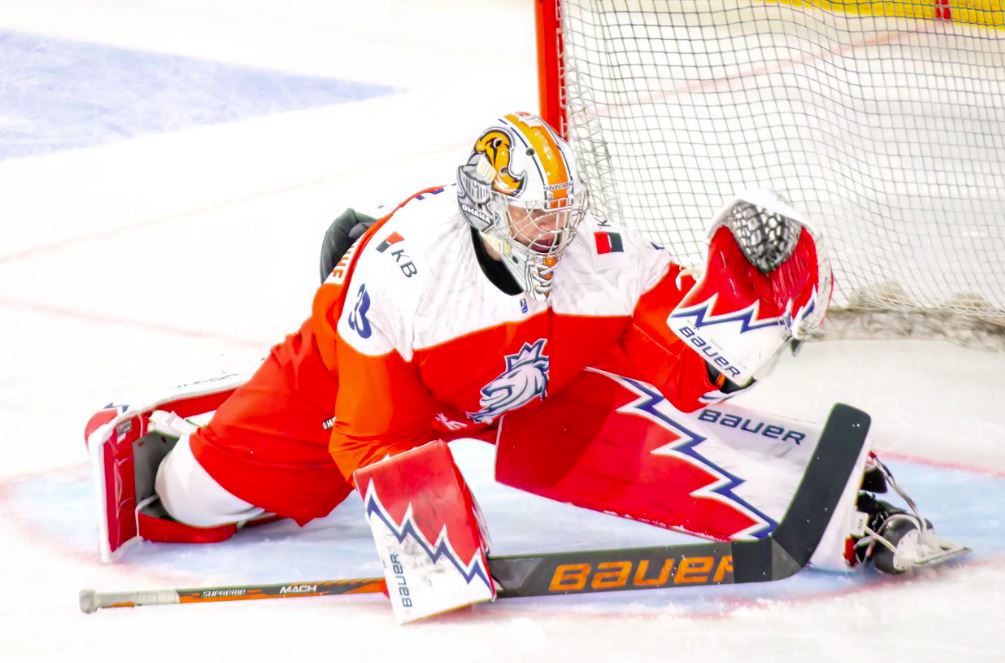 FUTURE STARS ON DISPLAY
17 C, Macklin Celebrini, Team Canada
What an outstanding tourney for the young forward, Celebrini showed off his supreme level of talent that makes him the projected 1st overall pick for next year's draft. His speed and stick handling makes him a force to be reckoned with as he darts around the ice before depositing the puck in the net. Scoring the Bronze Medal winning goal was the cherry on top for the young gun that will look to continue dominating on the World stage for years to come if he continues to light up the net like he did. One of the few bright spots for an underwhelming Canada squad. – Tyler Karoway
34 LW, Cole Eiserman, Team USA
He is an explosive young hockey player. Makes scoring goals look like his everyday job. Has an impressive one-timer off the right dot on the power play. His speed is flashy and explosive, can accelerate to top speed in seconds. Scored 9 goals in this tournament and was a catalyst for secondary scoring for Team USA whose name was not Leonard, Smith, or Perreault. Should challenge for the top overall pick barring any setbacks. 2024 NHL draft eligible. – Jody Horak
34 C, Konsta Helenius, Team Finland
A smooth skater with exceptional speed, Helenius is going to be a budding star. Makes things happen offensively and wastes no time getting shots off with a quick, hard release. Dependable in the face-off circle which is a highly underappreciated skill. Played in all types of situations and was a consistent performer for Finland. 2024 NHL draft eligible. – Jody Horak
14 D, Cole Hutson, Team USA
Hutson is a smooth, highly skilled young defenseman. He transitions so quickly up the ice with his excellent skating and can move the puck with ease on the rush. Led all defenseman in scoring with 12 points. He is solid in the defensive zone too, makes smart decisions and rarely makes mistakes in his own zone. May be undersized but he is a talented, two-way defenseman with a bright future. 2024 NHL draft eligible. – Jody Horak
25 C, James Hagens, Team USA
Similar to Cole Eiserman, James Hagens just keeps scoring no matter where he goes. While he didn't fill the stat sheet as much as he did at the U17s, Hagens' play did not leave any questions on who should be the 1st overall pick come 2025. His hockey sense, 200ft game and ridiculous shot make him one of, if not the most complete players in his class. Obviously 5 points doesn't tell the whole story, but Hagens didn't look out of place on a line with Eiserman and Ryan Fine. This kid is a star in the making. – Tyler Karoway
22 RW, Porter Martone, Team Canada
The other star that will be coming out of the 2025 draft class Martone continues to impress with his gritty style of play. While he did get the boot in one game it should not take away what he did throughout the tournament. Notching a short-handed goal and 6 points Martone showed off his 2-way skill making him one of the few bright spots on Canada's squad. The 6'3", 17-year-old threw his weight around grinding down his opponents and using his size to create offence from driving the net. Martone can comeback next year and I expect him to put up a big performance. – Tyler Karoway
For a complete and comprehensive look at the 2023 prospects who made impressions at the IIHF U18 World Championships, an NHL Draft Combine update, and who NHL teams are looking at as we head into the last week before the draft be sure to pick up the DraftPro June 2023 Newsletter available now.
For more scouting information on the 2023 NHL Draft Class be sure to pick up our 2023 NHL Draft Guide in digital download (now 25% off) or the physical magazine copy through your regional Amazon website.