By DraftPro Staff
It is time to turn our focus towards the 2024 NHL Draft.
We are changing the way we present our rankings to the public this season. In the past we would publish our preliminary rankings in September but they were the rankings we came up with for our Draft Guide and were formulated the previous March making them pretty out of date by the time they hit our website. We always gave them as a watch list of names but feel it would be best to move to a later release and call them the 'fall rankings' after seeing current views of the prospects who make up this list.
Our evaluations have been busy over the past months watching the many summer camps and showcases, the Hlinka Gretzky Cup, World Junior Summer Showcase, and early league play in both North America and Europe to provide input on this next wave of future NHL talent.
Our teams early view of the 2024 draft crop is that this class holds solid depth of overall talent. Not only does it hold a couple of potential NHL organizational building blocks at the top but also a healthy amount of potential future NHL forwards, defenders, and even a couple potential starting goaltenders.
Last year we had Connor Bedard wowing us, and while 2024 lacks that kind of high-end franchise defining player, it does hold its own skilled forwards at the top that will eventually play in a top six role. Names like Macklin Celebrini, Cole Eiserman, Berkly Catton, Ivan Demidov all have sky high potential.
In 2023 there was a dearth in high-end defenders available but that is the opposite case in 2024 as there are a ton of highly regarded two-way, puck-moving, big defensive prospects such as Sam Dickinson, Henry Mews, Artyom Levshunov, and Adam Jiricek.
*****************************************************
Rising – These five prospects have either jumped up in our eyes due to early season performance or have impressed in initial views after working on deficiencies we noticed last season.

Tij Iginla, RW, Red Deer Rebels – Bloodlines run deeper than we thought as he has looked so much more dominant this season playing a prime role with the Rebels and showcasing a pro shot.
Anton Silayev, D, Torpedo Nizhny Novgorod – Has jumped out of the woodwork early with his surprising play in the KHL where he showcases his skating, size and smarts.
Cayden Lindstrom, RW, Medicine Hat Tigers – Big framed power winger who is extremely dangerous in close and off the rush.
Trevor Connelly, C, Tri-City Storm – Slick puck skill and creativity, fluid and quick skating, impressive vision all on display early this season.
Adam Jiricek, D, HC Plzen U20 – Smooth puck skill, elite edgework, well-rounded overall two-way game has impressed.
Slipping – These prospects have not carried over their initial performances that earned them higher rankings or have been overtaken by prospects who are rising in our eyes.
Julius Miettinen, C, Everett Silvertips – Has not transitioned as well to the North American game and looks like his size advantage is not as beneficial as it was last year with HIFK U20 in Finland.
Clarke Caswell, C, Swift Current Broncos – Continues to slide down our board after an initial impressive World Under-17 Hockey Challenge performance for Canada even though he flashes some strong playmaking.
Justin Poirier, RW, Baie-Comeau Drakkar – The small but highly skilled forward can take over a game but only when he wants to and so far there have been too many lazy looking shifts to start the season.
Ethan Procyszyn, RW, North Bay Battalion – Early views have exposed his lack of vision and playmaking ability. He takes many useless shots and he lacks some hockey IQ with awareness.
Alexander Zetterberg, C, Örebro HK J20 – His high-end offensive skill is obvious, but so is his lack of size and strength. Still a good prospect, just not as high as we once were on him.
**************************************************************************
While it is very early, there is a ton of talent available in the 2024 crop and our team at Draft Prospects Hockey has you covered with scouting and editorial content throughout the season. So, stick around as we promise to offer you plenty of educated and honest draft related content this season, including our 2024 Draft Preview Magazine coming in time for Christmas.
Below is the Draft Prospects Hockey Fall Top 64 for the 2024 NHL Draft.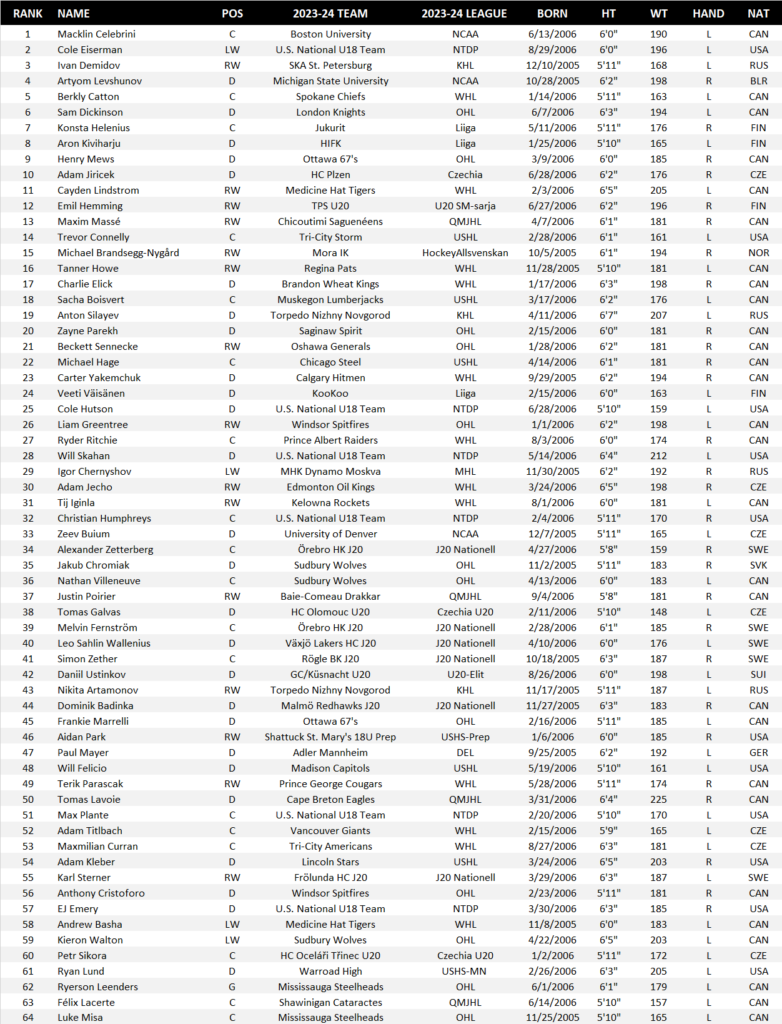 ********************************************************
Keep your eyes peeled for our next rankings release in early December.