By: Isaiah Bouchard
As the NHL season gets underway, all eyes are on another season of hockey. And if there is one thing that is consistent, it's that hockey fans are never satisfied. We want more games, more goals, more cups, and more superstars. And what better place to start looking for future stars than the NHL entry draft.
In this seven-part series, we at Draft Prospects Hockey hope to showcase the cream of the crop of who is available in the years NHL entry draft. Last year's flock saw the likes of Connor Bedard, Adam Fantilli, Leo Carlsson, and Matvei Michkov all drafted as potential franchise building blocks. But as one draft crop moves up, a new wave of youth for NHL talent hounds to salivate over one moves in.
So, without further build-up, here are five high-end players that are potentially coming out of the OHL for the 2024 NHL Draft in June.
If there is one junior league that always provides the NHL young talent, it is the OHL. Last year the OHL gave us 5 players that made it to the first round: Colby Barlow, Oliver Bonk, Quentin Musty, Callum Ritchie, and Easton Cowan. Throughout rounds 2-7 of the draft the OHL provided thirty additional players. There is a reason why some OHL cities attendance records are not too far off from the big leagues. Many player's careers start in the OHL, and the league has nearly 100 years of history providing Ontario with exciting games and future NHL stars.
The Oshawa Generals winger Beckett Sennecke is one to watch. Playing along side last year's first rounder, Callum Ritchie, Sennecke caught many scouts' eyes with his impressive 2022/23 season. Scoring 20 goals, 35 assists, for 55 points, that was enough to put Sennecke in the top 5 points leaders for the Oshawa Generals. Being only 4 points behind Ritchie.
"Sennecke is a skilled forward who is very good with the puck on his stick and has very good vision. He is a good forechecker who is energetic and makes others rush plays. Sennecke has a good shot and can put some weight behind it to get it through and deter someone from blocking it. His decisions need to improve this year so that he can be more impactful offensively. Sennecke is an effective player on the powerplay who can finish or set others up. He still needs to improve his play away from the puck to be a more versatile player. He has the confidence to carry the puck into the zone and is able to protect it too. He is skilled but at times appears to either not make a decision or to change his mind and that frequently costs him." Said DraftPro's Andy Miller about the skilled forward.
All in all, Sennecke is certainly a high ceiling player, with an unknown floor. Simply, Sennecke's potential is high, but there are some questions surrounding him. Sennecke is likely going to be drafted in the first round but could slip higher or lower depending on this crucial 2023-24 season. With key players leaving Oshawa like Ryan Gagnier and Cameron Butler, Beckett Sennecke has a huge season ahead of him. And we at DraftPro are excited to see Sennecke develop.
Next up we have one of the draft's top defensemen, Henry Mews from the Ottawa 67s. Playing on a stacked team, Mews has a lot of excitement surrounding him this year. Despite playing with a lot of competition on his team, Mews has been able to impress with the ice time he did have. With key defensemen leaving the 67s this year, such as Jack Matier, Anthony Constantini, and Pavel Mintyukov, Henry Mews is going to need to step up in order to keep the Ottawa 67s a threatening playoff team again this year.
"Lots of greatness in Mews game. An all-around defenseman who you just want and need on your team. Great puck movement and an excellent shot in Mews game. He's a guy coaches can rely on in all situations." adds Jordan Greenburg, OHL scout with DraftPro Hockey.
As of right now, Mews is looking like a first rounder. And if he can bring the 67s playoff success this season, then don't be surprised hearing Mews' name sooner rather than later on draft day.
From the Windsor Spitfires, Liam Greentree is going to need to shoulder quite the workload with Shane Wright and Matthew Maggio leaving the Spitfire's offensive core. While also playing for a *projected* weaker team than the 67s or Generals, the 6'2" Greentree has a wonderful opportunity to showcase his skills. And also, a lot of expectations from fans, coaches, and scouts alike. Last season, he made a considerable impact by putting up 20 goals, 25 assists, for 45 points. Greentree was also good enough to make it to the Hlinka-Gretzky Cup, where he scored 1 assist, and helped bring gold to Canada.
"Greentree is a big skilled winger. He has an NHL-ready shot and some prolific offensive instincts that are hard to handle with his size in the offensive zone." Says Carson Klein of DraftPro when asked.
He's going to need a sizeable increase in his point totals, as well as showcase that he's a player who can drive the ship. If all things line up for Greentree, then a first-round appearance could be very likely.
Next, we have the ever-so hyped, Sam Dickinson playing for the London Knights, who pump out names like John Tavares, Matthew Tkachuk, Mitch Marner and so much more that it's almost offensive. Joining a alumni rank such as that can't be easy to ignore for a kid, but Dickinson is proving to be more than capable. He's largely considered to be a top-ranking prospect this season. An easy first rounder, and early.
"Sam uses his crossovers and quick strides to generate speed. He can create separation in the defensive zone when leading the rush and gain a step when coming back on defense. He also has a good defensive stick; he is constantly on his opponents trying to steal the puck." Noted Zach Morris of DraftPro.
Last year, the Knights provided to first rounders in Oliver Bonk and Easton Cowan. Oliver Bonk is returning this season, giving Dickinson some solid defensive back up. And with many more drafted players coming back to London, Sam Dickinson has the team to showcase his talents. In other words, it's his season to lose.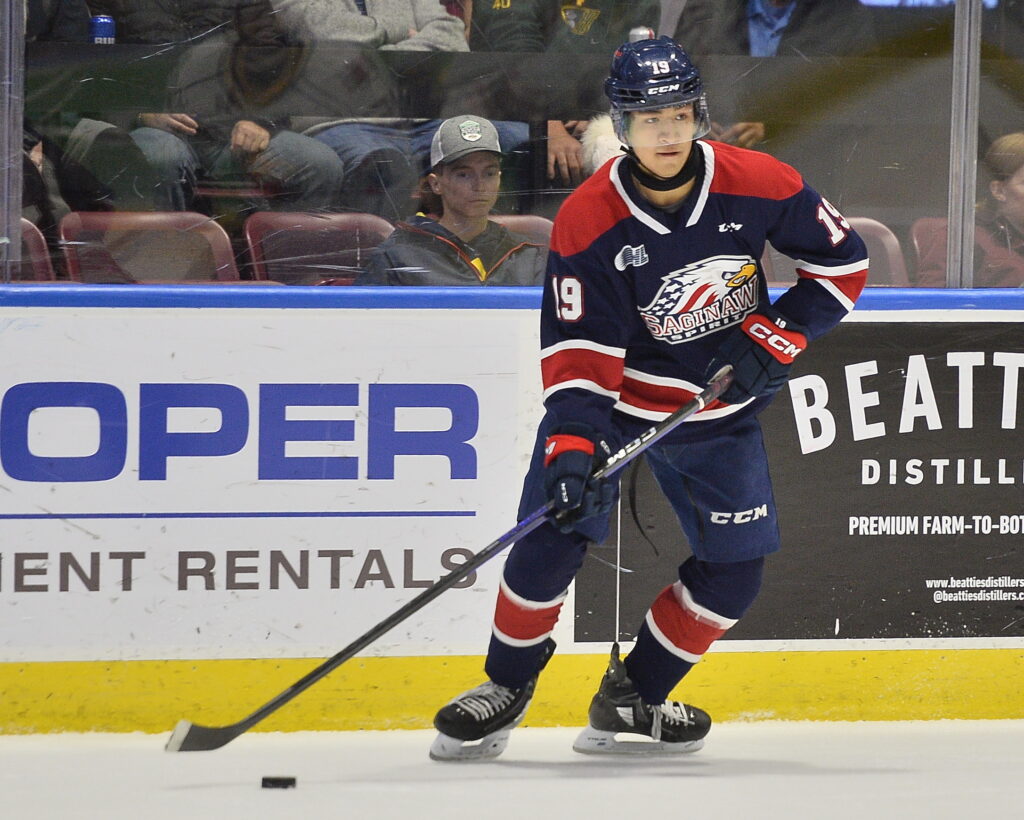 To close out the OHL introduction, we have Zayne Parekh playing defense for the Saginaw Spirit, Parekh has developed a lot of credentials as a rookie defenseman. He was on the OHL first rookie roster, the CHL rookie roster, and the Hlinka-Gretzky Cup roster. Like Henry Mews, Zayne Parekh is looking to fill in the defensive shoes of his team as teammates either moved to the big leagues or aged out of the OHL. And also, like Henry Mews, Pavel Mintyukov is one of those star defensemen leaving a slot open.
"Parekh had a rough first month to his OHL rookie season. The narrative changed when he was invited to play for Canada at the World U17 Hockey Challenge in November 2022, he was able to make the transition to junior hockey much smoother and found confidence in his game. Parekh is an offensive minded defenseman who can quarterback a power play and can put the puck in the net." said Liam Staples of DraftPro Hockey.
Another DraftPro evaluator Steven Pratas added this. "Zayne is a dynamic offensive defenseman who directs play from his own goal. His breakout puck decision making skills are exceptional, as he often tends to bring the puck through the neutral zone as a winger would. His awareness and puck skills has given him the ability to quarterback Saginaw's powerplay. Let's not forget his shooting ability which helped him rack up 21 goals last year which is a new OHL record for most goals scored by a U17 defender. Overall, he is assertive on both ends of the ice, but his defensive capabilities may continue to be a concern in his upcoming draft season."
What else is there to say about Zayne Parekh? He's an offensive defenseman who shoots first. 21 goals was highly impressive for a rookie defenseman. And it's likely he will be a top goal scorer for all defensemen in the OHL. His final draft position will depend on just how much he can balance the offense and defense in his position. While the offensive defensemen has become more and more common recently, it is never a good idea to become an absent defensive presence.
As the OHL season is underway, we can already see these players playing up to their projected hype. 2023's draft class was considered a slow year for defensemen, but if these five players can showcase anything to predict in 2024's draft class, it's that this is the year for defensemen to shine and for NHL clubs to clamor for the rights to sign these future stars. Henry Mews, Sam Dickinson, and Zayne Parekh all have something special to offer, and just who will be picked first is going to be a heated debate all season.
As for the forwards, Beckett Sennecke and Liam Greentree are both prospects scouts have been excited about for a while. Just how much damage can Sennecke cause playing alongside Callum Ritchie? And will Greentree grow to become a well-rounded power forward? Once the 2024 draft day comes, hopefully all of these questions will be answered.
For more on OHL prospects, and the 2024 draft class as a whole, be sure to pick up a copy of our 2024 Draft Preview Magazine available later this fall and keep your eyes peeled for exciting content and scouting reports all season long on the website.