By Isaiah Bouchard
Welcome to Draft Prospects Hockey's introduction to the 2023 NHL Draft Class series. This is a multi-part series which we will be releasing over the next couple weeks to give you the readers some insight on whom we feel is the cream of the crop for 2023.
As the 2022/23 season for the CHL is beginning to open up this September and early October, one can look at the plethora of prospects being produced by the WHL this year, where 14 of the top 64 prospects via DraftPro's rankings are coming from WHL teams, and 9 are coming from the OHL. As of right now, as we look at the start of the 2022/23 season, there are only 2 players from the QMJHL to make the top 64. Despite of this, one should not overlook the top QMJHL player for the 2023 draft class: Ethan Gauthier.
Gauthier finished his rookies season with the Sherbrooke Phoenix with 39 points in 62 games. And just recently helped his team win gold in the Hlinka Gretzky Cup in 2022, scoring 7 points in 5 games. Placing 4th overall in points, alongside the WHL's Zach Benson and the OHL's Cameron Allen. "Really burst onto the national scene after his past summer's Hlinka-G" said DraftPro's head QMJHL scout: Christian B-Cote. Gauthier proved himself a high value prospect, beating out fellow 2023 entry draft candidates Reilly Heidt, Colby Barlow, and Quinten Musty to name a few. Making Gauthier, who currently sits at #47 on DraftPro's top 64 ranking, a potential player to climb the rankings if he can follow up his HGC (Hlinka Gretzky Cup) performance with an explosive QMJHL season with the Phoenix.
Speaking of Phoenix, Gauthier joins Austin Matthews as a representative of players from Arizona, being born on January 25th, 2005, in Phoenix Arizona. He now lives in Canada and considers himself Canadian as he looks to complete his 7th season in Canada.
"Initially was thought of a 3-4th line on that Canadian team but kept scoring his way up in the lineup." B-Cote said as we looked at Gauthier's first season in QMJHL. "He is an excellent playmaker/scoring threat." B-Cote goes on. Gauthier has quickly made a case for being an overlooked prospect this year. He posses the abilities that many other high-end talents have in this year's draft class. He's smart, a strong skater, and positions himself in ways that brings confidence to his coaches and players around him. "He's got an imposing presence on the ice in the sense that he plays bigger than his listed size." B-Cote adds in regard to his impact on the ice. "He will wisely protect the front of his net and act super responsibly. On the rush, he exudes patience and hockey-intellect. Ethan Gauthier is not only an excellent player, he makes everyone around him better. I could see him creeping into the 1st round." B-Cote's final words summarize Gauthier's impact as a player. Suspect more from this exciting player both on the ice and in the rankings as the season moves forward.
The second player to make DraftPro's top 64 rankings is Tyler Peddle from the Drummondville Voltigeurs, coming in exactly at #64. He is another player with the likely potential to climb. Also, as his last two seasons were split with the QMJHL in 2022 and the Shattuck St. Mary's in 2021, he finds himself playing for the Voltigeurs once again, hoping to increase his point total from last year (35pts) with a team he now has a years' experience with. "His greatest asset is his positioning, notably on the breakout, and the way he can create space for himself." B-Cote said when asked Peddle's greatest asset on the ice.
His ability to control the breakout feeds into his style of an 'offense first' forward. "You can tell he wants the puck and there's no risk in giving it to him." B-Cotes says, giving high praise to a confident player who feels comfortable with the offensive side of the game. "Whether it's identifying needs defensively then quickly switching to offense-mode, Tyler displays a supreme level of hockey IQ." B-Cote said in regard to Peddle's defensive game, showing a valuable mentality in not undermining the defensive aspects of his game. "Don't be surprised if you see him reverse-hit, like Forsberg did back in the day, then skillfully stickhandle through opponents in the neutral zone."
To start off the QMJHL's large list of defensemen, the Halifax Mooseheads produce another Mackinnon to put into their alumni, this time with likes of one Dylan Mackinnon. If one is looking for a strong defensively minded player then look no further than Dylan Mackinnon. "He's a confident player who finishes checks in the offensive zone without sacrificing chances in his own end." B-Cote said when asked what stood out about this player. He is also developing into an effective defensemen in more regards than simply defense, "Makes beautiful passes along the ice and possesses an accurate wrist shot." B-Cote adds, referring to Mackinnon as: "A very strong defender in all aspects."
Mackinnon's stats may not pop out at first glance, but one shouldn't pass over the fact he helped team Canada in the HGC, getting himself 1 assist, and finishing with a positive plus/minus. "I believe he will continue to make positive contributions in his second season with the Mooseheads." B-Cote stated to summarize his thoughts on Mackinnon.
In opposite light of Mackinnon, who plays much like a classic defensemen, we have the Shawinigan Cataractes's Jordan Tourigny. Tourigny plays like a true offensive defensemen, utilizing strong passes and skating to generate most of his offense. According to B-Cote, Tourigny favors to build momentum for his team via strong passes from behind the net, where he is often the one to begin the breakout for his team.
"To that effect, he displays a good vision for where to pass." B-Cote adds, in reference to Tourigny's playmaking abilities. On top of this, Tourigny is very much a player with strong utility in his game. "His skating is on-par with peers in the QMJHL but he's not afraid to jump towards loose pucks along the boards in his zone." B-Cote describes his ability to skate at a high level, while also putting himself in grittier situations. "In the offensive zone, he will stay well inside the blue line and direct pucks to the net with force, not necessarily to score on clean shots but to create chaos for the opponent. Jordan T can be deployed in all situations…" B-Cote finishes his summary on Tourigny by calling him an "important piece" to a rebuilding Cataractes team.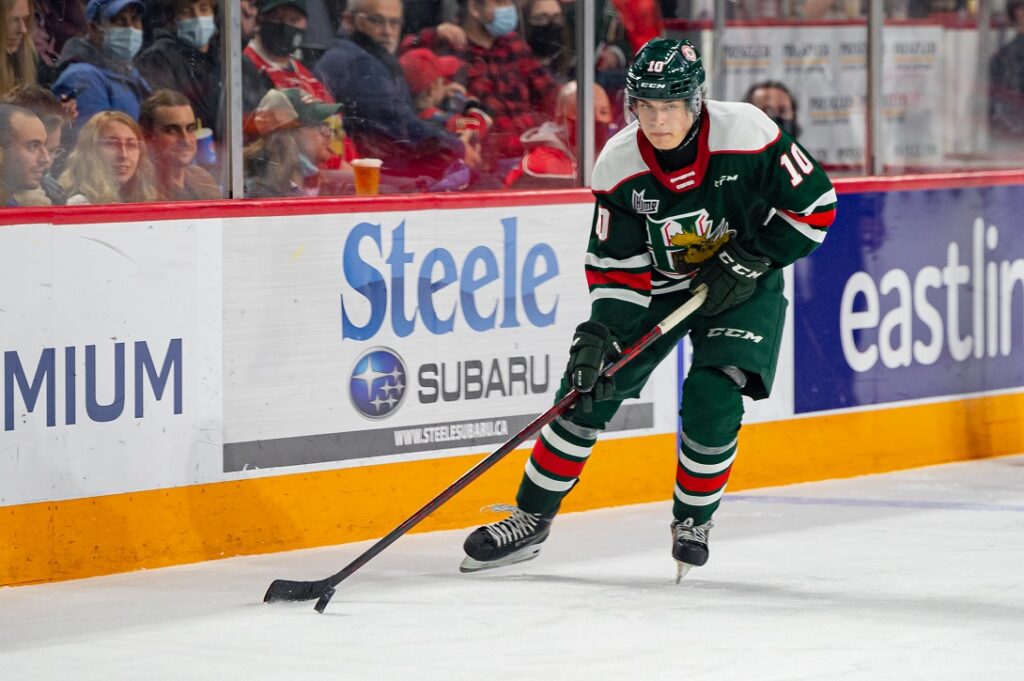 "Mathieu Cataford has a myriad of valuable strengths; simply labeling him a play-making scorer is too restrictive." B-Cote said when discussing Mackinnon's teammate, Mathieu Cataford. Cataford finished his season with the Mooseheads scoring 46 points, higher than one Ethan Gauthier, as well as anyone else on this list. He also showed up for the HGC, where he got an assist, and joined his fellow QMJHL players in representing the QMJHL in a year where the other CHL leagues are stacked with talent.
But to truly sell the value that Cataford has as a prospect, here is the rest of Christian B-Cote's quote on Cataford: "On attack, he's constantly adjusting the angle of attack near the net. He skates with an evidently powerful stride in straight lines and carries the puck effortlessly. He's a creative, heads-up, smart passer, using a give-n-go play with his partners to score. Defensively, he will quickly transform takeaways into scoring chances by giving zero time for the opposing D to set up. If that wasn't enough, he's effective in the faceoff dot and displays excellent leadership qualities." Cataford without a doubt has the potential to be a steal of a pick in the 2nd to 3rd round that he is suspected to go in. To add to B-Cote's praise, Cataford is also a well-built player, likely being over a 6'0" tall player once he is in the NHL, making him a player tons of upsides and practically no downsides. The sky is the limit for this young forward.
If one is looking for a steady and reliable defensemen, than look to Étienne Morin. "the second-year Wildcat has every tool you'd want in a defenseman: smooth skating, poise, nice stretch passes and a good shot from the point. Then, in his zone, he uses his stick well and quickly puts pressure on opposing forwards entering." B-Cote said when discussing Morin's many upsides. Though Morin's downside falls into his own fervor as a player in a competitive league. "He will need to continue up his compete level" B-Cote adds in addition to his bulk disadvantages that are by no means insurmountable. With the proper gains, and application of his physical game and strength, B-Cote sees a highly rewarding top 2 defensemen for a team willing to put in the time, Describing Morin as a player with a "High ceiling and no real flaws." And as his natural growth takes place, suspect that already short list of downsides to shrink.
Another late round defensemen on this list, Luke Coughlin hopes to win over fans with his highly talented skating ability. "Coughlin immediately stands out given his fluid skating, especially backwards. He makes quick direction changes with ease, mainly without the puck." B-Cote describes by far Coughlin's greatest skill on the ice. He is a defensemen with immense potential to play in the offensive zone but lacks the proper pieces as of right now. "he likely needs to develop more poise and patience." B-Cote says in reference to Coughlin's game when he has the puck.
Coughlin seems to struggle to apply these skills he has as a skater and stickhandler into his offensive game. While he seems reckless at times, such as "throwing the puck away instead of buying himself more time" according to B-Cote, he also seems self-restrictive in other aspects. B-Cote continues on by outlining his playstyle on the blueline. Describing him as a player who stickhandles with great confidence but is yet to truly apply his ability to skate, dangle, and pass in the offensive zone, despite him having no problem flexing these skills at his end of the ice. These downsides however are common with young players. Like Morin, Coughlin will be a rewarding player for teams willing to put in the time. If Coughlin can fix these issues, he will certainly jump in the draft.
Our last defensemen on this list, Nathan Drapeau has the fortunate December birthday that gave him one more season prior to his draft eligible year. He in turn has more experience than many others on this list. He's also a memorial cup winner with the Sea Dogs last season and is starting fresh with a new team; the Val-d'Or Foreurs. "He's tough to play against and possesses a reliable shot from the point to give his linemates scoring chances." B-Cote said about the late round underdog. And after finishing the 2021/22 season with 15 points and a very impressive 25 +/-, Drapeau gives good reason to go in 2023, playing that harder style as a defensemen not many are quick to fill at a young age.
The final player on this list and the QMJHL best offering for a skater between the pipes: Kyle Hagen. Though he doesn't carry with him a large resume under the QMJHL, where he has only one game. He does carry impressive credentials such as being a 1st round pick, as a goalie, in the QMJHL's draft. He caught the attention of QMJHL GMs where he kept consistently high numbers on a struggling Lac St. Louis Lions team. "I liked him a lot in the summer showcases leading up to his Q draft year, given his quickness, technique, and focus." B-Cote said in reference to the new QMJHL star. Still high praise and excitement being built for a player who hasn't truly started in the QMJHL.
He's also developed a good character at a young age, being well regarded as a polite and kind young man. Giving his proper respects to all those on and off the ice, even to those simply "holding doors open" according to B-Cote, describing Hagen as a very cordial young man. Like most goalies, suspect Hagen to go in the later rounds in 2023, but don't be surprised if he grows into a late round steal as the years go by.
For more on QMJHL prospects, and the 2023 draft class as a whole, be sure to pick up a copy of our 2023 Draft Preview Magazine available later this fall and subscribe to our bi-monthly DraftPro newsletter full of up-to-date info and scouting reports.