By Isaiah Bouchard
Welcome to Draft Prospects Hockey's introduction to the 2023 NHL Draft Class series. This is a multi-part series which we will be releasing over the next couple weeks to give you the readers some insight on whom we feel is the cream of the crop for 2023.
Hailing from Slovakia, the #4 prospect on DraftPro's preliminary rankings is the 6'1" centermen: Dalibor Dvorský. Playing for the AIK J20 in the J20 Nationell league, where he put up 40 points in 33 games, splitting his point production right down the middle with 20 goals and 20 assists. This year, as he sits atop the rankings for Western European players, Dvorský hopes to attend more games amongst more men in the HockeyAllsvenskan. Last year he appeared for 17 games where he put up three points for the AIK. This number seems small until you realise that Dvorský led all U18 players that year. And if this wasn't impressive enough for you, then please look at his performance at the Hlinka Gretzky Cup last year where he scored 12 points in five games. The 2nd overall player in points for that year, losing only to DraftPro's #2 player: Matvei Michkov (See DraftPro's Introduction to the 2023 Draft Class – Eastern Europe for more information.)
Now Dvorský hopes to increase that number more so, as he begins to develop his reputation as an offensive powerhouse. "A constant offensive threat" says one of DraftPro's top scouts in Western Europe: Charlie Thelin. "Sees passing lanes before they appear and can execute passes from various pressured situations." Thelin adds. Dvorský reaches these levels of offense thanks to his smart positioning and a sense of hockey IQ beyond his years. "Dvorský brings a high-end vision and smartness to the ice." Thelin says in regard to Dvorský's high level of hockey senses.
On top of Dvorský's high level hockey senses, he also brings a set of effective and volatile shooting capabilities. "He can put the puck in the back of the net as well due to his explosive accurate release." Thelin said when discussing his dangerous shot. The added combination of smart positioning, accurate play reading, and accurate shots makes Dvorský a consistent threat on the ice. As well as a player that will become a go to for coaches who seek fast results from their forwards. This also coupled with his size advantages, means Dvorský is going to be a hard centermen to stop in the coming years.
If 6'1" isn't a large enough 17-year-old centermen for you, then perhaps the Örebro HK's Leo Carlsson who currently stands at 6'3" is your player. Carlsson sits at #6 in DraftPro's rankings and has many selling points for future GMs come draft season. He was one of the only prospects for this years draft to play over 30 games in the SHL. There, he put up nine points for his team, tying for second for all U18 players in the SHL. He also neared a point per game average in the World Juniors that same year with team Sweden.
Many are seeing Carlsson's effectiveness come through for him in the SHL. As his skill and power are coming together to become a versatile threat on the ice. "His combination of traits of skill, power and smartness are highly threatening." Says DraftPro's Charlie Thelin. Thelin sums up Carlsson's entire persona on the ice as a: "Big body with a versatile offensive toolbox."
Carlsson and the Örebro HK are hoping to make the playoffs once again this year, where they are in a good position to make it past the 1st round. And with the help of Leo Carlsson, and his combinations of skill and power, they are looking to be in strong shape for this season.
If one is looking for defensemen, look no further than the Brynäs IF's Theo Lindstein. Lindstein sits in the crucial position as not only the best defensemen in Western Europe's draft class, but the entirety of the 2023 draft class. Sitting at #13 on DraftPro's rankings, its highly likely that this player will jump in the draft due to his key role as the top D-man. Lindstein played most of his games last year in the J20 Nationell league. There he was already playing with many players over his age, but he was still able to earn his team's trust to play in the SHL for 12 games, a very respectable number of games for a U18 player.
DraftPro's Charlie Thelin had nothing but positive remarks for Lindstein, describing him as a "Effective puck-moving defenseman." With the abilities to hold himself in a "Confident and calm" manor as he moves the puck, and "scans the ice" with a natural ability to read the game. On top of this, Thelin describes Lindstein as a: Skilled passer, executes both short and long passes with great delivery." Like the others listed on this list, Lindstein has great hockey senses. "Ability to solve and skate himself out of pressured situations with his vision and quick mind." Thelin says in regard to his smart playstyle.
Lindstein is quickly building himself as the future anchor defensemen for any of his future coaches. A player who can pass, keep the puck moving, and also play his role as a defensemen, making him a high utility player. These traits are growing ever more important in modern hockey, as momentum can shift at any moment, making the players who can keep momentum on your team's side highly valuable.
Coming in at #17, Slovakia continues to produce impressive forwards with the Södertälje JK's Alex Ciernik. Ciernik went on to lead his fellow Slovakians in points during last years J20 Nationell season, scoring 47 points in 43 games. He also played 11 games in the HockeyAllsvenskan and put up 7 points in last years Hlinka Gretzky Cup, where he played alongside fellow Slovakian Dalibor Dvorský. Ciernik is also our first winger to be discussed in this preview.
Unlike the rest of these players who all stood above six feet tall, Ciernik comes in at only 5'10". This makes Ciernik a different kind of player compared to those we have discussed so far. When first asked about Alex Ciernik, Thelin described him as a "smaller and mobile" player who can do the "unexpected offensively." Unlike big centermen like Dvorský and Carlsson who can use their power to their advantage, Ciernik's smaller frame means he has to be creative in how he produces offense. "Skilled, creative puck handler with an arsenal of dekes in order to take the puck to the net." Thelin said when asked about his offensive capabilities.
This puts Ciernik in an interesting position as the top pure puck handler and small man for the western European prospects. As a result, fully expect him to compete head-to-head with his fellow Slovakian Dalibor Dvorský in the battle of styles this season. Ciernik's greatest test will be how he performs in the HockeyAllsvenskan this season. An appearance last year was impressive enough for the 16/17-year-old. But this year, many will be watching to see just how much he can produce in a tougher league, if he can rival Dvorský, suspect Ciernik to jump in the rankings.
Only in Sweden can you find another Carlsson on the same Örebro HK team, and they not be related. But Kalle Carlsson is just that player as we look at DraftPro's #24 player. Like Ciernik who fills a unique niche on this list, Kalle Carlsson fills in the unique position as our first '2-way' forward. He was nearly a point per game last season in the J20 Nationell last year. And he hopes to join his linemate Leo Carlsson in the SHL this time around.
"He's a smart two-way centerman" Thelin said when asked about Kalle Carlsson. As mentioned in previous lists, the role of 2-way centermen is becoming an ever-growing role in it's importance in modern hockey. Utility on the ice is key, and Kalle Carlsson is making himself the ever attractive late-1st round pick this year as he ranks high for 2-way forwards. Like Theo Lindstein, Kalle Carlsson is a trustworthy anchor for his team when he plays. "An aware player that knows where to be on the ice, fluid skater and a skilled passer." He consistently ranks high in assists in whichever league he plays in, especially for players his age. He's also not afraid to shoot at the net at well, has his point ratio is not too shallow in goals as well. If Carlsson continues to grow his utility on the ice, suspect him to become an important tool for any organization that drafts him.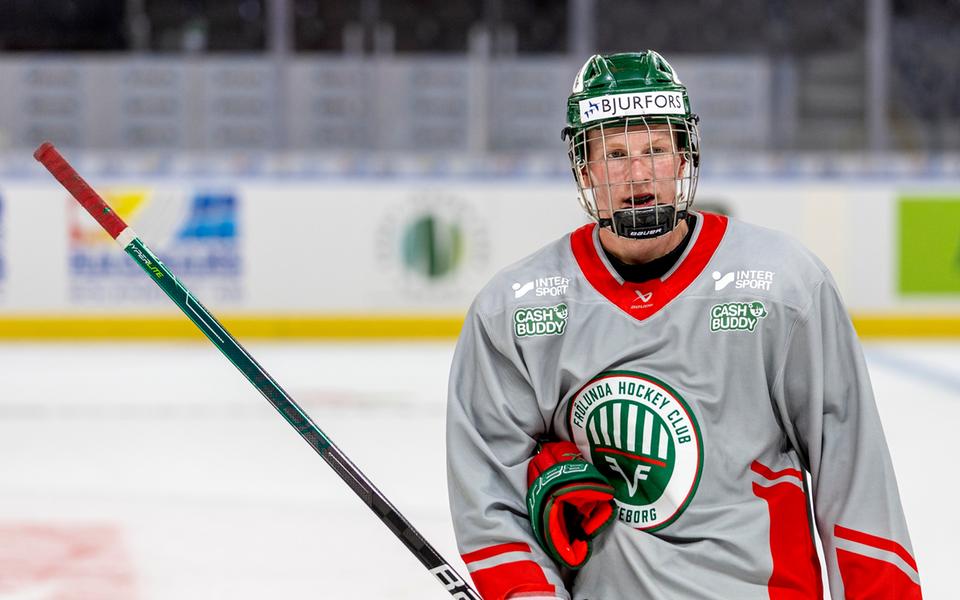 In this year's Hlinka Gretzky Cup, the Frolunda HC's Otto Stenburg tied for 2nd overall in points, falling just behind the OHL's Calum Ritchie and finishing the tournament with nine points in five games. Stenburg was quick to be promoted from the J18 Nationell league to the J20, where he put up 35 points in 40 games. He ranked 12th overall in all U18 players for that year, beating out such names like Leo Carlsson and Kalle Carlsson. He's a "Skilled playmaking centermen" according to Thelin and sits at an average size of 5'11". He should end up then a reliable playmaker for the Frolunda HC this year, as they hope to go on another deep playoff run.
"Stenberg is a reliable and creative player on the puck," Thelin said in regard to Stenburg's presence on the ice. He also regarded Stenburg as a player with "excellent puck carrying ability and make plays thanks to his smartness." During the Hlinka Gretzky Cup this year, when Sweden faced a tough team Canada, Stenburg's puck carrying ability revived his team whenever he stepped foot on the ice. Stenburg is certainly a player to favor moving the puck on the stick rather than dumping for the forecheck. And a contributing factor his excellent puck carrying ability is his great vision when moving on the attack. As of right now Stenburg sits at #27 of DraftPro's early year rankings but he is primed to challenge that spot as the season moves on.
Our final player of our preview, and Otto Stenburg's teammate for the Frolunda HC: Noah Dower Nilsson is also hoping to bring his team to another deep playoff run, this time in a much larger role. Nilsson is our first player on this list to fall out of our top 32 rankings, landing at #51 as of the writing of this preview. This is likely due to Nilsson's lower point totals compared to the players listed previously. But he also finished with a much smaller total games played than everyone else on this list, making his position one of uncertainty as he faces a season with more chances and opportunities. As despite him only getting 15 points in the J18 Nationell last year, he did so in only seven games. Making his potential point total for a 30-game season, very high when looking at his projections.
When it comes to his style of play, Nilsson fills in a similar play style with that of an Alex Ciernik. As he is capable of producing a lot of offense, despite being a smaller player. "Shifty offensive minded skater with a crafty aura over him." Thelin said when asked about Nilsson. Like Ciernik, Nilsson is making a reputation for himself as an elite puck handler. Thelin was quick to notice this style of play that Nilsson possesses, claiming that Nilsson is a player who: "Likes to challenge 1v1 with quick movements and dekes." Nilsson is certainly a fast-paced kind of player, who "thrives in a high-tempo kind of game," According to Thelin.
No doubt his lack of games last season are sure to create precautious takes on his position in this years draft. But Nilsson is certainly a player capable of giving his team results based on the small glimpses of play time we saw from him last season. So until there is proof to suggest he isn't capable of producing results, one can not deny him to shoot well over expectations this year, and land himself in the top 32.
For more on Western Europe prospects, and the 2023 draft class as a whole, be sure to pick up a copy of our 2023 Draft Preview Magazine available later this fall and subscribe to our bi-monthly DraftPro newsletter full of up-to-date info and scouting reports.