Top 10 Goaltenders in the 2023 NHL Entry Draft.
By Isaiah Bouchard
The 2023 NHL entry draft is getting ever closer to hockey fans, and the excitement fans have for who their teams are going to draft this year is ever higher as the regular seasons across the globe are coming to an end, and playoff season is just around the corner. And there is a lot for fans to be excited for this year, as the draft is looking like one of the strongest in years.
Connor Bedard is looking increasingly like a franchise-level player, rivaling the likes of Sidney Crosby, Alex Ovechkin, Nathan Mackinnon, Austin Matthews, and Connor McDavid. Adam Fantilli would have been a first-overall pick in arguably the last six drafts, Leo Carlsson is the next big center to come out of Sweden, and he is a must-grab in the top 5. And, of course, there is the Russian sniper: Matvei Michkov, who, despite being signed to the KHL until 2026, is so good that any team picking in the top 5 will be more than willing to wait for the Russian star.
But after the big 4 in this year's draft, who fills out the remaining slots is always an exciting mystery come draft day. Teams must allocate their scouting resources to best support the organization's roster on draft day. Who needs the top defensemen? Say, over-the-top sniper or goaltender? That is why we at DraftPro are excited to present an in-depth look at every position and who best thrives in that position. Who is the best sniper? The best power forward? offensive defensemen? Hopefully, after this 8-part series, all these questions will be answered.
Seven DraftPro scouts were asked their top 5-7 players for the following positions: sniper, playmaker, two-way forward, power forward, offensive defenseman, defensive defenseman, two-way defenseman, and goaltender. Their lists were recorded separately, and then once all seven scouts handed in their lists, their results were compared to one another. The final lists you read here determined the average each player placed. This is not a ranking of the best players overall, simply a ranking of who is the best for each given position. Players may be placed on multiple lists, as many players are not one-dimensional, and can not be forced into one category.
Thank you to the following scouts for providing their lists: Jared Brown, Matt Hnatiuk, Tyler Karoway, Andrew LeBlanc, Murray Caldwell, Andy Miller, and Jody Horak.
The last line of defense, the goaltender is the most crucial player on any team in pretty much every sport. I feel the need to just jump into the top ten now because who doesn't know what a goalie is? If this is the first time you are hearing about sports, then the goalie is the guy who protects the net. In hockey, the net is pretty small, and the goalies tend to be very big. This sounds easy, but they do have frozen rocks being shot at them at 100mph, so it evens out.
There will only be one list for the goaltenders, a total summary of the 10 best goalies in the 2023 NHL Draft Class. If you want to know who were the three best 'high and low coverage' goalies, 'battler/second chance' goalies, and 'positional' goalies, check out our "Best in Class" article, accessible in our Draft Preview Magazine!
First, our honorable mentions: Noah Vali, Daniel Hauser, and Thomas Milic.
Carsen Musser, College of Colorado, NCAA, #137-157 overall (5th Round).
"Extremely quick and mobile down low, has great agility, excellent hockey senses, and can communicate with teammates. Has strong arms that can propel pucks up boards or out for passes. Very mobile moving across the crease, and recovery is amazing for a big guy." – Murray Caldwell.
Starting off our list of goaltenders, we have Carsen Musser, 6'4″ and over 210 lbs! And as Caldwell mentioned, Musser is not held back by speed whatsoever. While his stats leave something to be admired, his win-loss records are pretty good. He has all the tools to succeed, so he can't be dismissed by poor stats alone. A fine goalie to invest in.
Rhett Stoesser, Red Deer Rebels, WHL, #155-175 overall (5th-6th Round)
"Quick pad reflexes, foot speed, excellent recovery, gets square to shooters after making a save, plays with poise at the top of the blue, confidence to hold his ground, makes key saves, controls movement on laterals, lets the puck come to him, absorbs puck to the body, deflects pucks out of play, redirects pucks to teammates, stops pucks behind the net, has a strong stick, and he can pass." – Murray Caldwell.
This may surprise some, as Stoesser is ranked pretty low in the rankings, but Stoesser received a lot of love from our scouts. Particularly Murray Caldwell and Tyler Karoway. And when looking at him objectively, he does offer a lot. He's also 6'3", which is always a good sign for a goalie, meaning he doesn't come with many downsides. His only real downside is that he is not quite a high-caliber goalie as of right now. But as Murray has shown, Stoesser has a high ceiling, making him a potentially significant investment for teams picking in the later rounds and a hidden gem in this draft.
Yegor Zavragin, Mamonty Yugry, MHL, #104-124 overall (4th Round).
"Shows potential to be one of the biggest steals late in this draft. As one of the youngest players, Zavragin shows incredible maturity and poise between the pipes." – Andrew LeBlanc.
Standing at the well-preferred height of 6'2″, Zavragin has great stats in the Russian AAA leagues, and his stats in the MHL are just as good. If LeBlanc's analysis is accurate, and Zavragin has excellent poise for a young player, then that is a quality that should carry around tons of excitement. Goalies who can keep themselves calm and keep themselves in a healthy mindset will do leaps and bounds better than all the others. Mental clarity is where it is at for goaltenders, so Zavragin's early developments are intriguing, to say the least.
Thomas Suchanek, Tri-City Americans, WHL, #93-113 overall (3rd-4th Round).
"Such an athletically quick goalie who is fast to get over side-to-side. He battles hard in his crease, and his quick hands and legs allow him to come up with some big saves when it would've appeared that he was down and out." – Jared Brown.
One just needs to see Suchanek's highlights at World Juniors to see why he is so fun to watch. Regarding pure talent, Suchanek is one of the best in the draft. This talent sprouted late, however, or perhaps scouts are just waking up to this kid's skill because he is a bit older than the others on this list at 19 years old. More senior players will always be overlooked in the draft rankings, but sometimes they are just so good that they can no longer be denied. And that is precisely the case we have with Suchanek.
Jacob Fowler, Boston College, NCAA, #114-134 overall (4th-5th Round).
"He makes himself big and takes away a lot of net. He controls rebounds and has an excellent glove hand." – Jody Horak.
Having a 27-9-3 record with the Youngstown Phantoms this season, Fowler is undoubtedly a good goalie. He has yet to play a single season in his entire career with a save percentage of under .920. These are great stats, and Fowler also holds himself well in high-pressure situations. So far in his career, he doesn't bring up many downsides. It's telling just how underrated the goalies are this year if a guy like Fowler can't crack the top 5.
Scott Ratzlaff, Seattle Thunderbirds, WHL, #91-101 overall (3rd-4th Round).
"A goaltender who has been hot and cold this year. His puck tracking seems to be his biggest hit-or-miss skill. When he's on, he's on, and when he's not, wow. His positioning is often very good, and he is very capable of moving himself quickly into a position to make key saves. He's a goaltender that may be a bit of a project or a handful of years away from becoming an NHLer, but he has all of the tools in his kit to become someone we see on a consistent basis." – Matt Hnatiuk.
Playing on such a dominant team in the WHL right now, it's fair to say Ratzlaff is a big reason for the Thunderbird's success. He also absolutely dominated in the Hlinka Gretzky Cup in 2022, where he put up almost a .980 save percentage in 4 games. He undoubtedly has potential, loads of it, but right now, he seems to be remaining on the junior level. That awkward stage of not being ready for AHL-level play but being too good in the CHL. By next year, he will likely be going far with Seattle again, and we will see just how much he can grow and develop in one year's time.
Adam Gajan, University of Minnesota-Duluth, NCAA, #66-76 overall (3rd Round).
"Athletic, agile goaltender who excels playing the butterfly style and has great reflexes and flexibility." – Jody Horak.
Another tall goalie, Gajan, stands at 6'4″ and weighs a little over 170 lbs. His lighter weight allows him to coast around the net easily, which makes him a highly effective goalie. If one can master the butterfly technique and couple it with good skating and reflexes, you pretty much have a top goaltender right there. He has played throughout Europe and America and plans to settle in the NCAA until he is ready for NHL/AHL action. Right now, Gajan's only downside is his one-dimensional play, at least considered one-dimensional compared to others on this list. But as he grows and develops, he will likely find the confidence to spread his wings and develop new techniques. But right now, his size and speed will still bring him much success.
Michael Hrabal, Omaha Lancers, USHL, #65-75 overall (3rd Round).
"Hrabal is a huge goaltender that struggled to start the season. However, he has turned it on as of late, and while his numbers may not look the best, his peripherals show he's a top-tier goaltender." – Andrew LeBlanc.
Yeah, he is a huge goaltender, as he currently stands at 6'6″. That easily makes him the biggest player on this list, maybe the biggest player overall in the draft. But size isn't everything, which Hrabal sadly proved at the start of this season, as LeBlanc mentions. But one only needs to see his performance at the World Juniors, where he put up a respectable .920 save percentage despite being on a losing team. Hrabal was mentioned by practically all of our scouts, and he is undoubtedly a top 5 goalie in this draft. It will be interesting to see Hrabal develop and witness how he will utilize his size in his developing play style.
Trey Augustine, Michigan State University, NCAA, #52-62 overall (2nd Round).
"He is a very focused goaltender who is a calming influence on his team. Augustine skates well and does not move excessively, and he has very good vision on the ice. He is one of the top two goaltenders available in this draft." – Andy Miller.
Positioning and vision are the names of the game for Augustine. Augustine has one of the best heads on him and arguably the best poise out of all the goaltenders. I mentioned earlier just how important poise is for goalies, so Augustine's bountiful amount of it makes him intriguing for all scouts. Out of the 9 World Juniors games he had this year, he went 9 and 1. For Augustine, stats like save percentage and goals against average are not so telling of who he is as a player compared to his wins, just how many wins he has, and his consistently good win/loss record. He plays to win and is one of the most technically sound goalies in the draft. It was closer than one would expect as to where Augustine would place on this list, as he was such a reliable goalie that he was almost placed #1, but one goalie offers a little more…
Carson Bjarnason, Brandon Wheat Kings, WHL, #48-58 overall (2nd Round).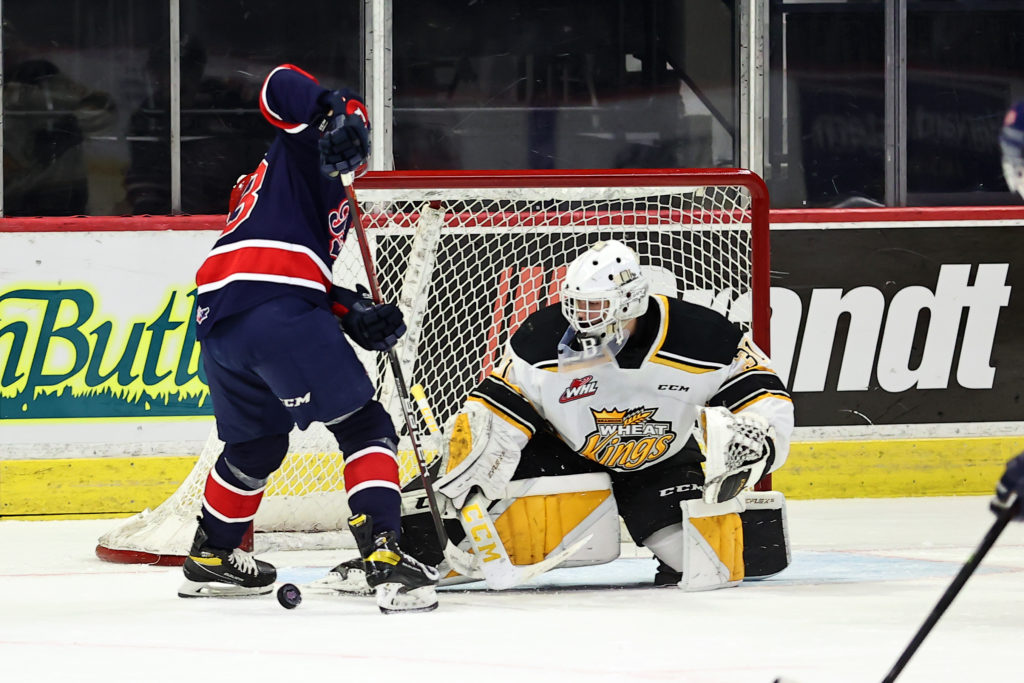 "A skilled goaltender who has been at or near the top of the rankings (for goalies) all season long. His ability to read plays, be in the right position and make key saves for his team is always very noticeable. He has excellent movement and always seems to have himself right where he needs to be each time." – Matt Hnatiuk.
It's a close call between Bjarnason and Augustine, but Bjarnason offers a little more razzle-dazzle. What does that? Well, Bjarnason is a bit more athletic, faster, and tenacious while still having excellent vision and positioning. Augustine's positioning is better, which is a significant factor in determining a goalie's efficiency, but Bjarnason's positioning is not bad enough. In fact, it's not bad at all. Bjarnason is the goalie to grab this year, as he offers just too much pure skill. Out of the six scouts who voted on the best goaltender: 4 voted him as the #1 goalie, 1 voted him #2, and 1 voted him #3. So it's fair to say there is a solid consensus on Bjarnason's place at the #1 spot. It's going to be scary to imagine this guy as a seasoned goalie in the NHL. Everything skill he has dictates he will be a long-lasting centerpiece for the NHL for years to come. But for now, Carson Bjarnason of the Brandon Wheat Kings can say he is the best goaltender in the 2023 NHL draft class.
For more information on the 2023 NHL Draft class be sure to pick up your copy of the comprehensive DraftPro 2023 NHL Draft Guide.