By DraftPro Contributors
The team at DraftPro was able to get together last week and make some best guesses at what NHL teams will do come tomorrow and Friday. It is a fun little exercise as we pull out our crystal balls and makes all seven rounds worth of selections for the NHL teams we represented. Some picks will be surprising, some boring as you have already seen in other mocks, while other picks will be controversial just like there will be at the NHL Draft.
Picking for this mock are the below DraftPro contributors:
Dan Stewart – General Manager
Jared Brown – Director of Scouting
Matt Hnatiuk – Head Scout
Murray Caldwell – NA Regional Scout
Jody Horak – NA Regional Scout
Andy Miller – NA Regional Scout
Jordan Greenberg – NA Regional Scout
Tyler Karoway – NA Regional Scout
Jonah Fleisher – NA Regional Scout
Isaiah Bouchard – Content Writer
So, with that intro, Chicago is at the podium…
#1
CHICAGO – C CONNOR BEDARD, REGINA (WHL)
Bedard is a generational talent and has the potential to become a franchise player for an original six team. He has extremely high IQ in all areas and possesses a wickedly lethal shot. He seems to be able to do it all. He has smashed through every hurdle placed in front of him and fans can expect him to do the same here. With the two faces of the franchise now gone (Toews and Kane), Blackhawk fans need someone to draw them to the rink every night and Bedard is that player. – By Matt Hnatiuk
#2
ANAHEIM – C ADAM FANTILLI, MICHIGAN (NCAA)
With missing out on the Bedard sweepstakes, GM Pat Verbeek and new head coach Greg Cronin still get arguably a #1 pick talent in Fantilli. He brings speed, size, competitiveness and excellent two-way ability to the table and will fit right in as a complimentary center to go along with star Trevor Zegras. Fantilli put up exceptional numbers as a freshman in college hockey this past season, winning the coveted Hobey Baker Award. He could be in a Ducks jersey as early as this season depending on if he decides to return to Michigan this fall or not. – Jody Horak
#3
COLUMBUS – C LEO CARLSSON, OREBRO HK (SHL)
Pierre-Luc Dubois was supposed to be the Blue Jackets #1 center for years. After moving him for star winger Patrik Laine. Columbus fulfills that center ice vacancy with the big Swedish center Leo Carlsson who can help balance out a line with his terrific 200ft game. It sounds like Columbus wants to be competitive as soon as next season and it wouldn't shock me if Carlsson was in the NHL as soon as this October. He's not just a two-way center. Leo also is one of the better forwards at attacking defenders and taking pucks through the middle to create scoring chances. Look for him to be 60-70 point 1C in the NHL. – Jared Brown
#4
SAN JOSE – RW MATVEI MICHKOV, HK SOCHI (KHL)
The Sharks have a mix of young players and older skilled ones like Karlsson and Couture who Michkov can learn from. He brings an elite skill set to the team that is not typically available at the number four pick. He has an incredible shot that is very accurate and could put the puck in the net consistently like they haven't seen since Cheechoo. He can work with the development team and grow the younger players. – Andy Miller
#5
MONTREAL – C WILL SMITH, U18 TEAM (NTDP)
The Montreal Canadiens have been in a rebuild for the past 2 year and are seeking goal scoring and game breakers. I also believe that Will Smith is the best player available at the moment. Canadiens just locked up there all-star elite goal scoring winger in Cole Caufield who came out of the same program where Smith is in at the moment. Smith is a very dynamic player who sees the ice very well. His vision and passing ability is off the charts. Montreal has also built a very good development team over the past year in signing skills coach Adam Nicholas who I believe can help turn Smith into a star. If all goes well for Smith I see him potentially being a 1st or very high end 2nd line center with anywhere from 70-85 points per year. I also believe that Smith could have easily been the number 1 pick in many drafts with his production this season. – Jordan Greenberg
#6
ARIZONA – C OLIVER MOORE, U18 TEAM (NTDP)
The Coyotes are left with a lot of questions for their future. Both on and off the ice. But while a lot of negative attention is put on Arizona right now that does not diminish the bright and exciting future the Coyotes have. Specifically in their forward departments. Logan Cooley, Dylan Guenther, Connor Geekie, and now, from the NTDP, Arizona can add the speedy and versatile centremen, Oliver Moore. With such a wide array of forwards in their system, Arizona's offensive future is looking bright, with many niches being filled. – Isaiah Bouchard
#7
PHILADELPHIA – D AXEL SANDIN PELLIKKA, SKELLEFTEA AIK (SHL)
Flyers recently acquired Helge Grans and adding another RD in ASP will have Flyers brass rejoicing after having to deal with Tony DeAngelo and Ristolainen on the right side in 2023. Danny Briere begins his tenure by shoring up a defence that has been exceptionally bad the past couple seasons. ASP gives Philly a powerplay quarterback that can play top pairing minutes and help take some of the weight off whomever is net for the rebuilding Flyers. While ASP won't be ready this year he can take over for the controversial Deangelo in 2024-2025 once his contract expires. ASP has an extremely high ceiling with his ability to create offence out of nothing and playmaking skill set. While he is not in the mold of a Broad Street Bully he still can play strong defence with his stick. ASP has a Dahlin level ceiling. – Tyler Karoway
#8
WASHINGTON – C/W SAMUEL HONZEK, VANCOUVER (WHL)
What might look like a reach will prove to be a huge add for the Capitals. The Capitals struggled immensely to score goals last year and the Anthony Mantha experience has been a massive failure ( what a shocker…) so the Caps need to add a top six goal scoring winger to take some of the pressure of The Great 8. Adding Ivan Miroschnichenko & Alex Suzdalev last year and now Honzek will give the Capitals an extremely volatile top six winger core once everyone reaches the NHL. Honzek's laser shot and extreme speed give him are his biggest attributes but his underrated defensive skill will be huge as the Caps' top six rarely gets much defensive effort from their top guys. Honzek's upside is ridiculously high and could become one of the steals of the draft. – Tyler Karoway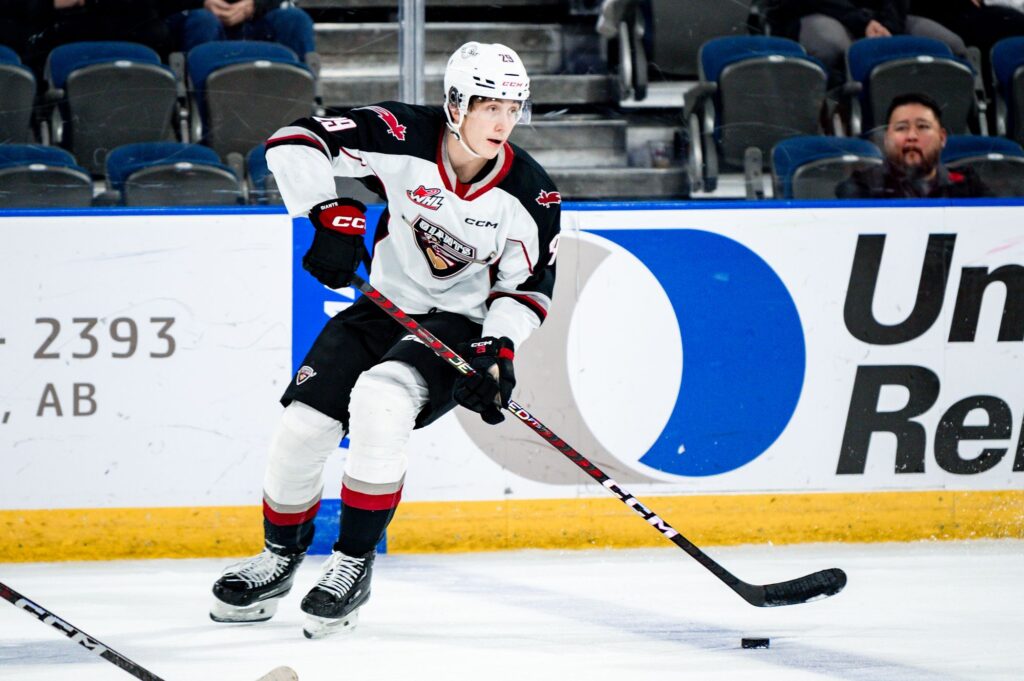 #9
DETROIT – C/W RYAN LEONARD, U18 TEAM (NTDP)
Yzerman and company go back to the USA NTDP in the top round of the draft for the first time since selecting team captain Dylan Larkin almost ten years ago with the selection of winger Ryan Leonard. The Wings fell in love with the grit, compete, and goal scoring ability that Leonard brings and feel he will add a missing component to an organization that lacks in natural finishers, both on the current NHL roster and in the prospect pool. – Dan Stewart
#10
ST. LOUIS – C BRAYDEN YAGER, MOOSE JAW (WHL)
The blues unloaded some veteran forwards and huge parts of their Stanley Cup run in Vladimir Tarasenko and Ryan O' Reilly. GM Doug Armstrong opts to reload in that department and Yager is a strong two-way player with a lethal shot. He will be a great piece to add down the middle of the ice with speed. With a penalty kill that really struggled for the Blues, Yager can step in and play a role with a man short and give the Blues some depth at center with Brayden Schenn not getting any younger. Potential to be a consistent point producer (45-55 a season) and goal scorer in the NHL. – Jody Horak
#11
VANCOUVER – D DAVID REINBACHER, EHC KLOTEN (NL)
The Canucks made a big splash in landing right-handed shot Hronek at the deadline and now add another RH shot D-man in Reinbacher to shore up the defensive core. Canucks' fans have had to suffer through poor defence and the nightmare pairing of Myers and OEL last year but there is finally a light at the end of the tunnel. Reinbacher is Myers replacement and should be ready to take over once Myers contract expires next year. He is the perfect fit for Quinn Hughes' defensive partner and should form a formidable duo for years to come. A large two way defenceman to help aid Hughes on the back end but also capable of putting up some points as well. This is a slam dunk for the often-criticized Canucks front office. – Tyler Karoway
#12
ARIZONA (from Ottawa) – LW ZACH BENSON, WINNIPEG (WHL)
With the selection of Zach Benson at the 12th overall pick, Arizona hopes to secure their offensive future for years to come. Benson will be joining other top end talent such as Dylan Guenther, Logan Cooley, previously selected Oliver Moore, and Benson's teammate on the Winnipeg Ice, Connor Geekie. Perhaps Benson's greatest quality is his dynamic style of play that lets him fit into the mold of any line he plays with. Benson is going to add a good balance of playmaking, goal scoring, and two way play for Arizona. Bill Armstrong is dead set on rebuilding the Arizona Coyotes in more than just on-ice production, as he has stated on multiple occasions that the excuses are running out for management and the team. A proper step in the right direction will be to build trust and chemistry with the new generation of skaters. And secure a solid foundation for Arizona's future. – Isaiah Bouchard
#13
BUFFALO – C NATE DANIELSON, BRANDON (WHL)
After one of the best Sabres season in recent memory, the Sabres management are looking to keep to the game plan and continue this upward trajectory. And with Nate Danielson's careful, smart, and effective two-way play style, there should be no better glue to hold Buffalo's future together. With DraftPro's #1 ranked prospect pool, Buffalo has no need to make risky moves, as their big stars are already on the way. Owen Power, Tage Thompson, Rasmus Dahlin, Buffalo's future is stacked. Nate Danielson is the safe pick that comes with little risk, and the chance for a very versatile 2C in their future. – Isaiah Bouchard
#14
PITTSBURGH – LW COLBY BARLOW, OWEN SOUND (OHL)
New man in charge Kyle Dubas is looking to add some "now" talent if possible to his roster at the top end of the draft as he believes he has the horses in stars Crosby, Malkin, Letang, to still compete for a playoff run. The Pens like OHL sniper Colby Barlow's maturity, intensity and obvious goal-scoring ability as someone who could possibly slip into the lineup either this fall or next and make an impact in a top six scoring role. – Dan Stewart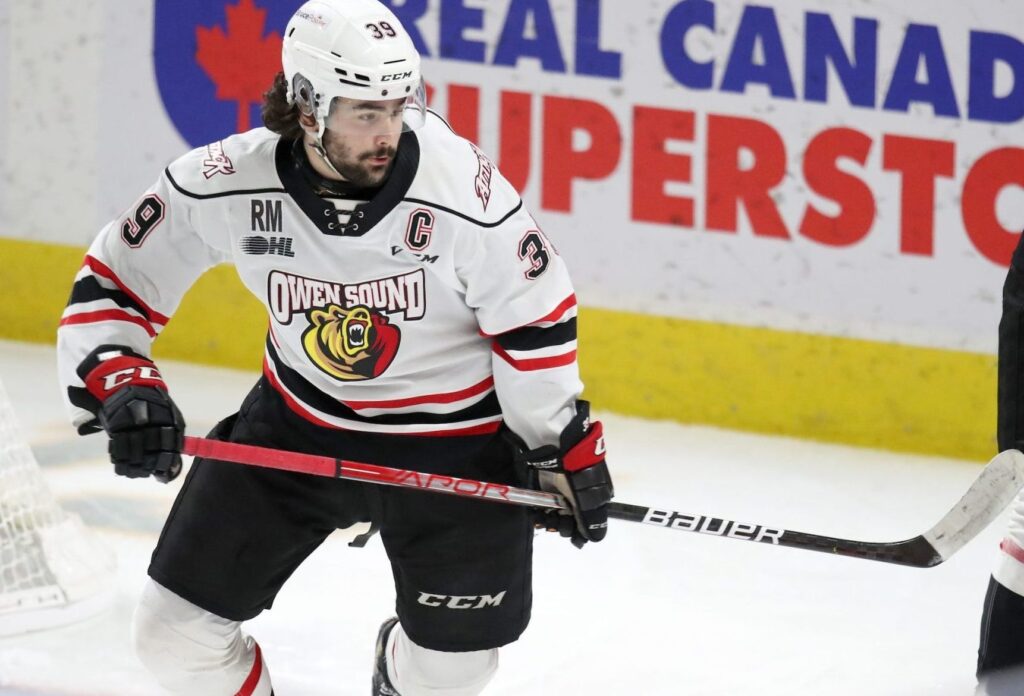 #15
NASHVILLE – C CALUM RITCHIE, OSHAWA (NCAA)
Incoming general manager Barry Trotz has made it known that he wants to bolster his top-nine with a high-end forward, coming off a year where his team scored the sixth-fewest goals in the league. Ritchie is a dynamic, elusive skater with incredible stick handling and intelligence. While he owns a great wrist shot himself, his high-end playmaking will fit well with the elite shooters Nashville has drafted on the wing. He can struggle with consistency at times, but Trotz has issued a clear directive to take high-upside swings and Ritchie has the potential to significantly boost Nashville's offense while filling a hole up the middle. Will likely be ready to make the jump to the NHL in a year or two, fitting with Nashville's desired timeline. – Jonah Fleisher
#16
CALGARY – RW MATTHEW WOOD, U. OF CONNECTICUT (NCAA)
Calgary snags a player who has the talent of a top 10 prospect and is mid-late first round projected pick only because of his skating concerns. Though his footspeed and sluggish first few steps are major concerns, Matthew Wood could learn from Tyler Toffoli on how to still be productive despite being an ugly skater. Calgary needs to bolster their winger depth after losing Tkachuk and Gaudreau and Wood may only be a few years away from the NHL considering he fast tracked to the College level this season. – Jared Brown
#17
DETROIT (from NYI) – C DALIBOR DVORSKY, AIK (HOCKEYALLSVENSKAN)
Yzerman, Draper and the Wings scouting department were hopeful to add a natural center with one of their two first round picks in this draft as it has long been an area of need for the rebuild and they are more than excited to do so here as they continue to add top of the lineup talent with the selection of skilled two-way AIK center Dalibor Dvorsky. With their first two selections (Leonard and Dvorsky) they are hopefully adding a two-thirds of a top six line for the not-too-distant NHL future. – Dan Stewart
#18
WINNIPEG -LW GABRIEL PERREAULT, U18 TEAM (NTDP)
The Jets are an organization that has successfully developed players such as Laine, Hellebuyck and Ehjlers plus developing acquired young player like Pionk. The Jets are in a potential transition this summer and a player like Gabriel Perreault can help that process. He has developed this season into a player that would typically be selected in the top 10 of a draft. Perreault clearly inherited some of his father's hockey IQ. He is a better skater than his father but likely knows what it means to be a pro. The Jets development will be able to help him improve his play away from the puck. He could reach the NHL in as few as 2 years but may take 4, while hopefully bulking up and improving his strength at Boston College. Perreault could pot 50-65 points in a season. His skating skills make him a bear lock to be a middle six forward. – Andy Miller
#19
CHICAGO (from Tampa) – LW EDUARD SALE, HC KOMETA BRNO (CZECHIA)
The Blackhawks are adding another dynamic player with scoring ability and an endless motor. Sale is well rounded when it comes to the offensive zone, being able to distribute with precision or snap home shots with a quick flick of the wrists. While he currently may not be a physical player standing 6'2″, he will have to add that component as well as some strength to his game to be a factor in the NHL. Adding Sale will ensure the Blackhawks scoring depth for years to come and potentially help Bedard reach amazing heights. – Matt Hnatiuk
#20
SEATTLE – D TOM WILLANDER, ROGLE BK J20 (J20 NATIONELL)
GM Ron Francis and the Kraken scouting department will be looking to add the best available here with this pick as they continue to add talent to an immature prospect pool. But in a perfect world a top defensive prospect or high-end goaltending prospect would be in the cards at this spot. Just so happens they love the mature two-way game and high-end skating ability that Rogle BK defender Tom Willander has shown this season. They see a potential top four, all-situations, right-handed future Kraken but understand he will need a year or two first. – Dan Stewart
#21
MINNESOTA – C OTTO STENBERG, FROLUNDA HC J20 (J20 NATIONELL)
This shoot first center has a great IQ in the offensive zone and can strike with little warning. A player who is opportunistic in his creation of plays, and has the ability to set up some amazing scoring chances. While he will need to work on his defensive play as well as add some physicality to his play once he moves over to North America, the Wild can mold this player into a potential top six scoring forward. – Matt Hnatiuk
#22
COLUMBUS (from LA)– C RILEY HEIDT, PRINCE GEORGE (WHL)
Danny Briere swings for the fences on a player that oozes offensive potential but struggles with having a consistent work ethic. Having a coach like John Tortorella could be the perfect fit for Heidt if Torts can push the right buttons to keep Heidt on his game for the full 60. With Kevin Hayes most likely getting moved this off season, Couturier on and off the injury reserve and Morgan Frost being an RFA this year, Heidt could slide into a top six roll quite quickly. This the definition of a boom or bust pick for the Flyers. – Jared Brown
#23
NY RANGERS – D DMITRY SIMASHEV, LOKOMOTIV YAROSLAVL (KHL)
The Rangers have a strong core of young players and veterans. The organization has had a good history of development, will leave Lafrieniere out, particularly with Europeans. They could use a bit more young depth at the back end. Fox, Trouba and Miller are the core of Defense and may need support in a year or two. Simashev will bolster the blue line in the near future. He will not likely be a PP QB, but is consistent defensively and moves the puck up the ice well. He is a versatile player who can play in all situations. He will fit nicely in the NHL in one to two years and should develop into a top four Dman. – Andy Miller
#24
NASHVILLE (from Edmonton) – D MIKHAIL GULYAYEV, AVANGARD OMSK (KHL)
One of the NHL's best teams at drafting and developing defenseman, Nashville selects Gulyayev as a high-risk, high-reward option. After bolstering their forward group with more of a sure bet in Calum Ritchie, Barry Trotz wants to take a swing to increase the ceiling and scoring potential of his team. While he could use some work on his shot, gap control, and physicality, Gulyayev is an incredibly skilled skater with excellent playmaking ability and hockey sense. Nashville has not shied away from drafting Russians in the past few years, having recently selected Yaroslav Askarov and Fyodor Svechkov and bringing the former over to North America. Gulyayev is still three to four years away from cracking the NHL, but the Predators are set at LD with Josi and McDonagh on that side for the next three years, after which Gulyayev can step into their top-four as a puck-moving, offensive defenseman. – Jonah Fleisher
#25
ST. LOUIS (from Toronto) – D LUKAS DRAGICEVIC, TRI-CITY (WHL)
With rumors swirling among the Blues organization trying to potentially trade top defenseman Colton Parayko, Torey Krug or Nick Leddy to open up some cap space, they go with a developmental, offensively gifted D man in Dragicevic. He has the tools to be a John Carlson type defenseman and give them some depth at the defensive position. With his vision and ability to move the puck, he can be a top four defenseman at the NHL level in a few years. The Blues continue to say they are re-tooling and not necessarily in rebuilding stage and Dragicevic along with Scott Perunovich give them a nice future at the defensive position. – Jody Horak
#26
SAN JOSE (from New Jersey) – RW ETHAN GAUTHIER, SHERBROOKE (QMJHL)
Gauthier will nicely compliment fourth overall pick Michkov. He is a physical forward with an offensive upside. Gauthier is a versatile player who can be effective on the PP, PK or even strength. He is a strong skater and this attribute will assist him in accelerating his D overall development. In this organization he can learn under the tutelage of players like Couture and Hertl. Gauthier will return to the Q next season and will have more responsibility and likely be a key part of the WJC team for Canada. The Sharks should plan for his arrival in the next two to three years. – Andy Miller
#27
COLORADO – LW ANDREW CRISTALL, KELOWNA (WHL)
No stranger to drafting Canadian players, GM Joe Sakic takes a risk on a boom or bust prospect in Cristall. He has the tools to be a game changer and an elite playmaker which bodes well for a team whose future with leader Gabriel Landeskog is up in the air. Injuries hampered the defending champions all year long but they continue to build the team around stars Nathan Mackinnon, Mikko Rantanen and Cale Makar. Cristall will be able to develop quicker with guys like that in the organization to learn from. He goes to a team where his skilled hands, vision and playmaking ability will fit in and be a huge asset when he's ready to jump to the NHL. With depth at the forward position and good prospects in the pipeline, it's not a make or break situation taking Cristall. – Jody Horak
#28
TORONTO (from Boston) – D OLIVER BONK, LONDON (OHL)
Toronto looks to add a Dman with size, strong defensive qualities, and physical abrasiveness. New GM Brad Treliving prioritizes building a strong defence core as shown through his years in Calgary, and the Maple Leafs are currently missing a defence prospect like Bonk in their system. Bonk has the defensive intelligence and competitiveness to play important shutdown minutes. He makes smart reads to break up the cycle and is terrific at separating his man from the puck along the boards. He could turn into a very solid partner for Morgan Rielly down the road in Toronto. – Jared Brown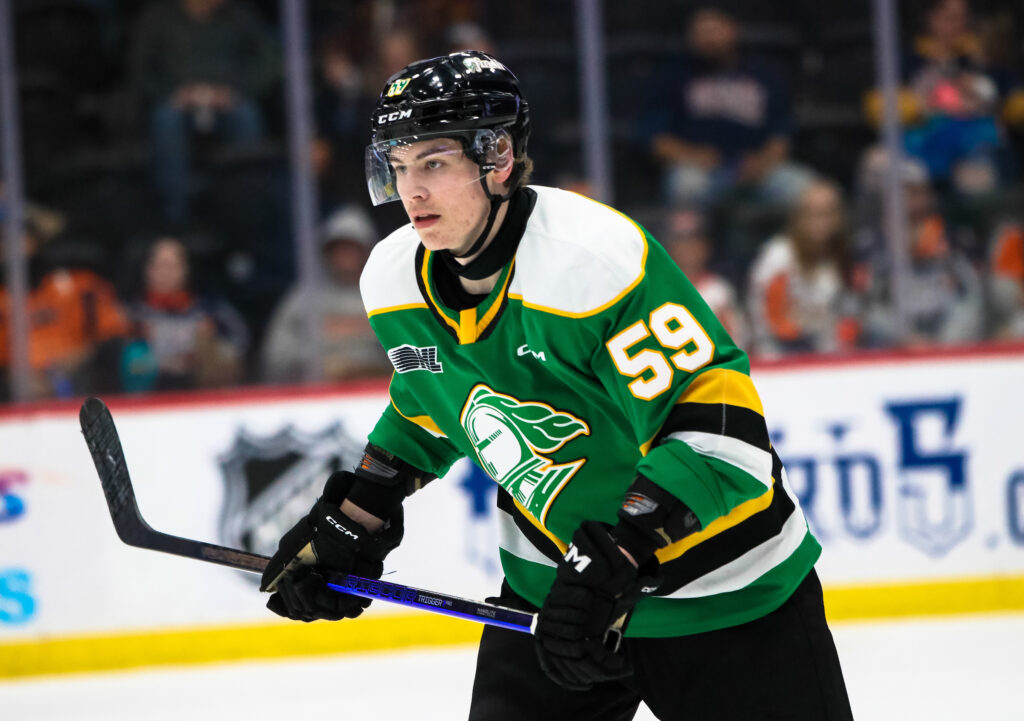 #29
ST. LOUIS (from Dallas) – C DANNY NELSON, U18 TEAM (NTDP)
With selecting a prospect who can produce points in Yager with their first pick, the Blues go with a physical, power forward in Nelson. He brings size and offensive ability to consistently produce 30-40 points a season when he reaches the NHL. He has a powerful shot and can play strong and tough in front of the net offensively, like a David Backes who was the leader and heart of the Blues organization for years. Doug Armstrong will be bringing in a player who is versatile to play wing or center and can provide depth scoring as a second or third line forward. – Jody Horak
#30
CAROLINA – LW QUENTIN MUSTY, SUDBURY (OHL)
GM Don Waddell addressed the need to get heavier after their playoff exit in the Eastern Conference Final. Musty not only will bring size to the wing for the Canes but he also has that game-breaking skill and creativity, something Carolina's forward group currently lacks. Carolina has shown in previous drafts that they aren't afraid to swing on prospects with high upsides and Musty's makeup of an elite skilled power forward is too much for them to pass up on. They have the potential to get a late first round steal here in Musty, but there are some holes and consistency issues in his game which makes him a risky pick. – Jared Brown
#31
MONTREAL (from Florida) – W/C JAYDEN PERRON, CHICAGO (WHL)
Canadiens are trying to add scoring forwards to add to their young core of Slafkosvky, Caufield, Suzuki and Dach. Perron is on the smaller side of players but works extremely hard and is in the mix of everything. Perron has lots of speed and has great hockey IQ. He also is someone who is very strong along the boards and battles very hard. I believe he can turn into a top 6 winger one day and will fit very well in the Canadiens organization. People around the league like to compare Perrons play style to Toronto Maple Leafs all-star Mitchell Marner. I believe that Perron has lots of upside and can become a steal at 31. – Jordan Greenberg
#32
VEGAS – LW DANIIL BUT, LOKO YAROSLAVL (MHL)
The Knights will look to add to a depleted prospect pool after trades to continue their recent on-ice success have seen some highly regarded prospects and draft picks leave for the sake of adding veteran NHL talent. They take a big homerun swing here with the selection of massive offensively gifted Russian winger Daniil But from Loko Yaroslavl in the MHL. While there are safer prospects on the board, they like the potential top line upside with this pick. – Dan Stewart
#33
ANAHEIM – C GRACYN SAWCHYN, SEATTLE (WHL)
With strong prospect depth in the pipeline at the defensive position (Mintyukov, Zellweger, Luneau, Lacombe), Pat Verbeek elects to continue to build up prospects at the forward position. With Sawchyn, although they are getting a potential developmental player, he also has the attributes to develop a lot of chemistry playing alongside a Zegras or Fantilli. He could be a huge steal in this draft and with the right organization and players around him (which I believe Anaheim has) he could be playing in the NHL sooner than we think. His work ethic, compete level, vision and playmaking ability fit in well with the team and improve the chances of seeing high octane offense like the Selanne/Kariya days of old in Anaheim. – Jody Horak
#34
COLUMBUS – G MICHAEL HRABAL, OMAHA (USHL)
The Blue Jackets take the first goalie of the draft and they take the towering Czechia netminder. Hrabal's upside may be the highest of any goaltenders in the draft due to him measuring in at almost 6'7″. He's raw in his technical play but Columbus can be patient with developing him considering they have Merzlikins locked up for four more years and 25-year-old Tarasov for two more years. But the question remains on if one of those two netminders can be the Blue Jackets #1? Having a potential star-studded goalie prospect in their system would be a smart move for Jarmo Kekalainen. – Jared Brown
#35
CHICAGO – D TANNER MOLENDYK, SASKATOON (WHL)
Tanner joins a group of young, mobile defensive prospects and brings a smooth skating ability and an excellent two way game. He has high end puck control, passing, a strong shot and the ability to QB a PP if needed. He brings a strong awareness to the game at both ends of the ice and reads plays well both offensively and defensively. Still needing to add some muscle to his frame, Molendyk can hone his game for a few more seasons before making the jump. When he does, look for the Blackhawks to have one of the most offensive two-way defense cores in the league. – Matt Hnatiuk
#36
SAN JOSE – D HUNTER BRZUSTEWICZ, KITCHENER (OHL)
With Mike Grier selecting for the third time inside the top 40 the Sharks are looking for a more defensive area of the game in this selection after selecting two forwards with their prior choices. They are looking for a capable defenseman who can follow in the footsteps of the likes of Burns, Karlsson and Vlasic and be mentored by two of them that remain with the organization. Brzustewicz is a smooth skating defender who excels with the puck on his stick. He will develop into a solid puck moving defenseman who can quarterback a power play with ease. He is a player you would want on the ice when you are down by one late in the contest. Brzustewicz is very confident with the puck on his stick and can move the puck from the defensive zone to the offensive zone quickly with accurate passes that are easy for his teammates to receive. He can spend the next two years working on improving his defensive side of the game and his physicality. Brzustewicz will need to utilize his hockey more effectively when the puck is not on his stick and make the safe play a little more frequently. The Sharks have been able to select some high end talent in the top 40 of this draft and are on the way up the standings in a few years. – Andy Miller
#37
MONTREAL – G TREY AUGUSTINE, U18 TEAM (NTDP)
Augustine many scouts have as the top goaltender in this draft can be a very good fit in Montreal. Montreal is in desperate need after Carey Price has called it a career. They don't have many goalie prospects or many goalies on their roster so I believe Augustine would be a good fit and very much given the chance in Montreal. He is very strong at playing the puck and very strong with his lateral movements. The only worry to some scouts and teams is his size. – Jordan Greenberg
#38
ARIZONA – D THEO LINDSTEIN, BRYNAS IF (SHL)
With the earlier selections of Oliver Moore and Zach Benson, the Coyotes offense is looking bright for years to come. With adding Theo Lindstein, and his excellent two-way capabilities, the Coyotes are seeking to improve their defensive depth. Lindstein being a LD gives the coyotes that needed depth, as much of their current defensive prospect pool are RD. Lindstein's excellent passing and skating abilities are his strongest reasons for being Arizona's 3rd pick. His skating will synergize well with forwards such as Logan Cooley and Oliver Moore (arguably the fastest skater in this draft), and his passing will assist the excellent goal scoring potential form players such as Dylan Guenther and Zach Benson. – Isaiah Bouchard
#39
BUFFALO (from Philadelphia) – D MAXIM STRBAK, SIOUX FALLS (USHL)
Strbak is a solidly built, intelligent defensemen who will be an excellent team player for the Sabres. He's a reliable skater, and a level-minded player when on the ice making his plays. Strbak provides a more defensively minded game to Buffalo's prospect pool, which is arguably where they lack solid depth. Strbak can add balance to a future Buffalo team that will include the speedy Ryan Johnson and Mats Lindgren, and the offensive threats of Rasmus Dahlin and Owen Power. Strbak will be a good partner for any of these players, providing them with a reliable partner that can keep up with their more specialized play-styles. And since Strbak plays RD, he could be a good ally for any of the previous players listed. – Isaiah Bouchard
#40
WASHINGTON – RW KASPER HALTTUNEN, HIFK (LIIGA)
Halttunen is a great addition to the Capitals prospect pool. He immediately becomes their top RW prospect and gives the Capitals a TJ Oshie replacement. Halttunen has a mean streak to his game that I absolutely love to see but can bury opponents with his offensive fire power. His shot alone should be making goalies shake. The Capitals find two wingers in Honzek and Halttunen that should be able to jump into the Caps line up by 2024. Halttunen, Honzek, Miroschnichenko & Suzdalev give the capitals hope that they don't miss a beat once the current core retires. – Tyler Karoway
#41
DETROIT – C BRADLY NADEAU, PENTICTON (BCHL)
With their two first-round selections adding some top of the lineup future NHL talent in Leonard and Dvorsky, the Detroit Red Wings continue to add talent up front with this selection of the highly offensive skilled and two-way responsible forward Bradly Nadeau. Scouting Director Kris Draper and staff like the grit and drive Nadeau plays with and feel his offensive ability mean they might have picked up another top six forward here. The Wings will need to be patient as Nadeau plans to play at least one or two years with the University of Maine Black Bears. – Dan Stewart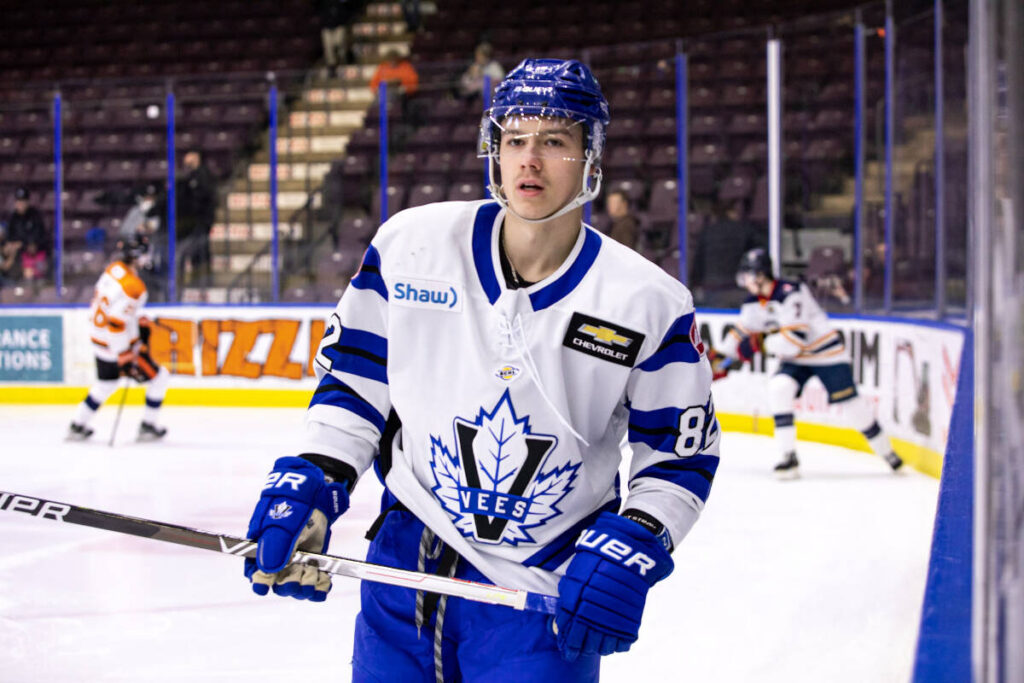 #42
DETROIT (from St. Louis) – C DAVID EDSTROM, FROLUNDA HC (SHL)
This is a Hakan Andersson, the Director of European Scouting for the Detroit Red Wings, 'pound the table' type pick as he loves the size, compete level, and two-way play that this six-foot-three power center brings. Edstrom's development has been on a pretty sharp trajectory over the entire season from playing U18, U20, the SHL, and culminating in a strong showing at the IIHF U18 World Championships for the Silver Medal winning Swedes. – Dan Stewart
#43
DETROIT (from Vancouver) – G CARSON BJARNASON, BRANDON (WHL)
The Wings finally stop adding forward talent and use their last of five picks in the top 50 overall of the 2023 NHL Draft to shore up their goaltending pipeline which already includes former first rounder Sebastian Cossa. The selection of the big butterfly stopper Carson Bjarnason is seen as a project pick as the timeline will not be rushed for these two primary goaltending prospects in hopes that one of them grabs the reins and becomes the Wings starting goaltender for the next fifteen years by 2025-26 when Ville Husso's current contract expires. – Dan Stewart
#44
CHICAGO (from Ottawa) – D CAMERON ALLEN, GUELPH (OHL)
A Swiss army knife of a defenseman, he can play in almost any situation. While his skating speed may need to improve, he still maintains good power coming from his legs and is strong on his feet. While skating a puck out won't often be an option, his eye for a quick pass will be an asset, as well as his heavy shot when he can pound it in from the blueline. His play seems to have transitioned to a defensive style which will help fill an upcoming role within the Blackhawks defense. His gap control, defensive stick and ability to play a punishing physical game are all traits that are required for NHL defenders. He also displays excellent leadership qualities in a young player. Possibly the next Duncan Keith or Brent Seabrook for Chicago? – Matt Hnatiuk
#45
BUFFALO – RW GAVIN BRINDLEY, MICHIGAN (NCAA)
As Buffalo's management have done an excellent job in building one of the strongest prospect pools in the NHL, selecting Gavin Brindley gives them a high-utility player, who plays both center and winger positions. He's also highly dynamic both offensively and defensively, making him a useful piece to fit into any of Buffalo's lines. He can play with the big boys and provide play making support, or grind away on the Top 9 providing his coach a useful young player with a solid Two-way game. While Brindley is no means a 'super star' pick, he has a high ceiling that can let him land anywhere on Buffalo's roster. This means if Brindley only grows into a Top 9 forward, this completely falls into Buffalo's favor, who already have a plethora of top-end prospects. Of course, if Brindley's potential is fully reached and he plays on a Top 6 level, this is only good for Buffalo. Selecting Brindley this late into the second round becomes a win-win situation for Buffalo, and a safe, easy pick to make. – Isaiah Bouchard
#46
NASHVILLE (from Pittsburgh) – D ÉTIENNE MORIN, MONCTON (NCAA)
The Predators take another stab at an offensively-geared, left-handed defenseman in Morin. Morin is a skilled puck-mover with great vision and accuracy on his passes and a booming slap shot. While he has some defensive inconsistencies to work out, Morin isn't as pure an offensive defenseman as 1st-rounder Gulyayev. He possesses an active stick and can lay out opponents in open ice, adding an element of physicality to the game. With him and Gulyayev on the left side, Nashville can be confident in at least one of them hitting their potential and filling up one, if not both, left side spots in their top four as Roman Josi and Ryan McDonagh continue to age. – Jonah Fleisher
#47
NASHVILLE – LW NICK LARDIS, HAMILTON (OHL)
With their fourth and final pick in the top two rounds, the Predators select winger Nick Lardis, taking another swing on offensive talent. Barry Trotz and his staff are intrigued by Lardis' package of speed, smarts, and a good shot. While he needs to progress on the defensive and physical sides of the game, Lardis will be able to join the lineup in two to three years and add a transition threat to Nashville's dangerous forward group which includes Philip Tomasino, Joakim Kemell, Luke Evangelista, Fyodor Svechkov, Zachary L'Heureux, and Reid Schaefer. Lardis continues to aid in Nashville's attempts to become a more offensively-minded team and fills out the depth on the right wing, complementing the aforementioned Kemell and Evangelista. – Jonah Fleisher
#48
CALGARY – C CARSON REHKOPF, KITCHENER (OHL)
Craig Conroy and his staff keep it rather simple with this selection, taking the best player available in Rehkopf. Their getting a forward who brings a versatile toolkit as someone who can shift between playing center or the wing, and he can play both PP and PK. Carson is a talented handler who's a bit raw at the moment, but with his flashy hands which he'll flash in 1v1 situations, he's got the potential upside of a top six forward. Calgary doesn't need to rush Rehkopf's development considering the depth they have at the center ice position in their lineup and pipeline. – Jared Brown
#49
NY ISLANDERS – C DENVER BARKEY, LONDON (OHL)
Barkey is a dynamic Center man who sees the ice extremely well. He has crazy vision and makes very smooth passes that seem to always end up in high scoring chances for his line mates. Barkey is very small at 5,8 but plays much bigger than he is. His playoffs were something that helped him grow on every mock draft I've seen recently. He will be the number 1 Center in London next year and I wouldn't be surprised if he came very close to 100 points. Barkey has to grow on the defensive side of the puck if he wants to become an impact player but I believe with his vision and skill he can be an impact player one day. – Jordan Greenberg
#50
SEATTLE (from Winnipeg) – C CHARLIE STRAMEL, U. OF WISCONSIN (NCAA)
Kraken GM Ron Francis along with Director of Scouting Robert Kron are just looking to add talent and with this selection they add a center in University of Wisconsin big power forward and former US NTDP wunderkind Charlie Stramel. After taking a defender in the top round they now have three second round selections and will look to really bolster the organizations prospect pool before the round is through. Stramel adds a power element to their forward prospect pool and while he slid from draft projections from eighteen months ago, when he looked like he might be a lottery pick, he still has improved in areas during his first year in college hockey like skating. Look for the big forward to become more involved and make a bigger offensive impact in his second year. – Dan Stewart
#51
CHICAGO (from Tampa Bay) – G ADAM GAJAN, CHIPPEWA STEEL (NAHL)
Adam is the prototypical size for a NHL goaltender. Big, athletic, poised and competitive. His size helps him fill out the net when on his feet or in his butterfly and his leg strength allows him to get post to post when he's on his knees. A player who competes at a very high level and never quits on a puck or play. His reflexes are strong and while he may have to work on his gloves (blocker/catcher) a little, he still has some time to develop as he progresses. With a need for goaltending in Chicago, Gajan will help fill the hole, it just may be a few years down the road. – Matt Hnatiuk
#52
SEATTLE – RW KOEHN ZIEMMER, PRINCE GEORGE (WHL)
The Kraken draft team look to continue adding more talent with their second of three round two picks and have their eye on a goal scoring winger they love the jam and skill combo he plays with in Prince George right wing Koehn Ziemmer. While there is work to do, specifically on his skating stride, if he hopes to one day pull on the Kraken jersey full time, his goal scoring ability has a natural instinct to it like a Zach Hyman or Tyler Bertuzzi type of 'at the right place at the right time' element you just can't teach. – Dan Stewart
#53
MINNESOTA – RW, MATHIEU CATAFORD, HALIFAX (QMJHL)
This gritty forward can punish you with physical play or scoring ability. He has a well-balanced base that makes him solid on the ice and he skates well. Using his high-end vision, Cataford could eventually find a home on the PP where he is the setup man with strong passing. He possesses a dangerous shot that can be placed accurately when within range. Is strong in the faceoff circle and is just a general pain in the ass to play against. Has some similar traits to the current GM of the Wild. Look for Cataford to develop a couple of seasons and then potentially make the jump to help the Wild. – Matt Hnatiuk
#54
LOS ANGELES – D CADEN PRICE, KELOWNA (WHL)
LA cannot believe their luck with the selection of D Caden Price. Elite IQ, in understanding the game, showing excellent awareness. Has the ability to transition his game in puck movement to forwards on break outs with crisp first pass abilities. We are not worried about his choppy skating due the fact he has a second gear to defend against turnovers. Uses his body & stick to get inside advantage pushing forwards to the outside. Having the good hockey sense when to drive into ozone on the rush yet not to be caught out of position. He is a big man who will complement the Kings. We believe due to Caden's keen hockey IQ we can develop him into a very good 3rd line pairing. We know his shot will require work. There are some aspects that cannot be approved on, however in this case these are all minor adjustments we can overcome with Caden's commitment and hard work which shows in nearly all games. – Murray Caldwell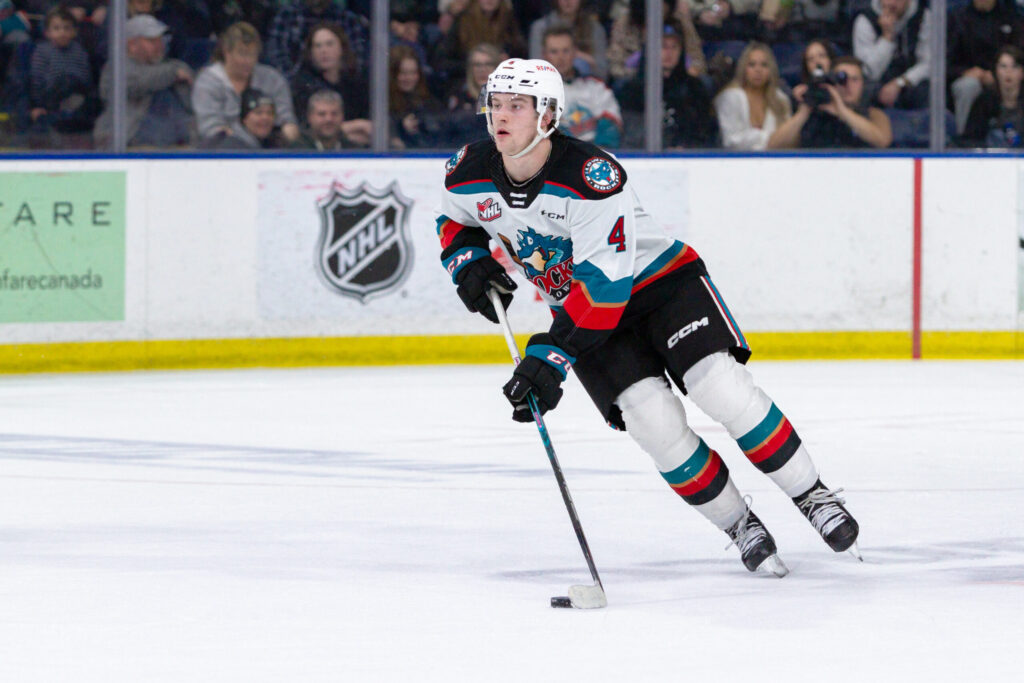 #55
CHICAGO (from NYR) – D BEAU AKEY, BARRIE (OHL)
This mobile defender is great with the puck on his stick. He uses strong skating and a balanced stride to carry the puck himself, or he can distribute it to teammates with excellent an excellent first pass. Using his multi directional skating, he can walk the blueline and fire shots on net while being the QB on the PP, and is a continual threat as a defender in the offensive zone. He needs to refine his defensive play and anticipation of plays, but developing for a few more seasons will help Beau gain confidence and skill. There is no rush to force Akey into the lineup and the Blackhawks will have the pleasure of developing this prospect as they wish. – Matt Hnatiuk
#56
EDMONTON – RW NOEL NORDH, BRYNAS IF J20 (J20 NATIONELL)
Bringing his net front presence that will give the Oilers that player who is willing to stand in there and whack at pucks after the elite shooters let it go. He brings a long and smooth skating ability that he'll have to work on adding speed to. Soft hands when needed and the ability to make nice passes to streaking line mates. An excellent shot, especially from in close. Willing to play more physical which is something this team lacks slightly. Generally, makes the smart and safe plays to avoid causing mistakes. Will need to develop his defensive game more before transitioning to the North American game. Is a player who can slide up and down the line up as required bringing more depth to the top-heavy Oilers. – Matt Hnatiuk
#57
SEATTLE (from Toronto) – D ANDREW GIBSON, SAULT STE. MARIE (OHL)
After adding a couple forwards to the 2023 haul along with a strong skating two-way defender in the first round, the Kraken jump back in and pick an underrated OHL defender whose game grew by leaps and bounds this season, his rookie season in the Soo. Six-foot-three defender Andrew Gibson is a big framed solid skating blueliner who plays an impressively mature defensive game adding in a long reach and aggressive physicality while also showing some developing offensive upside. Gibson has been a late season riser on many NHL draft boards and the Kraken are thrilled to add him with their last selection in round two. – Dan Stewart
#58
NEW JERSEY – C WILLIAM WHITELAW, YOUNGSTOWN (USHL)
With Luke Hughes and Simon Nemec, the Devils' pipeline is set at defence. GM Tom Fitzgerald and his staff instead focus on augmenting their forward group with Whitelaw. The Devils play a skilled, offensive style of game and Whitelaw fits that mold perfectly. While the Devils already have Bratt (pending a new contract), Mercer, and Holtz on the right wing, Whitelaw provides positional versatility having played centre as well, although with his small frame he may be in tough to play that position at the highest level. Whitelaw is a small player who needs work on his consistency, the accuracy of his shot and his 200-foot game. However, if he reaches his potential, the Devils believe Whitelaw can be one of the biggest steals of the draft with his high compete level, scoring instincts, excellent skating ability and speed, and top-notch stickhandling and playmaking. They hope he can come in and fill a top-six scoring role in a few years time. – Jonah Fleisher
#59
ANAHEIM (from Colorado) – D JAKUB DVORAK, BILI TYGRI LIBEREC (CZECHIA)
With Luneau, Mintyukov and Zellweger giving Anaheim hope as excellent offensive defenseman prospects, they elect to go with a truly defensive, stay-at-home defender in Dvorak. He brings size, an excellent reach and will be able to log minutes consistently for the top end guys while also having the potential to be a solid penalty killing defender. He can improve on his puck control but can bring a physical, shut down style for a team needing that on the back end. – Jody Horak
#60
ANAHEIM (from Boston) – C KALAN LIND, RED DEER (WHL)
With loads of finesse, skill and creative forwards on their roster, GM Pat Verbeek opts to add some toughness and grit to his team. Lind is a physical, hard-nosed forward who is not afraid to agitate opponents and play an in-your-face type game. If he can limit his penalties and be more disciplined, he can be an everyday grinder in the lineup. When Zegras is your leader in penalty minutes, it's time to bring in some more physicality and Lind fits the bill here. – Jody Horak
#61
DALLAS – D LUCA CAGNONI, PORTLAND (WHL)
Cagnoni an offensive, elusive skating threat. Having 64 points in 67 games this past year in the WHL, we are elated to have this talent coming to Dallas. A highly skilled player with an impressive shot, from either foot. Strong stick handling skills in tight spaces. When the puck is not on his stick he gives his forwards a place to pass to by getting into open spaces. He can pivot on a dime, shift into high gear and explode into an attack mode. Peel off after distribution of a hard pass to a forward. He easily corrals hard passes with deft hands. A talented QB on the power play, this will help us add scoring from the backend as he develops over the next 3 years becoming a F1 player in the NHL. Luca has tools that can be developed into a high-end two-way defender. – Murray Caldwell
#62
CAROLINA – RW LENNI HAMEENAHO, ASSAT (LIIGA)
The Hurricanes have turned into a bit of a Finnish factory over there and they make and easy selection here as they patiently watched Hameenaho drop to them at #62. The Finnish winger spent his draft season playing against men and earned himself a spot in Assat's middle six group for majority of the season. He's a high IQ player with playmaking upside, solid small area play, and a strong net-front game. He possesses some deft hands to stickhandle and protect pucks in small spaces. His puck management is very mature and if he's skating stride and acceleration can improve, then he's got a real shot at becoming a stable middle six NHLer. – Jared Brown
#63
FLORIDA – W ALEX CIERNIK, SODERTALJE SK J20 (J20 NATIONELL)
While the Stanley Cup finals did not go Florida's way this year, Florida hopes to begin the healing phase now by making a big pick in the second round. The offensively lucrative, highly skilled, goal scorer will have plenty of potential allies to join in him Florida's developmental system. Ryan McAllistar, Mackie Samoskevich, and Grigori Denisenko immediately jump to mind when considering future line mates for Ciernik, whether that be in the NHL, or the AHL. Ciernik is expected to join Florida's main roster within the next 2-3 years. However, it is likely Florida will aim to keep the gang together for another run for the cup in these coming years, so finding a roster spot is going to be tight. Though with his ability to play on any wing, and offer goal scoring potential and a solid two-way game, don't be surprised if Ciernik moves to the front of the line sooner rather than later. – Isaiah Bouchard
#64
MINNESOTA (from Vegas) – D TRISTAN BERTUCCI, FLINT (OHL)
A steady defender who moves around the ice with non discript speed. He won't wow you with his feet, but he won't let you down either. He possesses the ability to make simple outlet plays and quickly transition the play forward. He has a bomb of a shot when he can let it go from the blueline, with the skill of keeping it low and on net. Plays a tight defensive game all the way through the neutral zone and into his, but could use more size/strength to compete vs grown men. Will take some time to develop, but has the potential to eventually step into a second pair role with special teams capability. – Matt Hnatiuk
ROUND 3
Anaheim (Jody) G, Jacob Fowler
Columbus (Jared) C, Oscar Fisker Molgaard
Chicago (Matt) G, Scott Ratzlaff
Nashville (Jonah) D, Aram Minnetian
Montreal (Jordan) C, Easton Cowan
Arizona (Isaiah) C, Luca Pinelli
Carolina (Jared) C, Anton Wahlberg
Arizona (Isaiah) RW, Roman Kantserov
Detroit (Dan) C, Felix Nilsson
St. Louis (Jody) C/RW, Jayson Shaugabay
Vancouver (Tyler) C, Carey Terrance
St. Louis (Jody) D, Dylan MacKinnon
Vegas (Dan) RW, Jesse Kiiskinen
LA Kings (Murray) D, Brady Cleveland
Nashville (Jonah) C, Noah Dower Nilsson
New Jersey (Jonah) LW, Emil Jarventie
Arizona (Isaiah) G, Tomas Suchanek
Winnipeg (Andy) G, Thomas Milic
Nashville (Jonah) RW, Coulson Pitre
Seattle (Dan) D, Andrew Strathmann
Anaheim (Jody) LW, Ethan Miedema
Buffalo (Isaiah) D, Jordan Tourigny
Philadelphia (Tyler) LW, Nico Myatovic
Arizona (Isaiah) D, Danil Karpovich
Vancouver (Tyler) LW, Aydar Suniev
Pittsburgh (Dan) RW, Martin Misiak
NY Rangers (Andy) C/RW, Tanner Adams
Boston (Andy) D, Drew Fotescue
Chicago (Matt) RW, Tuomas Uronen
San Jose (Andy) D, Quinton Burns
Philadelphia (Tyler) C, Rasmus Kumpulainen
Vegas (Dan) C, Alex Pharand
ROUND 4
Anaheim (Jody) LW, Juraj Pekarcik
Columbus (Jared) D, Matthew Mania
Chicago (Matt) D, Mazden Leslie
San Jose (Andy) LW, Jesse Nurmi
Montreal (Jordan) C, Matthew Soto
Arizona (Isaiah) LW, Ondrej Molnar
Philadelphia (Tyler) C, Hudson Malinoski
Washington (Tyler) D, Kaden Hammel
Vancouver (Tyler) LW, Aiden Fink
St. Louis (Jody) RW, Felix Unger Sorum
Vancouver (Tyler) D, Kalem Parker
Ottawa (Jared) D, Gavin McCarthy
Buffalo (Isaiah) C, Jakub Stancl
Montreal (Jordan) D, Luke Mittelstadt
Nashville (Jonah) C Kalle Carlsson
Calgary (Jared) D, Arttu Karki
Islanders (Jordan) D, Ben Robertson
Columbus (Jared) RW, Cam Squires
Nashville (Jonah) C Brad Gardiner
Seattle (Dan) D, Zach Schulz
Detroit (Dan) C, Jonathan Castagna
LA Kings (Murray) C, Connor Levis
Vancouver (Tyler) LW, Roman Kukumberg
Philadelphia (Tyler) C, Jaden Lipiniski
Nashville (Jonah) D, Chase Cheslock
New Jersey (Jonah) C, Hunter Anderson
San Jose (Andy) C, Zeb Fosfjall
Boston (Andy) C, Arrtu Alasiurua
Dallas (Murray) D, Paul Fischer
Carolina (Jared) D, Carter Sotheran
Florida (Isaiah) D, Konnor Smith
Montreal (Jordan) LW, Tyler Peddle
ROUND 5
Anaheim (Jody) RW, Zach Nehring
San Jose (Andy) C, Alex Weiermair
Chicago (Matt) C, Tanner Ludtke
San Jose (Andy) D, Luke Coughlin
Montreal (Jordan) G, Carsen Musser
Arizona (Isaiah) RW, Cole Brown
Philadelphia (Tyler) C, Tom Leppa
Washington (Tyler) LW, Owen Beckner
Detroit (Dan) C, Dominik Petr
St. Louis (Jody) G, Stephen Peck
Carolina (Jared) RW, Yegor Rimashevksy
Ottawa (Jared) C, Brandon Svoboda
Buffalo (Isaiah) LW, Michael DeAngelo
Pittsburgh (Dan) D, Anton Maryshev
Nashville (Jonah) C, Cooper Foster
Montreal (Jordan) C, Ryan Fine
Islanders (Jordan) D, Samuel Barcik
Winnipeg (Andy) D, Kalle Kanges
Nashville (Jonah) RW, Yegor Sidorov
Seattle (Dan) C, Angus MacDonell
Minnesota (Matt) C, Austin Roest
LA Kings (Murray) D, Sam Court
Winnipeg (Andy) RW, Will Vote
Rangers (Andy) C, Ty Halaburda
Toronto (Jared) D, Emil Pieniniemi
New Jersey (Jonah) D, Matteo Koci
Colorado (Jody) D, James Petrovski
Columbus (Jared) LW, Beckett Hendrickson
Dallas (Murray) RW, Jan Sprynar
Carolina (Jared) C, Owen Outwater
Florida (Isaiah) D, Ivan Remezovsky
Arizona (Isaiah) C, Gabriel Szturc
ROUND 6
Anaheim (Jody) D, Sean Keohane
Arizona (Isaiah) RW, Nikita Susuyev
Carolina (Jared) C, Jiri Felcman
San Jose (Andy) C, Cameron Johnson
Montreal (Jordan) RW, Joey Willis
Arizona (Isaiah) D, Hoyt Stanley
Philadelphia (Tyler) RW, Ty Daneault
Seattle (Dan) RW, Michael Burchill
Detroit (Dan) LW, Ty Hendricks
St. Louis (Jody) RW, Cole Knuble
Vancouver (Tyler) C, Nikita Nedopyokin
Philadelphia (Tyler) D, Jake Livanavage
Buffalo (Isaiah) G, Yegor Zavragin
Pittsburgh (Dan) G, Rhett Stoesser
Nashville (Jonah) D, Rodwin Dionicio
Calgary (Jared) D, Larry Keenan
Islanders (Jordan) C, Ben Poitras
Rangers (Andy) D, Austin Burnevik
Tampa Bay (Tyler) RW, Daniil Bourosh
Seattle (Dan) LW, Jimmy Clark
Minnesota (Matt) D, Aiden Celebrini
LA Kings (Murray) G, Noah Erliden
Rangers (Andy) RW, Yegor Klimolvich
Edmonton (Matt) D, Matthew Andonovski
Toronto (Jared) LW, Isac Hedqvist
New Jersey (Jonah) C, Timur Mukhanov
Colorado (Jody) C, Teddy Townsend
Boston (Andy) D, Ty Higgins
Dallas (Murray) C, Ty Mueller
Carolina (Jared) C, Frantisek Dej
Florida (Isaiah) RW, Milton Oscarson
Vegas (Dan) D, Charles-Alexis Legault
ROUND 7
Tampa Bay (Tyler) D, Sawyer Mynio
Columbus (Jared) RW, Alexander Rykov
Chicago (Matt) D, Matteo Mann
San Jose (Andy) D, Marc-Olivier Beaudry
Montreal (Jordan) D, Kristian Kostadinski
Florida (Isaiah) D, Hudson Thornton
Philadelphia (Tyler) C, Luke Patterson
Washington (Tyler) RW, Josh Nadeau
Detroit (Dan) G, Adam Dybal
St. Louis (Jody) D, Axel Landen
San Jose (Andy) LW, Emmanuel Vermette
Ottawa (Jared) G, Noa Vali
Buffalo (Isaiah) LW, Florian Xhekaj
San Jose (Andy) G, Alexander Hellnemo
Ottawa (Jared) LW, Mitchell Martin
Calgary (Jared) D, Francesco Dell'Elce
Islanders (Jordan) C, Ian Scherzer
Winnipeg (Andy) D, Peetu Kiukus
Tampa Bay (Tyler) LW, Sam Huck
Seattle (Dan) G, Samuel Urban
Minnesota (Matt) RW, Griffin Erdman
Boston (Andy) C, Luke McNamara
Ottawa (Jared) D, Donovan McCoy
Edmonton (Matt) D, Lucas St. Louis
Pittsburgh (Dan) G, Hampton Slukynsky
New Jersey (Jonah) G, Ruslan Khazheyev
Colorado (Jody) G, Damian Clara
Boston (Andy) LW, Alex Assadourian
Dallas (Murray) C, Kai Uchacz
Carolina (Jared) LW, Daniel Alexander Jencko
Pittsburgh (Dan) LW, Joe Connor
Vegas (Dan) LW Cole Burbidge
Let us know in the comments who you think made the best value picks.
For those who want a comprehensive look at the next wave of NHL talent be sure to pick up a discounted (25% off) copy of the digital 2023 DraftPro Draft Guide.