By Zackery Robert
Do you ever wish you had a time machine to go back and right a wrong, or a crystal ball to be able to tell the future? That is what many of the NHL teams who made selections at the 2011 NHL Entry Draft would have wanted as well.
The 2011 NHL draft was held on June 24th and 25th and all eyes were on the Edmonton Oilers as they had their second of three straight first overall picks. Looking at the top prospects of this draft the Oilers had the choice of drafting Ryan Nugent Hopkins, Gabriel Landeskog, Jonathan Huberdeau, Adam Larsson or Ryan Strome, amongst many others.
Once on the podium the Oilers selected the projected first overall pick Ryan Nugent Hopkins, a centre from the Red Deer Rebels of the WHL. At the time this looked like a great pick at number one. Looking back one can see where this pick ranks amongst the rest of this draft class, with being able to see more clearly the trajectory of players' careers it is much easier to see who should have been drafted and where.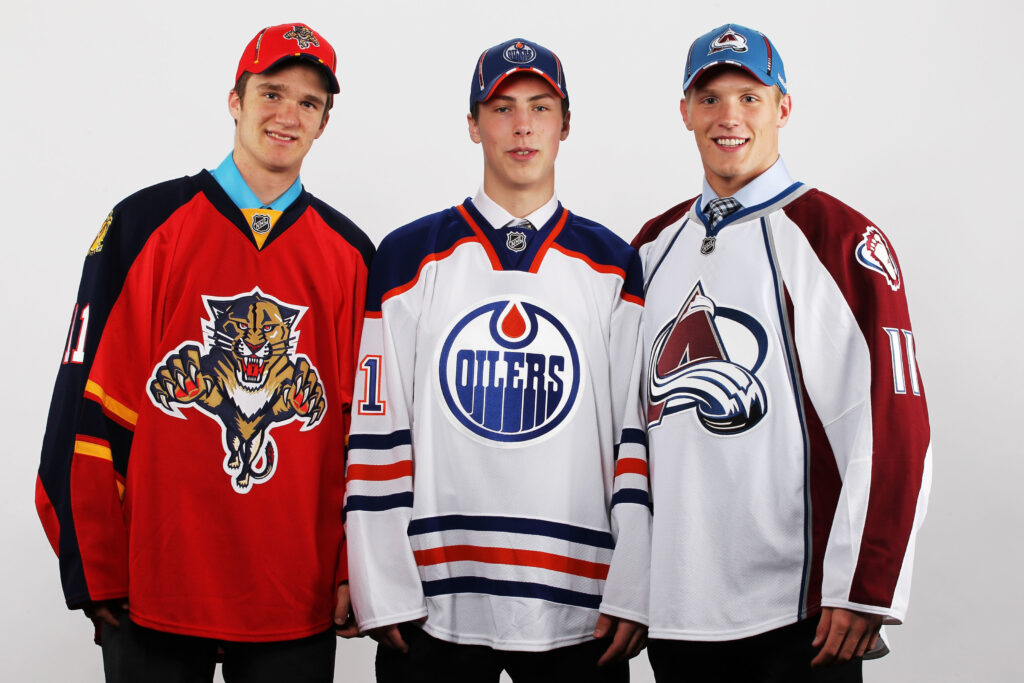 Originally the top five picks of the draft were Nugent Hopkins of the Oilers, Landeskog (Avalanche), Huberdeau (Panthers), Larsson (Devils), and Strome (Islanders) respectively. When drafting at the top of the order it is generally known that you pick the best available, rather than focusing on needs. With this in mind, the top five picks could have and maybe should have looked like this;
#1 Nikita Kucherov (Oilers)
#2 Johnny Gaudreau (Avalanche)
#3 Jonathan Huberdeau (Panthers)
#4 Mika Zibanejad (Devils)
#5 Mark Scheifele (Islanders)
These five players would be highly considered among the five best coming out of this 2011 draft today.
Kucherov is a speedy skilled winger with a great release who currently has a career stat line of 562 games played with 246 goals and 370 assists to equal 616 points, a career point per game of 1.09. All of this to go along with two Stanley cups.
The second selection of this redraft, Johnny Gaudreau is a crafty winger with speed and good hands, he currently has a career stat line of 602 games played with 210 goals and 399 assists for 609 points. Again, Gaudreau is currently over a point per game in his career and has had a 99 point season and is coming off a 115 point season this year.
The third selection of the redraft is actually the same as the original draft, Jonathan Huberdeau, originally drafted by Florida will once again be drafted by Florida in the redraft. Huberdeau boasts a career stat line of 671 games with 198 goals and 415 assists for 613 points as a winger. He has great passing and a high hockey IQ, it is not hard to see how he stayed in the top five picks.
The fourth selection in the redraft is that of Swedish centre Mika Zibanejad, originally drafted by Ottawa sixth overall. The Swedish centre has become one of the premier centres in the league over the past four years with 280 points in 276 games, and is a big reason for the Rangers making the playoffs, with his shot and speed Zibanejad has earned this top five pick.
The final top five selection in the redraft would be Mark Scheifele, originally seventh overall, Scheifele moves up into the top five due to his tremendous work ethic and dedication, and the fact that he has the fourth highest point total, 577 points, and sits tenth in games played with 642. In the league he has cemented himself as a first line centre and continues to show this as he has garnered a point per game season in each of his last six seasons.
With the top five picks solidified, five more picks remain in the top ten. At pick six would be Sean Couturier by the Ottawa Senators, Couturier has turned into one of the premier two way forwards in the league, topped off by his Selke win back in 2019-2020. He has a very good mix of defensive and offensive skill that would make him a great fit on any team and what makes him the sixth pick in this redraft.
At pick number seven by the Winnipeg Jets is that of original number one pick, Ryan Nugent Hopkins. Ryan Nugent Hopkins is a good player, but he did not pan out into that franchise defining centre that the Oilers would have liked. When picking number one you want that guy who can turn your franchise around, sometimes you almost expect them to when they have all this hype built around them. Nugent Hopkins did not do this as the Oilers still struggled heavily around him and he did not have the capabilities to help right the ship, with the first overall pick in 2012, 2015, and the third pick in 2014, the Oilers struggled quite a bit. At pick seven Ryan would have went back down to juniors to be able to develop his skills more and he would have been able to get away from the pressure that would have been so daunting if he were to have been in Edmonton, and he would have been able to develop more out of the spotlight instead of having it burning a hole in his jersey.
At pick eight we have this draft's calder winner in that of Gabriel Landeskog, originally the second overall pick. Landeskog has carved out a nice career for himself in Colorado, becoming captain at 19, winning this year's Stanley cup, it is simply that he fell to number eight because there have been more highly skilled players developing from this year's draft at this point in time.
Coming in at number nine is Dougie Hamilton, who was originally the ninth overall pick back in 2011. Dougie has lived up to his potential in many aspects of his game, being considered by many to be a top 10 defensemen in the league, much to Toronto's displeasure. With over 300 points in his career thus far, it looks as though Dougie was the right choice for the ninth pick back in 2011 and 2022.
Rounding out the top ten picks is winger JT Miller, originally 15th by the New York Rangers, Miller has just come off a 99 point season which saw him breakout as the Vancouver Canucks number one player. With 217 points over his last 202 games, JT Miller is a solid pick at number ten.
Now moving out of the lottery and into the middle of the round, eleventh is Vincent Trochek. Originally this pick belonged to the Avalanche and they selected Duncan Siemens. Trochek has turned into a great second line centre and showed a good range of skill in Carolina along with getting 51 points this past year and 43 points in 47 games the year before.
With pick 12 in this redraft the Hurricanes would pick Phillip Danault. Originally 26th, Danault has become a force as a two way centre and is coming off a 21 goal season. He was very high in nominations for the Selke trophy a couple years back, helping him cement himself as a dependable second line centre in the league.
At pick 13, the Calgary Flames pick Ryan Strome, originally fifth in 2011, Strome took a long time to develop into the second line centre he is today. With his development journey a mid round pick would have helped him more, it would have allowed him more time to develop in the AHL and not bring him up so quickly only after successful seasons in junior.
Number 14 went to Dallas, who originally drafted Jamie Oleksiak, but in this redraft the Dallas Stars would have picked Brandon Saad. Saad has carved out a nice career in Chicago, Columbus, Colorado and now St Louis. He has multiple 20 goal seasons and one 30 goal season, to go along with a Stanley cup. Saad is a very good choice for this mid round pick and I believe many GMs would go back and take a look at him in this spot.
At the halfway point in this draft, pick 15 was with the Rangers, originally they drafted Miller, but with Miller already taken, in this redraft the Rangers would go for Ondrej Palat. Coming in all the way from the 208th spot in the draft, one of the last three picks in the draft. Palat has shown what hard work can do, Palat burst onto the scene in his first full season with 59 points and then followed it up next season with 63. He has had multiple 50 point seasons, and with two Stanley cups he is a tremendous value pick at 15.
Next up was Buffalo, with this pick the Sabres should go defence and with that they would pick Jonas Brodin. He has been a dependable second pairing defensemen in Minnesota and that right there is what Buffalo needs, dependability. With that, Brodin going at 16 to Buffalo makes a lot of sense.
With the 17th pick Montreal would have selected a more offence first forward as this is what they were missing for so long. With that Montreal would have picked Rickard Rakell, with 158 goals and 352 points, coming out of a mid round selection this pick would have been of great value to what Montreal was needing, with six 40 plus point seasons and two 30 goal seasons, Rakell would have helped Montreal tremendously during the mid 2010s.
At pick 18 Chicago is in the beginnings of their dynasty forming run in the playoffs so their defence is pretty good and their forwards are set so a goalie seems like a logical choice, and with that they will pick John Gibson. They do not need a goalie in this era and it will allow Gibson time to fully develop into the top ten goalie he is today. He would have been their goalie of the future, to build a team around for their next run.
At 19 the Oilers chose Oscar Klefbom, a good pick if it was not for injuries. So staying on the course of defence, the Oilers would pick Joel Edmundson, a dependable top four defenseman, this is what the Oilers are still struggling for so Edmundson would have been a puzzle piece type fit for their future superstars, especially at 19th.
Finishing the top 20 is the Arizona Coyotes, during this time Arizona was pretty good so a pick here would be something to help fill a third line role or 2nd or 3rd pairing defenseman so here Arizona would pick Adam Lowry, a big power forward with skill, he is not afraid to throw his weight around and he adds grit to the lineup while not taking away from the skill of the team. He fits well in the early 2010s system of Arizona and would be a perfect trade chip for their rebuild in the 2020s.
At 21 Ottawa is on the clock, currently their team has a big upside with skill up front and their defence is in good form. So this pick would also be like the pick before them in terms of size and skill. So at 21 Ottawa picks Blake Coleman, with size and skill and playoff experience he brings a wealth of knowledge to a young Senators team, he can protect their young stars and help them expand their skill. Overall here at 21 to Ottawa Coleman makes this pick a success.
Coming into the last bit of picks we have Toronto with pick 22, this was a bad choice of pick as their original pick, Tyler Biggs, never played a game in the NHL. In 2022 looking back a great selection would have been goaltender Jordan Binnington. Goaltending has been a cause for concern for the Leafs for years and as of today it still looks as though it will be. Binnington here allows the Leafs' backend to breathe and it sews up their goaltending issues, a great choice at 22.
The Pittsburgh Penguins are up at 23 and here they are setting up a player to come into their lineup right before their back to back cup wins. At 23 the Penguins select Adam Larsson, during their back to back cup winning seasons their defence had a lot of injuries but Larsson only had missed three games during those two seasons so he would have brought stability to their defence and helped bring the cup home, which is what you want your players to do.
At 24, Ottawa finishes off their three choice first round with a winger Vladislav Namestnikov, a good third line with over 550 games played and 200 points he brings some skill and speed and would be a nice addition to their third line along with 21st selection Blake Coleman.
At 25 Toronto is up again and here they pick a defenseman with Josh Manson, they need help on defence and Manson will help with that. A fine defenseman capable of playing good minutes and in a good role. At 25 it is a good pick and helps with the Leafs' lack of a defence core.
Coming into the last five picks we have Chicago again. Their 18th selection was Goaltender John Gibson, now with the 26th pick Chicago will pick Boone Jenner, a heart and soul type player, Jenner is a good third line centre capable of putting up 30-40 points a season and is a positive locker room influence. Once he finishes his development he would have played a nice role in their next two cup winning seasons.
Tampa Bay is at the podium now at 27 and here they need someone to replace their eventual player in Ondrej Palat, so here they would select JG Pageau with 251 points in 566 games, a good third line centre who has speed will fit Tampa's style of play very well, a very good pick at 27.
With the final three picks of the first round Minnesota is up at 28 and they would choose Victor Rask. originally they picked a centre at this pick so here we stay on this trend and draft a centre who has over 5oo games and 200 points. At 28th you may be expecting this player to turn into a third line centre and rask fits the bill, capable of playing 11-14 minutes a night and helps strengthen their depth forwards.
The last of the Canadian teams is up at 29 with Vancouver, coming off a Stanley cup final loss, so they are still reeling from that and looking now in 2022 what they need is defence, so here at 29 the Canucks would choose Dylan Demelo, a defence with 397 games under his belt and a team friendly three million dollar a year contract. He is a good third pairing defender, a defensive defenseman capable of being an anchor shoring up their goals against, a good pick at 29.
Lastly at 30 Anaheim is up and are looking for offence so here they go for William Karlsson, the Ducks originally chose him in the second round but his play has earned him the last selection of the first round. Someone who can help put up points with over 300, Anaheim already liked him so this pick fits and will help Anaheim replace Rickard Rakell who went earlier in this redraft.
That is it, over 11 years later the 2011 first round redraft is complete. There were some incredible rises and some noteworthy falls. With hindsight being 20/20 it is easy to say what NHL Teams could have done differently, but that is the beautiful thing about the draft, you never truly know what you will get until a few years go by.