By Zackery Robert
DRAFTPRO – WHERE ARE THEY NOW AND WHERE SHOULD THEY HAVE BEEN, A REDRAFT OF THE 2013 NHL DRAFT
Back on June 30th, 2013 in New Jersey 200 plus players sat and waited to see whether or not their name would be called. The 30 players who heard their names first found themselves as first round picks in the NHL, but as the old saying goes, it is not how you start but where you finish. With 2013 being nine years ago we now have a fairly good idea about how not only these players started but also where they have been going and whether or not they should have been going in the first round back in 2013. With that let us jump into this 2013 NHL redraft, nine years later.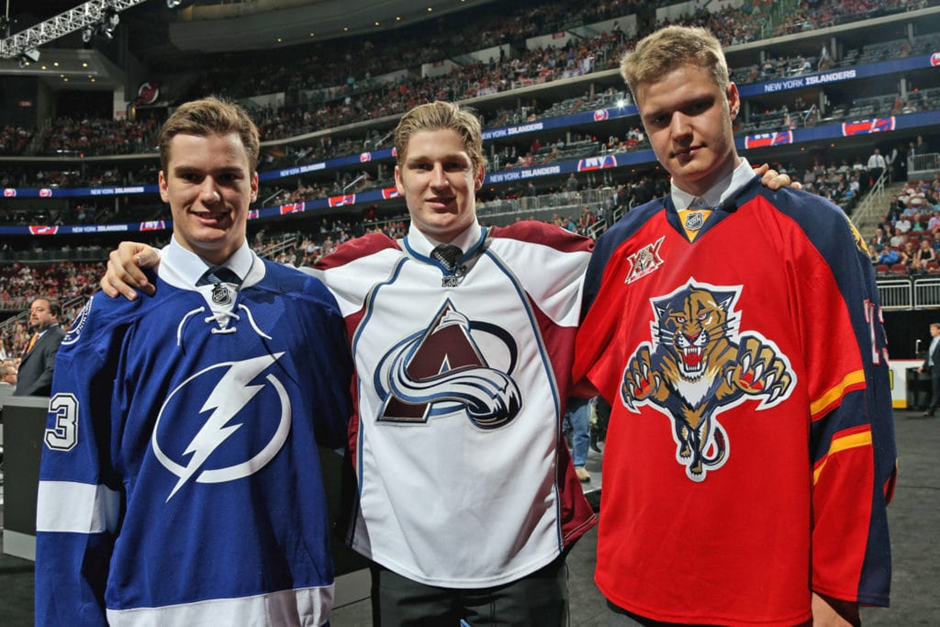 The draft was held in the Prudential Centre in Newark New Jersey. This draft had many highly touted names, such as Nathan MacKinnon and Aleksander Barkov, Seth Jones and Jonathan Drouin. With both MacKinnon and Drouin playing for the same team in the Halifax Mooseheads. It was pretty much a foregone conclusion that Mackinnon would be first to Colorado but after that many people had Jones being picked at number two to the Florida Panthers. But to many people's dismay and surprise the Panthers selected the Finnish centre Aleksander Barkov at number two. Seeing Seth Jones fall all the way to number four to the Nashville Predators, being picked just behind the third selection of Jonathan Drouin by the Tampa Bay Lightning. Upon selection of Jones, the final of the top five picks were made by the Carolina Hurricanes selecting Swedish centre Elias Lindholm.
Nine years later we now see not only how the top five picks panned out, but all 30 of the first-round picks. With that we can also say which player should have gone where and which player should have gone there. In 2022 the first round of the 2013 redraft should have looked something like this. With the first pick to Colorado they did not miss by selecting Nathan MacKinnon, he has undoubtedly been the best player in the draft but also arguably a top five player in the league for the last number years, boasting a 1.02 career point per game and capping off his very successful career so far with 2022 Stanley Cup so the first pick of this redraft will stay the same as 2013 with MacKinnon. Sitting at number two was the Florida Panthers who made the surprising choice to everyone in 2013 to forgo drafting Jones and go ahead and draft Barkov. Now looking back in 2022 were the Panthers ever right by selecting Barkov as he has become an elite two way centre who has a career high of 96 points in a season and a Lady Byng and Frank J Selke trophy added to his so far successful career. Like Colorado and MacKinnon, Florida made the right choice back then so the second pick in this redraft will stay with Barkov. At number three is where we will start to see some changes, originally Tampa selected Drouin third but his career never panned out to his hyped up potential, that was largely fed by playing with Nathan Mackinnon, so in 2022 the third selection of the redraft will be Jake Guentzel, the USHL product originally drafted by Pittsburgh in the third round, pick 77, jumps up 74 spots to number three. Guentzel is a two-time 40 goal scorer in Pittsburgh and has 346 points in 379 games and one Stanley Cup. Of course, playing with Sidney Crosby will help his career, but he would have had quite the same success in Tampa Bay playing with the likes of Stamkos, Point, Hedman, and Kucherov so this is the best selection for Guentzel at number three. At number four are the Predators who will select the same person they did back in 2013. Seth Jones has turned into a very valuable top pairing defensemen capable of getting you 50, even close to 60 points in a season, his potential back in 2013 was met and his selection at number four was the right choice.
Finishing off the top five was the Carolina Hurricanes who will also select the same person in 2022 as they did in 2013 with Elias Lindholm. Even though he has panned out with another team, Lindholm has turned into a very good top line centre in Calgary with 263 points in his last 287 games, and at 27 years old he may well be heading into the prime years of his career.
Now out of the top five we begin picks 6-10 with the Calgary Flames. Originally picking forward Sean Monahan the Flames will now flip the script and choose a defenseman in that of Shea Theodore. Theodore has turned into a great defender in the last few years of his career, really proving his value in Vegas, coming off of a 52 point season and already with six points in nine games thus far in 2022, Theodore has been making his way along to becoming a top defencemen in the league and deserving of this sixth pick. With selection number seven we have the Edmonton Oilers who just finished three straight years picking first overall where we saw all forwards at those picks. So it would make sense that they would pick a defenseman this time around. Back in 2013 they selected Darnell Nurse and now in 2022 they would pick him again. Nurse is about as good as can be for the Oilers and they have very much depended on him since he came into his own as a player. For the Oilers Nurse has proved his value and given the state of the Oilers defence over the years they would not pass on him in this redraft. At eight are the Buffalo Sabres and for this redraft they would choose Bo Horvat, originally ninth, Horvat has good stats and very good leadership which is something the Sabres have been lacking on both ends for quite some time so the addition of Horvat at eight will complement their now very young group nicely. At nine we have the Vancouver Canucks, the Canucks here will choose best available as they were only two years removed from the finals so here they would choose Sean Monahan, a bigger forward with 467 points in 664 games. His production will help the Canucks' team production that they will lose by not drafting Horvat here since Buffalo picks him one spot earlier. Rounding out the top ten is the Dallas Stars. Present day Dallas is doing better on forwards then they are on defence so here they will choose defensive powerhouse Ryan Pulock. He is just that, a powerful defensive defenseman, and with Heiskanen leaning more towards offence, the addition of Pulock will help shore up their goals against and give them a more balanced defence core.
Coming into the next ten picks we have Philadelphia at 11, their original choice of pick turned out to be abysmal so here they would hope to choose a lock to play on their backend, and with that sentiment they would select Josh Morrissey. Morrissey has turned into a fine top four defenseman, putting up 25 to 35 points consistently, his defensive zone play may need more retooling but at 11 the Flyers do a whole lot better in the redraft then the original draft. Coming up at 12 we have the Arizona Coyotes, they originally drafted a high speed forward with skill so again they will look down the same path but draft someone new, Pavel Buchnevich, Buchnevich has become a very good forward and I believe him to be quite underrated for his skill and production, he was overshadowed in New York by the likes of Artemi Panarin and Chris Kreider but as we can see he put up 76 points last season in St Louis, his first with the team, all in 73 games and done with a much less lethal forward group. Buchnevich was a very good selection at 75th overall back in 2013 and now deserves a spot in the first round. At 13 we have the Winnipeg Jets, here they will look to add speed and skill to their offence since their defensemen was just selected, with that the Jets will turn to Max Domi, someone who was of original interest to the Jets back in 2013 but was selected one pick higher. He has speed and skill and can have the intangibles to put up 70 points in the league like he did once before in Montreal, if he can now gain a stable home in the NHL with quality minutes and players on his line he can be well capable of being a 40-50 point guy with some power play time on the second unit. Coming in at 14 is Columbus and here they will choose Oliver Bjorkstrand, they originally picked him in the third round in 2013, Bjorkstrand has become a dependable two way player capable of playing penalty kill and putting up points with 57 last season through 80 games, and 8 through the first 14 this season Bjorkstrand is a player Columbus cannot afford to pass on here and will make sure to select him at 14.
Coming in at halfway is the Islanders at 15, and they will choose Andre Burakovsky, the Erie Otters product has been a quality second line winger with 163 points in his last 205 games he has a Stanley Cup to his name and this year so far with Seattle he has 13 points in 14 games, upon leaving Washington his offensive game from juniors has translated into a quality 50-60 point per season player well worthy of moving up spots in this draft and being chosen at 15. Buffalo will select for the second time this round at 16, gaining one forward at 8 they will do the same 8 picks later and select Andrew Copp. The Michigan born centre has carved himself out a nice career from where he started, he is a second line centre with size who has garnered over half a point per game in the last two years and is on pace for the same in his first year in Detroit, so for Buffalo this is very attractive given their young team of potentially highly skilled players, another strong forward with ability to score will only make them stronger so at 16 he is a bargain choice for Buffalo. Coming at 17 is Ottawa and here their selection will be Dominik Kubalik, the former 30 goal scorer seems to have rejuvenated his stale point production this year in Detroit with 16 points in 14 games so for Ottawa adding another forward with size and seemingly good point production this year gives them hope that he will continue his ways with their stacked forward core, if this turns out to be the case Kubalik at 17 will be a whale of a pick here. Keeping on the topic of sea animals we now have the Sharks at 18, and their selection will be Tyler Bertuzzi, he brings offence to his team and is capable of making San Jose's two pillar offence more well-rounded, he has speed and physicality and is showing that he should have been chosen in round one so San Jose will select him here at 18. Back up to the podium will be Columbus at 19 and again they will follow suit and choose another well respected two way forward in Artturi Lehkonen. He has become well trusted as a quality two way forward who can get some points but also take away some as well with his great penalty killing defensive play. He was stellar in Colorado's cup win last season with 14 points in 20 games and earned himself a new 4 year 4.5-million-dollar deal and spot 19 in this redraft. Rounding out the top 20 is Detroit and here will be the first goalie selected in Juuse Saros. Saros was what Detroit needed during the later 2010s, a quality goalie who can be counted on, especially when they were developing players like Mantha and Larkin he has had a stellar career thus far and would have shored up Detroit's goaltending during this point in time and could have helped them be more of a playoff team in the second half of the decade.
With the final 10 picks we start at 21 and the Leafs, they were missing defence for the longest time and still are to be quite frank, with injuries and older defenseman on their blue line still their focus with this pick should only be defence instead of the rough choice they made with Fredrik Gauthier, so here in this redraft they will choose MacKenzie Weegar, originally 206th Weegar has shown he is a force on the blue line and he has earned his new 8 year 6.25 million dollar deal. He thrived with the offensive machine in Florida and would do just the same in the powerhouse the Leafs call their offence. This choice makes nothing but sense for the Leafs here at 21. At 22 the defence train keeps moving with Clagary Selecting Rasmus Ristolainen, a big defenceman who had a very good early career on a very bad Buffalo team. Being in Calgary, a more consistent team, could have made Ristolainen a more consistent point guy and this would have made their blue line a three headed monster with Brodie and Giordano, picked here at 22 is a good fit for Ristolainen. At 23 is Washington and here they will select Alex Wennberg. Washington did not need much help here so there will be a forward swap, Burakovsky out and Wennberg in, with his production during the 2010s he will slot nicely on their third line and only help bolster their offence, a safe pick here is what was in store for Washington. At 24 is Vancouver and oh boy, what is up in Vancouver, they need some size up front who can also score so here is were Anthony Mantha will be selected as he is just that, a scoring winger who is big and uses his size to make him hard to knock off the puck, he has been struggling lately but he would have been a good player for them between 2016-2021 on a second line basis and a lovely trade chip at the deadline so he makes sense for Vancouver at 24. At 25 we have the Montreal Canadiens and here any pick they could make now would have been much better then their pick back then so here they focus on the blue line instead of up front and choose Brett Pesce. At 6'3 200 plus pounds he is a tank on the blue line and can help Montreal during some of their more competitive years in the 2010s with both power and some point productions in the high 20s, and he would fit much nicer on today's line over the likes of Wideman and Savard so Pesce here is a great choice for the Canadiens.
The final five picks re up and first on the block at 26 is Anaheim, selecting Anthony Duclair, he has very much inconsistency issues but his offensive upside cannot be ignored, with 31 goals last year and 58 points Anaheim would love him on the team for players like Zegras and Terry and given his inconsistency and the lateness of pick, he would not break the bank which is what Anaheim needs with those same players along with Drysdale likely commanding bigger deals down the road, Duclair to the ducks looks like a nice fit.
At 27 and for the third and final time Columbus is on stage, with two forwards already chosen, a big blue liner sounds pretty nice and following on that they will choose Nikita Zadorov. A big bruiser who can put up points along the high teens to low 20s, he is 6'6 and will fit well along a line with Werenski, so this choice will make Columbus a winner in this year's draft down the road for sure. The final three picks started with Calgary at 28 and also for their third and final selection of this round. With two defencemen picked, Calgary will look to add to their up front and choose Miles Wood. A role player with leadership skills will come in very handy during the season and Wood fits that role, along with his physicality he brings he can can put up some points and will add to a more well-rounded offence on a third line, it is a safe pick here that will look good in the lineup for years to come. At 29 are the Stars and here they already have Pulock so a forward will do, and they will do that by selecting Ryan Hartman. With the goalie and defence looking good why not add some grit and goals to your team, the hardnosed Hartman has come off a career year with Minnesota with 34 goals and 65 points so with the immense offensive upside that the stars have with the likes of Robertson, Pavelski and Hintz the Stars will welcome Hartman with open arms at 29. With the final pick at 30 the Chicago Blackhawks will choose Tristan Jarry, it is perfect, they do not need a goalie during this time so Jarry will have ample time to develop and in today's team will be a sight for sore eyes in net while Chicago navigates their rebuild now not having to focus on finding a new goalie because they would have drafted Jarry at 30 back in 2013.
With that the 2013 redraft is at a close. This redraft had many new names and faces selected as first round picks. This can be seen as a testament to the players' skill and development throughout their careers and it shows that just because you weren't on stage it doesn't mean you won't be in the show.