By Dan Stewart
The European class of NHL Draft eligible players for 2023 has really added to the strength and depth of this class as a whole. There are some top talents who have #2-#10 upside as well as plenty of those later round names who could one day work their way onto an NHL roster.
Through the first half of the season many names have driven their draft stock skyward with impressive club and/or international performances but also some who have also dropped their value due to inconsistencies or a lack of development.
Starting at the top of the crop and in many minds that is the big Swede Leo Carlsson, who has been contributing all season for Orebro in the SHL, as he has been seen to have overtaken the Russian phenom Matvei Michkov on most draft rankings mostly due the Russian's passport and long KHL contract. Most but not all.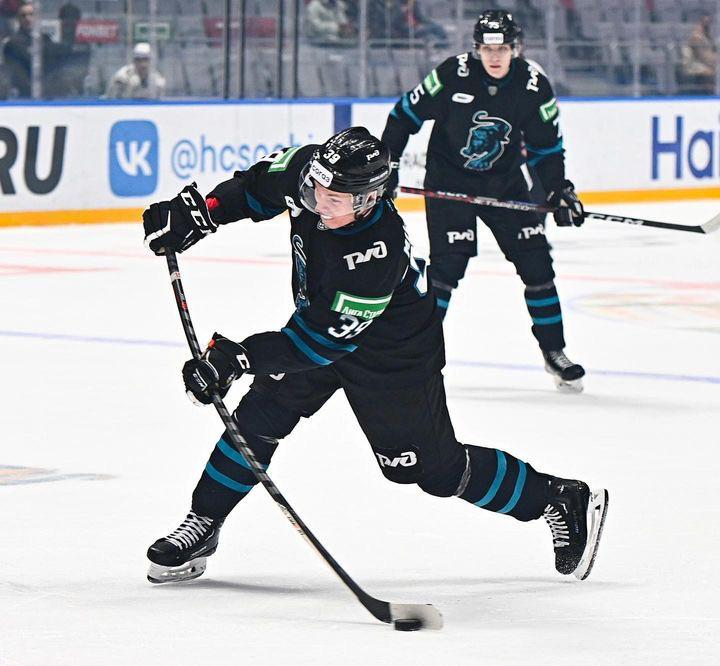 DraftPro still sees Michkov as the second-best available prospect based solely off his on-ice skill assessment. All those other factors, his nationality and KHL contract, will likely mean he does not get selected second, but we believe that he eventually makes the NHL and becomes the second most productive 2023 draftee.
Michkov who was recently loaned to HK Sochi of the KHL has not stopped producing offensively and has not given us any reason to not project him as an NHL goal scoring all-star, even if that is up to four or five years down the line. His finishing ability and high-end skill with the puck do not come along every year and any NHL team who makes him their pick may reap heavy rewards for their franchise down the road.
Michkov is slotted behind the generational Connor Bedard even though the gap between him and the names Adam Fantilli and Carlsson have tightened up in this highly talented top four.
Moving on to the big Swede, and Carlsson has shown well at each level or event he has played in this season as well. The big skilled two-way centre shows strong ability to protect the puck, skilled hands, and creativity to transport the puck to high percentage scoring areas and has been impressive to our evaluators in each viewing.
Other 2023 NHL Draft eligible prospects who have seen their draft stock rise or fall over the first half of the season are highlighted below. While there are still a few months of hockey left to change their fortunes, these are observations from the first few months that have impacted how we rank them.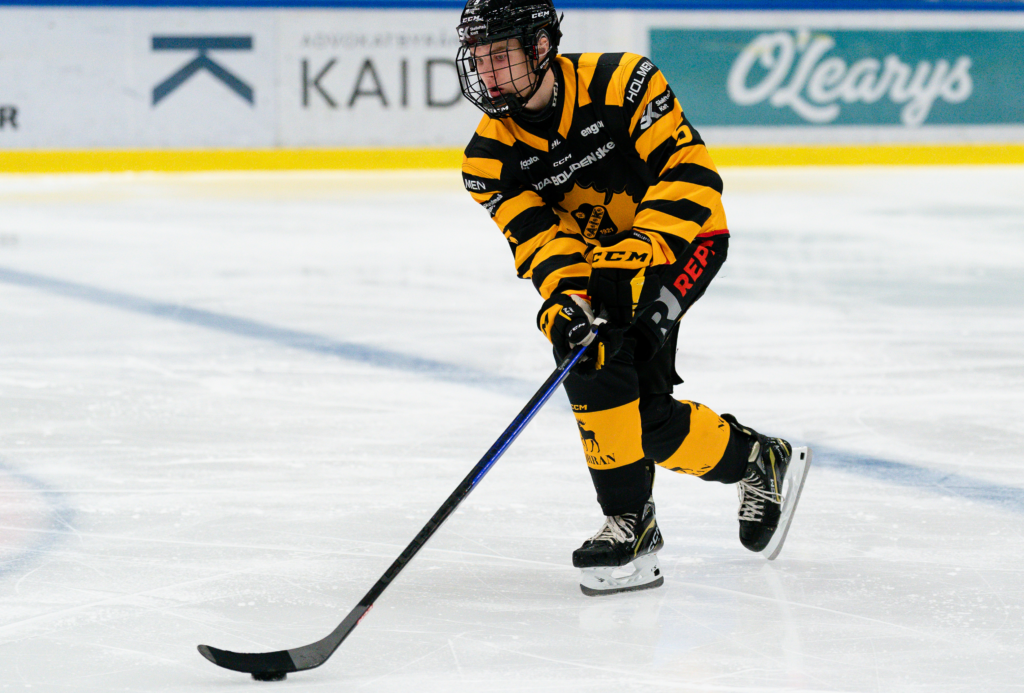 Puck moving defenseman Axel Sandin Pellikka of Skelleftea AIK in the SHL is a big riser for our group this season as he is a play maker and someone who plays with solid smarts and pace. His skating and elite edge work make him hard to pin down, and he is always looking for ways to contribute on both sides of the puck. His season so far has seen him destroying competition in the J20 league and look dangerous taking regular ice in the SHL along with a few international events. The drafts top blueliner could continue to rise if his game remains as impactful as it has been to date.
Two-way defender Tom Willander of Rogle's J20 team has been impressive this season as well pushing the play in both ends, and showing a strong ability to distribute pucks, both by way of the quick outlet and long stretch passes. He is a toolsy player, with excellent skating ability, who uses his frame effectively that will just need to clean up some of his play in his own zone to continue to rise.
Centre Noah Dower Nilsson has been tearing up the score sheet this season with Frolunda's J20 team and has been a steady riser since the start of the season. He has great offensive vision, quick hands, and incredible poise with the puck. He is creative with his puck skills and his passing ability, willing to try different things. His skating is a tad sluggish and lacks explosiveness which will need improvement for higher levels but there are few questions about his ability to contribute on the score sheet.
Brynas two-way defender Theo Lindstein started the season high on our radar as we had been enamored with his smooth skating and after showing impressive development DY-2 and DY-1 seasons. There have been some questions raised regarding his offensive game and how well he is improving his all-around game and what he projects to be at the next level. His stock has been downgraded to a projected #4-#6 NHL defender from the loft top pairing prospect we once saw in his game.
One defender that is really impresses with each view and is showing that one day down the road could end up the top blueliner in this crop is Mikhail Gulyayev of Omskie Yastreby in the Russian MHL. An elite skating puck mover who controls the pace and drives the offensive play, dancing around the ice with smooth edgework and slick hand dangles similar to an Erik Karlsson/Cale Makar type. He has a ton of elite qualities to his game that make scouts excited but also many warts, mostly in defensive zone and strength department that will need fixing first. Still he remains such a high-end talent that someone would be wise to take a shot on him in the first half of round one.
Big, hulking, yet smooth skating two-way blueliner Dmitri Simashev of Loko Yaroslavl in the MHL, and previously in the KHL against men, has impressed us many nights this season as well. While we are not as enamored as some others in the industry, we do see his value as a potential top four contributor in the NHL one day. Smooth skating physical blueliner who's first allegiance is to the defensive game. He closes gaps hard, deploys an active stick before using his frame to finish the job pinning his man, steps up for big hits at the blueline, clears his crease with authority, but also rushes up ice both carrying the puck and as an option. His skating contradicts his size at six-foot-four and over two-hundred pounds of muscle. He has been rising by the round each time we hold rankings meetings.
One guy who is falling out of favor with our evaluators is big power winger Daniil But of Loko-76 Yaroslavl. He is one of those players who just frustrates you so much with the lack of consistency and effort on so many shifts. A choppy, awkward skater who looks a step behind the play much of the time even though he has the puck a fair amount. After lulling you to sleep with his inconsistency then boom, he steps up and leans on his stick and hammers a puck through the goaltender with a rocket one-timer or snapshot. Or he makes a skilled move with the puck at the top of the circle and throws a skilled dish to a teammate for a tap in goal. Regardless the same show over and over is seeing his name drop down our list from his previous first round consideration.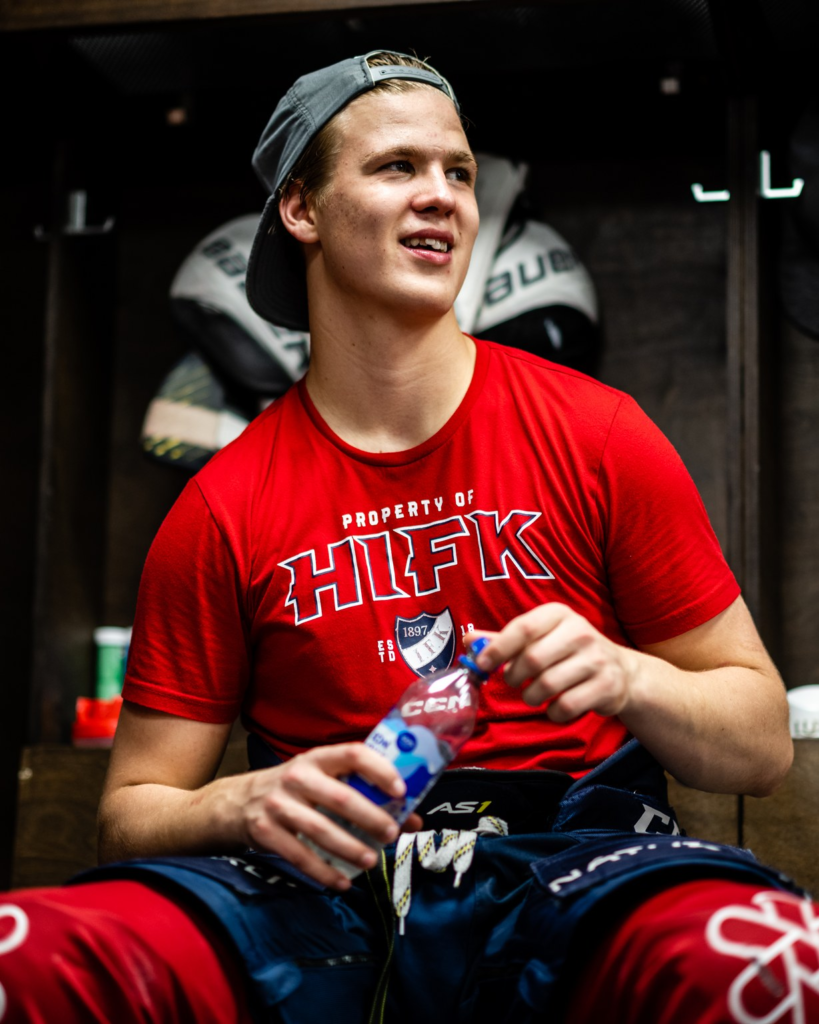 One time considered a top-10 prospect for 2023, HIFK's Kasper Halttunen has toppled down the rankings for us as he still has all the physical tools but is not doing much on the ice with them playing against men in the Liiga. While he looked dominant using his size, athleticism and skill against those in the U20 SM-sarja early on putting up points and driving the play most games, against those older than he his game seems to go timid. He is not showing the same confident play reading and a desire to take control of the play in the offensive zone. His lack of quickness has also stood out to our evaluators playing up a level.
Pelicans winger Jesse Kiiskinen is a name that has slowly been rising on our draft board. The skilled goal scorer has been lighting up the U20 SM-sarja offensively and looked really good at the Hlinka Gretzky back in August as well. His handful of games at the Liiga level have yet to show much as his ice time has been limited. He has a nose for the net and gets himself in dangerous areas of the ice. Once there his shot is deceptive and quick. His skating and edgework are both a work in progress.
Ilves U20 winger Emil Jarventie continued to drop for us as he was seen two years ago as a top prospect on the back of his offensive skill but since then his development has been stagnant. His offensive contribution is still that of a dual threat, equal parts a playmaker and a goal scorer, but it is his lack of physicality or compete, staying clear of contact or physical battles that is alarming. His lack of pace and awareness when carrying the puck are both smaller red flags as well.
Despite putting up some impressive offensive numbers with KooKoo U20 in the U20 SM-sarja, winger Jesse Nurmi has continued to drop in the eyes of our evaluators as well. And it is not a skill issue, as he does have impressive speed, deft puck skills, and offensive instincts, but instead looks to be an effort and attitude issue.
He does not give an honest effort defensively, instead dropping back into his own zone, not covering a man but looking for the quick spring pass to get back on the offensive. Never looks to support his teammates or engage in puck battles. And the worse thing is he often looks visibly frustrated with his teammates at their lack of finish or skill to get him the puck.
Liberec defender Jakub Dvorak has impressed with his strong defensive play all season and while most of the headline catchers are defenseman who move the puck and fill the scoresheet there is a place for those who first defend really well. Not to say the does not makes a strong pass, shoot hard or that he cannot skate with the puck, but his bread and butter is using his size and reach to defend. Skates very well and plays physical, looking to eliminate attackers with brute force. Currently out with a broken collarbone but has done enough in the first half of the season to be inside our top 100.
Big and skilled winger Martin Misiak of HC Nove Zamky in Slovakia has been a riser on our board all season as his speed and ability to carry the puck up ice, attacking the offensive zone, stand out with most viewings. He plays with good energy and is hard on the forecheck. His tools are intriguing; speed, size and high energy make his floor that of a potential effective bottom six checker, but he has the upside of a scoring winger as well. His game needs further refinement especially in understanding what to do without the puck but he looks like a solid early second day draft pick.
HV71's elusive two-way forward, Oscar Fisker Mølgaard from Denmark, has been playing some solid hockey this season in the SHL against men. Even though he is notphysically strong he skates well, is extremely smart and knows where to be and when to e there on the ice to make an impact. Has shown solid vision and soft hands in making plays, setting up teammates as well as a knack for getting to loose pucks around the crease.
Mature, playing solid minutes and not looking out of place in doing so. While not a top 100 prospect for us yet, he has come out of the woodwork this season to settle on our draft list as we keep an eye on his development.
Two-way Austrian defenseman David Reinbacher, who has been playing against men in the NL with EHC Kloten, looked great on the Austrian U20 team at the IIHF World Juniors Championships and has done more than handle himself well in the Swiss NL this season. His play is not flashy but just the consistent effort on both sides you want in a blueline stabilizing prospect. His stock is on the rise and someone who may find himself on the NHL draft floor come the first night in June.
That is our first half regional report for the 2023 NHL Draft's European talent. These guys still have plenty of time to correct any flaws or fix any issues in their games over the next couple months. And if history shows us anything there will be names that continue to move up and down our rankings right up until draft day in June.
****************************************************
If you are looking for a mid-season rundown on the 2023 draft class as a whole be sure to pick up your copy of the Draft Prospects Hockey 2023 Preview Magazine available for instant download or print through Amazon.
Photos: HIFK / Skelleftea AIK / HK Sochi (KHL)