By: Isaiah Bouchard
As the NHL season gets underway, all eyes are on the next season of hockey. And if there is one thing that is consistent, it's that hockey fans are never satisfied. We want more games, more goals, more cups, and more superstars. And what better place to start looking for future stars than the NHL entry draft.
In this seven-part series, we at Draft Prospects Hockey hope to showcase the cream of the crop of who is available in this years NHL entry draft. Last year's flock saw the likes of Connor Bedard, Adam Fantilli, Leo Carlsson, and Matvei Michkov all drafted as potential franchise building blocks. But as one draft crop moves on, a new wave of youth for NHL talent hounds to salivate over moves in.
So, without further build-up, here are ten high-end players that are potentially coming out of the USA for the 2024 NHL Draft in June. (Part 1 of 2).
With exciting and competitive hockey leagues growing in the US every year, the US region is becoming increasingly more competitive towards the CHL and other junior division leagues across the globe. With leagues such as the USHL, NCAA, and team programs such as the NTDP and National U18s. Covering such a wide array of programs and leagues, spanning the entirety of the USA, it's no wonder that America's output of hockey stars has only continued to grow as the years go on.
Last draft, the USA provided 6 players in the 2023 NHL entry draft's first round. That's including non-American players who came from the region such as Adam Fantilli at #3. Following Fantilli, Will Smith came in at #4, Ryan Leonard at #8, Oliver Moore at #19, Charlie Stramel at #21, and Gabe Perreault at #23. In total 13 players came from the NDTP, 26 came from the USHL, 1 from the AYHL, and 16 from the NCAA. Combining for 56 total players coming out of American developmental leagues. With so many players coming out of the USA, it's fair to say that one article is not enough to give them justice. So with so many players to go over, let's get going with our first name.
Artyom Levshunov is everything you want in a defensemen. He's already quite large at 6'2" and is already bulky for his size. On top of all that, Levshunov has a pretty strong offensive tool set. Scoring 29 assists and 42 points last season in the USHL with the Green Bay Gamblers. The Belarus born defensemen has a lot of scouts talking already with his high potential as a tough blue liner.
"Levshunov is a big, strong right-handed shot defenseman capable of making plays and scoring goals for his team, seems to be the type of player all NHL teams search for, a big right-handed shot d-man. Levshunov plays well defensively in his own end and has shown glimpses he can play on the powerplay" Said DraftPro's Liam Staples.
"He is your modern-day complete defender with high upside on his offensive game as his ability to walk the blueline and get pucks through traffic is highly regarded in the NHL. His hockey IQ sets him apart from others as his split-second decision making with and without the puck tends to leave a positive impact on the play." Added DraftPro scout Steven Pratas.
All in all, Levshunov's highly ideally traits of being a big, right-handed, high IQ, 2-way defensemen is likely going to keep his draft stock high all year. If he continues to lead his team defensively in much tougher NCAA, then his chances of being called up on night one are almost guaranteed.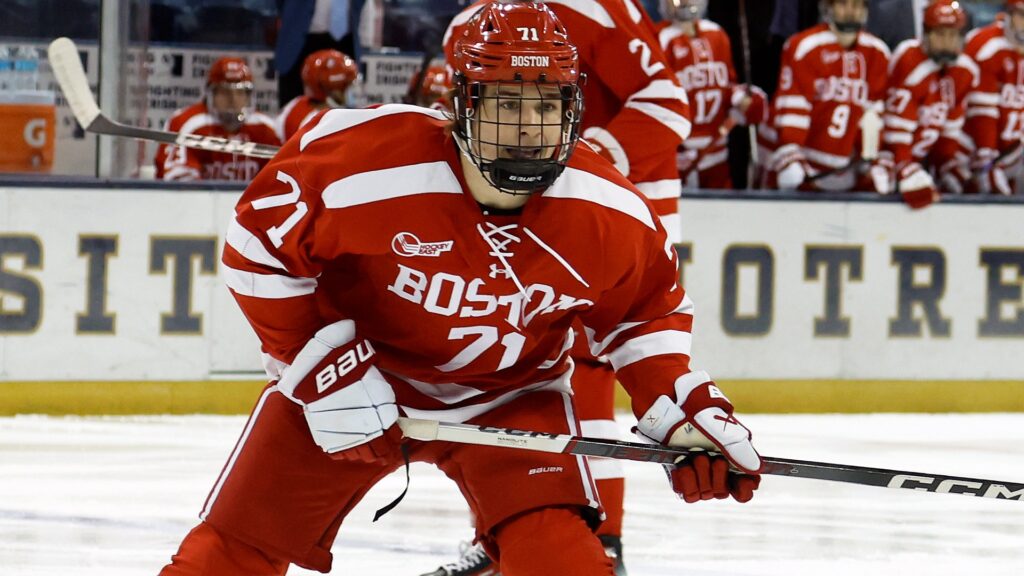 And now we have the big one, the odds-on favorite to go #1 overall, Macklin Celebrini. Hailing from Vancouver BC, Celebrini had quite the year with the Chicago Steel. Winning the following awards: USHL All rookie and All-Star teams, USHL Rookie of the year, Forward of the year, most points in the USHL, and the USHL's player of the year. For the 2023/24 season, Celebrini is heading to the NCAA where he is playing for Boston University. If Celebrini can dominate the NCAA like he did the USHL, then that #1 spot is his and his alone.
Liam Staples had this to say: "Celebrini is a dynamic skater with the great ability to score goals and pass the puck to available teammates. A reliable forward on both ends of the ice and makes smart plays in transition. Celebrini can play a two-way game effectively making himself a reliable option to be put in any situation on the ice."
Steven Pratas adds: "Celebrini is a consensus first overall pick in the 2024 NHL Draft by many and it's for a good reason. His elite playmaking capabilities along with his confidence with the puck makes him a threat whenever he steps on the ice."
To start the NCAA season, Celebrini is currently at 11 points in 6 games. Enough for him to lead Boston U, and enough to place him in the top ten players of the NCAA. And all in all Celebrini is looking like a must have player. Likely being considered a top 5 prospect even in last years stacked draft class. But time will tell just how much of a franchise talent Celebrini will become as the season plays out.
Next up is Celebrini's teammate last year from the Chicago Steel, Michael Hage. Hage offers a tall and sturdy center who can produce in the USHL even without Celebrini's assistance. Hage had a short season last year due to injury, which has hurt his draft stock as there is a lack of footage to review in the last few years. In 2021, Hage dominated in U16 AAA as he scored 116 points to finish his season as the #1 point-getter.
"His powerful and dynamic skating stride is a standout of his game as his speed is difficult to deal with when he is possessing the puck, as well as on the forecheck as breaking up plays is part of what he does. He seems to look like a natural center as his ability to read and understand his positioning on the ice makes him highly reliable on both ends of the ice." Steven Pratas when detailing Hage's unique skills as a centermen.
"Hage understands how to use his reach on his stick to stickhandle and protect pucks. Hage is a highly skilled player with great hands and release on his shot." Added Liam Staples.
While Hage's USHL seasons have been hampered with injury, his high potential as a ruthless two-way center have many scouts interested in Hage. As of right now he could dance around the late first and early second rounds. It all depends on if he can continued to showcase his excellent centermen playstyle and rack up points without Celebrini.
Scoring 24 goals, 23 assists, for 47 points with Tri-City Storm, Trevor Connelly offers a scoring touch to his team. The first American on this list, Connelly is a dynamic and fun player to watch, with a driven game that lets him keep his team competitive every night. Scoring 3 goals and 4 points in his 4 playoff games, Connelly has proven to be a reliable player in tense situations and offer's strong offensive pressure. This is all driven by a highly competitive nature that Connelly uses to his fullest extent as our scouts were quick to pick up on:
Logan McBride, one of DraftPro's freshest scouts had this to say after watching Connelly live: "The aspect that would catch viewer's attentions first was Connelly's explosive speed. Connelly started the game by picking the puck up in his own zone and beating every opponent down the ice and creating a breakaway chance for himself, and Connelly not only did this once, but on multiple occasions in all three periods. Not only Connelly's speed would be displayed in these rushes, but also his outstanding stickhandling. Connelly could create space when completely stopped, or at full speed with his stickhandling. To complete the trifecta, Connelly demonstrates a dynamic playmaking ability. Even in achieving two assists, Connelly could've had many more considering the grade A opportunities he gifted to his teammates, a true setup man."
Steven Pratas had this to add: "Trevor's shot may be the best in his draft class for this upcoming draft as his power along with his accuracy makes him a shot first type of winger. Trevor loves shooting the puck and scoring goals which makes his linemates always look to dish the puck to him in scoring areas. Furthermore, Trevor is willing to throw the body around and not be outworked physically when battling for the puck. He plays with a chip on his shoulder which shows his character and willingness to become a leader when required. It's not surprising that with his current skill, shot, and size that he would be a top prospect for the 2024 NHL Draft."
From the Denver of the NCAA Zeev Buium offers coaches and GMs the skills of a highly effective two-way defensemen. Being on the slightly smaller side, Buium is not a physical powerhouse on the ice. But makes up for it in high tier skating and puck handling. And to sell you on his playmaking skills, simply look at his performance with the National U18 team, where 35 of his 40 points were assists.
DraftPro's Alex Taxman had this to say: "Having been privy to all of his practices this year, he is the single most talented , effortless, and agile skater I've ever seen at his age. Not to mention he is a great dude, and his hands are filthy, and he has eyes on the back of his head."
On top of all these highly coveted offensive skills, Buium does not take anything away from his defensive responsibilities. Still touting high plus/minus averages. Like, really high.
This 2023/24 season Zeev Buium moved from the NTDP onto the NCAA to play for the University of Denver. Buium so far is starting his year off solid. Showing that he is ready to compete at the higher NCAA level. With so many smaller player finding success in modern hockey, fans of that fast and highly skilled playstyle that you see in the likes of Pavel Datsyuk and Johnny Gaudreau should be excited for Zeev Buium. As he is all those things but in a slightly bigger defensemen version.
With leagues like the USHL and NCAA establishing themselves as competitive alternatives to the CHL, it's no wonder we need two parts to summarize the American crop this year. With yet another potential franchise guy coming out of the NCAA, and many more players who have strong arguments for first rounders, American fans can be proud of the excellent developmental system that they have established.
For more on USA prospects, and the 2024 draft class as a whole, be sure to pick up a copy of our 2024 Draft Preview Magazine available later this fall and keep your eyes peeled for exciting content and scouting reports all season long on the website.