By: Isaiah Bouchard
As the NHL season gets underway, all eyes are on the next season of hockey. And if there is one thing that is consistent, it's that hockey fans are never satisfied. We want more games, more goals, more cups, and more superstars. And what better place to start looking for future stars than the NHL entry draft.
In this seven-part series, we at Draft Prospects Hockey hope to showcase the cream of the crop of who is available in this years NHL entry draft. Last year's flock saw the likes of Connor Bedard, Adam Fantilli, Leo Carlsson, and Matvei Michkov all drafted as potential franchise building blocks. But as one draft crop moves on, a new wave of youth for NHL talent hounds to salivate over moves in.
So, without further build-up, here are five high-end players that are potentially coming out of the WHL for the 2024 NHL Draft in June.
Hosting cities as far east as Brandon Manitoba and as south as Portland Oregon. No major juniors hockey league can cover such a wide scope as the Western Hockey League. Hosting teams in powerhouse cities such as Vancouver, Edmonton, Calgary, Regina, Saskatoon, Kelowna, Seattle, Portland and many others, the WHL is one of the largest major junior leagues in the world. And with that large size the WHL is a hot bed for young developing players from across the world to showcase their skills in this highly travel intensive hockey league.
Last year, 6 WHL players got to hear their names be selected on night one. Players such as Connor Bedard at #1, Nate Danielsson at #9, Zach Benson at #13, Brayden Yager at #14, Samuel Honzek at #16, and finally Tanner Molendyk at #24. Pretty impressive considering 5/6 of these names were in the first half of the round one. Once night two was finished the WHL provided 33 names in total for the 2023 NHL entry draft. With the WHL's dominance last year, is 2024 going to be much more of the same?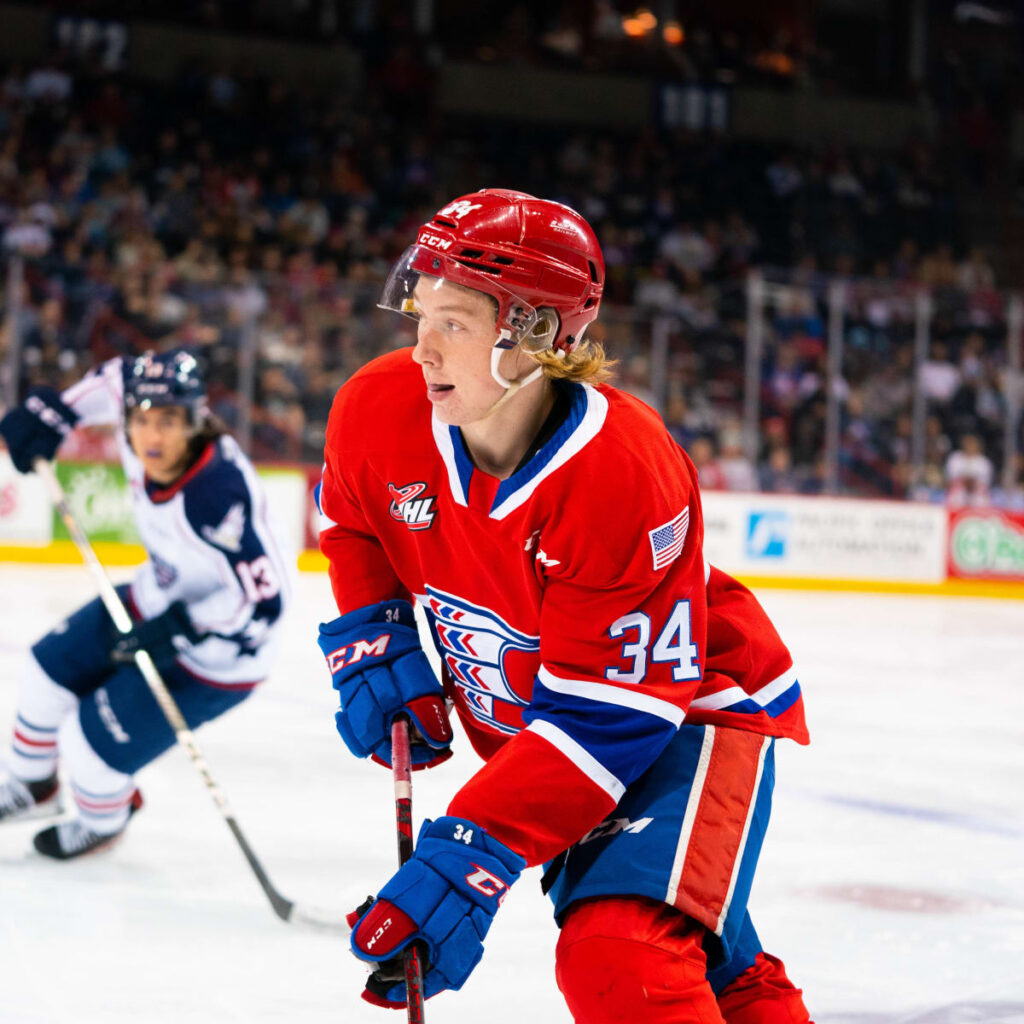 Once taking one glance at forward Berkly Catton then we can assume it will be more of the same high-quality output from the WHL this year as well. Catton put up 23 goals, 33 assists, for 55 points last year. Almost accumulating a point per game on what was a very inconsistent Portland Winterhawks team. This all seems well and good on it's own, until you see the absolutely stellar performance he had at the Hlinka-Gretzky Cup. Scoring 10 points for team Canada, with 8 of those points being goals, and more than helped bring gold to team Canada.
"This guy is relentless when it comes to his shifts. Extremely hard work ethic. Always wants the puck. Incredible vision, quick hands, money in the face off. His bread and butter is his wrist shot with laser beam accuracy. On top of all that he has a gifted high-end IQ, his focus is extraordinary. Needs to work on his leg strength to produce explosive high gear. In my opinion he is a pure goal scorer, he can receive hard passes, and I mean hard passes and turn them into beautiful one timers." Murray Caldwell added.
Overall, the former first overall pick in the WHL Bantam draft has a lot to look forward to as a future NHLer and offers a lot to his future coaches and teammates. He can score goals, he's highly skilled, and has an absolutely pivotal way of building momentum for his team. Since Portland is projected to have another season of struggling to truly breakout and become a dangerous playoff threat, it's fair to say more and more eyes from coaches, players, media, and fans will all look to Catton for answers during his teams toughest moments. What Catton does this year will confirm his position as a top end prospect, and maybe even land in the Top 5 by 2024.
At only 17 years old, Carter Yakemchuk led the Calgary Hitmen's defense in scoring. The 6'2" defensemen is already looking like an intriguing prospect with his size and point scoring abilities alone. But of course there is more, there's always more.
"The best Draft eligible defenseman coming out of the WHL. He possesses a very high ceiling with his offensive creativity and passing vision. He also comes as a late birthday in 2005 which seemed to be loaded with talent. His puck protection and skating are very good to go along with above average size. He will need to clean up his defensive game to be great at the next level." Said DraftPro's Colin Johnson.
The Calgary Hitmen were, and still are, a team of entirely non-drafted players. With still seasoned stars in their mix and young up-and-comers such as Yakemchuk, Calgary fought their way into the playoffs were they were eliminated first round by Red Deer. It is likely that the Hitmen will find themselves in a tough playoff situation once again this year, and while Yakemchuk put up a respectable 3 points in 5 playoff games. Many questioned his defensive performance, and a -6 to finish off the playoffs is not a great stat to hold, especially when there are plenty of other defensemen, both in the WHL and outside that would love to push Yakemchuk out of the first round. But overall, Yakemchuk has a lot to offer to any future NHL club who take a chance on him. His solid size and natural offensive skills make him an intriguing prospect to watch develop.
Do you like big hockey players? Because lord knows that if you're a tall player, you are going to garner a lot more interest than your smaller teammates. So if it's big players you want, then look no further than Northern BC born, Cayden Lindstrom. Lindstrom is a 6'5" forward that is very enticing to all those power forward lovers out there. Playing for the Medicine Hat Tigers, Cayden Lindstrom is going to be fun player to see develop as he only continues to bulk up.
"Lindstrom is like Eric Lindros, similar in his playing style. He can play at either wing but is better at center, making him a real catch for an NHL team due to his versatility. He is a big and powerful player, and he is still elusive for his size. He needs to work on his skating, but that perhaps is because of his physical chance in body structure. Still a potential steal in this years draft." Said Murray Caldwell, longtime scout for DraftPro.
With solid point production, scoring almost 20 goals last season as a rookie, Lindstrom certainly is a high risk, high reward pick. Big players always gain more attention from GMs and scouts as, yes, perhaps their encumbering movement will hinder their play and their effectiveness in the big leagues may be hampered… But, what if it doesn't? A big man who can do it all will always have a better chance at making it to the NHL. But Lindstrom is more than simply a big player, he utilizes his natural power forward role well, and can score goals and points with ease. With a ceiling so high, many NHL teams will be considering using their first-round pick on this potential steal.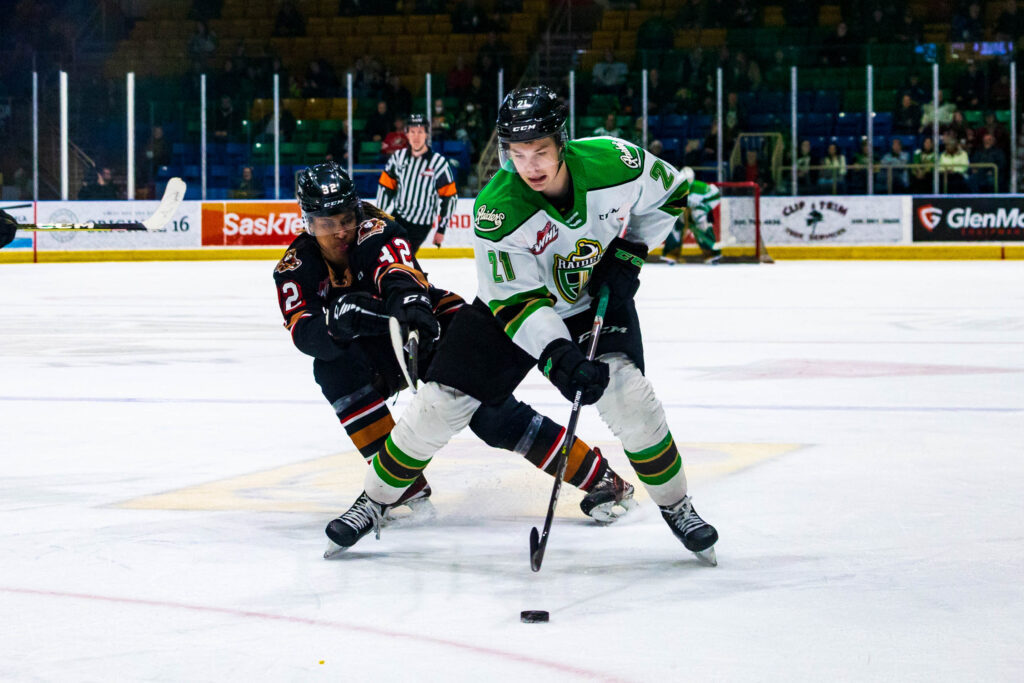 From the Prince Albert Raiders, Ryder Ritchie offers a lot of talent. Scoring 55 points (and 20 goals) Ritchie was a shining light for the below-average Prince Albert Raiders, landing in the top three for Raiders Point Leaders. This year all eyes seem to be on him as he is yet another first round option for the WHL. His ranking as a top end prospect was most likely cemented by his winning of the WHL 'Rookie of the Year' award in 2023. Not a small feat to pass over, as many potential future stars have missed out on such a prestigious award. Many past stars who had made their way through the WHL lost their chance to claim that title that Ritchie earned last year with his performance on a struggling Prince Albert Raiders team. Hopefully 2024 will be a step in the right direction for Ritchie and the Raiders (you can have that band name, I won't sue) and Ritchie and his team can earn a chance to showcase their skills in playoff competition.
"A gritty, hard on the puck forward with great speed while stick handling through the neutral zone. An amazing ability to protect the puck while driving a play. He understands the fame very well, always surveying the situation knowing here to be to accept passes and set up teammates. This year he is growing his 200 ft game, working on puck possession to improve his overall board play." Added Murray Caldwell.
To close off our introduction to the WHL top prospects, we have last years first overall pick's right hand man: Tanner Howe.
"A highly talented winger that has shown he can produce, but he will have question marks about his game away from Bedard, and deservedly so. A season similar to last year will skyrocket his value to teams while an underwhelming one may cause him to slip out of round 1." Said DraftPro's Colin Johnson.
An apt summary of what many scouts are thinking when it comes to Tanner Howe. With an outstanding 69 points in 2022 and 85 points in 2023, Tanner Howe's numbers do scream top first rounder on paper. But that Bedard question will haunt him all year. Bedard didn't only hold Howe up, he held the entire team, dare I say, the entire league. I watched Howe and Bedard live in Prince George, and that certainly got people going out on a Friday night.
With Bedard gone, Howe's incredible point totals are going to be in question, and Regina will likely slip out of a playoff spot. This is a lot of pressure to put on Howe alone, but with Bedard gone Howe assumes the role of the Pats top forward. And with his great start to the season, it is likely Howe's story could have a happy ending as proves all the doubters wrong.
Without a doubt one of the most exciting prospects and stories to come out of this draft this year. And Howe certainly has the support from DraftPro to step up and continuing his highly dangerous playmaking offense in 2024.
The WHL season is already underway, and all of these players are playing up to their high expectations. Every single one of these players are leading their respective teams in points, and we can already see some rising stars appearing before our very eyes. Already, the WHL is expected to nearly double the amount of drafted players from 2023. Another year of dominance seems imminent for the Western Hockey League.
For more on WHL prospects, and the 2024 draft class as a whole, be sure to pick up a copy of our 2024 Draft Preview Magazine available later this fall and keep your eyes peeled for exciting content and scouting reports all season long on the website.