By: Isaiah Bouchard
As the NHL season gets underway, all eyes are on the next season of hockey. And if there is one thing that is consistent, it's that hockey fans are never satisfied. We want more games, more goals, more cups, and more superstars. And what better place to start looking for future stars than the NHL entry draft.
In this seven-part series, we at Draft Prospects Hockey hope to showcase the cream of the crop of who is available in this years NHL entry draft. Last year's flock saw the likes of Connor Bedard, Adam Fantilli, Leo Carlsson, and Matvei Michkov all drafted as potential franchise building blocks. But as one draft crop moves on, a new wave of youth for NHL talent hounds to salivate over moves in.
So, without further build-up, here are five high-end players that are potentially coming out of the QMJHL for the 2024 NHL Draft in June.
The 'Q' did not have the year it was hoping for last draft as only 12 of their players were selected on night 2. This was an historic low for the Q offering it's smallest crop of prospects since it's formation in 1969. At #37, Ethan Gauthier was the earliest selection from the Q last year, being taken by the Tampa Bay Lightning. However, with moving on to 2024, the Q is far from tapped out on star players. And unlike last year, the Q is offering likely first round candidates. But only time will tell just where these players will land.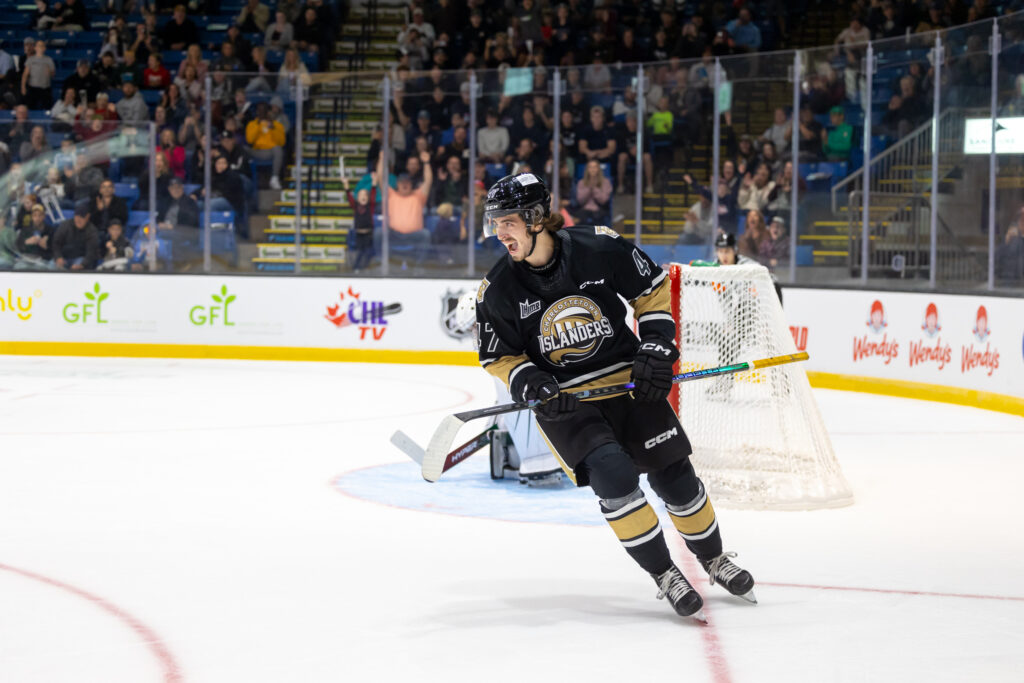 Starting with the Charlottetown Islanders forward Alexis Michaud who starting off the 2023/24 season strong with a point per game start. The Quebec City native Michaud stands at a solid height and build and is proving himself as a versatile player who can prove to be a dangerous threat when in possession of the puck. Last year he didn't get to showcase his playoff abilities as Charlottetown ran into an absolute freight train of a Quebec Remparts team. Who went on to win the memorial cup last year.
"He is a really fast winger who can score goals and set his teammates up. Off to a hot start Alexis looks like he can really be a go to guy on the islanders offense. Great vision for the ice is what makes him dangerous. He is the type of player that if you give him too much time and too much ice he will make you pay." Said DraftPro's Seth Silver.
"Michaud clearly has a nose for the net and usually is responsible with finishing scoring plays. He gets a great jump off faceoffs and employs a quick release for shots in the slot. His biggest asset is his snipe of a shot." Added long time DraftPro scout Christian B-Cote.
Next up is the man who lead the legendary Shawnigan Cataractes in points during his first year in the QMJHL, and that is Félix Lacerte. To add to his impressive first year in the Q, Félix also scored 5 goals in his 5 playoff games last year. Without a doubt a player who is going to likely surprise scouts in his rise to prominence as he only seems to be recreating his excellent performance this year as well.
"He is shaping up to be a very exciting prospect. With great speed and a goal scoring ability along with great playmaking and vision. Felix could really challenge some of the top dogs on the QMJHL draft eligible list." Seth Silver said when asked to name his favorite Q prospects.
A common debate across the entire CHL is how exactly the current QMJHL stacks up against the WHL and OHL. It seems many make the claim that the Q is 'lacking' in competitiveness when compared to the others. This could be the only reason Lacerte doesn't hear his name called on night one, but that shouldn't deter any GMs from considering this highly talented player. When it comes to talk about steals in the draft, Lacerte's name should certainly come up in that discussion.
Next up is the big man Gabe Smith playing for the Moncton Wildcats. Smith stands at 6'4" which gives him a natural allure for the Q league scouts. Though his points totals are not as high when compared to others on this list, Gabe Smith's main selling factor is his natural potential. Having a big body and still playing a highly competitive game makes him look really good compared to some other big guys.
"Already looks like a pro given his shape. He still skates a little funky with his long legs but once he stops growing and starts bulking up even further I think he will get that additional power and strength. He makes smart plays with the puck in the neutral zone, getting it down the ice for a change. He's also strong at carrying the puck in spite of pressure. He might not be a regular in the contending Wildcats roster this season, which may hurt his draft stock but I'm fairly confident he will be a pro player in the long run." A good summary of Smith's potential by Christian B-Cote.
Seth Silver also adds: "He's a big strong two-way playmaking Center who has lots of great offensive and defensive tools. His creativity helps him create offensive chances for not only himself but his teammates and his work ethic in the defensive end helps keep the puck out of his net."
Overall, Gabe Smith is unlikely to be called up on night 1, unless he has an exceptional year. But he is still going to be a player that GMs will likely consider on night 2, giving his unique combination of traits.
Just barely losing their 7-game series last year to Gabe Smith and the Moncton Wildcats, we have the Baie-Comeau Drakkar's Justin Poirier. While Poirier may have lost in round 1, no one is going to put the blame on the rookie's incredible playoffs as he put up 9 points in those 7 games. Poirier was second overall in points for his team, scoring 28 goals, 20 assists, for 48 points. Almost becoming a 30-goal scorer during your rookie season is nothing to snuff at what so ever.
"With natural goal scoring ability Justin is sure to challenge for the top QMJHL draft eligible spot. From scoring highlight real goals and being an offensive threat whenever he is on the ice Justin will be a player to watch closing this season." Said Seth Silver.
"Poirier could produce at any given moment he's on the ice. In the offensive zone, he places pucks in high-threat areas then gets himself into the slot for rebounds. Overall he has a great 'nose for the net,' you will notice him all game long. Opponents have no choice but to respect his lethal shot." Added Christian B-Cote.
In short, Poirier is a player who is full of talent that is going to be impossible to ignore. His only downside is his shorter stature. At 5'8" Poirier will have to work extra hard to prove his worth. So far he is starting his season at a point per game level, so with all things being considered, Poirier has a strong argument for being the first Q player to have his name called at this year's draft.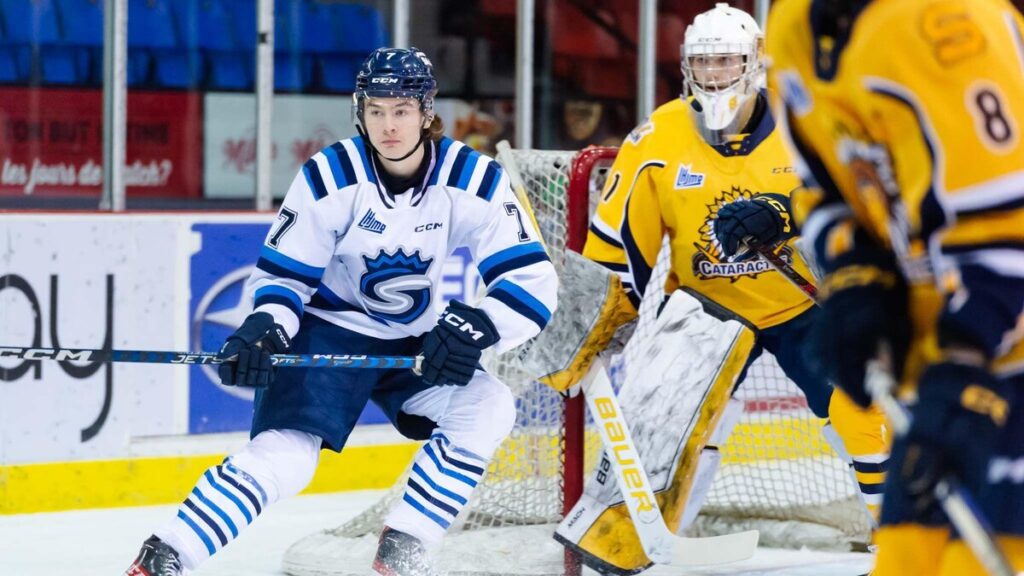 But there is still one more player to review, and that is the Chicoutimi Saguenéens' Maxim Massé. The QMJHL rookie of the year, offensive rookie of the year, the CHL rookie of the year, and a gold medal winner for team Canada at the Hlinka-Gretzky, Maxim Massé is all sorts of hyped as he continues to impress. Placing second on his team for scoring, only being beat out by the Seattle Kraken draft pick Andrei Loshko. Massé finished the year with 29 goals, 33 assists, for 62 points. That's the highest point total so far on this list, and only one of the reasons that make's Massé such an intriguing prospect.
"highly skilled forward with a great shot and release. Maxim is ready to lead the charge of QMJHL draft eligibles this year as well as lead an exciting young Chicoutimi team to playoff success." Said Seth Silver, who ranked Massé #1 for draft eligible Q players.
Christian B-Cote also praised Massé, adding: "He's very quick and possesses a deceptive wrist shot from close. He's absolutely lethal when he's ON."
With a disappointing playoff performance last year, Chicoutimi fans are excited to see where Massé is going to lead them. With Loshko gone, it is likely Massé will lead Chicoutimi in points and to another playoff run, baring any potential injuries. Massé was awarded the 'A' for his team as well, only solidifying the confidence and trust coaches and management have for the 17-year-old.
Players like Massé prove that the Q still has a lot to offer. And while this year looks similarly slow like last year, especially when comparing to the OHL and WHL. Players like Maxim Massé and Justin Poirier are strong candidates for first round picks, and other players such as Gabe Smith, Alexis Michaud, and Félix Michaud all have qualities that make them great hockey players, and one shouldn't sleep on either name listed above. And in conclusion, the QMJHL should never be passed over, and could be the source of some surprising sleeper picks as the year continues.
For more on QMJHL prospects, and the 2024 draft class as a whole, be sure to pick up a copy of our 2024 Draft Preview Magazine available later this fall and keep your eyes peeled for exciting content and scouting reports all season long on the website.