By Joely Stockl and Tyler Karoway
The last time the World Junior A Challenge was played was before all this pandemic due to the Covid-19 virus took over our lives in December of 2019, so scouts and fans alike were more than happy to see the event return to the Hockey Canada lineup this season.
The 4,800-seat Cornwall Civic Complex in Cornwall, Ont., welcomed teams from Canada East, Canada West, Latvia, Sweden and the United States from Dec. 11-18. The U.S. entry took home the gold medal with a win over Canada East in the Championship game while Sweden won the bronze medal game to take third over Canada West.
Here are some of those who impressed our scouts at the event.
#7 D, Jake Livanavage, USA, 5'10, 175, L, DOB 05.06.04
Livanavage had himself a tournament, he looked outstanding in all 6 games he played in. He showed off his excellent skating and offensive firepower collecting three assists. While that may not seem like a lot, he was the main source of the American's offence. Livanavage started most plays that the States scored on, I was blown away that he only had 3 points because he was everywhere on the ice. His passing was his strongest attribute, he could make any pass he wanted and put it on a tee for his teammates. Livanavage was so fluid on offence, he could jump up and lead the rush and seamlessly move back to the point without looking out of place. Livanavage was someone that really built their draft stock throughout this tournament and showed off that he can be more than just an offensive dynamo. Jake should find himself getting drafted this year late 3rd round to early 4th round and with a season or two of seasoning in the AHL he could turn into a top pairing defenceman. – Tyler Karoway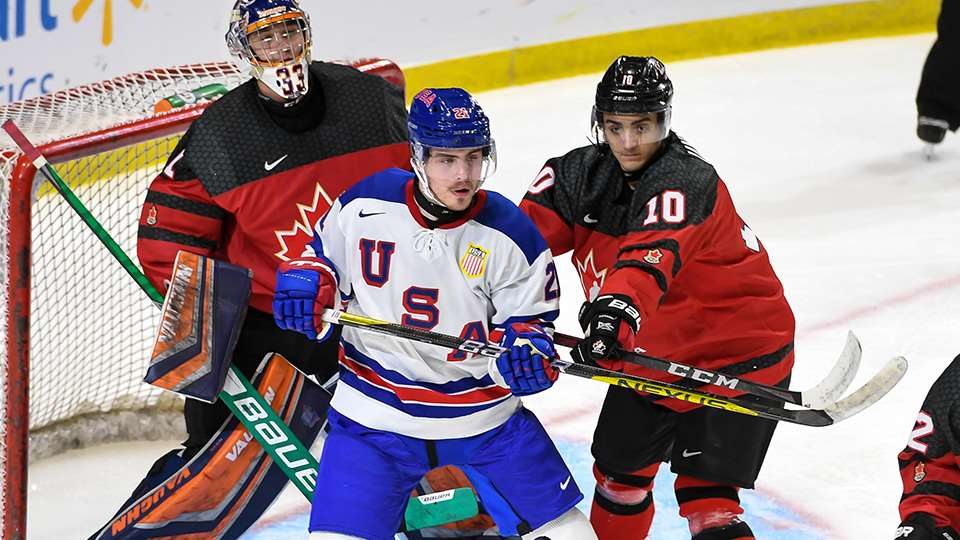 #23, D, Andrew Strathmann, USA, 5'11, 174, L, 02.27.05
The USA looked strong across the board in this tournament, and one reason for their success offensively? Draft eligible defenseman, Andrew Strathmann. Immediately, I was reminded of Lane Hutson when watching Strathmann play. A smaller, perfect skating defenseman who can move the puck well offensively. Strathmann doesn't have the elite offensive talent that Hutson has yet, but his offense certainly has potential to make an impact at the next level. Strathmann's confidence with the puck is difficult to match, he feels comfortable carrying the puck from end to end on his own. He has great awareness in the offensive zone, not afraid to forecheck down low when he has a lane, and he is always moving to get open for his teammates. Strathmann is able to read his teammates well and fill in the gaps when his team is working the cycle game. There are still some immaturities and flaws defensively, and his passes out of the zone need some work. Attackers are able to beat him on the inside too often because of his body positioning and lack of upper body strength. Nonetheless, Strathmann has the potential to be a top four defender who should get some power play time in the NHL. Would benefit from playing alongside some veteran defensive minded defenders. I don't see Strathmann as a first round pick at this point, but a second rounder for sure. – Joely Stockl
#22 F, Sam Huck, Canada West, 5'9, 152, L, DOB 08.31.04
Sam Huck had the greatest play in this tournament and it wasn't an offensive play, when you can go from the opposing blue line and catch up to the 2 on 0 breakaway that started at his blue line and stop the scoring chance you deserve monster credit. Huck's work ethic alone should be noted because he never quit on a single play. His stamina is outstanding, and he can skate circles around his opponents with his lightning fast speed. He did end up potting 2 goals this tournament, but he wasn't given much of a chance when he was playing on the 4th line with no special teams play. Huck played a solid 200ft game and with his blazing speed and underrated offensive abilities he should find his way into the NHL. Huck will be able to play anywhere in an NHL line up with his physicality and offensive skill set. He should have a long career. – Tyler Karoway
#16 F, Ty Daneault, Canada West, 5'11 175, R, DOB 12.20.04
Daneault tied a tournament record scoring 4 goals in a game against Latvia and realistically could have led the team in points if he was put on a line with anyone else. Daneault's passing in the game against the States was pinpoint and if it wasn't for his teammates whiffing on every golden opportunity, he may have had 8 points in that game alone. Daneault's offence was on full display this tournament, with his lightning fast shot and accurate passing he really showed off what he can do with the puck in his possession. Daneault showed off his defensive side as well with his big hits and aggressive forecheck. He made life difficult for every player he played against. Daneault's play style should put him in contention to be drafted this year and if he hits his full potential, he should be able to fit into a bottom six role with possibly some special teams time. – Tyler Karoway
#15 F, Aiden Fink, Canada West, 5'8, 150, R, DOB 11.24.04
Aidan Fink's playmaking vision is next level. A patient, calculated player that is able to make tough passes look easy. Fink is on the smaller side at 5'9″ and 150lbs, but his size doesn't take away from his game. He is able to slip past defenders before they can even realize that he is there. He has great offensive zone awareness that allows him to draw defenders out of position and open up passing lanes to find his teammates. Fink wants the puck on his stick and he wants to drive the play whenever he is in the offensive zone, he seems to be able to see plays that no one else can see and find his teammates wide open. I am a huge fan of Fink's game, I know he has a maturity advantage being a late 2004 born player, but he was absolutely dominating against players older than him in this tournament. This is a guy that may take a little longer to get to the NHL, but if he is able to keep maturing and get stronger, he can be an asset as a bottom 9 forward. He is able to make a defensive impact and he played lots of shorthanded minutes in this tournament, so he can be a potential penalty kill asset at the NHL as well. Fink makes the players around him better, and he works well with players that can put the puck in the net and finish off his passing plays. Fink's draft stock should increase tremendously after the conclusion of this tournament, potentially into the third-round range. – Joely Stockl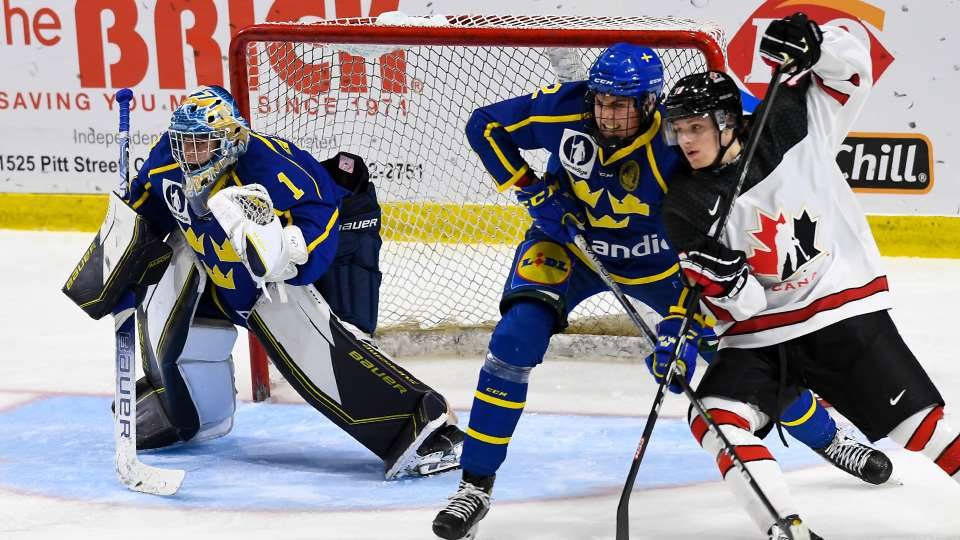 #23 F, Otto Stenberg, Sweden, 5'11, 181, L, 05.29.05
Though Sweden didn't have too hot of a tournament, losing to Latvia in the round robin, Otto Stenberg was a glaring bright spot. The way that Stenberg is able to dominate shift after shift is what caught my eye. He is able to generate offense on almost every single shift. He seems to always have the puck, and when he doesn't he is actively moving into a position to gain it back. He is so deceptive with the puck, shifting from leg to leg and using his edges to change directions on a dime. Stenberg has soft hands that allow him to handle the puck in-tight and create more space for himself. He has such a quick stick to pickpocket players before they can attempt to move the puck. The combination of his hands, feet, and passing makes him such a dynamic offensive player, and put him in conversation for the first round. After this tournament Stenberg has put himself into a first round position for me, there are not many players that can skate and handle, pass, and shoot the puck at a potentially elite level like Stenberg can. Sure, there are some question marks in his maturity level and defensive game, but Stenberg has all the offensive tools that a team could wish for. – Joely Stockl