By Zackery Robert
"Go out there, dominate and play the way I know how to play" – Charlie Stramel
Charlie Stramel is a big name in this year's pool of prospects for the 2023 draft and he's even bigger on the ice. Standing at 6'3 this big power forward has many eyes on him this year. He is in his freshman year at the University of Wisconsin and has shown a lot of potential of what he can do. When asked about how the transition has been for himself going from the USNTDP to a Big-10 conference college team he had this to say, "It's been good, twelve games in now … it takes a second to get used to the new level. Playing against older guys [who are] a lot more physical, the speed is up there as well, when you go up to another level there's [always] a jump but I feel like I'm starting to settle in, and the team is starting to settle into the season."
Charlie has been playing well under a new situation in Wisconsin. His coach Tony Granato thinks so as well and says that "for a big guy he moves really well on the ice, when you have that asset and you're agile you can see that his development will just continue to grow". When asked about what he thought of the high praise from his coach, Charlie said, "I think it's good, especially from a coach that is as well respected as he is, you see all the success he's had, even in his career as a player so to hear that from him means a lot to me, it really does and it can definitely add some confidence to your game".
Charlie plays a hard nosed Power Forward type of game- he skates hard, he gets into the corners and hits to send a message to the other team, and that message is, "watch out", because when Charlie is on the ice that is exactly what you have to do. When he is on the ice he is more than just a big body, when describing his game Charlie says, " A big power forward who can skate and use his ability to skate and shoot it around defenders, uses his body well, plays that full 200 foot game, can win faceoffs as a centre, effective all over the ice." For his opponents Charlie is a nightmare to try and plan for, setting himself apart using his "Size, physicality and speed, with those three in combo I think I have the ability to make plays and put the puck in the net."
Currently this year Charlie has been ranked as a first round draft pick by Central Scouting as well as by our own DraftPro scouting team that has him ranked at number 31 in the fall rankings. When asked about what he thinks of these rankings and how much attention is paid towards these rankings Charlie had this to say, "It's obviously pretty cool to see that stuff, at the end of the day you can't let that affect the way you play. I don't think it affects the way I play, you kind of block that stuff out for the most part, you'll see it on social media scrolling through and it's cool to see but I don't try to think too much of it. The draft is still a long way away and there's still a ton of season left so I'm focussing on playing my game and going out there and helping my team be successful."
Charlie is a very humble team guy. When he speaks on his past experiences in his playing career one of the first things he speaks on is about what it was like with the team and what it was like having those experiences with his teammates. This year Charlie was selected for the IIHF Men's Under 18 World Championship in Germany. "That was a very fun tournament" Charlie says, "we obviously didn't get the result we wanted. But that last run with the majority being NTDP boys, that last run with the guys after a long two years that was really fun. To come together as a team, I think from a success standpoint, I'm playing alongside some of the greatest players in the country like Rutger McGroarty, Devin Kaplan who were on my line. [Hunter] Brzustewicz was on my line. Playing alongside those guys it's really fun, and that was a really fun tournament. It was the last go with the guys so the bonding in the hotel rooms, it was an unreal time. obviously not the end result we wanted but still a fun tournament."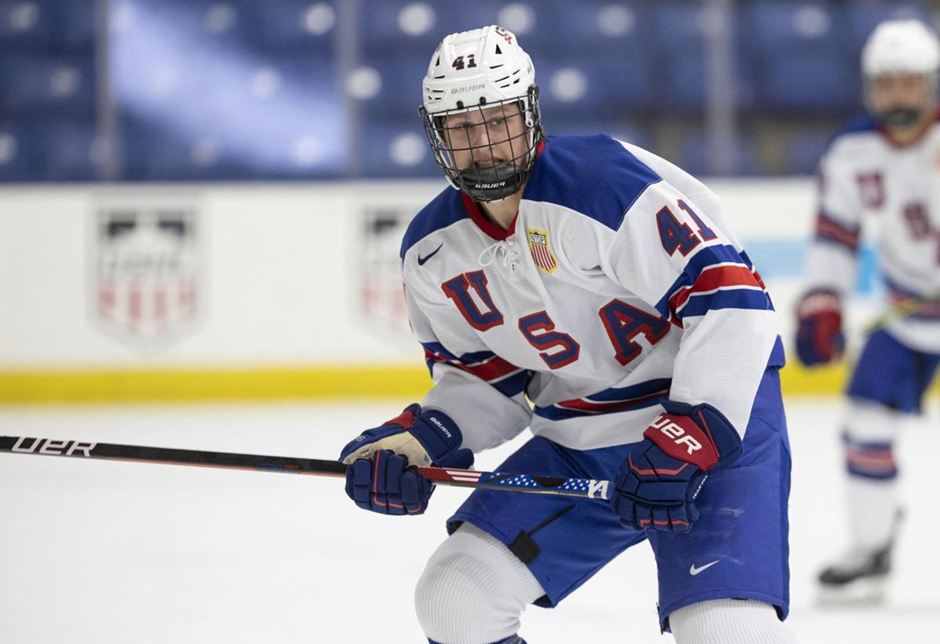 Charlie was even selected to represent the USA for the most recent World Junior Championships and subsequently said this about this particular experience, "It was an unreal experience, to go there and play against and with in practice even some of the best players in college hockey and future stars of the game. To step up to that level and learn from the guys, who are a few years older than me so whether it is their pregame habits or how they handle themselves when things don't go their way. To learn from those guys and the successes and experiences they've had was huge for me, it was an awesome experience."
When it comes to Charlie's game it is all about learning and improving on skills. When asked what improvements he would like to see for himself in his game in his freshman year at Wisconsin Charlie said, "I'd say faceoffs are a big thing for me coming into this year. That [faceoffs] I felt I have improved on but can continue to improve on. Keeping the speed up, keeping working on those first three steps for me is pretty big and I think keeping that consistency is the biggest one for me, playing at the top of my game as consistently as possible whether that's in practice every day or in the games coming up."
Charlie has big expectations for himself and he has the drive to exceed them as well, when asked if he looks up to anyone's game in particular from the NHL he said, "I like to watch the Sabres, I love watching Alex Tuch. He is a guy I can compare myself to, or look up to. You know, I try to pick things from his game, being a skillful power forward". This is quite a good comparison for himself and even his coach chose another Buffalo Sabre player when giving a comparison at this age for Charlie, "He can finish, he's got a good shot, again he reminds me of Tage Thompson at this age, he's a big guy who is strong".
When asked about an overall sense of what he has seen about Charlie's game and work ethic in his short time in Wisconsin so far, coach Granato said, "The pace of college hockey has been a little bit of an adjustment for him, especially being in our conference. The competition of playing against older players, the speed the game is played with, I think he's adjusted to that fast and I think that was the biggest surprise for [Charlie]. You look at faceoffs, you look at his ability to be a presence physically, you look at some of the things he's been able to do on the power play both at the net front and the entries you see that he has a ton of potential offensively for a big guy". This is quite the praise for the big freshman and it has come from a lot of hard work and dedication to his game. There is a lot of respect between Charlie and his coach, Charlie went on to say this about what it has been like having Tony Granato as his coach, "He has taught me a ton of things since I've been here. A big thing is not exposing the puck too much, using my body to my advantage, whether it's boxing a guy out or when you have the puck on your stick you put him on your back hip and take him to the net. Just continuing to help me, giving me little tips on how to be a successful big guy not just in college but hopefully in the [NHL] one day".
Charlie has come from a humble background and the passion and love for the game came quite naturally to him once introduced to the game by his dad. "Growing up in Minnesota, hockey is a really popular thing compared to some other states. My dad grew up in Nebraska so hockey wasn't as big back then, but then he went to college in Minnesota so he got introduced to the whole hockey scene and became a huge [Minnesota] Wild fan even before I was born, then [my dad] put me on skates as soon as he could. I remember learning to skate at 3 or 4 years old and just never wanting to get off the ice. I've played other sports growing up, baseball and football, but hockey was just different. I enjoyed the other sports but hockey I had a real passion for and a real want to better myself everyday".
It is not hard to see Charlie's passion for his own game but for the game of hockey as well. Charlie Stramel looks to continue his good start to his freshman season in Wisconsin and is looking forward to hearing his name called in the 2023 draft this June.