By DraftPro Staff
The 'Connor Bedard Showcase' has wrapped up with Canada taking the gold against a very strong and scrappy Czechia squad. NHL types and the media spent the past ten days swooning over the Regina Pats centre as the next Sidney Crosby or Connor McDavid, both in private conversation and on the air waves.
Connor Bedard, Canada, RW, 5'10", 185
"Bedard is clearly the best player in the world for his age group in this upcoming NHL draft.  He attacks all over the ice, creates easy separation from his opponents with his speed and finesse.  Has incredible hands, a phenomenal release on his shot that is both fast and precise. He can no look put it on his teammates stick from anywhere multiple times a game. It is very impressive to watch his talent and hockey IQ. With all the pressure on him, he handles it very maturely and confidently.  He plays the game the right way. Transition game is top notch and his edgework to be able to cut and go quickly is off the charts. Not afraid to play the body despite his smaller size. Barring a major injury, any team would be silly to not take Bedard as the #1 overall pick. Tremendous, generational talent." – Jody Horak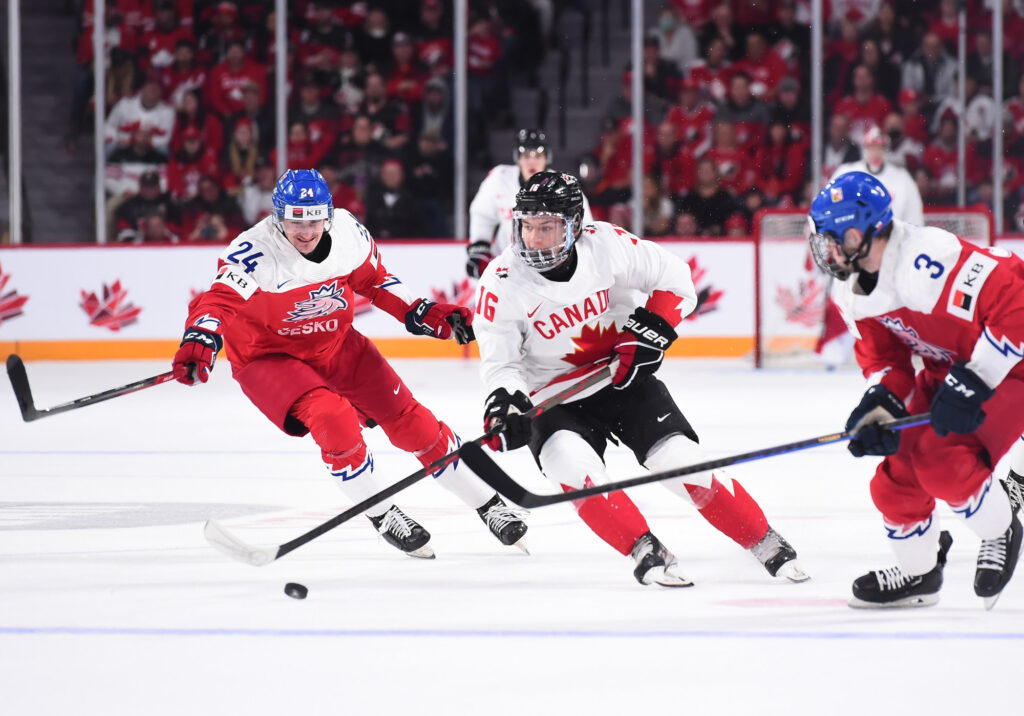 But Bedard, the anointed top prospect available in the 2023 NHL Draft, was not the only draft eligible prospect who was on the ice and making an impact in front of scouts, media and fans.
Below are some more notes from our scouts on those who could hear their names called this June.
Adam Fantilli, Canada, C, 6'2", 195
"Fantilli is a very smart player and reads the play well. He needs to improve his ability to look off the puck in the defensive zone and look for the unexpected. Very effective on the forecheck and was a pitbull chasing that puck down in the offensive zone. Fantilli is a very creative player who finds the seams and hits his target with great accuracy. He has great vision to find lanes and is effective with the puck on his stick. In this event I would have liked to have seen more urgency and wanting to break things open. Fantilli's hands are superb and he can make quick adjustments with the puck. He is an elite level talent offensively and many years would be the certain #1, but in this draft he is a certain top 5, and has a good shot, with a chance to be selected at number 2 overall." – Andy Miller
Thomas Milic, Canada, G, 6'1", 175
"He is a goaltender who is at his best when he keeps it simple and moves less and relies on his ability to read and respond to what he sees. Milic has strong box control, he uses moves such as the Overlap to limit his movement while covering the net effectively. He is an excellent skater and tracks the puck well too. Milic appears very focused. He appears eager to go out and play the puck and does so with confidence. Milic moves well laterally with very few holes. He goes out frequently to set up the puck and/or to play it. Milic battles hard and does not give up on any plays. He fights through traffic to find the puck and keep a view of it. Milic is a strong, confident goaltender who I would look at in the third round." – Andy Miller
Eduard Sale, Czechia, LW, 6'1", 168
"Sale is a dynamic, agile, smooth skating forward.  He does a great job using his body position to maintain control of pucks and get his head up to make quick, decisive plays.  Is effective on the power play and penalty kill.  Displays great patience with the puck.  Excels using his vision and awareness when making passes in the neutral zone.  Releases his shot quickly and effectively, always trying to get pucks to the net.  Does a superb job analyzing the play around him and making smart decisions.  Good size allows him to play physical.  Good stickhandler who can outmaneuver players with his creativity handling the puck.  Would like to see him be more aggressive in his defensive zone, attack the puck instead of letting opponents dictate the play and set up.  Plays hard, will battle in the corners and try to get to the net if he comes away with the puck.  Looks to plant himself down low in the offensive zone to be available for a one-timer or make a passing play if the back door is open.  Has puck skills that can bring the crowd to their feet." – Jody Horak
Marcel Marcel, Czechia, LW, 6'4", 216
"Marcel is strong on the wall with the puck and around the net. He is on the older side but uses that to his advantage. Marcel has good edge control and can spin off coverage. He knows to go to the net and block the view of the goalie. Marcel does not always read the play well; he tries to hang higher than he should and makes passes too challenging for his D. He likes to possess the puck on the wall and can protect it well. Marcel is a good player who has bottom six pro potential." – Andy Miller
Tomas Suchanek, Czechia, G, 6'1", 170
"Suchanek is a good skater with good edges. He moves well. Suchanek needs to battle through traffic a bit more. He has good rebound control and battles well for any rebounds that he has. He looks off the puck well and is aware of where the opposition is. Suchanek is also aware of who is on the ice and the tools that they have. He has good box control and takes the ice given. Suchanek is always aware of who is where and what hand they shoot with. He takes in all the information. Suchanek calms his team down and gives them confidence in the ability to cover for errors. He played a great event and was the best player on either team most games. He manages his energy well and does not move more than he needs to. Suchanek did a great job increasing his draft standing." – Andy Miller
Trey Augustine, USA, G, 6'1", 183
"A solid goaltender who stays square to the shooter. Nice footwork and ability to dig his edges in to push either direction quickly. Strong rebound control. Fights to track the puck and shows some athleticism when he needed to make those desperation saves. At this event he made some timely saves but also let in some stoppable pucks here. He also was playing on his knees more than we have seen in his games for the NTDP the past couple seasons. Likes to come out and play the puck, often doing so with a high level of risk. Has NHL potential despite not being the six-foot-four prototype but will need plenty of time to marinate first." – Dan Stewart
Charlie Stramel, USA, C, 6'3", 215
"Big, strong, power forward type. Was effective working the wall, winning battles, protecting the puck, and just using his size to his advantage. A solid skater for a big guy, gets to where he needs to efficiently. Not the most agile but is balanced and hard to knock. Keeps up with the play. The big thing is his decision making as it was exposed as being a little immature at this level. Makes strong passes. Has effective, but non-flashy mitts. His shot is heavy. He uses his frame to crease space, throwing his body around, goes to the net and be effective on the forecheck. Defensively he plays a solid closing off lanes and covering his man. Took some untimely penalties at this event. Not sure I saw a first round talent at this event but has looked good during other views. He still has time to develop into a Kevin Hayes type of player but has some major developing yet to do." – Dan Stewart
Leo Carlsson, Sweden, C, 6'2", 185
"Carlsson is a game breaker and while he may not be noticeable at times during the game, he is a difference maker. He is a strong skater who is very well balanced and uses his edges well. Carlsson is a good two-way player who back checks well. He sees the ice well and reads the play very well. Carlsson is a force and uses his size to impact the game and cause turnovers. He is a good passer. Carlsson causes havoc with his long reach out front of the opposing net and creates chances. He has a quick release and good hands. Carlsson knows to go to the net and gets his stick open and ready. Carlsson is always dangerous and creates space for his teammates since the opposition always looks for him." – Andy Miller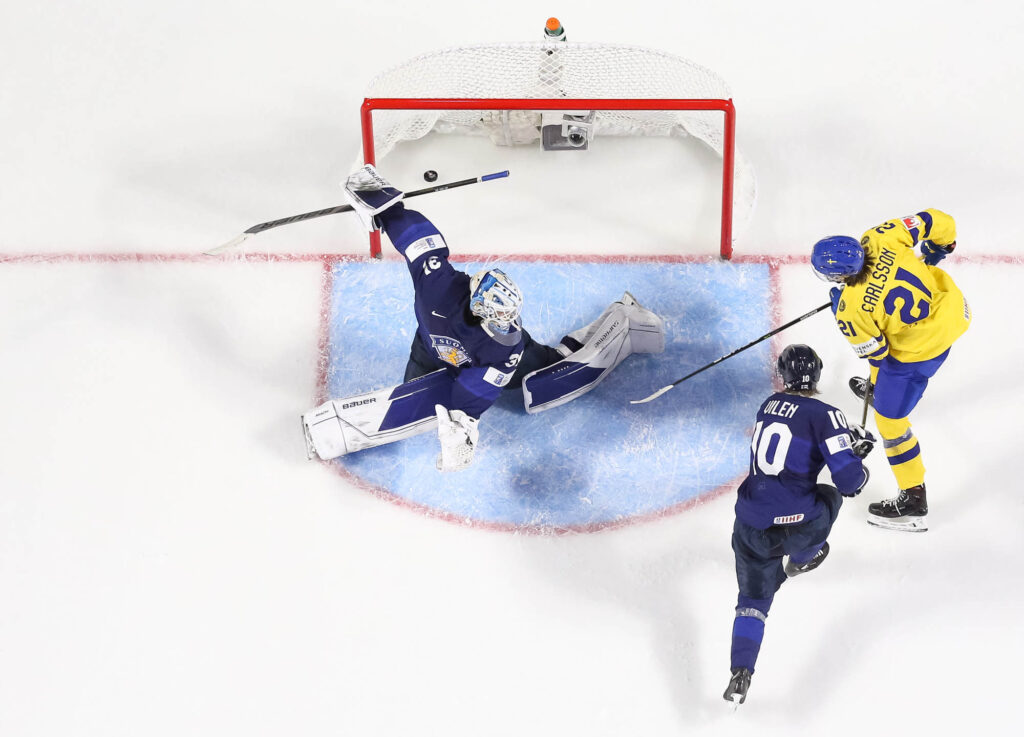 Axel Sandin-Pellikka, Sweden, D, 5'11", 181
"Sandin-Pellikka is one of the most intriguing defensemen in the draft this year, and you learn something new about him with every view. He comes across naturally as a two-way defender. He is great in transition, had a dime of a first pass making the forwards lives easy. Not shy to join the rush, which showcased his silky-smooth skating. The top-speed won't dazzle you, but he's just so slick and smooth while moving from zone to zone, it's mesmerizing to watch. His vision on the ice is very solid, he seems to have a scan of all players on the ice and knows where the danger is and isn't, and it makes him very reliable as he appears as a veteran defenseman despite being 17 years of age. He's extremely reliable, and that reliability does not disappear defensively. For being 5'11, he plays very physical and he uses his size excellently. He does a great job of separating the opponent from the puck, and keeping them to the outside, preventing many major high-danger chances from happening. However, it's not all perfect as he does have a tendency to puck watch and chase a bit, which needs to be fixed. Sandin-Pellikka has an exceptional toolkit to work with, and a very high upside at an NHL level as a top 4 do-it-all defender." – Seth Ditchfield
Lenni Hämeenaho, Finland, LW, 6'0", 174
"Hämeenaho is a great energy, shot-first winger who shows himself to be a very impressive possession winger. He plays the game old-school viewers would like, he gets himself to the slot, isn't afraid to fight with the defensemen for a better position, and fights very hard to get high-danger shots off. He has a knack for working his way to the slot and not taking advantage of low-danger chances, and due to this, he could use his shot more from the outside. He's a decent skater, he has good edgework and endurance but needs to improve his top-end speed going forward." – Seth Ditchfield
Dalibor Dvorsky, Slovakia, C, 6'1", 201
"Dvorsky really impressed with his skill and maturity in this tournament. While he was a younger player he played with the maturity and leadership this team needed. Playing a complete game in both ends of the ice. Very smart defensively. But it was his offensive play that really stood out. Impressive skater, thinks the game at a high level, and has the hand skills to make things happen on the score sheet. His size is also a strength as he uses it when needed to protect the puck or win a battle long the wall. Has elite passing ability and aggressive creativity. You can see the potential in his game and why many like him as a top 10 prospect in this draft class." – Dan Stewart
Samuel Honzek, Slovakia, C, 6'3", 181
"I was impressed with Honzek.  He is a very strong skater, well balanced on his skates and does not get knocked around very easily.  His primary position is center but was playing left wing this game for Team Slovakia.  Displays versatility in being able to play either and understanding both positions well.  Controls the puck exceptionally along the boards in the offensive zone, is not afraid to have the puck on his stick or cycle it down low.  Plays minutes on the power play, playing primarily the down low position, gets in front of the net to create traffic, screens and get rebounds.  Could open up better to receive passes on the breakouts and in the neutral zone.  Very impressed with his 2-way playing.  Creates offensive scoring chances and has a quick, hard release on his wrist shot.  He also hustles on the backcheck and plays a positionally sound game in the defensive zone.  Acutely aware of covering the points or the high forward.  Will throw a hit or two and plays physical for a forward.  Battles hard in corners and works to win those battles.  I am high on his value and potential." – Jody Horak
Alex Ciernik, Slovakia, LW, 5'10", 179
"Ciernik is a very interesting project. He shows the ability to be a very effective energy player. He has a great motor with impressive pace. In the offensive zone he's always moving. His release isn't overly powerful, but it is quick, and he can get a good shot off from almost anywhere. His passing, as well, isn't overly special, but he does make good, quick, short passes to his teammates, and it allows for an effective rush. He may not be driving the play, but he puts himself in an effective position to create chances for his teammates." – Seth Ditchfield
Frantisek Dej, Slovakia, C, 6'4", 207
"Dej is a player I noticed because of his size and rare physicality in this tournament. He is a big and heavy player, and he certainly uses that to his advantage. He didn't play too many minutes in this game, playing on the fourth line, but he was a good checker for Slovakia. His big frame allows him to protect the puck as well, and he certainly isn't easy to knock over. Dej only attempts smart hits as well, he doesn't just throw his body at anyone. He only uses his physicality when he knows he can use it to win back possession. Dej actually possesses great foot speed for a player his size as well. He is able to drive the puck up the ice and move his feet while he is using his body to protect the puck. I didn't see Dej play too many minutes, so it was difficult to get a full read on him, but I liked his size and quickness." – Joely Stockl
Peter Repcik, Slovakia, C, 6'0", 183
Repcik demonstrated a knack for knowing where to be or where to put the puck throughout the tournament. He is a very quick player who has the ability to create chances. He found the soft spots on the ice and had a few good chances. Repcik's ability to finish could improve. He is a good skater and moves his feet well. He is a great forechecker who causes havoc. He is relentless and he forces his opponents to move the puck under pressure. He is a strong puck supporter and uses his speed to force plays. He has good hands, but at times he can try to do things too fast. Defensively he is responsible consistently and this will be a key if he is going to be an effective third line NHLer. He will likely hear his name called in the late third round to early fifth round of the draft. – Andy Miller
Maxim Strbak, Slovakia, D, 6'2", 190
"Strbak is a solid two-way defender. His offensive game is his main strength as he looks to join the rush or lead it himself. His breakout passes are accurate and delivered with zip. On the powerplay he mans the point well quarterbacking as either a distributor or shooter. Has a hard and accurate shot. Is a shoot first player but will also place his shots for rebounds or tips. He is still developing defensively as he can jump the zone early or get caught up ice. While in defensive position he does well at closing lanes, applying pressure, keeping a solid gap, and identifying dangerous attackers. His play physically is a strength as he relishes contact on the wall and in front of the net. He is a prospect that could sneak into the first round with a strong second half. " – Dan Stewart
Adam Gajan, Slovakia, G, 6'3", 176
"Gajan made quite a name for himself at the tournament, for someone who almost did not even make the team.  He is a very athletic, agile goaltender with great size.  His edgework is fantastic down in the butterfly and he uses the hybrid style technique of goaltending blended with his reflexes and flexibility very well.  Mentally strong, focused and poised, which is a huge asset for the position. I was very impressed with how quick he looked given his size, and his determination to stop the puck.  Gajan really made a name for himself here and should be on NHL scouts' radar if he wasn't before.  Will play college hockey in the states as he is committed to the University of Minnesota-Duluth."  – Jody Horak
Rainers Rullers, Latvia, C, 6'3", 181
"Rullers is a player who has been doing a lot with little ice time at this tournament. He is slotted on the 4th line, but also plays on the 1st powerplay unit and was given some penalty kill time. Overall, I really liked Rullers game with limited ice time, and he seemed to be one of the more impactful players on Latvia. He is a power forward that has really great mobility, and I think there is a good chance that we will hear his name called in the bottom half of this draft." – Joely Stockl
David Reinbacher, Austria, D, 6'2'', 187
"Reinbacher is a big-framed defenseman that plays with a lot of authority and maturity, and you can clearly see that he has a key role in this Austrian team and got a lot of ice time. He is a solid skater who can carry the puck through the mid-zone with a good speed. In the defensive zone he plays physical and winning some battles by body positioning and being on the right side between the net and the offensive threats. Reinbacher handles the puck well in terms of control. I like the way he passes the puck, either by good first passes in the defensive zone or by short or longer tape passes. Unfortunately, he didn't get the opportunity to show off his skills in the offensive zone much here due to is team being on their heels for much of the event." – Simon Forsmark
So that is a wrap for us from the 2023 World Junior Championships. We value all of our views on a prospect as a part of the big picture when formulating our rankings and that is what these few games were for our guys, a piece of the puzzle. We will be once again going into ranking meeting as we look to put together our teams Winter Rankings in the coming weeks so be sure to keep an eye out for those.
******************************************************************************
If you are looking for a mid-season rundown on the 2023 draft class as a whole be sure to pick up your copy of the Draft Prospects Hockey 2023 Preview Magazine available for instant download or print through Amazon.
Photo's courtesy of IIHF.com