By Zackery Robert
On January 16th in Plymouth Michigan the Biosteel All American prospect game took place, and showcased some of the best players that America had to offer for this upcoming draft in Nashville this June.
The game displayed a lot of speed and skill throughout. There were many high quality plays made during the game. As the game went on, players were playing with more intensity, leading to more penalties, more scrums, resulting in more of an edge being brought into the game, especially during periods two and three. The final score was 6-3 with team Blue taking the win over team White. In a prospects game like this, players are trying to stand out, they are trying to level their game up however much they can. All 32 NHL teams had their scouts present so this was a huge opportunity for all these players to get themselves more recognition in the eyes of the NHL with hopes of that resulting in a higher draft ranking. With that, during the game there were standouts, honorable mentions, and those that did not quite play up to the level they can play at.
The three stars of the game, who to me stood out above the rest were, team White Oliver Moore, team Blue Will Smith, and both team Blue Gabe Perrault and team White Michael Emerson. Starting with my first star of the game, Oliver Moore, even though his team did not come out on top, Moore played above and beyond all else around him, with the exception of Will Smith who was on the same level as Moore, Moore had the speed, the vision, the hustle, and a goal in the losing effort, he was all over the place. Moore is currently ranked as a high first round pick and his performance at the Biosteel prospect game should solidify why he deserves to hear his name called very early in the 2023 draft. Draft prospects scout Jody Horak had this to say about Moore and his performance in this game, "Nobody outworks [Moore], his feet constantly move and he is by far the fastest player on the ice when he gets going. My vote for best player on the ice in this game." Moore made the players around him better, he was able to find open areas for his teammates and he would lead them there with a pass, his vision, his shot, and his speed propelled him to being the best player in this game for sure.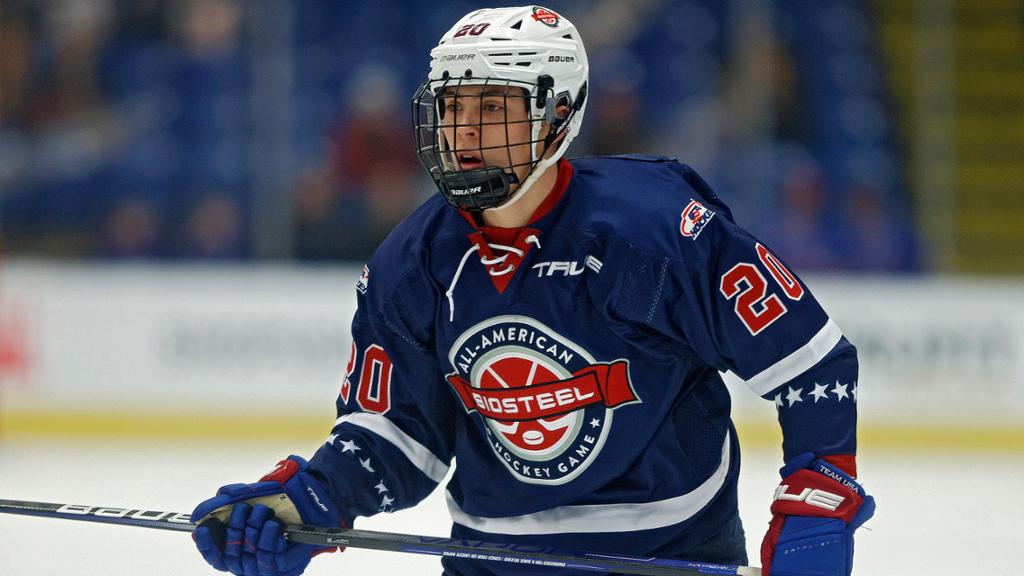 Going into star number two, Will Smith of team Blue, Will was part of the big blue line with Ryan Leonard and Gabe Perrault and this line dominated a lot of the play when they were on the ice, they had chemistry and it showed. Smith however was the catalyst behind this trio, he had speed, he had nice leading passes and two goals to go with that, one being a very nice shot on a penalty shot. Will Smith right now ranks amongst many scouts and rankings as a top ten pick this year, the highest projected American player, and it makes sense, he is a dynamic player. Draft pro scout Andy Miller had this to say about Smith and his game, "he consistently finished and found his teammates open or created space for them to be open." Will Smith's performance can be argued as the best of the game and he showed that he is worthy of being that high end draft pick.
The third star of the game was for me a toss up between someone who you would have thought would've been up here and someone who was a bit of a surprise, Gabe Perrault of team blue and Michael Emerson of team white. Perrault was a part of the big blue line, Perrault demonstrated copious amounts of skill with his speed, his hands and his ability to out muscle people when on the puck. Michael Emerson had himself a game, he was fast and he had great vision with his passes, Andy Miller said "Emerson continually found passing lanes on the ice and he could hit players on the tape with pinpoint accuracy." Further commenting that Emerson, "stood out all game", Emerson really did have a good showing it was hard not to notice his skill and compete level. It was a very good game for Michael Emerson.
With the three stars being named, we now move into our honorable mentions. We will start with first, from team Blue, Aram Minnetian. Minnetian's mobility was quite noticeable during this game, he was able to move off the blue line and put in some impressive offensive moves to gain quality chances. His hands are very stable and he doesn't lose the puck when making moves around defenders. His skating is very clean with long sturdy strides allowing him easier access around the ice. The reasoning behind him not being a full on standout is that, although all good things, they were only seen in instances or flashes, nothing consistent throughout the game.
Honorable mention number two would be team White defenseman Brady Cleveland, Cleveland is a big body at 6'4 200 pounds and he made sure to use it during this game. There were multiple big hits laid out by Cleveland, really punishing the opposing forwards for going up the boards with the puck. Brady is a smooth skater and it allows him to move into those hits with ease, making the hits that much heavier. He has good IQ with the puck and can provide some assistance on the offensive side as well, Brady had a very good showing this game and it should only help him going down the line.
With the honorable mentions' names being said we now move on to those players who just did not have the showing that they're capable of. To start it off we go with team white's Tanner Adams, Adams is a highly skilled forward but did not have a lot of looks to showcase that skill. He was not on par with many of the other players on the ice and you really didn't hear his name too often during this game. His stat line for this game was one penalty and one shot on goal so his contributions to his team during the game were limited. Adams was not able to create space for himself and in turn was unable to get quality looks for shots or passes, team white lacked at times quality scoring chances and I felt that Adams could've helped a lot in that area so it was more obvious when it came to him struggling during the game.
Another player who had a hard time getting going was Danny Nelson of team white, finishing the game with a minus one and bad defensive zone play, one play in which directly led to a goal, made his game subpar. His name was not said very often and he often lacked the complete level you'd want to see in a player, especially as the game went on and team white was down goals.
For the goalies it is quite hard to assess their performance as they only play in one to one and a half periods in this kind of a game. In situations like this it is hard to even get comfortable in net, let alone standout, especially when facing little to no shots. It does not allow them to fairly demonstrate their abilities so in games like these it is unreliable to fully assess them and their play. No goalie in this game outshined the rest which is to be expected when playing in short amounts of time. No goalies had any costly blunders during this game so all in all the goalies were fine and there was nothing to write home about on their play.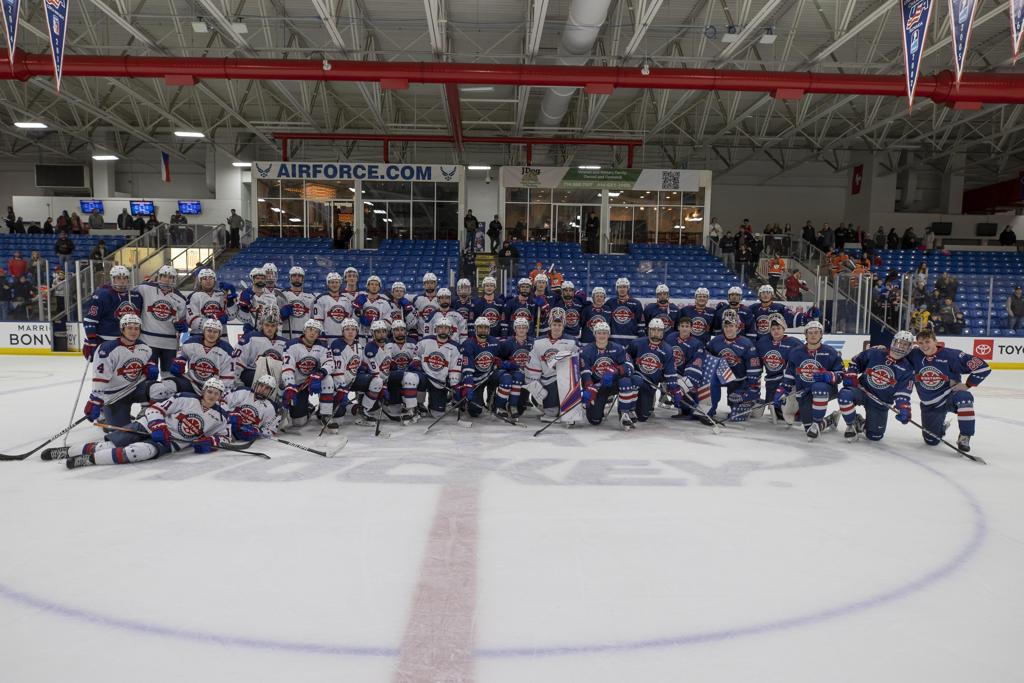 With that the Biosteel All American prospects game is over. It was a fast paced game that showcased a lot of skill and it showed glimpses into the ceilings of some potential future stars of the league. There is however, plenty more season to go so we'll see where these players line up come draft weekend but nevertheless it was an overall entertaining game leaving fans and players alike hopeful for what is to come for American hockey in the future.
Photos Courtesy USA Hockey Website
****************************************
If you are looking for a mid-season rundown on the 2023 draft class as a whole be sure to pick up your copy of the Draft Prospects Hockey 2023 Preview Magazine available for instant download or print through Amazon.