By DraftPro Staff
So the holidays have come and gone and with it the 2023 IIHF World Junior Hockey Championships as well. Some impressive draft eligible performances took place in Eastern Canada but it was not the only hockey that was getting our attention in December and early January. There have been numerous events and league games that the scouts at Draft Prospects Hockey had eyes on all with the aim to get a better, more rounded view of the 2023 NHL Draft crop leading into our January rankings.
While there is no doubt Connor Bedard stands alone at the top, there rest of the crop is starting to come into focus for us as we pass the halfway mark of the season. There is still the matter of who goes second overall that brings some healthy debate within our group and honestly however the order goes, it will make the bottom four NHL teams very happy no matter the name they call and in what order. But for us we still base our rankings on how they perform on ice, and how they are progressing in their development, and for that reason we have it Matvei Michkov, Adam Fantilli, and Leo Carlsson making up one heck of a fearsome foursome.
There have been numerous 2023 NHL Draft prospects who have made some big jumps in our most recent rankings. Names like Will Smith, Alex Sandin-Pellikka, Samuel Honzek, Oliver Bonk, Tom Willander, Adam Gajan, plus a few more all have rocketed up our rankings since last November.
Below is the Draft Prospects Hockey Winter Top 100 Ranking for the 2023 NHL Draft.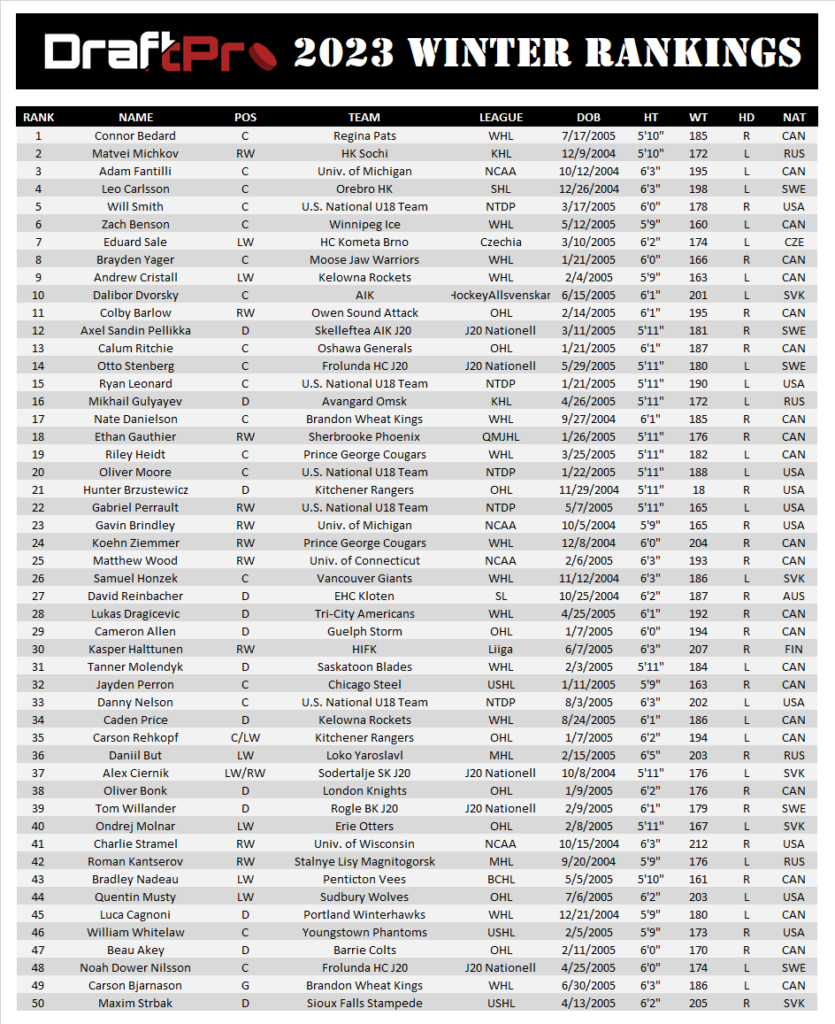 Be sure to get your hands on our bi-monthly DraftPro newsletter full of actual scouting reports from our scouts throughout the season as well as our DraftPro 2023 Preview Magazine available in digital download or physical copy.