It is time to focus on the 2023 NHL Draft.
The many early season camps and showcases are in the books, the Hlinka Gretzky Cup and Summer World Junior re-do have both come and gone, and most junior leagues are underway as well. Our evaluators have been at it early and often this season, getting into the rinks to see and report on this next wave of future NHL talent.
Our early view of the 2023 draft crop is that this class holds an exciting abundance of talent. Not only does it hold a couple of potential generational talents we hope develop into the Crosby/Ovechkin type mold, but also a great blend of offensively skilled forwards and strong two-way defenders.
While it is very early, there is a ton of talent available in the 2023 crop and our team at Draft Prospects Hockey has you covered with scouting and editorial content throughout the season. So, stick around as we promise to offer you plenty of educated and honest draft related content this season, including our New DraftPro Newsletter released every couple of months holding many current 2023 eligible scouting reports as well as our 2023 Draft Preview Magazine coming in time for Christmas.
Below is the Draft Prospects Hockey Preliminary Top 64 for the 2023 NHL Draft. These ratings were formulated by our team back in March and appeared in our 2022 NHL Draft Guide. Many of these names have already moved around substantially and that will be seen in our next rankings release in early December. So feel free to use the below as a reference point to build upon as that is how they are intended.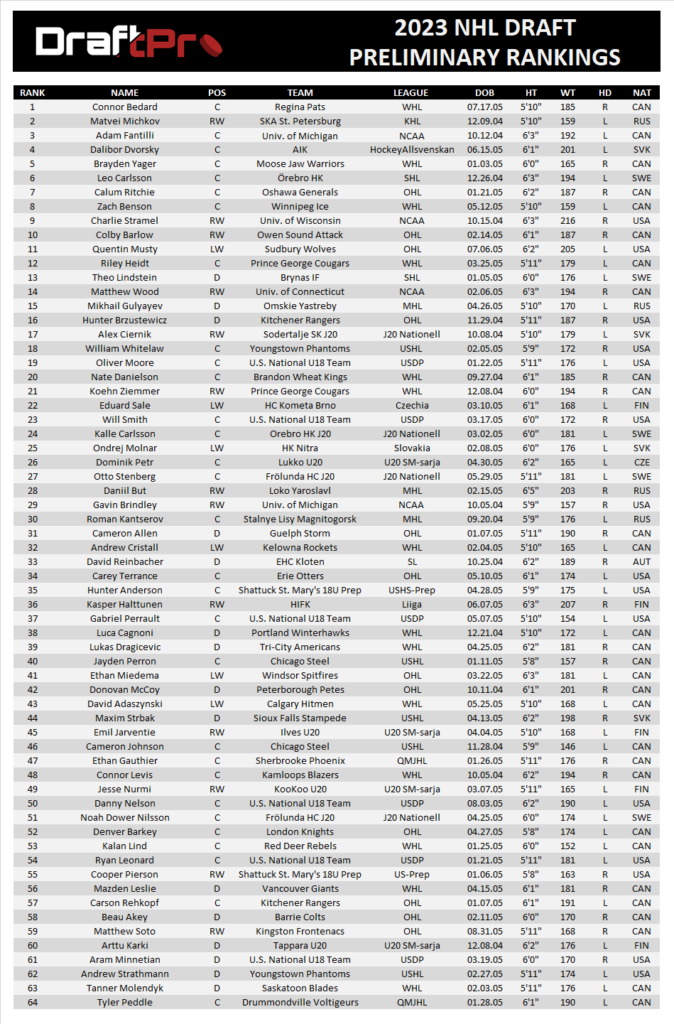 Our next rankings will be updated and released in December, but or for early access to our top 100 be sure to pick up Draft Prospects Hockey 2023 Preview Magazine.