By Jared Brown and Matt Hnatiuk.
The Hlinka Gretzky Cup is a best-on-best U18 hockey tournament that runs every year in August. It is the unofficial season kick off for most NHL Draft talent hounds.
This season we had many eyes focused on the event as DraftPro's scouts start the grind of another long scouting campaign. None were more focused game by game though than our Head Scout Jared Brown, and Regional Scout Matt Hnatiuk who was in attendance in Red Deer, Alberta.
Many of the participating prospects names have been on our watchlist of months now so going into the event there were very few surprises. If anything, the surprises might have been who did not stand out as expected, but overall it was still a great event with loads of future NHL talent showcasing their abilities.
The 2022 edition welcomed Canada back, as the host nation took the 2021 year off due to escalating Covid19 numbers and saw the suspension of Russia's international hockey program continue due to that nations ongoing invasion of Ukraine.
Each team in attendance had at least a couple serious NHL prospects on their rosters which helped the competitive edge each game had. Even with eventual Gold Medal winning Canada outscoring their five opponents 34-3 in total.
Below is a review of who stood out with reports from Jared and Matt separated by nation.
Team Finland:
9, LD, Aron Kiviharju, Finland (TPS Turku – Liiga), 5'9″, 165, L, DOB 01.25.2006 (2024)
Even though he isn't eligible until the 2024 NHL Draft, Aron made an impact every time he was on the ice. His fluid skating and calmness with the puck really allowed him to consistently ease d-zone pressure and move play forward. All you need to watch to grasp what I mean about calmness is his goal in the Bronze medal game. He showed excellent passing and the ability to get pucks through tight seams frequently. He doesn't have the strongest shot, but he was able to get the puck on or near the net often, allowing for net front scrambles or excellent scoring chances. His IQ is extremely high for a player who just turned 16 in January. He reads the play at a high level and positions himself in the most advantageous spots he can to control, contain and manipulate the play. Defensively Aron was consistent and used his skill to pick off passes and dig pucks free. While he has a lot of physical maturing to go through, he was one of FInland's and the tournament's best defenders. – Matt Hnatiuk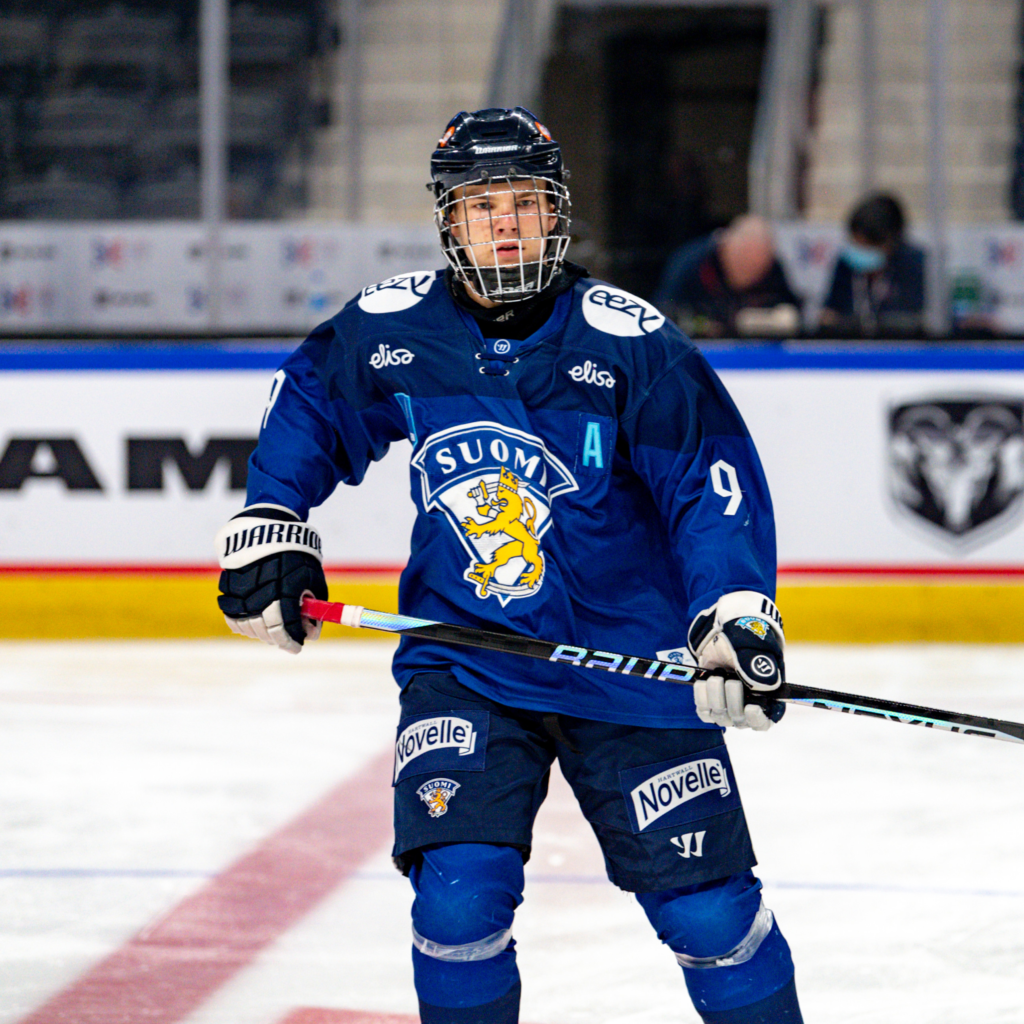 25, LW, Emil Jarventie, Finland (Llves Tampere – U20 SM-sarja), 5'11", 168, L, DOB 04.04.2005
Emil is one of the players on Team Finland who was impactful every game. He is such a smart player both with and without the puck. He used adjustments to his high end speed to keep defenders guessing and then beat them using the outside lanes. He has a wicked shot, great passing, and is a dominant force when in the offensive zone. Not only was he good when he had the puck, he would also find open space easily when he didn't have the puck. He was excellent in his two-way play and was always ready to defend in his zone by keeping his feet moving and his stick active. He plays a very high pace game that pushes his opponents to their breaking point causing them to make mistakes he or his team could capitalize on. He was clearly Finland's biggest offensive threat game in and game out. – Matt Hnatiuk
1, G, Eemil Vinni, Finland (HIFK Helsinki – U20 SM-sarja), 6'2″, 187, L, DOB 12.18.2005 (2024)
Eemil was the youngest multiple game starter of the tournament who really put a stamp on just how good he can be. He isn't eligible until the 2024 NHL Draft and with his composed and positional play, his name should be at or near the top of the goaltender list. He showed great vision, reflexes, positioning, rebound control and poise by making multiple game breaking saves allowing just 7 goals against the whole tournament. Through his four games, he was second in the tournament in SV% (.927%) behind Canada's Ratzlaff and held his team in games. Specifically the game against Team USA where he back stopped his team with a 30 save performance leading them to a 4-1 victory. His flexibility and quick glove were on display all tournament and in part because of his play, Team Finland walked away with a Bronze medal win over Czechia. – Matt Hnatiuk
10 RW, Kasper Halttunen, Finland (HIFK U20, U20 SM-sarja), 6'3", 207, R, DOB 06.07.2005
I felt that Halttunen could've had a much better tournament if he was just able to hit the net more consistently. He's a pure sniper with a heavy "shoot-first" mentality and the ability to play a power forward game. Plus-level creativity and puck skills when challenging defenders 1v1. He can embarrass defenders on occasion with his skill. High-end ability in creating his own looks and chances. His shot power arguably is his greatest strength. His one-timer is extremely heavy and fast off his blade, making him a constant threat on the PP. He leans into his shots and displays great weight transfer to produce immense power. He'll use his body to initiate contact and stand up against his opposition to knock them off balance defensively. Halttunen has a very high ceiling due to his shot, skill, and pro-build. Overall tournament performance was just okay. He wasn't a difference maker in the big games. His tools and his shot are what make him such an intriguing prospect. – Jared Brown
18 C, Rasmus Kumpulainen, Finland (Pelicans U20, U20 SM-sarja), 6'2", 192, L, DOB 08.08.2005
Kumpulainen had a good tournament, tallying up three points in five games. He's a big kid who doesn't excel in one area but has some tools to work with both in his play with and without the puck. I like his off puck awareness to position himself through the middle of the ice, making himself available for a breakout pass from his defensemen. Solid give-and-go passer that shows the ability to dish the puck off accurately in stride. Good puck control in traffic with some deft hands. When along the outside and in open areas, he protects the puck well by holding it in his hip pocket from reaching stick checks and utilizing his big frame to protect the puck. When given time and space in the offensive zone, he shows good patience and is able to maneuver into open pockets, especially on the PP. I liked seeing him take pucks to the middle of the ice, avoiding being stapled to the boards. – Jared Brown
29 RW, Tuomas Uronen, Finland (HIFK U20, U20 SM-sarja), 5'11", 183, R, DOB 03.19.2005
Uronen didn't play in Finland's opening game against Czechia, but he still had a strong tournament performance. He put up two goals and four points in four games. He showed to be a strong support player for his teammates. Good vision, consistently shoulder checks even before corralling the puck showing impressive hockey sense. Great puck movement along the boards on the cycle. Keeps plays moving and alive while on the attack for his team. Good job finding space on the weakside, picking his spot to shoot on net, and capitalizing on his chances. He's strong on his skates and edges, able to handle defenders on his back in the corners while protecting the puck. Good job building speed through the neutral zone with or without the puck. Understands his defensive responsibilities and doesn't cheat in his positioning. Uronen displayed good maturity in his game. He needs to just not stay glued to the perimeter as much. – Jared Brown
23 RW, Jesse Kiiskinen, Finland (Pelicans U20, U20 SM-sarja), 5'11", 179, R, DOB 08.23.2005
Kiiskinen had a slow start to the tournament, but finished strong, getting on the scoresheet in the final three games of the tournament and putting up two goals and four points. He's a goal scoring winger with a very net-focused attack. He can attack quickly off the rush while displaying strong goal scoring instincts. He's got an attacking presence to his game that defenders need to be wary about. Has a nose for the net and gets himself in dangerous areas of the ice. Great job lowering his strongside leg to gain leverage on his shot for added power. When he gets up to top speed he can produce good transition speed as he attacks the line. He transfers his weight to his left and right quickly to sidestep defenders. He has some skilled mitts, using a quick move or deke to generate space for himself. Kiiskinen's offensive skills displayed promise to his NHL potential. – Jared Brown
Team Sweden:
26, RW, Noah Nordh, Sweden (Brynas IF – J20 Nationell), 6'2″, 194, L, DOB 01.25.2005
Noel is a power forward who was a threat every time he was on the ice. He showed excellent puck skill, skating and his shot! Wow his shot! Add to that the physical play he mixed in and NHL GM's should be drooling over him. He has very good small area play and was able to control the puck in tight spaces and in traffic, allowing his linemates to find open ice for passes. He was very good at finding open ice himself and setting himself up to rip shots on net. He used his imposing size, willingness to be physical and surprising speed to back defenders up from his defensive zone and showed he can be effective at both ends of the ice. Even though he didn't produce a lot of points, he was effective each shift and helped his team to a Silver medal. – Matt Hnatiuk
9, RD, Theo Lindstein, Sweden (Brynas IF – SHL), 6'0″, 179, L, DOB 01.05.2005
Theo was probably one of the most quietly effective defenders of the entire tournament. He matched points (1G – 5A) with Finnish phenom Kiviharju and was one of Sweden's most consistent players. He has a fluid and composed stride that allows him to join rushes or effectively defend his zone. His passing, especially his first pass, was on point almost every time, just watch the four assists against Switzerland, and his shot was generally a booming one time blast. He has extremely high IQ and reads plays very well at both ends of the ice allowing him to adjust his movements accordingly and he does it all with a calm poise you don't often see in a player his age. Theo is an excellent two-way defender who you are going to hear a ton about in top ten chatter as the draft gets closer and closer. – Matt Hnatiuk
17, C, Zeb Forsfjall, Sweden (Skelleftea AIK – J20 Nationell), 5'9″, 169, L, DOB 01.16.2005
Zeb was Sweden's top center for the tournament and did an excellent job at his two-way play. He was fast on his feet and maintained a quick first step the entire tournament, utilizing his edges and ability to quickly change speed frequently. He was an excellent puck carrier and distributor (see video on his three assists), for Sweden and did very well at finding the best options moving into high chance areas and feeding them the puck. He showed no fear when attacking the net or the puck and was rewarded with two goals. Defensively Zeb played with his head up and did very well to pressure the puck carrier and cause turnovers. I feel due to his size he may be looked over (insert height joke here), but don't count him out. He could very well be a second-round choice in the draft. – Matt Hnatiuk
23 LW/C, Otto Stenberg, Sweden (Frolunda HC – J20 Nationell), 5'11", 181, L, DOB 05.29.2005
Stenberg was Sweden's captain and MVP through their silver medal finish. He finished tied for second in points and goals for the tournament (five goals, nine points) and was consistently one of the biggest threats in each game. Stenberg skates with high-end speed on the puck, allowing him to control possession. He can accelerate and decelerate with ease to make quick adjustments to his attack on the fly. Great teammate utilization. He doesn't hang onto the puck for too long, waits for plays to develop, and makes plays to his teammates consistently. He's a threat as both a shooter and passer. His wrister is lethal and heavy. Moves his hands out from his body for a heavy and quick release. A threat on the PP with his shot and ability to thread passes through the royal road. Smooth puckhandling as he attacks east-west, cutting the width of the ice to get defenders moving and out of position. – Jared Brown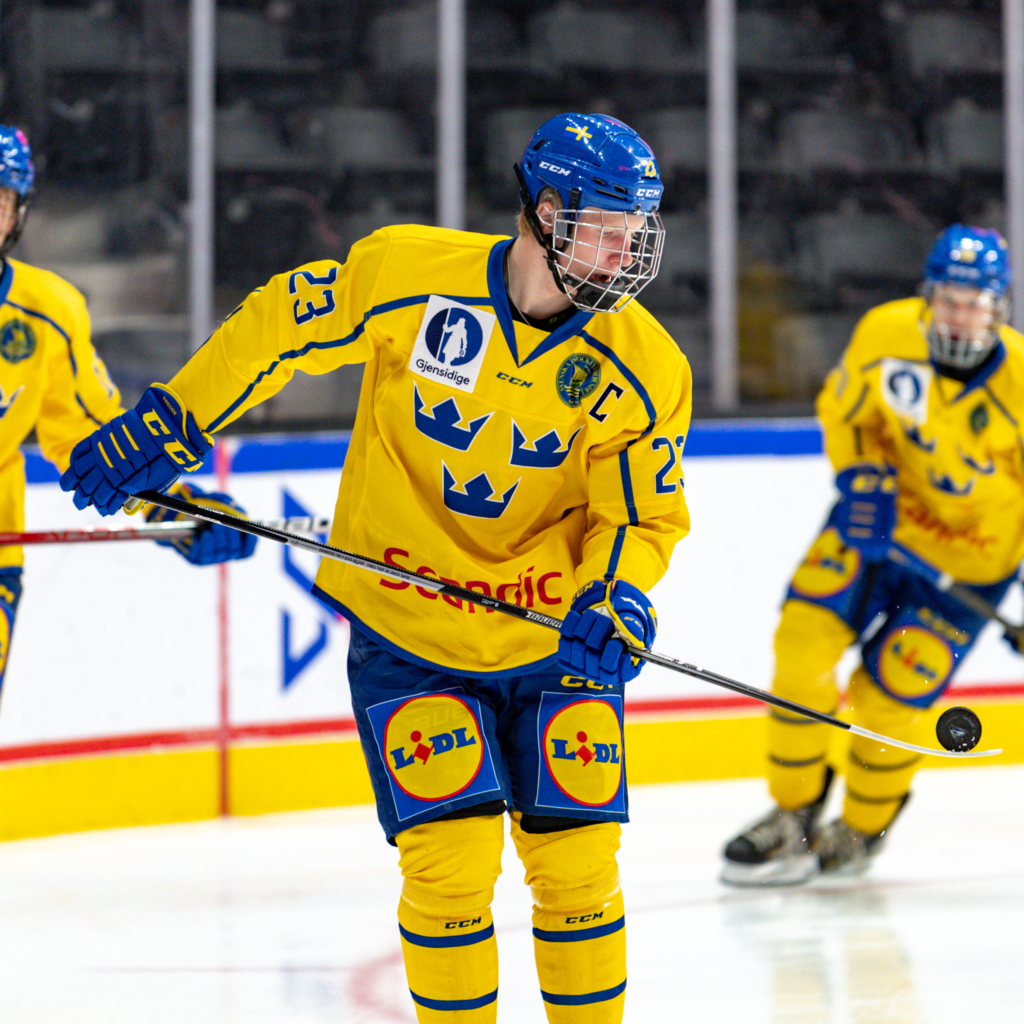 4 D, Axel Sandin Pellikka, Sweden (Skelleftea AIK – J20 Nationell), 5'11", 181, R, DOB 03.11.2005
Sandin Pellikka could be regarded as the tournament's most improved player from game one to game five. He was slotted alongside star Swedish defender Theo Lindstein for the semi-final game and Gold Medal game which were probably his two best games of the tournament. He's a smooth skating, puck moving, two-way defenseman. His skating already is polished, showcasing great four-way mobility and lateral quickness to walk the blueline. Active point shot, but he looks to mainly go for tips or to create rebounds. Under pressure, he showcases excellent poise and a low-panic threshold. High success rate on his breakout/outlet passes, no matter the distance. Defends the rush with great mobility and an active stick. Makes quick work to close his defensive gaps. Great job boxing out his man in front of the net. High character marks seeing him go and tap every one of his teammates on the back after losing the Gold Medal game. – Jared Brown
Team Czechia:
12, LW, Eduard Sale, Czechia (Kometa Brno – Czechia U20), 6'1″, 165, L, DOB 07.11.2005
If you didn't know who Eduard Sale was before this tournament, you do now. He was the most effective player for Czechia and really showcased his skills enroute to his teams 4th place finish. He skates like the wind and has excellent lateral maneuverability with and without the puck. He was able to find open ice when needed and used his laser of a shot to rip pucks into the net. Have a look at his hat-trick against Germany and see for yourself. He is a very smart offensive player and played the game with pace in all areas. He could be a little more consistent and develop his defensive game more, but that will come as he matures as a player. Eduard definitely raised his stock and you will probably hear his name in first round chatter if he continues this type of play. – Matt Hnatiuk
20, RD, Jakub Dvorak, Czechia (Bili Tygri Liberec – Czechia U20), 6'5″, 205, L, DOB 01.30.2005
Jakub was the Czechs more versatile and relied upon defender for the entire tournament. He is big, strong and has very good mobility for a player his size. He played an offensive, two-way game and added an element of grit when he could. His skating was oftentimes just average, but he did show flashes of excellent speed when he would carry the puck down the ice. He made crisp and controllable passes that allowed his forwards to be in flight moving through the neutral zone when they received the puck, and if he couldn't find an option to head man the puck, he would carry it himself. Physically he was engaged but could have used his size more effectively. Defensively, Jakub started closing off lanes from the neutral zone back and did a very good job at making life hell for any opponent who dared to challenge him. – Matt Hnatiuk
29 C, Dominik Petr, Czechia (Lukko U20, U20 SM-sarja), 6'2", 165, L, DOB 04.30.2005
Petr you could place as a top three performer for Czechia, definitely top four. He's Sale's right-hand man and has developed excellent chemistry with his fellow countryman to formulate as a dangerous duo at the international stage. He plays a two-way game with above average playmaking and vision. When it comes down to beating the defense, he doesn't need to be quick or fast, as he relies on timing and accuracy through a smart processing mind. Has a knack for executing short range passes underneath sticks with a soft touch. His accuracy and ability to make plays towards the inside lane, setting up chances for his teammates, is a major strength to his game. When I watch Petr, I see a center that displays the hockey sense and decision making of a pro, one that routinely executes smart choices with the puck. His skating is a work in progress, but he's still growing into his newly larger frame. – Jared Brown
30 G, Michael Hrabal, Czechia (Dubuque Fighting Saints, USHL), 6'6", 201, L, DOB 01.20.2005
Hrabal entered the tournament as probably the highest rated goalie prospect for the 2023 draft as an early projection. I'd say he didn't disappoint, but he still has lots of room for improvements in multiple areas. He plays a butterfly style in the crease and relies on his size to fill up the net and give shooters little room to shoot for. Overall net coverage is solid thanks to his size. Long legs and excellent range fills up the lower portions of the net when down in his butterfly. Extremely hard to beat downlow. He does sit back in his butterfly which needs correcting. Great with his paddle, steering away pucks in tight. I thought his rebound control was good, but not amazing. Naturally quick reflexes both in his hands and legs, but isn't a highly athletic goalie. Handled and moved the puck with no issues. Hrabal has the raw potential to become an NHL starter. – Jared Brown
Team Slovakia:
11, LW, Ondrej Molnar, Slovakia (NK Nitra – Slovakia), 5'11", 169, L, DOB 02.08.2005
As one of two players on this team who have experience in Slovakia's top league, Molnar was relied on as a leader and was thrust into every situation. He moved around the ice with determined efficiency that allowed him to be involved in every play. He showed his excellent IQ by getting involved offensively and defensively, but his sense was highlighted by his ability to read offensive plays and move the puck effectively to his teammates for high danger chances. Even though Ondrej wasn't a big point producer in the tournament, he was effective at driving the play when he could and contributing to his teams success when they had it. He will likely develop into an excellent young player as he takes on some of Slovakia's top players this season, and get his name added to an ever growing list of young talented Slovak players. – Matt Hnatiuk
31 G, Samuel Urban, Slovakia (MSK Puchov U18, Slovakia U18), 6'1", 194, L, DOB 05.01.2005
Urban put together a very respectable performance in four games for Slovakia (got the start for every Slovakia game) and finished the tournament with the most saves. I felt he was one the top three performers for Slovakia in their sixth place finish. He's a butterfly style goalie with excellent posture while on his knees. Keeps his chest up while moving into his butterfly. Has filled into his frame nicely at this stage in his development. Strong downlow coverage, gets his pads flushed to the ice. He moves well laterally with some quickness but could be more explosive off his pushes. Covered his angles well when moving side-to-side and didn't break down in his positioning. Good skater. Fluidly moves out of his crease to stop dump ins and performs quick c-cuts to adjust his depth in the crease. I was impressed by his positional play, focus, and poise in each performance he turned on. – Jared Brown
9 D, Leo Eperjesi, Slovakia (Team Slovakia U18, Slovakia2) 6'3", 187, L, DOB 02.27.2005
Eperjesi wore the "A" for his home country in this tournament, putting forth a strong performance while being used in most situations. He's a big, mean defenseman who plays with grit and physicality. Great size and strength with room to get even stronger. Initiates and engages contact in battles and when defending in the defensive zone areas. Has that old-fashioned physical game to him. He's a handful when it comes to man-on-man defense, along the boards, in the corners, and in front of the net. He's got a lot of aggression in his game which he will need to learn to control. Smooth control on his edges while moving backwards which helps him defend the rush. I like that he shows some offensive instincts by looking to create his own space on the breakout and up high at the offensive blueline. He's got a hard wrist shot from the point that he likes to keep low. – Jared Brown
26 C, Frantisek Dej, Slovakia (Team Slovakia U18, Slovakia2) 6'4", 201, L, DOB 02.28.2005
Dej wasn't productive on the scoresheet (only one assist, though it was an OT set up) but it was hard not to go a game without noticing him, good or bad. He was impactful on the PK, winning defensive zone draws, and getting his stick in passing lanes. Strong in the faceoff circle. Skating is actually pretty good at this point in his development. Solid stride power to get him around the ice, mixing in crossovers helps him accelerates on east-west routes. Good top speed. Good puck control with speed in his puck carries through the neutral zone. Dishes off his backhand well and able to make plays around pressure. His quick snap shot is a bullet off his blade, but accuracy needs improvement. Willing to play the role of a pest and get under his opponents skin. Loves to play physical but he needs to be careful with his recklessness. Has a pro-build to play pro level hockey now, but needs maturing. – Jared Brown
Team USA:
22, LW, Quintin Musty, USA (Sudbury Wolves – OHL), 6'2″, 205, L, DOB 07.06.2005
As USA's highest point producer in the tournament, Musty showed that he can not only produce offensively, but can be a force when he wants to be. His skating may need a little work (think of a Conor Geekie with a faster first step) but he was effective at getting down the ice in a hurry. His puck skill was average but his distribution was very good. He was very good at seeing where the offensive play was developing and moving the puck there for high danger chances. He was also a physical force when he chose to be, which was often, and he didn't hesitate to take out some frustration on those willing to battle around the net. Defensively he was good at moving the puck into the neutral zone from just inside his zone and then following the play. Although this tournament didn't go how USA planned, Musty showed that he has excellent power forward potential. – Matt Hnatiuk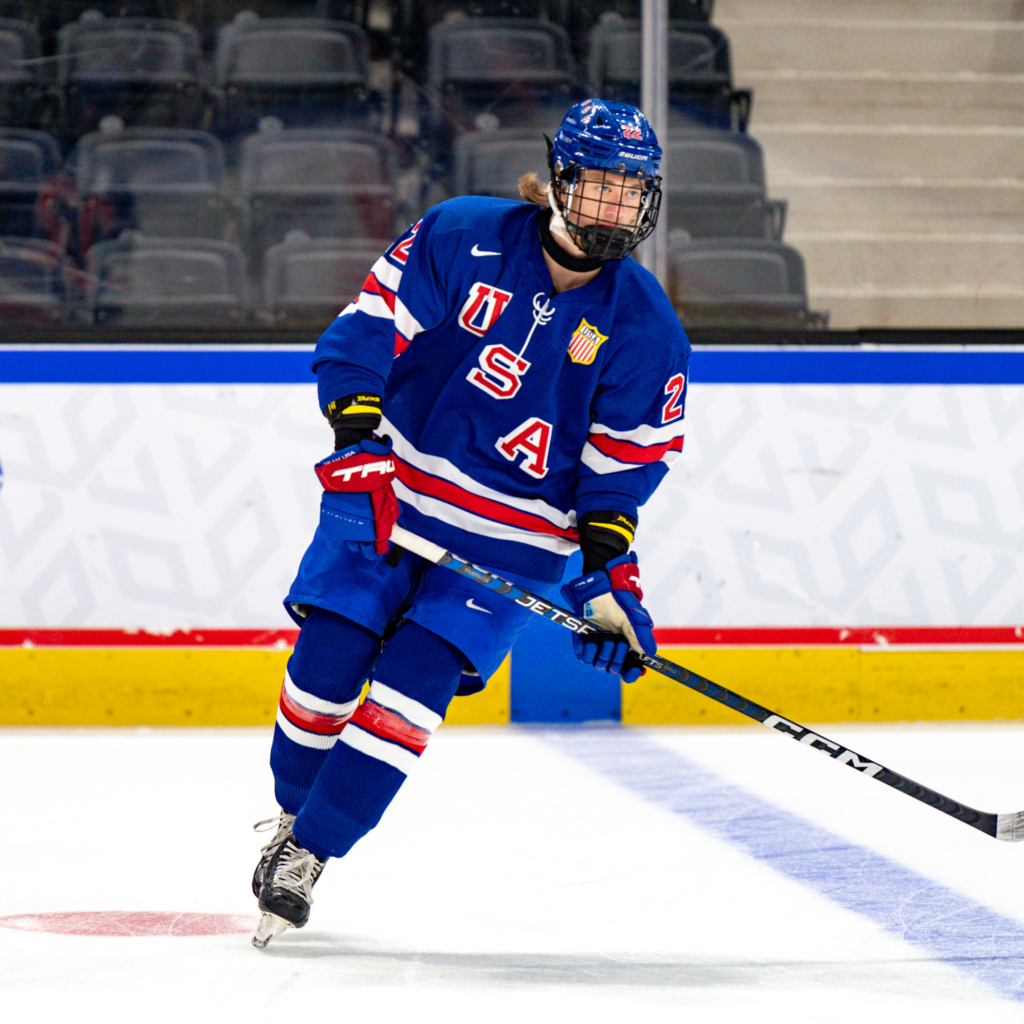 7, LD, Andrew Strathmann, USA (Tri-City Storm – USHL), 5'11", 175, L, DOB 02.27.2005
Andrew was an offensive style defender who thrived at getting involved in the offensive zone. He has quick feet and high end speed that allows him to drive deep into the o-zone and then quickly return to the blueline. He has very good puck skill and always had his head up while he maneuvered around with the puck. This allowed him to find teammates who were sliding into open ice and he could feed them with excellent, crisp passes. He was the highest scoring defenseman (2G – 2A) for the Americans and was someone who jumped up many lists I'm sure. While his defensive zone play isn't eye popping and could use a little development, he was someone who was still relied on when games were tight. While there wasn't a whole lot to like with USA's play, Strathmann's play was a positive that he can build on. – Matt Hnatiuk
8 C/RW, William Whitelaw, USA (Youngstown Phantoms, USHL), 5'8", 165, R, DOB 02.05.2005
Whitelaw started the tournament, game one against Germany flying, and was dominant. Unfortunately, as the competition got tougher, he struggled to produce but the chances were still there. I thought he was USA's best forward. He finished the tournament with four points in four games. He's a highly skilled forward that can attack swiftly off the rush and is elusive in small spaces. An elite puck handler in tight spaces showing great hand-eye coordination to control the puck through obstacles. His feet and hands work in unison to swiftly attack defenders. Offensively is a dual-threat, operating with a quick release that is rifled off his blade with excellent speed and power. His vision and ability to navigate pucks throughout the offensive zone is a strong asset in his accurate puck distribution skills. Whitelaw has a high ceiling thanks to his high-end skill set and offensive prowess. He's also very competitive off the puck. His play driving capabilities really impressed me in the tournament. – Jared Brown
15 RW, Griffin Erdman, USA (Waterloo Black Hawks, USHL), 5'10", 174, L, DOB 02.10.2005
Erdman was one of USA's most consistent forwards as you knew what you were going to get out of him from every shift. He tallied three points in four games, but his impact on the game was displayed away from the scoresheet. Captain for USA, which is understandable with his competitiveness and work ethic off the puck. He was a key penalty killer for his team. Plays a high-energy game and applies heavy forechecking pressure. A great skater with very athletic and powerful strides to produce strong acceleration. Also displayed some shiftiness in his feet along the outside. Can stop up on a dime. Goes to the front of the net without the puck. Showcased great vision and smart hockey sense stringing together passes and working give-and-go's with teammates. Erdman didn't flash great skill, but instead an honest hard-working game with strong skating ability, a style of game you see in many bottom six NHLers. – Jared Brown
2 D, Gavin McCarthy, USA (Muskegon Lumberjacks, USHL), 6'1", 170, R, DOB 06.02.2005
McCarthy had a quiet but positive tournament showing off his strong two-way game. Though the production wasn't eye-popping (only registered one point), his coaches utilized him in most situations and his game had a great sense of reliability, poise, and a dash of skill on the puck. He's a fluid skater who moves his feet well in all four directions but doesn't excel in one particular area of his skating. Strong puck moving defenseman with confidence in his breakout passes. Displayed solid composure handling the puck and setting up the transition. Skates with his head up assessing his options regularly. An accurate passer in both short and long range distances. Has some quick hands that he'll use to deke defenders 1v1. Uses his active stick well to poke at the puck and keep his man to the outside. Defends entries with a tight gap control and will use his body to eliminate players from the play. – Jared Brown
24 D, Lucas St. Louis, USA (Dubuque Fighting Saints, USHL), 5'10", 161, L, DOB 03.30.2005
St. Louis didn't have a great tournament, but his tools and of course the NHL bloodlines make him an intriguing prospect for 2023. He managed to put up two assists in four games. He's an offensive defenseman with a creative mind that keeps defenders on their toes. He can play a high-risk high-reward game with the puck with the ability to create plays out of nothing. Displays a high IQ when it comes to offense and when handling the puck. Good puck control. Smooth passing ability. Able to transition the puck either by carrying it out or making an accurate breakout pass. In the offensive zone, he's active and mobile looking to always take advantage of open spaces. He's a shifty and elusive skater that can use his edges to spin and turn away from pressure in small spaces. Something I wasn't expecting to see was that Lucas, despite his lack of size and strength, is more than willing to play physical and dish out the hits. – Jared Brown
9 RW/C, Tanner Adams, USA (Tri-City Storm, USHL), 5'11", 174, R, DOB 09.02.2005
Adams had a good tournament registering two goals, and three points, in four games. I thought his approach to the game was met with solid consistency and from my viewing, he wasn't involved in a lot of negative plays. He's a smart, versatile forward that plays a strong support role while playing alongside talented linemates (as he did playing with Quentin Musty and Carey Terrance). Good balance. Has some strength on his skates, and the ability to pivot and turn away into open space while handling the puck. Displayed good patience and ability to make plays from the outside. Showed good playmaking instincts but also would go hard to the front of the net to try and clean up any potential rebounds. He was able to create his own time and space along the perimeter in the offensive zone while keeping his head up before dishing the puck off. I was most impressed by Adams's accurate passing ability. – Jared Brown
Team Canada:
6, LD, Tanner Molendyk, Canada (Saskatoon Blades – WHL), 5'10", 180, L, DOB 02.03.2005
Tanner was an extremely effective offensive d-man who was able to drive the play, or shut down the attacking opposition. He has excellent skating and maneuverability and this was visible on any rush he was a part of. His puck skill was above average and he had no issues carrying the puck himself, but his o-zone distribution could use a little polish even though he managed 3 assists. While he was willing to engage physically, he's got to work on not over committing himself to the check. Defensively, Molendyk was efficient at boxing out and battling along the wall for pucks without getting too aggressive. He has obvious strength and used it well in these areas. Tanner is a young defender who is continuously fine tuning his game and getting better each ice time. Soon to be a household name with this draft class. – Matt Hnatiuk
8, C, Denver Barkey, Canada (London Knights – OHL), 5'7″, 150, L, DOB 04.27.2005
Denver is the smallest player on Canada's roster, but may have been the most effective at pressuring the puck in every area of the ice. He buzzes around the ice like a little fly you can't swat away and displays excellent speed in all areas. His edges were outstanding as were his stops and starts. He may have only managed four points (2G – 2A), but he was oftentimes the reason the play stayed in the offensive zone and led to scoring chances. His hands, passing and shot are as quick as his feet and his head is faster still. There is nothing the opposition could throw at him that would get him off his game. While he was stellar in the o-zone, his d-zone play was good as well. He uses his speed to pressure defenders and cause mistakes he takes advantage of. Don't overlook (haha a height joke) Denver going into this year's draft. – Matt Hnatiuk
17, C, Brayden Yager, Canada (Moose Jaw Warriors – WHL), 5'10", 162, R, DOB 01.03.2005
Brayden's star power in this tournament was highlighted by achieving points in four of five games and scoring 5G and gathering 4A. He skated with his typical quick first step and fast feet getting to his impressive top speed. He used his edges and lateral movement to his benefit frequently and managed to make multiple defenders' lives very difficult. He used excellent passing to move the puck around the ice and displayed his extremely accurate and fast shot multiple times. Brayden showed he's a player that can be relied upon in any situation and achieve success when the pressure is on. He proved he is a big game player and is able to play reliably at both ends of the ice. If you didn't have his name near the top of your draft lists before, you better have him there now. A top prospect and potential top 5 pick for sure. – Matt Hnatiuk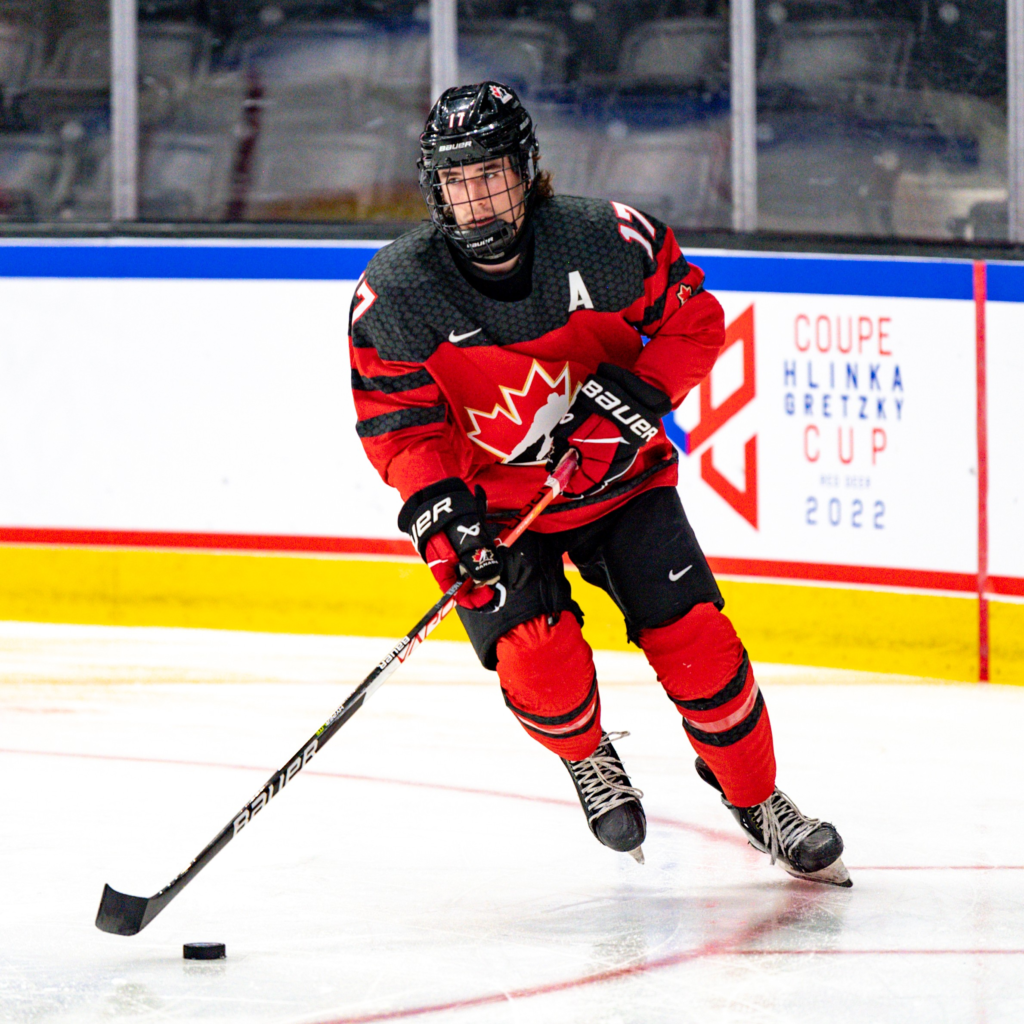 31, G, Scott Ratzlaff, Canada (Seattle Thunderbirds – WHL), 6'0″, 172, L, DOB 03.09.2005
Ratzlaff was by far, the tournament's best goaltender. He recorded two shut-outs in four games and had a 0.5 GAA and a .976 SV%. His positional play was on point and he was able to consistently anticipate plays and track pucks through his zone. He challenged shooters from the top of his crease and reacted with great speed and reflexes when required while never over committing one way or the other. His focus and poise were outstanding and he was rewarded with a Gold medal for his efforts. The fact that Canada had the deepest team in the tournament didn't hurt either. While I didn't notice Ratzlaff play the puck a whole lot, that isn't generally a big part of his game and an area he could improve on, but that is just nitpicking now. Watch for his name to remain atop the goaltender prospects list for the upcoming draft. – Matt Hnatiuk
27, LW, Riley Heidy, Canada (Prince George Cougars – WHL), 5'11", 179, L, DOB 03.25.2005
Riley was an excellent puck mover for Canada while in the offensive zone. He used his explosive first step to separate himself from the opposition and give himself extra time to find a passing option. His skating was average until he needed it to be more, and his passes were near bang on every time and he wasn't afraid to shoot. He was willing to finish checks when he could and was a versatile player that could be moved up and down the line-up or play special teams. Defensively Riley could use some polishing, but overall he wasn't bad and kept his feet and stick active. He was a player who was an excellent puck distributor and then he would follow the puck towards the net. He may seem farther away in Prince George, but you will hear a lot more about him as the draft gets closer. – Matt Hnatiuk
21, RW, Calum Ritchie, Canada (Oshawa Generals – OHL), 6'1″, 174, R, DOB 01.21.2005
Calum, while being Canada's top point producer for the tournament, was a player who did a lot of little things well, but never anything excellent. He was an effective skater, puck mover, shooter, defender, and checker. His play was highlighted by his smarts and ability to be in the opportune spot because he could anticipate the play. He skates with a little forward lean to his posture, but it doesn't seem to really bother him or his ability to move quickly. He showed fast hands and excellent ability to read plays as they developed, both defensively and offensively. His defensive game could use some work, but he showed he has the tools to become better. He was able to produce each game and showed that he can consistently be a player coaches can lean on. While he won't be first overall, he still has first round potential written all over him. – Matt Hnatiuk
9 LW, Zach Benson, Canada (Winnipeg Ice, WHL), 5'10", 150, L, DOB 05.12.2005
Benson, like most of Team Canada, had an outstanding tournament. I don't think he had one poor game. Racking up seven points in five games, tied for third most on Canada. I thought he was Canada's ultimate play driver, whether that was 5v5 or on the PP. Offensively is a dual-threat with lethal speed-skill combo in transition and impressively high-end hockey sense. His vision is elite as he has the ability to identify passing lanes quicker than most can. Superb accuracy in his passing. He's also creative with the puck on his stick, willing to attempt crafty moves to make plays in tight. He's a scoring threat from the circles down and in tight. Excellent puck control, able to knife his way through traffic and create space. He may not be a big skater, but he plays with determination and at high speeds to dispossess the opposition. Has the ability to make his teammates better around his play. – Jared Brown
12 C/RW, Ethan Gauthier, Canada (Sherbrooke Phoenix, QMJHL), 5'11", 176, R, DOB 01.26.2005
Gauthier had an excellent tournament, both effective with and without the puck. He ended with the tournament lead in goals with six, scoring the ice-breaking goal in Canada's semi-final matchup and the GWG in the Gold Medal game. What impressed me the most with Gauthier was his ability to perform in big-game moments. He's got "playoff-type" player written all over him. He's a versatile 200ft forward with finishing ability from the circles down, and a chip on his shoulder to play with lots of physicality. His board is strong. Extends plays from the outskirts, playing and showing great puck control and balance in the dirty areas. Possesses a scorers-instincts to get open off of coverage in dangerous areas. A precise shooter that can elevate the puck up quickly. Showcases above average awareness and hockey IQ without the puck to take smart defensive routes. Has the ability to play different roles and excel wherever he's needed. – Jared Brown
18 RW, Colby Barlow, Canada (Owen Sound Attack, OHL), 6'1", 194, L, DOB 02.14.2005
Barlow had a very strong performance throughout this tournament while playing down the lineup. He played a big role on the PK for Canada, where he really showcased his versatility, speed, and pressuring skills. I viewed him as a power forward-goal scorer before the Hlinka tournament. Now I see a player who has goal-scoring abilities, plays on both sides of the puck, and has that pro-build to play a power game on and off the puck. His straight-line acceleration and stride power are incredibly powerful. He's a threat off the rush due to his high-end top speed. Has a knack for finding quiet ice in between coverage from in between the dot lanes. Routinely gets his hands away from his body to deliver the puck to the net quickly. Has a heavy one-timer. Barlow has a motor on him that is constantly revving. Likes to deliver punishing body checks on the forecheck. – Jared Brown
16 C/LW, Carson Rehkopf, Canada (Kitchener Rangers, OHL), 6'2", 194, L, DOB 01.07.2005
Rehkopf had a noticeable impact at even strength throughout this tournament, and looked improved from viewings I had on him from last season. Finishing up at a point per game with five points in five games, Rehkopf is another forward with size, skill, and solid skating that he uses to be involved in the game. He will utilize his size to knock players off the puck and be physically abrasive both in the defensive zone and on the forecheck. Possesses quick stick lifting ability to take away the puck and then move it quickly in the defensive zone. Generates strong transition speed, exhibiting controlled exits and entries. Has the relaxed hands that highly skilled puck handlers have. His hands are always free off his hip, and consistently positions pucks in his hip pocket to create a "triple-threat" intention. Has the ability to distribute via a soft touch. The size-skill combo on Rehkopf is what makes him a potential high-end prospect. – Jared Brown
14 LW, Andrew Cristall, Canada (Kelowna Rockets, WHL), 5'9", 163, L, DOB 02.04.2005
Cristall was one of Canada's more electrifying forwards and was a threat on most shifts. His game is about speed, skill, and flash. His hands and puck skills are super quick and deceptive. He will attempt dynamic and highly creative moves. He doesn't stick to the outside and will take pucks into the middle ice if the space is given off the rush or when coming out from the corners. Showcased great quickness taking pucks east-west and opening up the ice as he walks across the line. Terrific at luring in defenders before passing through them. He's got quick feet and plays with pace while handling the puck. Solid acceleration from a standstill with his quick strides. His vision is solid and is able to facilitate the puck off his stick with a soft touch for his teammates (skilled passes off his backhand too). Cristall acted more like a playmaker while passing up shooting opportunities at times. – Jared Brown
2 D, Cameron Allen, Canada (Guelph Storm, OHL), 5'11", 190, R, DOB 01.07.2005
Allen I thought was the most well-rounded defenseman in this tournament. He ended with the most points (seven points in five games) amongst defenders, and I'd award him as the tournament's best defenseman. Allen is everything you want in blueliner. He can skate, his shot is heavy and accurate, has the offensive tools to jump up and produce (off the rush or from the blueline), he's physical, and he defends 1v1s exceptionally well already. Lateral mobility is excellent, controlled on his edges while skating backwards to defend rush with great gap control. Forces puck carriers to dump around him and then he'll finish them off along the wall. Very physical man-on-man defense, he wants to get you rattled and angry. Offensively is confident holding onto the puck but can also make quick one-touch passes. Above average playmaking from the blueline. Allen is a defenseman that can be used in every situation and has shown to be the best prospect on defense for the 2023 draft thus far. – Jared Brown
Team Germany:
21, C, Julius Sumpf, Germany (Red Bull Hockey Akademie – ICEYSL), 5'7″, 174, L, DOB 01.11.2005
Julius was a workhorse for Germany. He showed great stamina and played a boatload of minutes throughout the tournament for his team. His skating was functional and his speed was slightly above average, but he was able to occasionally show an extra burst when needed. He was above average with his puck skill and did well to be a well rounded player when it came to passing and shooting. Julius didn't do any one thing that was spectacular, but he did everything well. He was in on many puck battles, defended in his zone, was a part of all offensive opportunities when on the ice and even though he wasn't one of the five players to accumulate points on his team, he led them with his play and his attitude. While he may not be a high draft pick, he was one of the hardest workers for Germany in this tournament. – Matt Hnatiuk
18 D, Lua Niehus, Germany (Jungadler Mannheim U20, DNL U20), 5'9", 154, L, DOB 03.26.2005
Niehus had a solid tournament for Germany, proving to be their best skating and most offensive-minded defenseman. He ended the tournament with two assists in four games, finishing with the third highest amount of points on Germany. Niehus is able to generate acceleration off his edges and turns to give himself a bit of separation from a forechecker. He's an undersized offensive defender who has some good puck carrying abilities to exit his zone with control. He's got good eyes and can make quick outlet passes. When given an open lane, he regularly hit his intended target. He's got good mobility inside the offensive zone up high at the point. I do like that he is willing to play physical man-on-man and throw the body. There is some skill and skating that did leave me impressed with Niehus as a prospect worthy of keeping an eye on throughout the course of the 2022-2023 season. – Jared Brown
14 LW, Kevin Bicker, Germany (Jungadler Mannheim U20, DNL U20), 6'1", 174, L, DOB 01.29.2005
Bicker for me was Germany's tournament MVP. His play continuously improved as the tournament went on. He picked up four points through four games, meaning he was involved in all but one of Germany's goals in the tournament. Utilized in all situations by his coaching staff. Has powerful linear strides to hustle in foot races for loose pucks. His straight-line speed is good. His puck pursuit for me is his best strength. Bicker plays with high amounts of passion and energy without the puck. Willing to play physical on the forecheck and throw the body. Defensively he plays with the same effort no matter the score or period. Showed a bit more offensive creativity with his hands game-by-game. Able to make a quick deke to get into open space on occasion. His impressive work ethic and tenacious off puck game were major bright spots in his game that I am sure NHL scouts took note of. – Jared Brown
10 LW, Timo Ruckdaschel, Germany (EC Salzburg U20, ICEYSL), 6'1", 194, L, DOB 04.01.2005
Ruckdaschel managed to only tally one goal on the scoresheet through four games, but he did have a few games that were positive ones. He's a big, strong kid already with the size that NHL teams like. He was another forward for Germany who the coaches used on both special team units. He's not a mechanically sound skater, but does generate powerful strides through his strong lower body. He can on occasion flash a bit of speed down the wing, driving play into the offensive zone. Solid scoring instincts in trying to force his way to the middle or have a hard net drive to give himself a more dangerous scoring chance. Can utilize his size to fend off checks and protect the puck. Also willing to play a power game and throw the body while on the forecheck. I like some of the tools there that could form Ruckdaschel into a pro power forward one day. – Jared Brown
Team Switzerland:
29, G, Ewan Huet, Switzerland (Lausanne HC – U20-Elit), 6'0″, 168, L, DOB 02.08.2005
Ewan was one of the handful of stand out players for team Switzerland in this tournament. He was a top of the crease goaltender who challenged every puck that came into his zone with confidence and poise. He was good with his positioning, but occasionally over committed to his slides, and he did a great job being fast, dropping down and getting back up quickly. His reflexes seem faster than last year and he did well at controlling most of his rebounds. While he was a little hectic in the crease at times, that seemed to be a byproduct of scrambled plays before the puck reached the net. Even though he split starts with Diego Simeoni, he seemed to be the more confident goaltender in the blue paint while facing a few more shots in less time played. Maybe late round draft worthy, but still an excellent goaltender. – Matt Hnatiuk
2 D, Tim Horak, Switzerland (Zug U20, U20-Elit), 6'4", 212, L, DOB 02.10.2005
Horak had an average tournament, but it was hard not to take note of him due to his pro-frame build. His offensive tools don't stand out, however he ended the tournament with the most points amongst Swiss defensemen with two assists in four games, and was only utilized on the PP in game one. Measuring up as one of the tallest and heaviest defensemen in the tournament, the raw potential is there for Horak to become a shutdown defender. Valuable on the PK for the Swiss. He can kill plays off the rush with his long reach, but his pivots are slow. Did a good job pressuring at his blueline and force puck carriers to the boards. He can utilize his size and length to keep relatively close gaps and break up cycle plays. Strong instincts to activate into the rush and join in on the offense periodically. He was able to move the puck calmly under pressure on breakouts. – Jared Brown
27 C, Simon Meier, Switzerland (Kloten U20, U20-Elit), 5'9", 154, L, DOB 05.10.2005
Meier was Switzerland's most dynamic forward, finishing the tournament tied for the team lead in points with five points in four games. I was extremely impressed by his play-creating skills. He's a skilled, fast-paced playmaker with excellent skating who likes to control possession and the attack for his team. Quick and shifty with his footwork. Great quickness and agility to escape tight areas and bring pucks through open spaces along the perimeter. Also can dart through the neutral zone with quick bursts in a straight-line, north-south quick attack. Has the offensive finesse you'd expect in an undersized forward. Relaxed hands for smooth puck control and the ability to make plays through layers of coverage from the outside. Primarily a playmaker but will take the puck to the net off the rush when he steps around defenders with his speed. His size will be a taking point, but Meier has the speed and skill to drive play. – Jared Brown
Matt Hnatiuk's Hlinka Gretzky Cup All-Star selection:
F: Brayden Yager
F: Emil Jarventie
F: Eduard Sale
D: Aron Kiviharju
D: Theo Lindstein
G: Scott Ratzlaff
Tournament MVP: Brayden Yager
Bonus Awards:
Top European Player: Eduard Sale
Top Goaltender: Scott Ratzlaff
Top European Goaltender: Eemil Vinni
Jared Brown's Hlinka Gretzky Cup All-Star selection:
F: Brayden Yager
F: Eduard Sale
F: Otto Stenberg
D: Cameron Allen
D: Aron Kiviharju
G: Scott Ratzlaff
Tournament MVP: Brayden Yager
Bonus Awards:
Top European Player: Eduard Sale/Otto Stenberg (Tie)
Top Goaltender: Scott Ratzlaff
Top European Goaltender: Eemil Vinni
Photo Credit : Erica Perreaux
---
For more information on the 2023 NHL Draft Class be sure to pick up our DraftPro Newsletter, a new offering we are bringing for the 2023 draft season, and published every other month with news, updates and boat loads of actual game reports from recent games, events and tournaments that will keep readers completely up to speed on the trends and news of this draft class. The initial Newsletter will be published in early September and be free to download.