By: Isaiah Bouchard
Welcome to Draft Prospects Hockey's introduction to the 2023 NHL Draft Class series. This is a multi-part series which we will be releasing over the next couple weeks to give you the readers some insight on whom we feel is the cream of the crop for 2023.
At only 17 years of age, DraftPro's #2 overall player: Matvei Michkov earned his coaches trust to be put in the KHL with the SKA St. Petersburg, joining only a small cast of U18 players to be given ice time in Russia's top league. But unlike the others, who were only given one game for the most part, and had little chance to put up numbers, Michkov was given 13 games where he scored five points for his team. This not only made Michkov the top U18 player in the KHL last year, but he finished in the top five of all U20 players that year as well.
Michkov spent most of his season in the MHL last year, where he played 22 games and put up 37 points. Had he played a full season, he was projected to land in the top five for points if not number one. The most intriguing piece of data to gather from his time in the MHL however, was his 22 goals in 22 games.
"His scoring ability and instincts make him a dangerous finisher." Says DraftPro's director of scouting, Jared Brown. "He will take shots from anywhere in the offensive zone, showcase patience to have the defender in front of him commit first, and then pick his target." Brown went on when discussing Michkov's goal scoring abilities.
On top of his pure shot that makes him a future elite goal scorer, Michkov also brings in a lot of skills on the ice that makes him elite in many other ways. "His stickhandling, puck control, and creativity are all elite and it shows with his mentality to constantly attack the middle of the ice." And finally as a skater, Michkov showcases incredible agility and movement on the ice according to Brown who says Michkov possess: "quickness, evasiveness, and deception in handling the puck inside tight areas."
Overall Michkov is building a reputation as a confident and highly dynamic player on the ice. The Ovechkin to Bedard's Crosby, the sky is the limit for this Russian skater from Perm.
DraftPro's #15 overall player and #2 defensemen, Mikhail Gulyayev may just end up a top five pick in the 2023 entry draft as he holds that coveted title of 'second best defensemen in the league. A well rounded 2-way defensemen, Gulyayev is set to play more games in the KHL at 17 years old. After playing a full season in the MHL, Gulyayev earned the respect and trust from his coaches to play as a top four defensemen.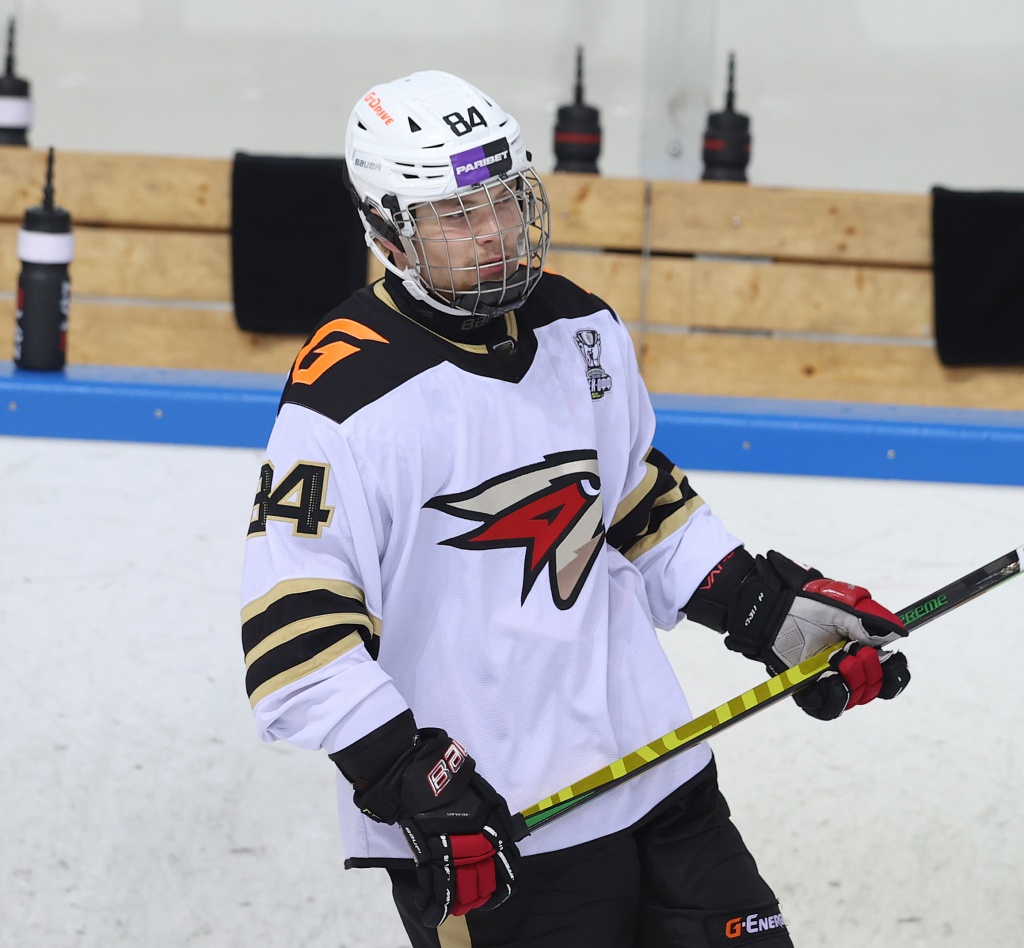 As for his skills and game on the ice, Gulyayev is already building a reputation for a defensemen that beats his opponents through his elite level skating and stick work, rather than sheer power or gritty performances. "Gulyayev is an offensive-minded, astute puck mover, built for today's NHL." Brown said when first asked about Gulyayev. "His skating is greatly polished already. High-end footwork and escapability while handling the forecheck and when controlling the offensive blue line up high in the zone." Brown said when asked about Gulyayev's skating. "While he doesn't punish his opponents physically, he defends with terrific mobility and an active stick to keep plays to the outside." Brown said when asked about his stickhandling.
As for his offensive skills, Gulyayev is a well-balanced player whose "above average puck handling skills" are good enough to keep up with his skating, making him a reliable puck mover. Because of this, he is often the one to begin the offense for his teams forecheck, setting up passes and moving the puck out of danger when needed.
As we move on to the Finnish leagues, Dominik Petr leads the way for SM-Sarja representatives for the 2023 draft class. The Czechian born player put up 37 points last year with the Lukko U18 club and is a good position to make the top ten point getters this time around after a strong season where he built himself up as a reliable playmaker. This coupled with his above average height of 6'2" gives Petr a lot of potential for a developing player. The right amount of bulking up could make this player extremely deadly in the coming years.
"He gives relentless puck pressure on the forecheck and possesses a heavy shot." Said Mikko Saarela when first asked about Petr. Describing his ability to be a real threat when his team is cycling the puck. This is a reliable asset to have in the modern NHL, and while he isn't yet making a name for himself as a strong player in the defensive zone, Mikko Saarela did have some notes regarding his play style when defending: "From time to time Petr may lack some focus in the defensive zone but he seems to really try to do everything right defensively."
As of right now, #26 on DraftPro's rankings seems like a fitting spot for the young player, but if his power and skating improves by next year then the late 1st-rounder could end up becoming a great steal in the draft.
Daniil But falls only a few spaces lower than Petr, coming in at #28 from DraftPro. But was one of the top rookie players in the MHL, keeping a steady flow of points with 42 points in 46 games. The 6'5", 205lbs, 17-year-old from Yaroslavl Russia has all the genetic gifts to become the next top power forward for whichever team drafts him in 2023.
"The puck skills and offensive tools are there for him to produce and create." Brown said when asked about his ability on the ice. The big question about Daniil But is his size. He's a beast of a player physically but can he apply his size advantages on the ice?
"He needs to utilize his body more to have a more physical presence on the ice." Brown said in regard to arguably his only flaw; his skating. "But has the tools and natural size that make him an intriguing prospect, but he's got some maturing and skating issues to fix first." And his hard not to disagree with Brown's comments. Size and power are great qualities but as the game gets faster, big players need to work on getting their bodies into play in order to apply pressure. One thing But does do well as a big player though, is his reach. "Great puck control in tight to his body and when utilizing his long reach to keep pucks protected"
On top of that But also has natural shooting abilities, Brown said this about his goal scoring: "His release is heavy with a quick snap of his wrists to produce a sneaky strong wrist shot from mid-range." And his passing ability: "He's got the ability to distribute with a soft touch on short-range or area passes for his teammates."
Overall its best to describe Daniil But as an easy and safe pick for teams picking late in the first or early in the second. He's got all the natural qualities to make him an effective power forward in the NHL, meaning one can't really go wrong with picking But in 2023. But if But's skating improves, then not only will he be a safe pick, but a proper gem for any team who grabs him.
Just squeaking into DraftPro's top 30 prospects, we have Russia's Roman Kantserov. On the opposite end of Daniil But, Kantserov stands at only 5'9" and weighs in roughly at 150 – 160lbs. Smaller players will naturally fall a little lower on these rankings due to their natural shortcomings, but if one plays like how Kantserov does, many of these shortcomings can be drown out by pure hustle and skill. Kantserov played 55 games in the MHL last year where he got 57 points with the Stalnye Lisy Magnitogorsk. That had him ranked 24th overall in the league and 1st overall for all U18 players. Ranking higher than everyone else on this list so far.
"Kantserov is an undersized forward with tons of skill and energy in his play style" Brown said when first asked about Kantserov. "He's got nifty hands and moves the puck quickly off his stick before getting a hit which is a key trait to have for a small player." Brown said about Kantserov's ability to play effective as a smaller player. Smaller players often have to work harder than others to receive the same ice time and produce similar numbers, this makes Kantserov's hustle a key quality in his selling points. Brown describe him as: "A competitive player without the puck with great hustle on the forecheck to retrieve pucks."
These highly competitive qualities are key for Kantserov's rank position, as of right now, he's proven that he can hang with the bigger kids and even dominate in many aspects. He's earned the trust of the scouts and that means he will likely find a team in the NHL 2023 draft. Here's hoping we have a future Gaudreau amongst us, and another late round steal. Because of course, we know teams like Colorado and Tampa needed a draft year like 2023.
A few slots down we go back to Finland with DraftPro's #36 player: Kasper Halttunen. Halttunen played his full season in the U20 SM-Sarja, scoring 38 points in 41 games. He was the 2nd best U18 player in the league that year and is suspected to be a top 10 player this year overall. The 6'3" winger is looking to be Daniil But's main rival this year for 2023 top U18 power forward.
When asked about Halttunen, DraftPro's leading scout from Finland: Mikko Saarela had this to say about Halttunen: "Halttunen is a good power forward who can score from a distance with his heavy shot. Based on the friendly matches he might get some serious ice time this season." Halttunen's shot is his highest selling point when coupled with his big size. He scored 24 goals for the Jokerit U20 team, making him the third highest goal scoring in the league that year. If he's not going to be the top player in points this year, fully suspect him to be the top goal scorer, with a small cast of players who can possibly stand in his way.
Halttunen's teammate last year, Maxim Strbak is the next defensemen on this list. Coming from Slovakia, Strbak has played all across the SM-Sarja leagues throughout the years. Playing on all levels, often on differing teams. As a result, his point totals are shaky to look at and hard to directly quote in one general statement. But that doesn't mean Strbak's skills do not shine through his roller coaster of a career he's already had at a young age.
He's a reliable defenseman that rides the line between being described as a pure shut down defensemen or a more evenly split 2-way D-man. He consistently holds impressive +/- totals, and last year in the U18 International Juniors Strbak scored 12 points for his team in 15 games. Showcasing his ability to rack up points when needed. His ability to play tall as a defensemen shines best on the PK, where Saarela had plenty of praise: "He plays well under pressure with the puck….Strbak gives everything he has on the ice, he is a great team player. It shows particularly well on penalty kill, where he isn't afraid to throw himself in front of the puck."
Overall Strbak seems to find himself in a safe spot in this years draft. He's reliable and has no real downsides aside from the usual hinderances that younger players have. With time and growth, Strbak could become a very useful tool for any hockey club that chooses to draft him.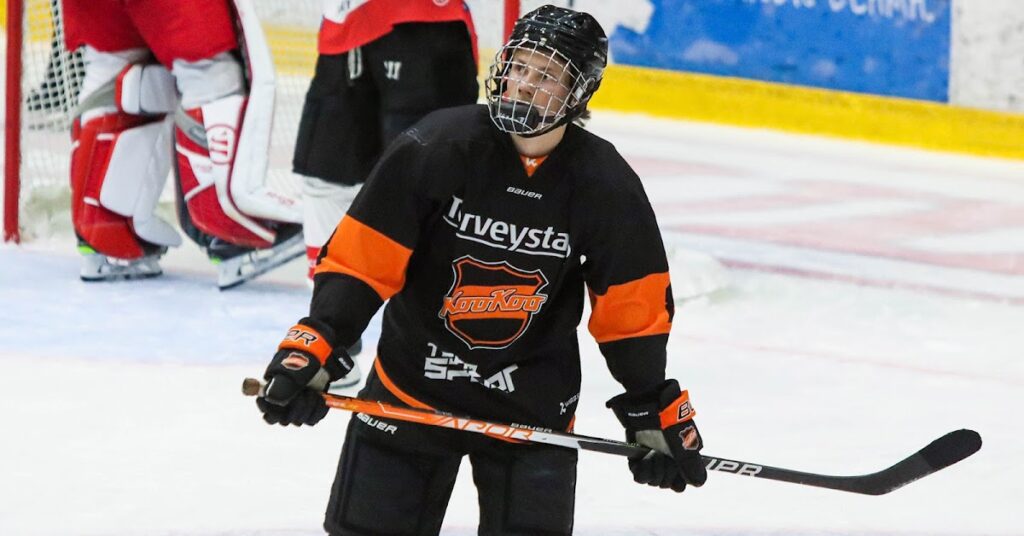 Our final player on this list is Jesse Nurmi of the Kookoo U20 hockey club. He played his first full(ish) season in the U20 league where he placed among the top U18 players including the previously mentioned Kasper Halttunen. Nurmi scored 30 points in 40 games splitting his point total evenly between goals and assists.
Like many of his fellow players listed on this list, Nurmi comes across as a safe and reliable player. Being able to play in many corners of the game and earned enough trust to play in the U20 league. "He's not afraid to shoot the puck which is nice because his shot is his main asset" Said Saarela. Saarela sees Nurmi as a player always willing to put in the work in the offensive zone. "In the offensive zone he always wants to make a difference." Expect him to make a few more Liiga games this year as well, as he displays the talent and utility to make a strong case for himself on any level.
For more on Eastern Europe prospects, and the 2023 draft class as a whole, be sure to pick up a copy of our 2023 Draft Preview Magazine available later this fall and subscribe to our bi-monthly DraftPro newsletter full of up-to-date info and scouting reports.