By Dan Stewart
The OHL class of NHL Draft eligible players for 2023 has some interesting potential, however, it is not as strong as previous years. There are however a few names that get our scouts excited, those who they started the year keying on as top talents as well as a handful who have established themselves as such throughout the first half of this season.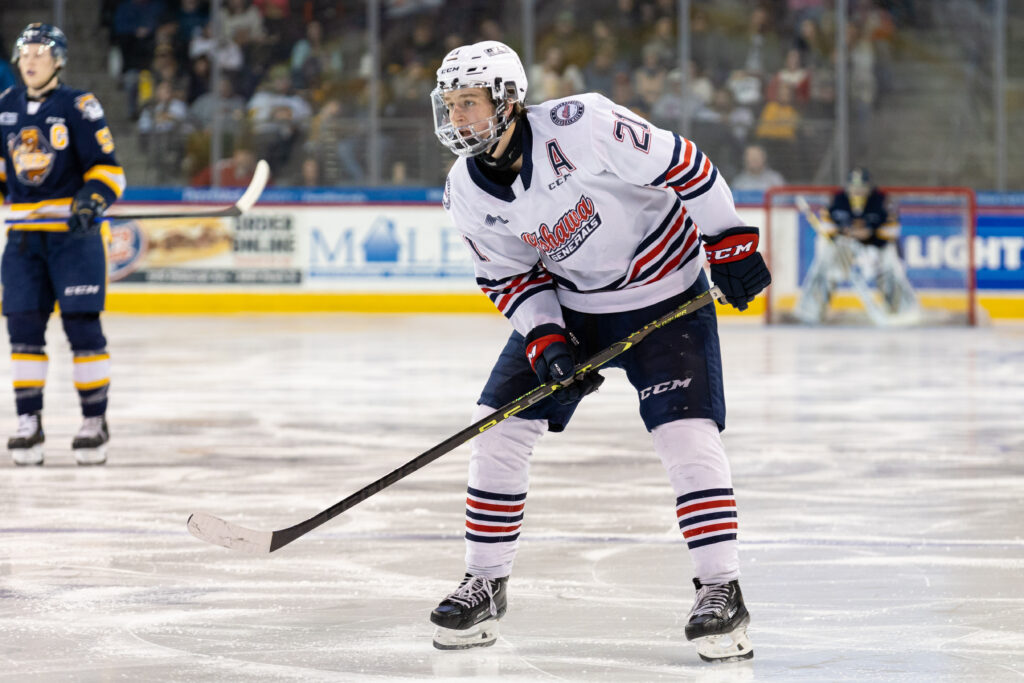 Names like Callum Ritchie and Colby Barlow have been seen as top end talents for this draft since their midget days and have done nothing to disappoint. Ritchie of the Oshawa Generals has proven that he is a top prospect with his performance this season. While his stats don't scream high-end offense, his game is far more involved than just scoring goals. His big frame and willingness to utilize it, his offensive senses and skill, his high-end vision and ability to distribute pucks, his strong shot, his two-way game and attention to defense, his confidence and his play driving ability all lead our evaluators to see a potential top six NHL two-way centre in the making.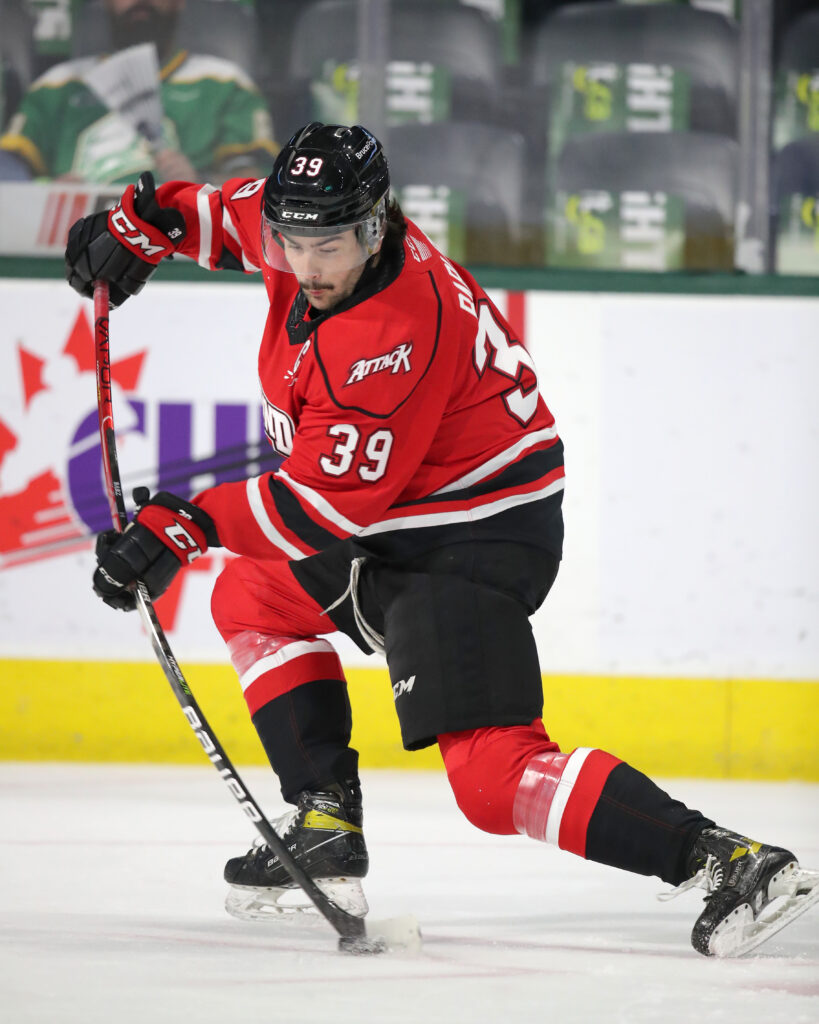 Barlow of the Owen Sound Attack is on par with Ritchie as his goal scoring exploits have been hard to ignore. His power forward style with a heavy shot makes you think you are seeing a future 35 plus goal scoring winger at the NHL level. His ultra-competitive play and strong forecheck means he is more than a one-trick pony as well. Some of our evaluators say they prefer Barlow over Ritchie as the top dog for Ontario.
Kitchener Rangers defenseman Hunter Brzustewicz has had a productive first half of the year, receiving some solid minutes and is seen as a potential first day draftee as well. His offensive contributions, high-end vision, creativity, confidence, and elite puck movement have been on display nightly for the Rangers. Brzustewicz's teammate in Kitchener, winger Carson Rehkopf, has also looked good this season and is fulfilling expectations of his to an extent. His size, skill and speed combination have us excited for his potential at the next level. He is a competitive kid and thinks the game well. He has shown well on the score sheet even though we think he still has another step to take in his offensive game this season.
Kingston Frontenacs winger Ethan Miedema is also someone who we had high hopes for as he started his season in Windsor with the Spitfires. His size and offensive skills had us hoping for a breakout year however he got off to a slow start. He has a strong shot but does not utilize it nearly enough. And despite the slow start he picked up his game showing some impressive tools to continue building upon. The main trade chip in the recent trade that saw Shane Wright moving to Windsor, we think a fresh start and more ice time might be just what will give him a boost in his draft year.
Then there are those who have really impressed us so much that they are working their way up our draft rankings each time we hold meetings. The London Knights have a trio of draft eligibles that have really upped their stock over the first half making it a treat to scout Knights games early on.
Centre Denver Barkey has brought his offensive game this season showing he can create plays for himself and his linemates. Equal parts set-up man and finisher, he can make a difference quickly on the score sheet but also works his tail off all over the ice. His winger most nights is Easton Cowan who is also eligible and making a positive impact among observers. Cowan is the support every highly skilled linemate needs as he digs in the corners, works to win pucks, drives in on the forecheck, and uses his smarts to generate opportunities before driving to the net. He is a to-it-all type winger with limited upside, so not a first round option, but surely is rising from where we had him at the start of the year when he was not even in our top 200.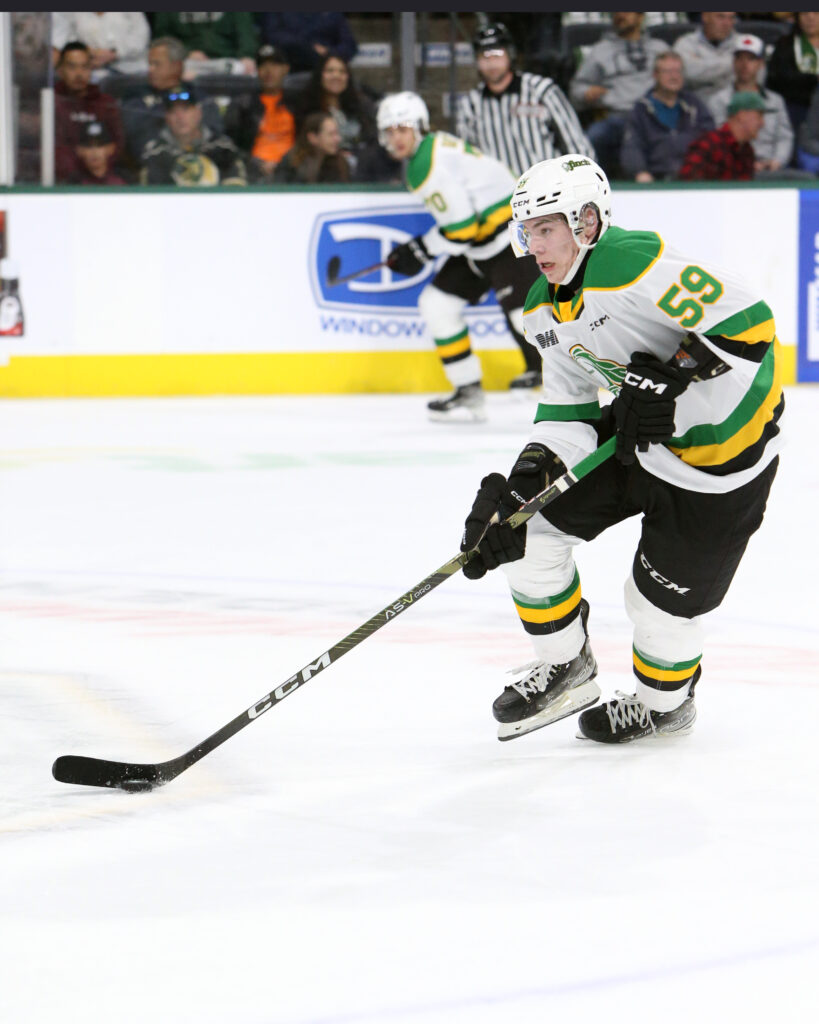 On the Knights backend is one of my favorite draft eligible prospects to watch this season in Radek's kid Oliver Bonk. His game has taken a few big steps this season as he is becoming more dependable at both ends while still flashing some offensive pop, moving the puck and especially with his cannon of a shot. He plays the defensive side efficiently, consistently closing off attackers and transitioning the puck quickly. He has earned some first round consideration from us.
Small, but highly skilled and intelligent, Ottawa 67's centre Luca Pinelli has become the straw that stirs the drink many nights for the 67's. His slipperiness, puck hounding tenacity, offensive skill and vision all set him apart. He is driving the offense for one of the OHL's top teams and impressing our scouts each time they take in a 67's contest as he moves up our list.
Barrie Colts defender Beau Akey is someone we have liked since last season and he has not disappointed. His game has grown defensively this season but still has some growth left. It is his puck moving and offensive capabilities based off near elite skating ability however that will get him drafted and we like him in the second or early third as a potential top four NHL option.
Flint Firebirds centre Coulson Pitre is a guy that many of our evaluators like as a sleeper. Someone who might be there in the second or even third round but could crack off for 40 plus goals next year in the OHL and have people wonder why he did not go in the first round. He has good size, is smart with the puck, creates his own space, and has an underrated shot that once he really starts using it will start to show his true value.
Kingston Frontenacs winger Matthew Soto is having a quietly strong draft season as he is driving the attack and showing off not only his physical skill like hands and vision but also his intelligence creating offense. While his offensive numbers will not blow people away if you watch his games you see many NHL intangibles shine through like escapability, smart decisions, and awareness. We like Soto as a second or early third round option and someone who could eventually develop into a top six NHL winger.
Those are some of the players who have impressed scouts out of the gates, but there are also some players that have begun to slip down the ranks with their slow starts or stagnant development. Below are a few of the names we were hoping to see more from by this point in the season.
Sudbury Wolves offensively skilled winger Quentin Musty has not lived up to his expectations as far as our scouts are concerned as his one-dimensional game has stood out so far this season. There was hope that he would have developed his all-round game this season, but the same problems are surfacing. His game is selfish, lacks discipline and he only kicks it into gear when there is an offensive chance to create or take advantage of. Regardless of the offensive production we are continuously frustrated after coming away from a Wolves game.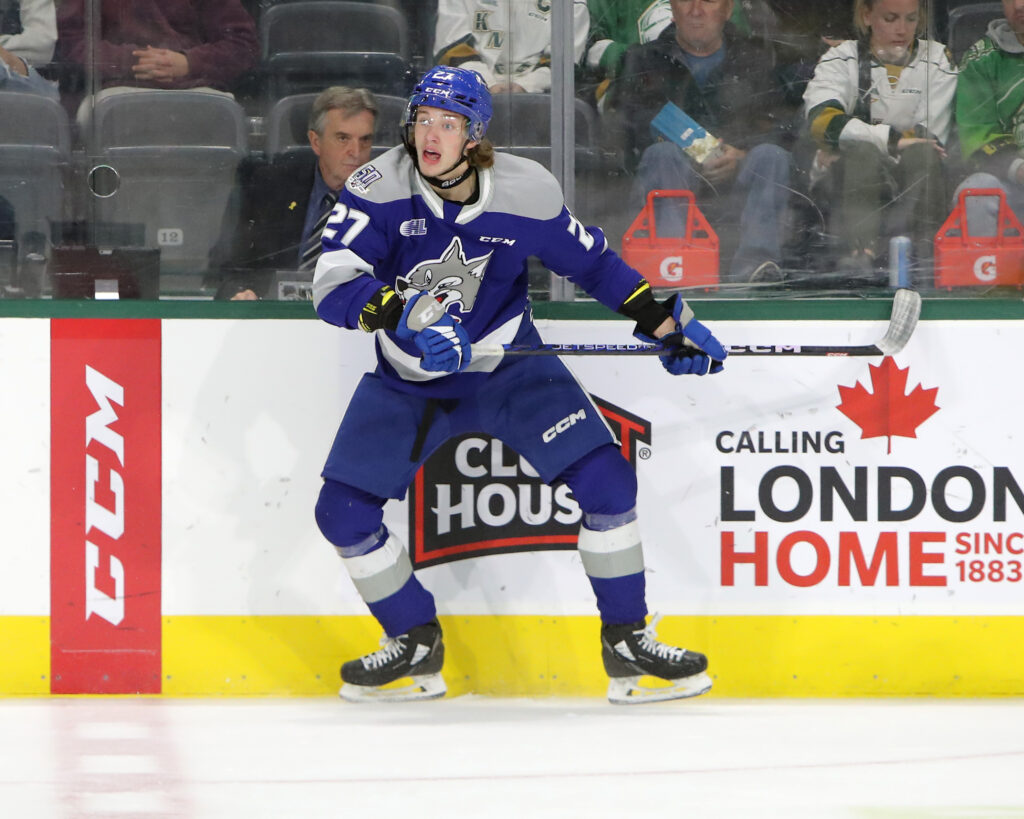 Peterborough Petes defender Donovan McCoy has been on our radar as a top prospect for years with the one thing that is holding him back being his lack of offensive game. It has always been the area we had hoped he would develop as his defensive play is solid. But that just doesn't seem to be in the cards for McCoy and we need to come to the realization that this might be a later round project pick with limited NHL upside.
Lastly, we need to mention the Guelph Storm defender who started the season as a potential top ten selection and the drafts top defender only to see a slow start squelch those expectations. Cameron Allen is a strong two-way and physical defender that plays the game hard yet skilled. An all-situations guy his game has not taken the next step this season after an impressive Hlinka Gretzky in the summer and solid season for the Storm last year. Call it trying to do too much on a young Storm team or putting too much pressure on himself during his draft year, but Allen is still seen as a potential first or second rounder just not the prospect we had hoped he would be.
That is our first half regional report for the 2023 NHL Draft's OHL talent. These guys still have plenty of time to correct any flaws or fix any issues in their games over the next couple months. And if history shows us anything there will be names that continue to move up and down our rankings right up until draft day in June.
Photos: Credit to Luke Durda & Brandon Soto/OHL Images
****************************************************
If you are looking for a mid-season rundown on the 2023 draft class as a whole be sure to pick up your copy of the Draft Prospects Hockey 2023 Preview Magazine available for instant download or print through Amazon.