By Andrew LeBlanc
Coming up on the midway point of the scouting season, there is no better time to release a regional update. This update will discuss notable 2023 NHL draft eligible prospects across the regions south of the Canada USA boarder. Throughout this update, I will be referring to prospects based on the tier they currently fall in.
As a reference, I have split the below report into tiers of prospects to illustrate each of their draft stock. Tier 1 is for those considered top 32 picks, or first rounders, tier 2 is considered a top 100 prospect, tier 3 is for prospects who will fill out rounds 4, 5, and 6, while tier 4 is for those we rank as seventh rounders all the way to #300.
The biggest headline coming out of USA junior hockey so far is the remarkable success of the NTDP. At the time of writing, they hold a 25-5-3 record in all competitions. While they do not have a true top prospect as the likes of Auston Matthews and Jack Hughes were in the past, they have the best line in junior hockey. Will Smith, Gabriel Perreault, and Ryan Leonard are all incredibly talented in their own right, but what makes them magical is how well they complement one another. Their draft stocks have risen considerably this season and only project to keep growing if they can keep this pace up. Joining them in Tier 1 are Oliver Moore and Danny Nelson. Moore has been in Tier 1 all season and not seen a drastic change to his stock. Nelson, however, is making the jump up to Tier 1 because of his projectable size and shot. He has potential to be a top six power forward, but at the same time, he is on thin ice in Tier 1 as he tends to be a streaky player.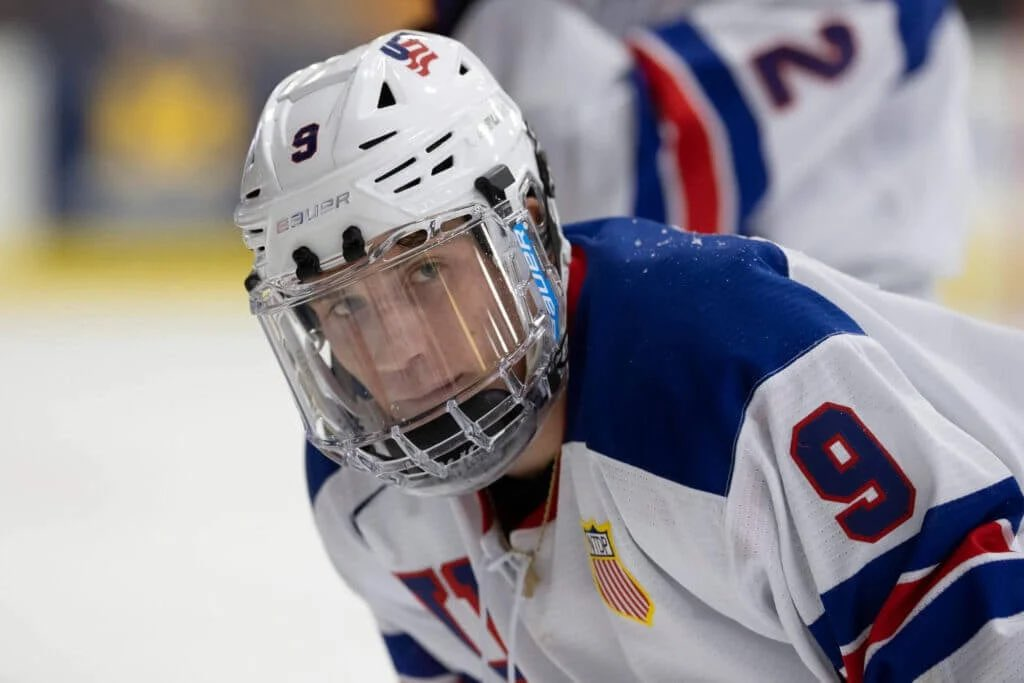 The biggest riser playing for the NTDP is Trey Augustine. After a hot start to the season, Augustine got a bit of a reality check at the World Junior Championship against the likes of Canada and Sweden. However, I tend to believe his first 25 games are closer to reality than his last two. He is the headline of Tier 2 and the only thing keeping him from Tier 1 is his size. There are a couple new guys joining him in Tier 2. Wingers Will Vote and Beckett Hendrickson may not have received the hype at the beginning of the season, but their recent form has them fighting for a spot in the top 100. Rounding out Tier 2 for the NTDP are Aram Minnetian, Ryan Fine, Paul Fischer, and Charlie Cerrato.
While the NTDP has been firing on all cylinders, there have been a few prospects that have slipped down the draft board. Drew Fortescue has shown promise in spurts this season but has been unable to consistently make an impact on games, dropping him to Tier 3. Joining him in Tier 3 is Austin Burnevik. He has great size and competes hard, but his skating seems to hold him back at the moment, resulting in underwhelming production. There have also been some prospects that dropped to the outside looking in. First, Carsen Musser has not played up to the potential he has shown in the past. His weaknesses are magnified by the excellent play of Trey Augustine as well. Joining him in Tier 4 is Brady Cleveland. After suffering an injury at the beginning of the season, he has not found the form that made him a promising prospect coming into his draft year. Rounding out Tier 4 are wingers Salvatore Gusso and Carter Slaggert.
Unlike recent drafts, it is unlikely this NTDP class will have more than a half dozen drafted in the first round. However, what this class may lack in top-end talent, it makes up with depth. I do think the record of 17 NTDP drafted players will likely be broken this season.
Moving onto the rest of the USHL, there have been quite a few risers and fallers in the first half of the season. Headlining the USHL prospects is Michael Hrabal of the Omaha Lancers. The big Czechian goaltender came into the season as one of, if not, the top goaltender prospect of the 2023 draft eligibles. However, he has not totally lived up to the hype, causing him to slip into Tier 2. Moving on to one of the most disputed prospects, Jayden Perron of the Chicago Steel has been ranked inside the top 10 by some and outside the top 100 by others. Given his play this season, I believe he is likely closer to the 100 ranking than the 10. After a hot start to the season, Perron has not been as effective lately. If he is not producing in the stat sheet, he does not impact the game a whole lot. Joining him in Tier 2 are William Whitelaw and Andrew Strathmann of the Youngstown Phantoms as well as Tanner Adams of the Tri-City Storm. All three prospects have had great showings this season but have not had the consistency to jump up to Tier 1.
Another high-profile prospect that has not fully lived up to expectation is Maxim Strbak. It has been a tale of two seasons for Strbak this far. When playing for Slovakia, Strbak has impressed and shown why he is a highly touted prospect. However, his time in the USHL this season has left a lot of questions surrounding his game putting him on the cusp of Tier 3. Splitting time between the Waterloo Blackhawks and Andover High this season, winger Gavyn Thoreson is starting to become more of a household name. He has a nose for the back of the net and that is why he is moving up to Tier 2.
There are a lot of USHL prospects that fall into Tiers 3 and 4. The biggest riser, maybe in the whole United States is Ryan Conmy of Sioux City. He was not a name on many preseason watchlists, but he has taken the USHL by the horns and now finds himself in Tier 3. Halfway through his first season, he is producing at a point-per-game basis. He plays with such poise and if he keeps this up, he could potentially even make the jump to Tier 2 when it's all said and done. Another prospect that has made himself more known is Griffin Erdman of Waterloo. While his point production has not been amazing this season, he always plays with a ton of energy and makes his presence known even when he is not scoring. The final prospect in Tier 3 that is standing out is Jan Korec: goaltender for the Des Moines Buccaneers. As the backup goaltender, he is not getting a ton of game time this season. Also, to the naked eye, his stat line will not jump off the page. However, the team in front of him leaves him out to dry all the time. Yet, he had a run of games in the first half of this season that he showed his capability to take over and steal games.
One notable faller into Tier 3 is Jayson Shaugabay of the Green Bay Gamblers. He struggled to get much going in the beginning of the season and was on the ice for a lot of goals against. However, he has repaired his draft stock with his hot start to his high school season with Warroad High.
Like every year, there are always a few older prospects that have been passed on in previous drafts but have worked on their games and are in line to be drafted this season. The most notable of these prospects in the USHL are Cole Knuble, Dylan Hryckowian, Zaccharya Wisdom, and Jack Harvey.
This season, there is a strong group of draft eligible prospects playing in college led by Adam Fantilli. He is having arguably the best season out of any forward in all of college hockey. He would be destined for the first overall pick if there was not a generational talent in Connor Bedard. Another prospect that has impressed at the college level is Fantilli's teammate, Gavin Brindley. He has shown he can keep up with the pace of the college game both mentally and physically. He has been thrown in the deep end, having to play in all situations and log serious ice time in his freshman year. While he has not been putting up a ton of points, he has vastly improved his all-around game and made the jump into Tier 1. The final college player currently in Tier 1 is Matthew Wood. His deadly shot and hockey IQ have made the transition to the college level, and he has been able to put up points in his freshman year.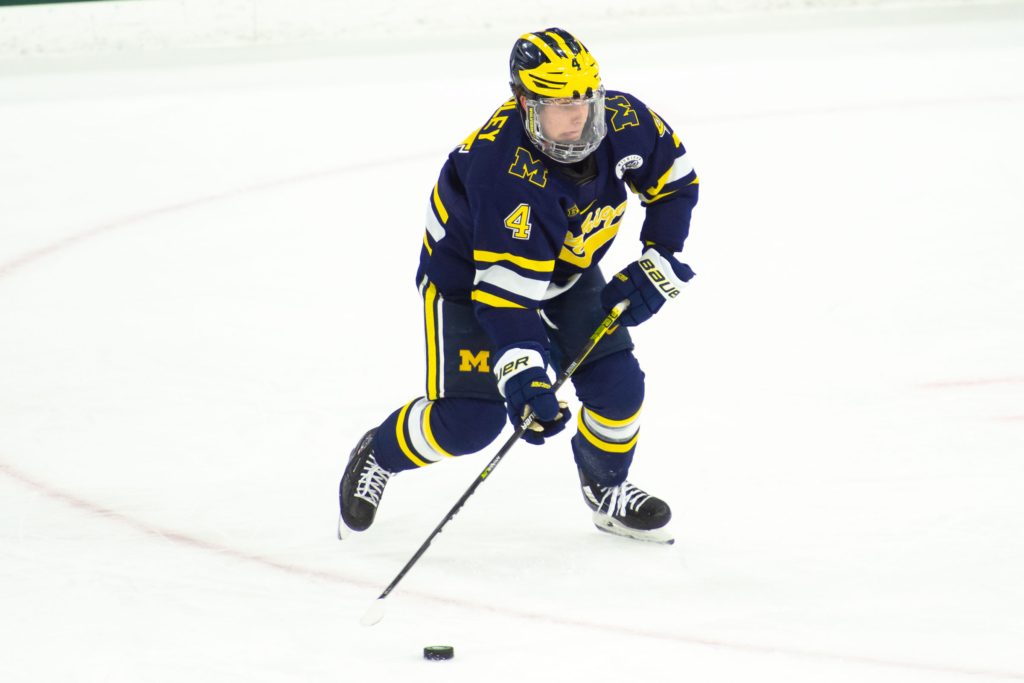 One prospect that is struggling to make the transition to the college level is Charlie Stramel. He struggled to get anything going playing top competition for the first couple months of the season, dropping him to Tier 2. However, after a shuffle of the Wisconsin lines, he has put together a better run of form showing his massive potential. He is not far off Tier 1 and is definitely trending in the right direction. Another prospect that has caught the eye of the scouting world is DY+2 defenseman, Luke Mittelstadt. After a great start to the season with Minnesota, Middelstadt was the only prospect playing for Team USA at the World Junior Championship that has been eligible for the draft in prior years but not selected. A good tournament combined with a good first half of the season has his name back in the mainstream.
This update would not be complete if I did not mention standouts from the less notable leagues in the USA. Starting in Minnesota, there are three forwards from Shattuck St. Mary's that have made solid impressions in the first half of the season: Hunter Anderson, Zach Nehring, and Cooper Pierson. Anderson and Nehring have been firing on all cylinders, setting each other up for goal after goal. Pierson, on the other hand, was sidelined for a large chunk of the first half. Since coming back, he has been able to get back on the score sheet and has redeemed his Tier 3 draft stock.
The biggest story coming out of the NAHL is the play of Adam Gajan in net. He has been tough to beat all season for Chippewa. He continued this good run of form for Team Slovakia at the World Junior Championship, putting together a few good performances at that tournament and getting more recognition on the national stage.
Concluding this update are the standouts from the New England region. Center, Joe Connor, of Avon Old Farms has picked up where he left off last season, producing at a two point-per-game rate, and asserting himself as the top prospect out of this region. Another standout is Sean Keohane from Dexter Southfield. After a slow start to the season, he is starting to round into form as the prep season starts to get into full swing. He does not seem to have the offensive upside he showed flashes of last season, but he still projects to be a solid defender that can skate.
One thing to remember is there is plenty of time still to make positive or negative impressions. The rankings I have today will not be the ones I have at the end of the season. That being said, we are turning the page to the second half of the season, so those on the outside looking in need to start making a move.
****************************************************
If you are looking for a mid-season rundown on the 2023 draft class as a whole be sure to pick up your copy of the Draft Prospects Hockey 2023 Preview Magazine available for instant download or print through Amazon.
Photos: University of Michigan / NTDP Rena Laverty